Ešte jej nie je ani deväť rokov, a predsa sa v posledných dvoch rokoch zaradila k najobsadzovanejším českým herečkám. Valentýna Bečková je vďaka svojmu prirodzenému hereckému talentu a výrečnosti porovnávaná s legendárnym Tomášom Holým.
V rozprávke Tajomstva starej bambitky 2, ktorá vstúpi do kín už vo februári, uvidíme Valentýnku Bečkovu ako zvedavú princeznú Johanku. Jej rodičov si zahrali Tomáš Klus a Kamila Janovičová. Dedka hrá Ondřej Vetchý.
Valentýnka začala v štyroch rokoch účinkovať v reklamách, v celovečernom filme sa prvýkrát objavila v roku 2019, a to v diváckom hite Ženy v behu. Zahrala si v dvoch filmoch Marty Ferencovej – Príliš osobná známosť, Želanie pre Ježiška a v komédii Láska na špičkách.
"Hovorím to úplne všade, ja som sa do nej úplne zamiloval. Asi som nehral s talentovanejšou herečkou, ona je taká nepoškvrnená," hovorí o svojej malej partnerke z rozprávky Tomáš Klus.

"Prvý natáčací deň sme stáli na pľaci a čakali a ona ma úplne intuitívne chytila ​​za ruku. V tej chvíli sme sa skoro vôbec nepoznali, ale pre mňa to bol moment, keď som si povedala, že to pôjde, pretože to tak je. Jednoducho verím, že to bolo vzájomné, že sme si sadli," spomína Kamila Janovičová.
Premiéra rozprávky Tajomstvo starej bambitky je naplánovaná na 10. februára 2022
V hlavných úlohách uvidíme Ondreja Vetchého, Tomáša Klusa, Kamilu Janovičovú, Veroniku Khek Kubařovú, Valentínu Bečkovu, Jiřího Labusa, Miroslava Vladyku, Václava Noidu Bártu, Petra Štěpánka, Markétu Plánkovúa ďalších.
Rozprávka Tajomstvo starej bambitky 2 vznikla v produkcii Roberta Plavca a Radovana Vašáka v spoločnosti Fairytale Production s.r.o., v koprodukcii s Českou televíziou, koproducentom je aj spoločnosť innogy. Do kín ju uvedie spoločnosť Magic Box Slovakia.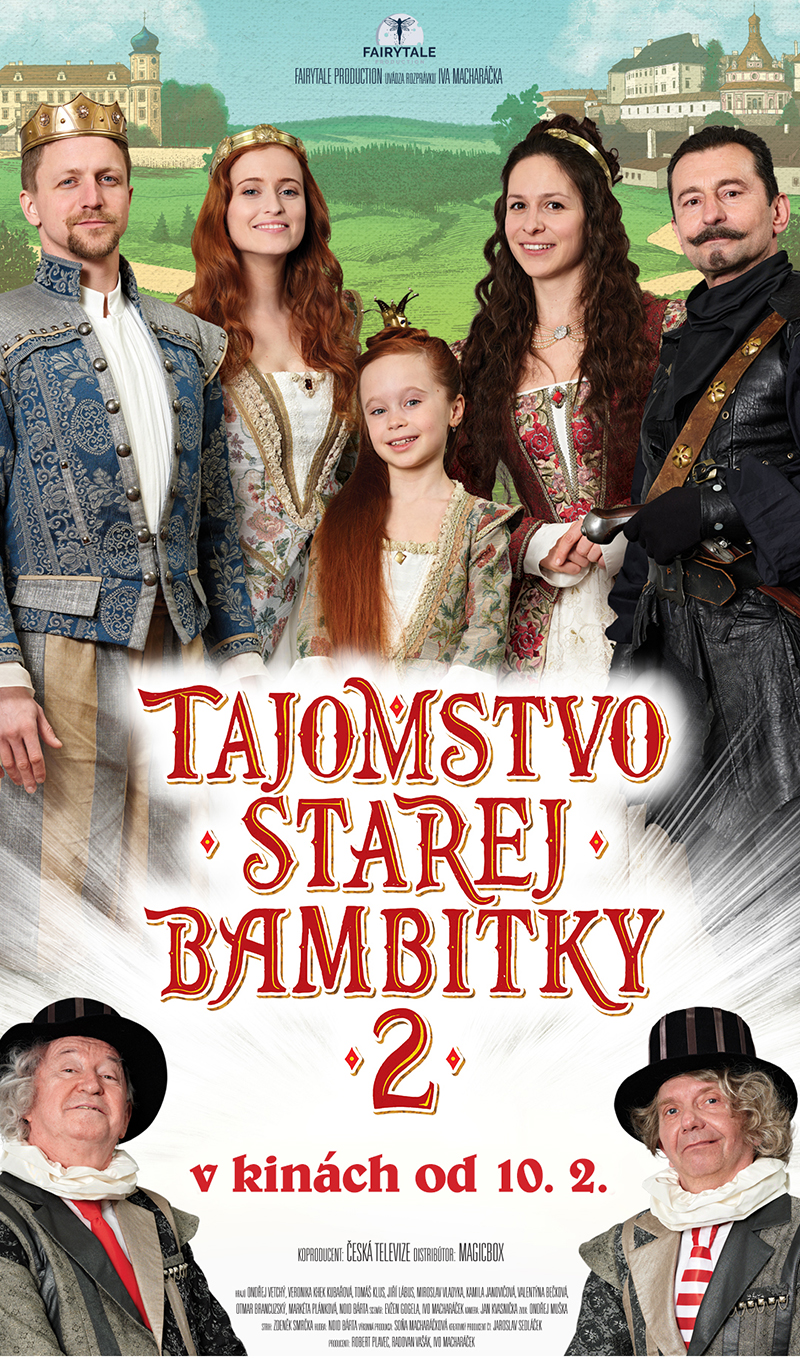 Zdroj: TS