Po náročnom pandemickom období sa 14. ročník medzinárodného hudobného podujatia One Day Jazz Festival vracia nielen na nádvorie Bratislavského hradu, ale aj do viacerých slovenských miest a prostredníctvom streamu aj priamo do obývačiek ľudí vybraných krajín v Európe a Amerike. Diváci sa môžu tešiť na osem koncertov v siedmich slovenských mestách a dva masterclassy. Festival štartuje už 22. júna v Bratislave.
Festival otvorí 22. júna o 18:00 na nádvorí Bratislavského hradu už legendárne zoskupenie Waking vision. Tentokrát však nielen s novým repertoárom, ale aj v novej zostave s držiteľom ceny Grammy, pôvodom ukrajinským klaviristom, Ruslanom Sirotom. Počas spoločného vystúpenia s Komorným orchestrom Slovenskej filharmónie zaznie v premiére aj Ruslanova nová autorská skladba Noir, ktorá je venovaná Ukrajine. Koncert bude pokračovať vystúpením Matúš Jakabčic CZ-SK Big Band, ku ktorému sa ako sólisti pripoja špičkoví Peter Lipa a Dan Bárta. Tentokrát to z ich strany nebude "len" o speve, budú totiž aj v úlohe krstných otcov nového albumu. Po krste bude pódium patriť medzinárodnému zoskupeniu Voice of Colours, ktorého členmi sú najlepší inštrumentalisti a sólisti pochádzajúci z krajín V4 a Talianska. Práve spomenutá Vyšehradská štvorka je v tomto projekte kľúčová, nakoľko sa jedná o zoskupenie, ktoré vzniklo z iniciatívy Ministerstva zahraničných vecí a európskych záležitostí SR v rámci nášho predsedníctva vo V4. Vyvrcholením celého večera bude vystúpenie elitného 9-členného zoskupenia SFJAZZ Collective priamo zo San Francisca, ktoré je známe tým, že sa usiluje zachytiť esenciu toho, čo sa aktuálne v jazze deje cez originálne aranžmány jednotlivých členov. Celý koncert bude možné počúvať live na Rádiu JAZZ a stream bude tento rok vďaka Ministerstvu zahraničných vecí a európskych záležitostí SR možné sledovať vo vybraných 8 európskych krajinách, vIzraeli a v Amerike.
Po otváracom koncerte v Bratislave bude festival pokračovať koncertami v Košiciach (23.6.), Modre (24.6.), Prešove (26..6.), Žiline (28.6.), Bratislave (29.6.), Kremnici (1.7.) a uzavrie ho koncert v Brezne (2.7.).
Organizátori festivalu majú dlhodobú ambíciu prispievať k tomu, aby sa svetový jazz na Slovensku nielen hral, ale aj vznikal. Práve preto budú v spolupráci so Slovenskou Jazzovou Spoločnosťou súčasťou festivalu dva masterclassy pod vedením SFJAZZ Collective a Voice of Colours. Oba masterclassy sú otvorené širokej verejnosti zdarma a budú prebiehať 21. a 22.6. v priestoroch Malej scény STU.
Účasť kapely Voice of Colours podporil v rámci projektu "Visegrad connection with the world" Medzinárodný Vyšehradský Fond. Podujatie z verejných zdrojov podporil Fond na podporu umenia a Bratislavský samosprávny kraj. Tento projekt sa uskutočňuje vďaka finančnej podpore Nadácie SPP.
Všetky informácie o festivale, vrátane kompletného programu je možné nájsť na www.onedayjazz.sk, Facebooku a Instagrame. Vstupenky na jednotlivé koncerty je možné zakúpiť v sieti Ticketportal.
Program galavečera na Bratislavskom hrade:
WAKING VISION USA/SK/UA
(Peter Slavov, John Shannon, Martin Valihora, Ruslan Sirota, hosť Kristína Mihaľová)
& Komorný Orchester Slovenskej Filharmónie
Matúš Jakabčic CZ-SK Big Band + krst CD
hostia Peter Lipa & Dan Bárta SK/CZ
Voice Of Colours CZ/Pl/HU/SK/ITA
(David Dorůžka, Piotr Wyleżoł, Kornél Fekete-Kovács, Martin Valihora, Daniele Camarda)
SFJAZZ Collective /USA
(Chris Potter, David Sánchez, Etienne Charles,Warren Wolf, Edward Simon, Matt Brewer, Kendrick A.D. Scott, Martin Luther McCoy, Gretchen Parlato)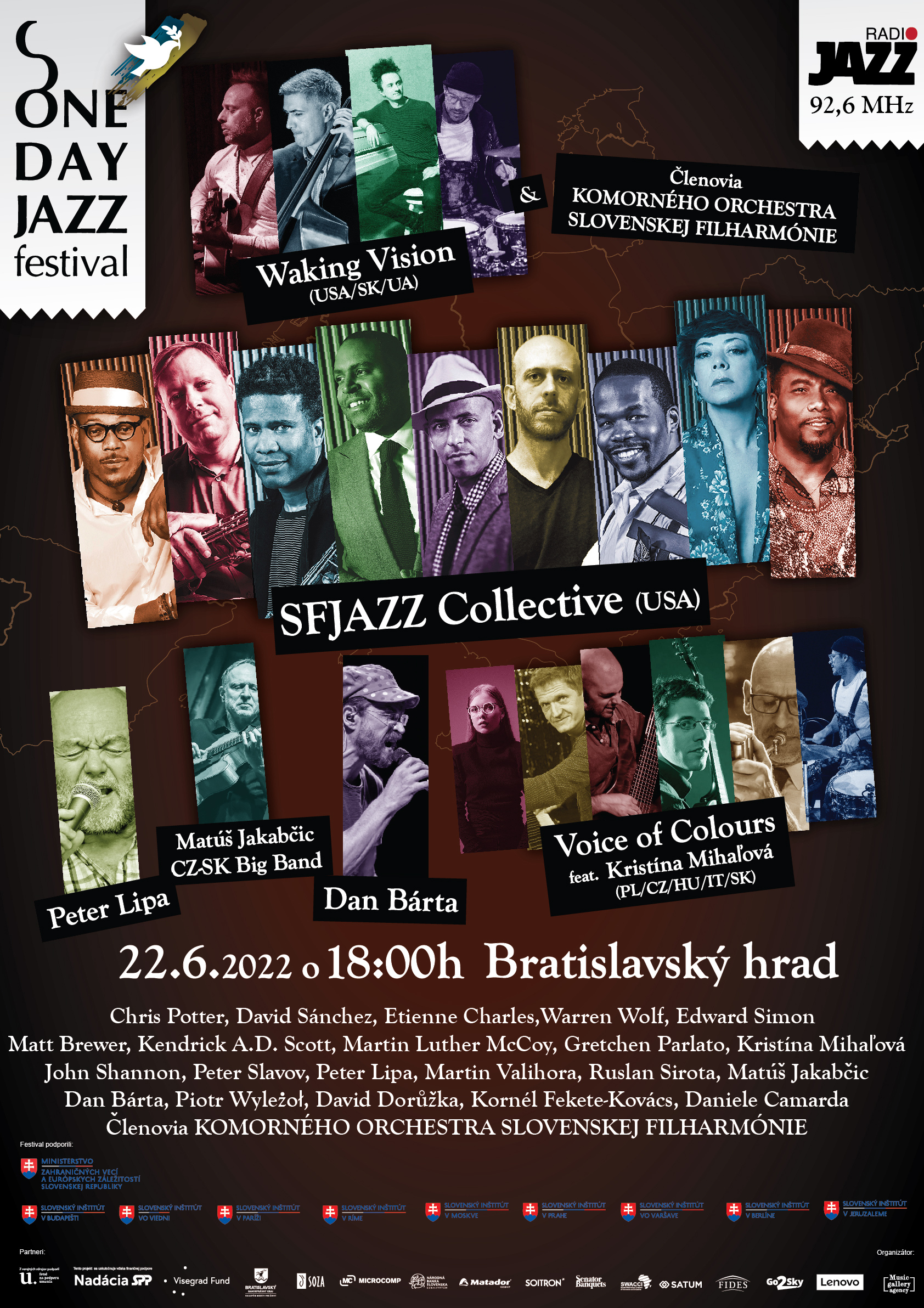 Zdroj: OJD