Fanoušci ponuré, hutné, záhrobní hudby nechť slaví – přijedou Američané TEMPLE OF VOID a Fini SOLOTHUS.
TEMPLE OF VOID jsou složeni z pěti hudebníků, kteří za sebou mají desítky let v detroitském undergroundu. Hned jak v roce 2013 vydali své demo, strhl se o kapelu boj a už o čtyři týdny později měli podepsané smlouvy se čtyřmi firmami, které jejich hudbu distribuovaly po celém světě. O rok později pak vychází debut, o tři roky druhé album a o další tři poslední deska "The World That Was".
Nekompromisní kvintet z hlubin největšího města státu Michigan se hlásí k ponurému zvuku raného britského doomu, z něj prolézá atmosféra a melodika, ale zároveň využívá přímočaré devastující energie amerického old school death metalu. V hudbě TEMPLE OF VOID se tak dočkáte megatunového riffování ve středním tempu dobarveného hřbitovní melancholií, která do této titanové slitiny dodává emocionální hloubku.
U druhé kapely nebudeme žánrově jinde. SOLOTHUS jsou hrubý finský death-doom, který svou primordiální jednoduchostí drtí, decimuje a naprosto přesně cílí. Funeral nálady a tempa se tu střídají s houpavě záhrobním groovem, který přenáší do ohromujícího death-doomového deliria jak po vypití smrtícího lektvaru z hromady lebečního prachu, ale zároveň jsou tu vkusně zakomponovaná rozervaná kytarová sóla/vyhrávky, která všudypřítomnou tíseň v hudbě SOLOTHUS snižují na únosnou úroveň.
Fanoušci záhrobního death-doomu a kapel jako Asphyx, Bolt Thrower, Hooded Menace, Spectral Voice nebo prastarých Paradise Lost budou v Modré Vopici 6. dubna na správné adrese. A kdo na místě nepřežije, tomu vystavíme parte.
TEMPLE OF VOID, SOLOTHUS
6. 4. 2022 – Praha, Modrá Vopice
FB event: https://facebook.com/events/376945334239090
e-TICKET: https://obscure.cz/cs/tickets/detail/id/476
Předprodej viz e-TICKET výše, dále v síti Ticketmaster a Goout.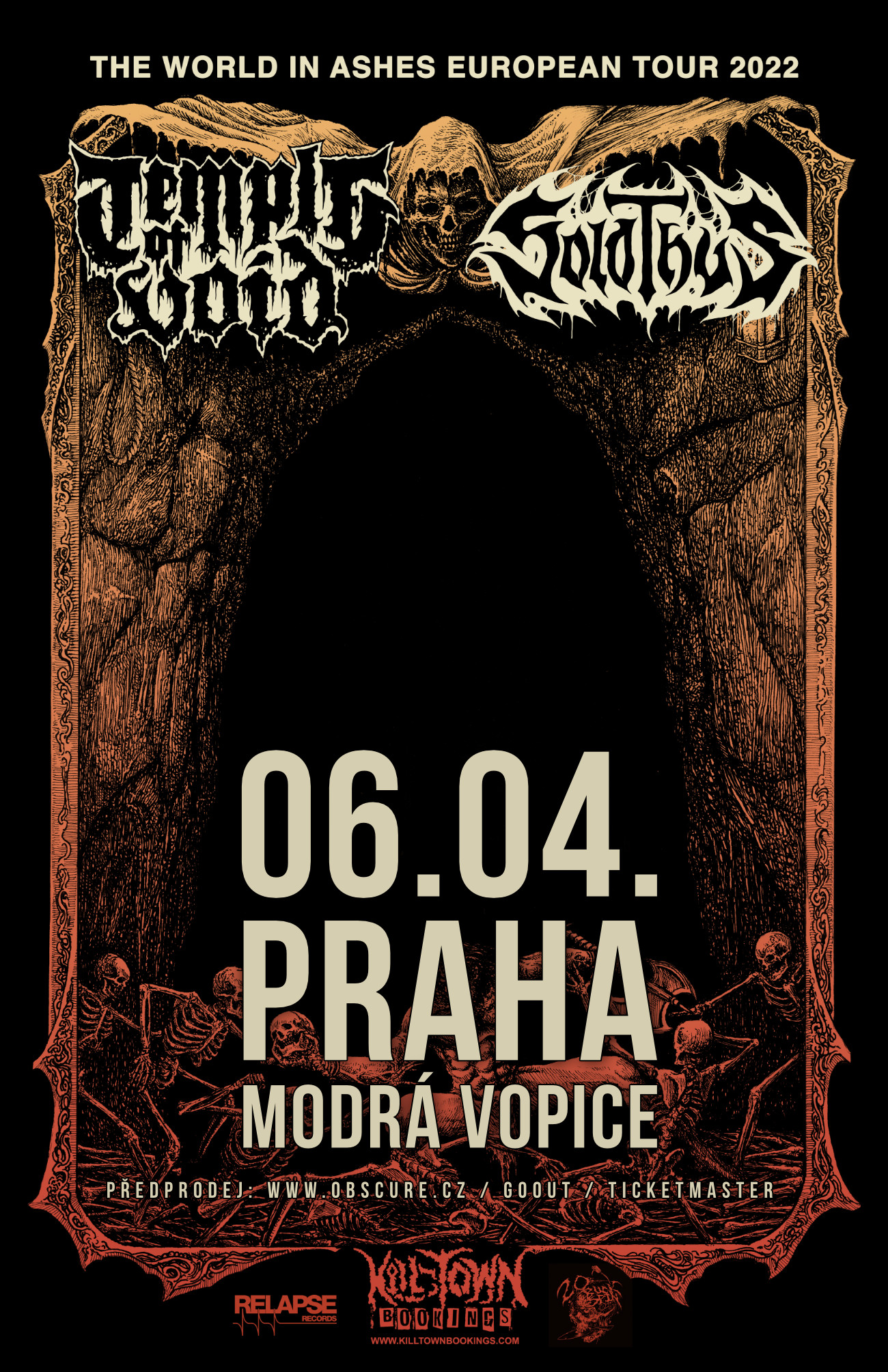 Zdroj: Obscure Promotion