Švédsky muzikant Jay-Jay Johanson, ktorého môžete poznať zásluhou chytľavej "pískacej" skladby Heard Somebody Whistle, sa po prvý raz ukáže v Bratislave. Jeho koncert je naplánovaný už na 19. apríla v kultúrnom priestore P*AKT na Pionierskej. Zároveň to bude prvý tohtoročný večer koncertnej série NuJazzDayz, ktorá vlani na Slovensko priniesla napr. Kings of Convenience či Portico Quartet.
Pre rodáka z Trollhättanu, ktorého fanúšikovia trip-hopovej melanchólie môžu registrovať už od druhej polovice 90. rokov, to bude druhé vystúpenie na Slovensku. Premiéru si odbil v roku 2019 na festival Barbakan v Banskej Bystrici. V P*AKTe ho tentoraz doplní projekt Vlado Nosal & The Avedons. Ten vznikol len vlani po rozpustení skupiny Queer Jane.
Jay-Jay Johanson debutoval na scéne v roku 1996 albumom Whiskey, ktorý charakterizovali spevákove jazzové, melancholické vokály s aranžmánmi ako vystrihnutými z filmu noir. Zasnenými vokálmi boli popretkávané aj jeho ďalšie počiny vrátane albumovej trojky Poison (2000), na ktorej spolupracoval s Robinom Guthriem z Cocteau Twins. Miernu zmenu predstavovala jeho nahrávka Antenna (2002) obsahujúca singel On The Radio, kde sa od trip-hopovým nálad posunul viac k electroclashu.
Johanson v tvorbe a vydávaní albumov nepoľavoval ani v ďalších rokoch, či už to boli soundtracky, kompilácie alebo ďalšie "klasické" štúdiové nahrávky. Nebráni sa ani spoluprácam, a ak si jeho meno hodíte do YouTube, zistíte, že jednou z jeho najhranejších skladieb je singel Marble House, ktorý vyšiel v roku 2006 v rámci spolupráce so švédskou elektronickou dvojicou The Knife. Na Spotify má už viac ako 10 miliónov prehratí. K tejto méte sa blíži aj spomenutý singel Heard Somebody Whistle. Ten sa nachádza na zatiaľ jeho poslednej štúdiovke Kings Cross (2019), kde sa pohybuje od nu-jazzu cez downtempo až po folk-rock.
Lístky na tento večer sa už predávajú v sieti Tootoot. Koncertnú sériu NuJazzDayz z verejných zdrojov podporil Fond na podporu umenia (FPU).
FB page: www.facebook.com/jayjayjohanson/
FB event: www.facebook.com/events/716999399914418
Predpredaj: https://tootoot.fm/sk/events/6403c91ecaa5e70d5ce9345e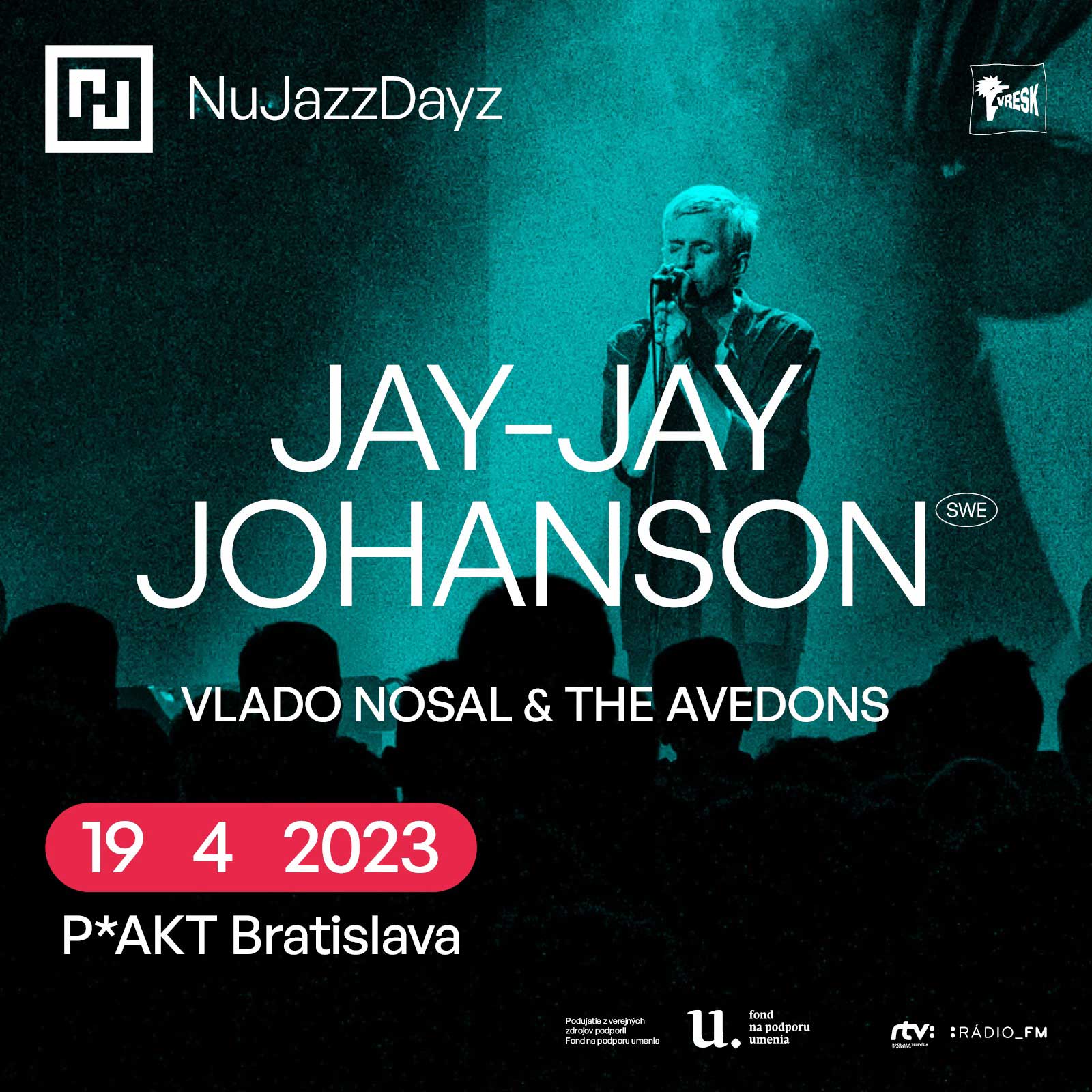 Zdroj: TS