Tento mesiac oslávi legendárny český spevák Václav Neckář sedemdesiate siedme narodeniny. Právek tomuto jubileu vydáva vydavateľstvo Supraphon vítanú reedíciu Neckářovho kultového projektu Planetárium na dvoch vinyloch.
"Planetárium vzniklo vlastne vďaka Zdeňkovi Rytířovi. Ten sa v Stromovke zatúlal do priestorov pražského planetária, v ktorého kupole sa menilo postavenie hviezd z pohľadu severnej a južnej pologule. Zdeněk sedel vtme v poslednom rade a hľadal, kto celý ten zložitý mechanizmus planetária riadi. Zrazu uvidel za riadiacimpanelom útle dievča v okuliaroch, ktoré svojimi malými rúčkami ovláda celý vesmír. V roku 1974 sme nahralialbum Tomu, kdo nás má rád a ďalší album v roku 1977 bolo práve Planetárium, ktorým sme pokračovali v monotematických projektoch. Obchodný manažér Supraphonu Jiří Vinařický mi povedal, že takýto projekt sanepredá. Vzal si ale nahrávku domov a našťastie ju dal vypočuť svojmu synovi. Ten vraj povedal: "To je ono!" Planetárium potom bolo v niektorých obchodoch "podpultovkou" a Supraphon ho musel dolisovávať. Nakoniec sa ho predalo 125 000 kusov, a to to bolo dvojelpéčko! Takže si myslím, že sa publiku páčilo,"spomína Václav Neckář.
Komplet z roku 1977 bezpochýb patrí do zlatého archívu československej populárnej hudby. K vynikajúcemuspeváckemu výkonu Václava Neckářa je nutné pripočítať jeho tradičný dar využiť všetky textové nuancie. Mal z čoho vyberať: Michael Prostějovský, Zdeněk Rytíř, Vladimír Čort či Jiřina Fikejzová mu poskytli mimoriadnevýchodiská. A bolo čo textovať, keďže muzika Ota Petřinu, Petra Jandu či Jana Neckářa k odpútaniu sa od civilnosti priam vyzývala. Forme koncepčného dvojalbumu odpovedajú tiež aranžmány, využívajúce netradičnépostupy, vyplňujúce i pauzy medzi jednotlivými skladbami zvukovými predelmi. Nešlo o to, aby všetko malozjednocujúcu vesmírnu tematiku, ale o to, aby celok držal pohromade, čo sa podarilo dokonale. Skryté podtóny oprávneného strachu o životné prostredie či existenciu našej planéty mali reálne jadro okrem iného v staveprírody v niektorých oblastiach vtedajšej ČSSR. Pod chemickú koróziu krušnohorských lesov sa dala schovať i devastácia kultúry a spoločnosti, typická pre normalizačný koniec sedemdesiatych rokov – tiež o tom Planetárium tak trochu môže byť.
"Planetárium bolo po Tomu, kdo nás má rád druhým štúdiovým albumom kapely, ak nepočítám live záznam koncertu z Rokoka Dr. Dam di Dam a jeho Bacily. V dobe urputnej normalizácie, kedy bol problém vycestovaťza hranice nielen na západ, sme sa uchyľovali k literatúre science fiction a cestovali sme aspoň vo svojejfantázii vesmírom. Keď sme v roku 1976 Planetárium pripravovali, zišlo sa viac než 40 skladieb. Keď Zdeněk s Otom vybrali konečnú zostavu, zistili, že sa na jedno LP nevojde a Oto ich ani nestihne zaranžovať. Oto bol nielen neprehliadnuteľným muzikantom, ktorý utváral tzv. ksicht Bacilov. Bol gitaristom, kapelníkom a skvelým aranžérom. Počítalo sa, že inštrumentáciu bude mať opäť na starosti. Spomínam si, že termín nahrávania sa neúprosne blížil. Oto rozhodol, že inštrumentáciu 22 skladieb si rozdelíme. On aranžoval prvúplatňu a ja druhú. Všetky skladby boli pôvodné, české a autori ich poslali na magnetofónových kazetkách len s melódiou a jednoduchým sprievodom gitary alebo piana. Planetárium bolo teda pre mňa i aranžérskou skúškou," dopĺňa spevákov brat, spoluhráč a autor niekoľkých piesní na albume Jan Neckář.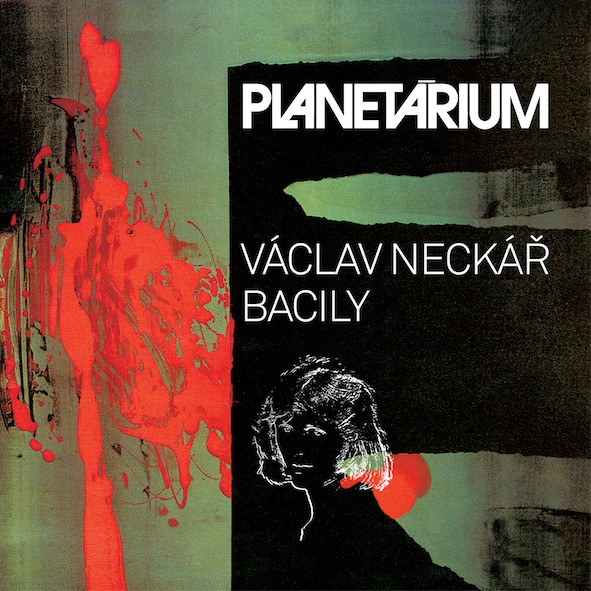 V aktuálnej 2LP reedícii poslucháčov potešia songy ako "Potulný hráč", "Diamantová žena" či "Hvězdné nebe nad Atlantidou", rekonštruovaný obal i zvuk a fakt, že téma ani prevedenie nezostarli.
Zdroj: TS