Život Milana Rastislava Štefánika prerozprávaný hudbou. Inštrumentálny album Startalker od Daniela Salontaya je voľnou jazdou inšpirovanou všetkým, čo si o ňom gitarista a skladateľ od detstva naštudoval a vysníval. Skladby použité v divadelnej inscenácii Masaryk/Štefánik najlepšie vystihuje označenie "soundtrack k pozorovaniu hviezd". Startalker vyšiel v deň 100. výročia smrti Štefánika pod značkou Slnko Records.
Prvým impulzom k vzniku nahrávky bolo oslovenie režisérským tímom, ktorý pripravoval film o Štefánikovi, no zo spolupráce napokon zišlo. Daniel Salontay, známy najmä ako člen kapely Longital, sa však rozhodol v hudobnom projekte pokračovať pre vlastné potešenie a zanietenie. Téma Štefánika ho totiž sprevádza už od detstva. Jednou z jeho vôbec prvých spomienok je socha Štefánika v trnavskom parku a údiv, keď ju jedného dňa na svojom mieste nevidel. "Bolo to obdobie, keď Štefánikove sochy mizli v celej krajine, lebo sa stal nežiaduci pre svoje kozmopolitné názory. Fascinácia historickými lietadlami ma sprevádzala až do chvíle, keď tento záujem nahradila gitara a hudba."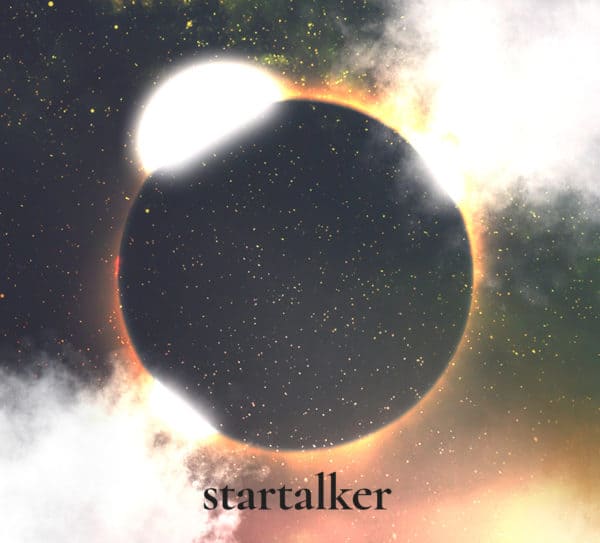 V približne rovnakom čase ako vznikala hudba, sa dramatik Peter Pavlac a režisér Patrik Lančarič prehŕňali zdrojmi historických informácii v súvislosti s prípravou česko-slovenského divadelného projektu pri príležitosti 100. výročia vzniku Česko-Slovenska vyobrazujúceho vzťah Masaryka a Štefánika. Peter si vzal Danielove rozpracované skladby a pri ich počúvaní vznikala hra, ktorá bola zase impulzom pre Daniela pozrieť sa na hudbu z iného uhlu, rozvíjať ju a dokončiť do dnešnej podoby. Išlo teda o dynamický proces, v ktorom hudba a hra vznikali paralelne, no vzájomne sa ovplyvňovali a v závere do seba pekne zapadli. Výsledkom je opakovane vypredaná inscenácia Masaryk/Štefánik, ktorú hrajú bratislavské Divadlo Aréna a Městské divadlo Zlín. "Petrovi a Patrikovi chcem týmto vyjadriť svoj obdiv a vďaku. Bola to spolupráca snov," hovorí Daniel Salontay.
Daniel Salontay – Startalker – full length HD video
Startalker je funkčne minimalistická nahrávka, ktorá dáva priestor rozjímaniu a obrazotvornosti poslucháča. Tému Štefánika spracúva nielen obsahovo ale aj hudobne. Nakoľko ide o scénickú hudbu, až na pár výnimiek Daniel pri tvorbe zachovával pravidlo maximálne troch hudobných prvkov resp. nástrojov. Jednotlivé skladby sú inšpirované konkrétnymi udalosťami zo života tejto mimoriadnej osobnosti, ich interpretáciu však Daniel necháva na poslucháčovi: "Nahrávka vznikla v ateliéri na Trnavskej ulici v Bratislave. Kúsok od ateliéru je jazero Kuchajda, ku ktorému som chodil v prestávkach odpočívať a bol to aj posledný orientačný bod pilota Štefánika, podľa ktorého sa navigoval na svoje osudné pristátie na letisku v neďalekej lvanke. Pohľad na vodnú hladinu a pocit, že sa na ňu presne pred 100 rokmi pozeral rovnako aj Štefánik, ma zvláštne upokojoval. Tento pocit potom výrazne ovplyvnil pokojný charakter hudby. Štefánik mal vo svojom živote veľa kľúčových momentov, keď sa ocitol sám a preto som si dal výzvu natočiť všetky nástroje a dotiahnuť nahrávku tiež sám, v kokpite svojho ateliéru."
Slovenský gitarista a skladateľ Daniel Salontay sa od útleho veku túžil stať letcom, ešte v detstve ale vymenil sny o lietaní za gitaru. Študoval a neskôr vyučoval matematiku. O niekoľko rokov prišla rázna zmena, keď odišiel do USA študovať jazz. Po návrate sa začal venovať naplno hudbe a hudobnej produkcii. Spoločne s Janou Shinou Lokšenincovou založili vydavateľstvo Slnko Records a kapelu Dlhé Diely, od roku 2006 známu ako projekt Longital, ktorej diskografia sa dnes pýši desiatkou albumov. Komponoval tiež hudbu pre filmy True Štúr alebo Snow-Sneh a spolupracoval s divadlami Continuo, Gunagu, Elle danse a Aréna.
Daniel Salontay – Klec na štěstí
Startalker je aktuálne k dispozícii na stránkach vydavateľstva Slnko Records v digitálnych formátoch MP3 a FLAC alebo na streamingoch. Album obsahuje dokopy 14 inštrumentálnych autorských skladieb. Pre hru Masaryk/Štefánik vznikla aj spievaná pieseň Klec na štěstí na slová T.G. Masaryka, ktorou vrcholí scéna pozorovania zatmenia SInka. Tá sa na albume síce nenachádza, ako bonusovú skladbu ju však môžete nájsť na Youtube. Divadelnú hru Masaryk/Štefánik máte stále možnosť vidieť v opakovaných predstaveniach v Divadle Aréna Bratislava a Městském divadle Zlín.
VIAC INFO
Album Startalker FLAC a MP3: https://www.slnkorecords.sk/daniel-salontay-dlhe-diely/startalker
Album Startalker na streamingoch: https://slnko.lnk.to/startalker
Artwork: Juraj Behún
Zdroj: Slnko Records