Spev
áč
ka
ALEXANDRA
, cel
ý
m menom Alexandra Tk
áč
ov
á
, je dvadsa
ť
ro
č
n
á
Pre
š
ov
č
anka, ktor
á
sa popri
š
t
ú
diu na univerzite (prekladate
ľ
sk
á
kombin
á
cia angli
č
tina-sloven
č
ina) za
čí
na naplno venova
ť
hudobnej dr
á
he.
Š
tartuje ju singlom a videoklipom
Out Of My Head
. Skladba vznikala postupne od leta 2021. Autorom hudby je
Juraj Kov
áč
, melodick
ú
linku a text nap
í
sala Alexandra. O produkciu, mix a
mastering sa postarali
Stano
Č
orej a Randy Gnepa
z
BASEMENT studio.
"V lete 2020 sme začali tvoriť prvé piesne, pôvodne ich pár bolo aj v slovenčine, no postupne sme prešli k angličtine, ktorá mi je blízka z mnohých dôvodov. Počúvanie a interpretácia hudby sú mi prirodzenejšie v anglickom jazyku a hlavným dôvodom je, že si texty píšem sama a je v nich veľa autobiografických prvkov. Písať o nich v slovenčine tak, aby mal text zmysel, aby spĺňal rýmové schémy, dobre sa spieval a neznel gýčovo, je pre mňa nadľudský výkon, na ktorý si zatiaľ netrúfam," povedala o svojej tvorbe Alexandra a dodala: "Text skladby Out Of My Head reflektuje nedávne obdobie môjho života, akýsi zlom v dospievaní, keď som mala pocit že neviem ani na chvíľu nájsť balans a všetko prudko skákalo "z extrému do extrému". Veľmi zlé momenty sa striedali s veľmi peknými a ja som mala pocit, že to nezvládam. To, že som z toho sformulovala nejaké dielo, pre mňa nepriamo znamenalo aj istý druh terapie a vyrovnania sa s niektorými vecami. Keď sa teraz, už s odstupom na to pozerám, hovorím si, že hoci je ešte stále niečo z toho aktuálne, mnohé už nie, a preto som rada, že som to vtedy dala v texte zo seba von."
Skladba má elektronickú produkciu, ale je v nej aj zvuk živých nástrojov: gitara – Miloš Humeník, perkusie – Miro Szirmai, bicie – Lukáš Fabián, basgitara – Stanislav Čorej a sláčikové nástroje – Maťo Jeriga. Sprievodné vokály spolu s Alexandrou nahrala Diana Dunčková.
Videoklip k skladbe Out Of My Head sa nakrúcal vo februári 2022 v ateliéri AudioOne v Prešove. Priestory a techniku zabezpečili Slavo Tokár a Luky Križan. Kameru a réžiu si rozdelili Daniel a Adrián Jenčovci z CubeArt Pictures, Zábery, ktoré sa nakrúcali v ateliéri sú doplnené naturálnejšími nočnými obrazmi z exteriéru, ktoré dobre dokresľujú dualitu, na ktorú text piesne naráža.
Alexandra so skupinou intenzívne pracuje na zostavení vlastného koncertného programu. Prvý koncert už absolvovali 30. apríla 2022 v prešovskej Christianii, kde zahrali 13 piesní v zložení: spev – Alexandra, bicie – Lukáš Fabián, klavír a vokály – Angelika Jenčová, gitara – Martin Tkáč, basgitara – Stano Čorej a vokály – Zuzana Lešková
Okrem koncertného programu pracujú aj na nahrávaní a produkcii druhého singla, ktorý by sa mal objaviť niekedy v letnom období. Po letných koncertoch je naplánovaná práca na EP, alebo albume.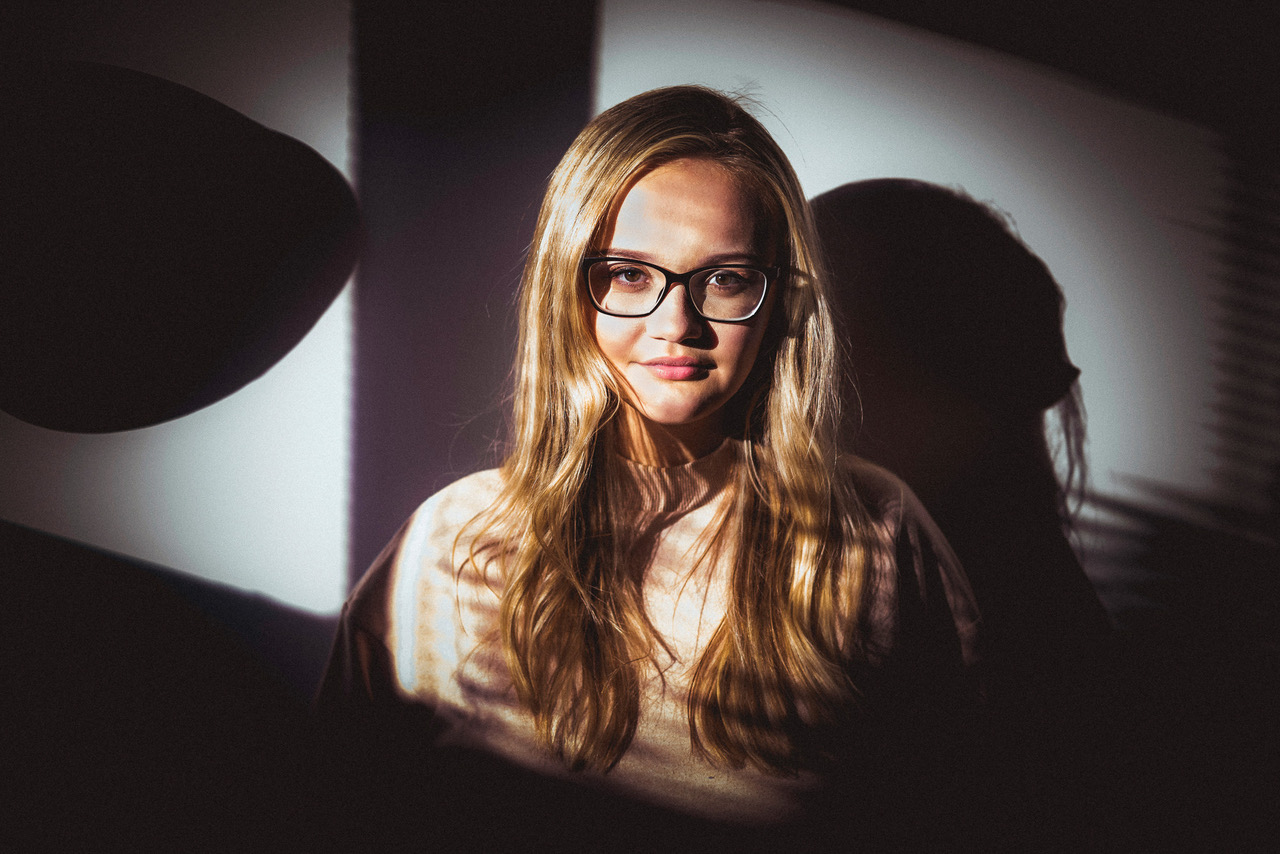 "Moje najbližšie sny a plány sú nahrať a vydať album, chcela by som určite veľa vystupovať, zdokonaľovať sa v speve, a aj v skladaní piesní. Rada by som to skúsila aj mimo Slovenska. Verím, že práve anglické texty by mohli pootvoriť dvere aj za hranice. Budem veľmi potešená, ak si v mojej tvorbe poslucháči nájdu to svoje, s čím sa dokážu stotožniť a bude im to robiť radosť," povedala na záver speváčka.
Alexandra Tkáčová pochádza z rodiny ktorá má k hudbe veľmi blízko. Už v útlom detstve ju k hudbe viedol otec – gitarista a aj starší brat Martin, ktorý je učiteľom gitary a účinkoval vo viacerých hudobných zoskupeniach (Madison Gentlemen, Kollárovci, Replay Band, Petra Bači Band). Doma počúvali rock a jazz rock, ale Alexandru uchvátil pop. Napriek tomu má blízko aj k iným žánrom, rovnako a občas vypočuje aj rap, či R&B. Spev bol pre ňu od detstva úplne prirodzený, dobrá intonácia a vystupovanie pred ľuďmi jej nikdy nerobili problém. Naplno sa tomu začala venovať od desiatich rokov a za vzdelanie v tomto odbore vďačí hlavne hlasovej pedagogičke Júlii Smolkovej. V CVČ Ebony dostala základy speváckej techniky, naučila sa ako fungovať na pódiu, ako vyberať repertoár, ktorý sedí hlasu, ako tvoriť harmónie, ako vystupovať a spolupracovať so živou kapelou. Počas vystúpenia tejto školy v roku 2019 stretla Stana Čoreja zo skupiny Komajota, s ktorým neskôr spolupracovala ako vokalistka na nahrávaní albumu Úzka Krajina – Elektromagnetický Život. Stano ju neskôr oslovil na spoluprácu na vlastnej tvorbe. Po rokoch spievania coververzií a piesní iných umelcov, tak spoločne s ním začala spracovávať nápady na texty, či melódie, ktoré si doma odkladala, ale sama ich nevedela dotiahnuť do konečnej podoby.