Skupina Ladies & Genitals z Michaloviec vznikla v roku 2016 a odvtedy stihla so svojou hudbou precestovať niekoľkokrát celé Slovensko, odohrať koncert vo francúzskom meste Cognac a v pesničkovej súťaži Košický zlatý poklad získať druhé miesto. V zložení: Jordán Dorič (gitara, spev), Michal Rybnický (gitara, spev), Samuel Perunko(basgitara, vokály), Milan Hredzák – bicie nástroje, vokály, vydáva debutový album, ktorý pomenovali netradične . . .(tri bodky).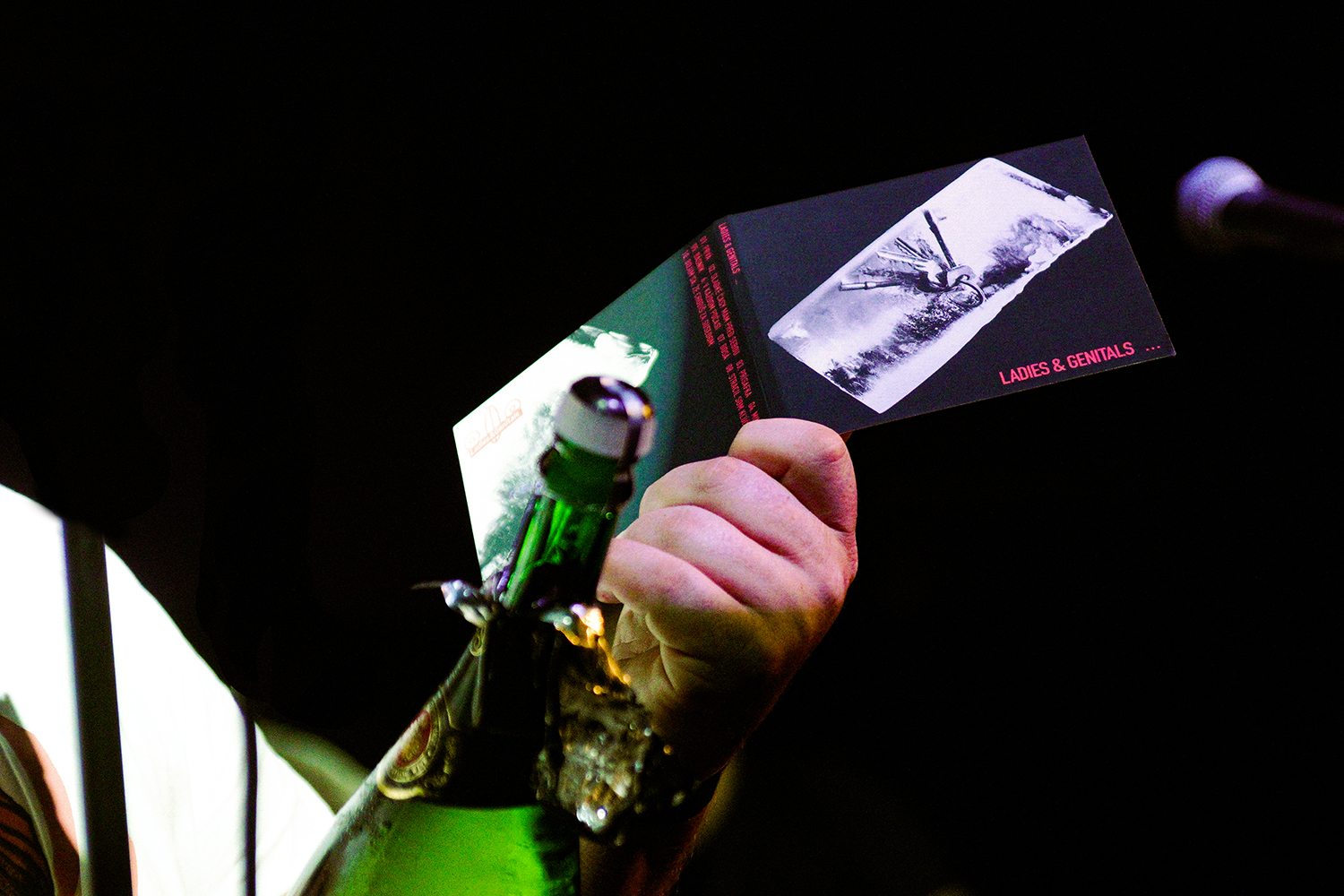 "Netreba za tým hľadať nič konkrétne. Radi sa vyjadrujeme v inotajoch. Hlavnou myšlienkou je to, že bolo už veľa albumov pomenovaných podľa skladby, ktorá sa na albume nachádzala. My sme si vymysleli tie tri bodky preto, aby si každý mohol album nazvať sám podľa toho, ako sa mu páči, či čím ho osloví," vysvetlil názov albumu bubeník Milan Hredzák a dodal: "Päť rokov je na prvý album možno trošku dlhšia doba, ale keďže sme všetci plne pracovne alebo študijne vyťažení, nie je to až tak prekvapujúce. Radi si dáme záležať na tom, čo vypustíme do sveta a chceli sme, aby všetko bolo "tip-top". Sme radi, že sme to vôbec dokončili, lebo často bol problém, aby sme sa všetci štyria spolu s naším zvukovým majstrom Sergejom stretli naraz všetci na jednom mieste."
Na albume je desať pôvodných autorských skladieb, ktoré sa postupne nahrávali v priebehu minulých rokov. Počas nahrávania spolupracovali s rôznymi hosťami z prostredia slovenskej hudobnej scény. Na výsledku sa spolu s členmi Ladies & Genitals podieľali aj Mário Gapa Garbera (IMT Smile), Pavol Jeňo (IMT Smile), Tomáš Lasky Šedivý(PARA) a ďalší.
"Chalani ma s ponukou na spoluprácu v pesničke Mimozemšťan oslovili po spoločnom koncerte v prešovskom klube Stromoradie, kde nám v roku 2019 hrali ako predkapela. Poslali mi demo a ja som asi o dva týždne prišiel za nimi na východ, kde sme to v štúdiu za jeden večer všetko nahrali. Som veľmi rád, že som im ich nové CD mohol aj pokrstiť," povedal o spolupráci hosťujúci spevák Tomáš Lasky Šedivý.
Na slávnostnom krste albumu v štúdiu AirPop v Michalovciach spolu s Laskym naživo predstavili najnovší singel Mimozemšťan, ku ktorému vznikol aj výnimočný animovaný videoklip.
"S prvou myšlienkou na klip k skladbe Mimozemšťan prišiel náš basgitarista Samo, ktorý oslovil kamoša z VŠMÚ Juraja Muchu, s ktorým sa zhodli, že by k tomu celkom sedel animovaný klip a že by sa ho pokúsil nejak dať dokopy. Finálny výsledok je podľa nás výborný a teší nás, že sme jedna z mála kapiel, ktorá má takýto videoklip," povedal o vzniku nového klipu Milan Hredzák.
Po vydaní albumu mali Ladies & Genitals naplánované koncertné turné, na ktorom chceli skladby z neho predstaviť naživo.
"Bohužiaľ je situácia taká, aká je a hrá sa menej, sme radi, že sme stihli urobiť aspoň krst CD. Veríme, že keď sa situácia zlepší, budeme môcť hrať zas naplno. Už máme rozpracovaných aj niekoľko letných festivalov na budúci rok, tak dúfame…," povedal o plánoch skupiny Milan Hredzák
Kým sa situácia s koncertovaním vyjasní, pripravuje Ladies & Genitals ďalší singel a videoklip k skladbe V každom počasí, ktorý sa nakrúcal na krste CD.
"Ak to situácia dovolí, tak by sme 26. decembra veľmi radi odohrali náš tradičný a veľmi obľúbený Štefansky koncert v Michalovciach, ktorý sa minulý rok nemohol uskutočniť. Prípravy už začali a veríme, že to tento rok už výjde," dodal na záver Milan Hredzák.
https://www.instagram.com/ladies_and_genitals/
https://www.facebook.com/ladiesngenitals/
Zdroj: