Po velmi úspěšném korzování Amerikou se pořadatelé turné dvou, ve svých žánrech silně promlouvajících kapel rozhodli spojení BELPHEGOR a SUFFOCATION přenést i na starý kontinent.

Obě kapely vydávané největším metalovým labelem Nuclear Blast pod jménem

Europe Under the Black Death Metal Fire na 30 koncertech navštíví 17 zemí.
Již od roku 1993 se rakouští ďábli BELPHEGOR zajímají o nejtemnější stránky čarodějnictví, démonologie a zákoutí, kam není radno strkat nos. Tito krvelační black/death čarodějníci se prezentují vysokorychlostním black/death metalem, který nenachází cestu pro jakékoli kompromisy. Základ aktuálního setu tvoří poslední album "Totenritual", ale v říjnu vychází album nové, třeba se z něj fanoušci dočkají ochutnávky.
Je třeba představovat legendární "vynálezce" slamu SUFFOCATION, jednu z nejlepších koncertních kapel a přes 30 let jednoho z nejosobitějších interpretů death metalu? Jejich hudba snese nejpřísnější měřítka, ať se to týká techniky, skladatelství či osobitosti. Každé z jejich 8 alb je unikum a každé z nich posouvalo nejen tvář kapely, ale i celého žánru. Dá se tak říct, že co se death metalu týče, ten se na Suffocation vždy může spolehnout.
Třetí logo, které zdobí plakát turné, náleží z nejvýraznějších polských kapel, která si podobně jako třeba Behemoth vyšlapává cestu neutuchající koncertní pílí a pravidelným vydáváním (diskografie momentálně čítá již 11 řadovek), což je s posledním albem "The Auric Gates of Veles" od Napalm Records přivedlo ke gigantu Metal Blade. HATE s Behemoth ale spojuje i hudba, neb tihle kozli rovněž mísí black s death metalem, který doprovází atmosféra a místy hymnický nádech.
Aby toho nebylo málo, fanoušci nad tyto tři taháky dostanou ještě další dvě kapely. Šikovné melodic thrash/deathery CARNOSUS ze Švédska, v Praze pak moderní deathmetalisty BETRAYAL a v Košicích naopak řecké SHADOWMASS, kteří thrash obohacují deathem i blackem.
Po oba večery nebude nouze o rychlá tempa, knock-out zasazující riffy, ani temnou atmosféru. Může si milovník extrému přát víc?
BELPHEGOR, SUFFOCATION, HATE, CARNOSUS, BETRAYAL (Praha) / SHADOWMASS (Košice)
29. 2. 2020 – Praha, Futurum
FB event: https://www.facebook.com/events/598803557536123
e-TICKET: https://obscure.cz/cs/tickets/detail/id/322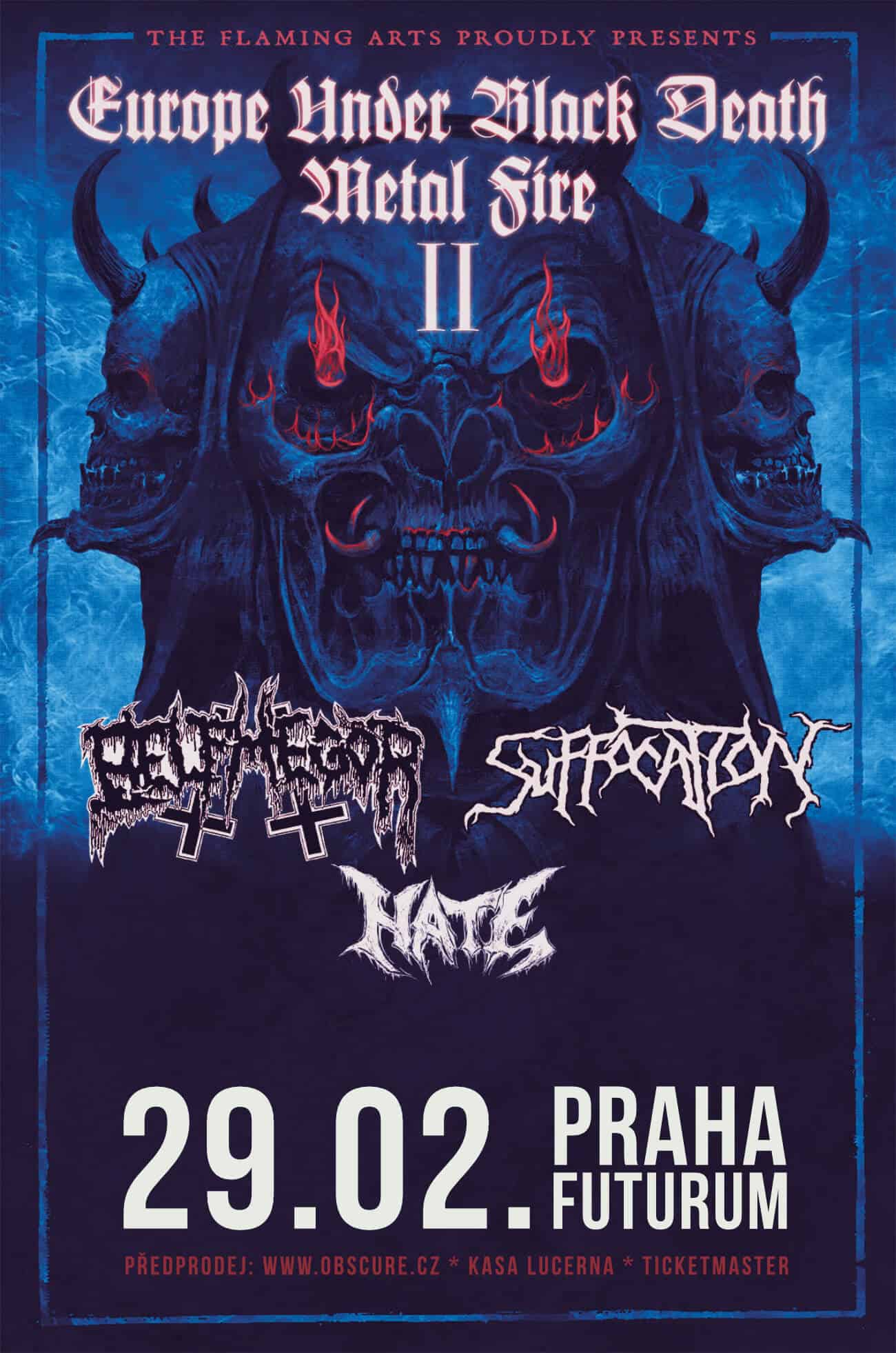 1. 3. 2020 – Košice, Collosseum
FB event: https://www.facebook.com/events/711861169301991
e-TICKET: https://obscure.sk/cs/tickets/detail/id/323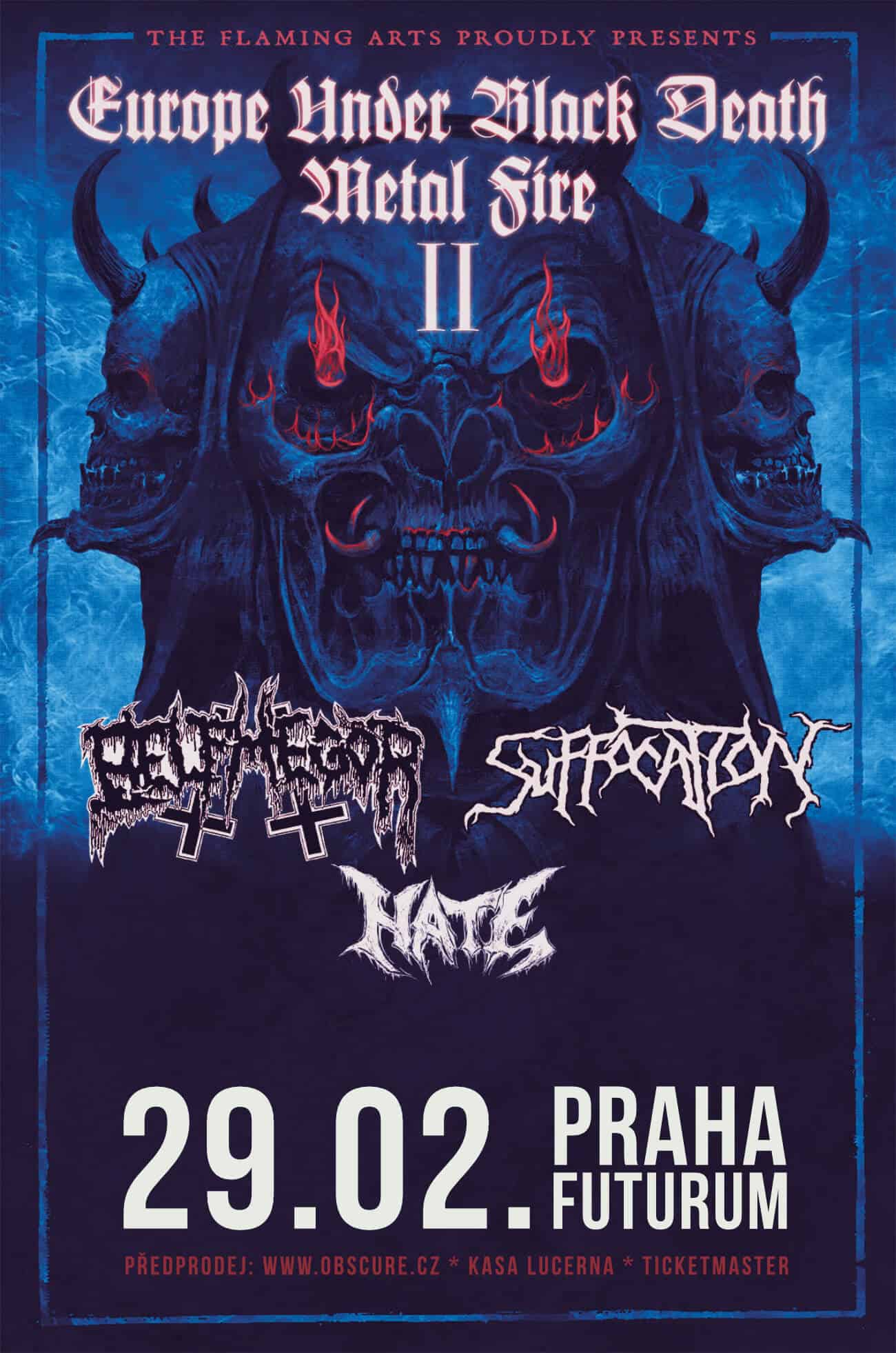 Belphegor
https://youtu.be/tyDaEXtnYIo
https://youtu.be/x09sTIjual8
https://youtu.be/gkSOpmchJiM

Suffocation
https://youtu.be/iiSvg6SVZvs
https://youtu.be/Jp1YSf_5mr8
https://youtu.be/i6nrglujp1U

Hate
https://youtu.be/VfM0PpXMAFA
https://youtu.be/YpOdLGtmDw4
https://youtu.be/WNMFnW34F-0

Carnosus
https://youtu.be/lzPPH3hTRZs
Betrayal
https://youtu.be/vmCo6uDc1Ao
Shadowmass
https://youtu.be/90HPax2sraI
Předprodej viz výše, pro Prahu dále v síti Ticketmaster a na předprodejní kase v Lucerna Music Baru, pro Košice v síti Ticketportal.sk a na baru v klubu Collosseum.
Zdroj: Obscure Promotion