Koncerty v ateliéroch, kabinete či na dvore bývalej školy. V ikonických priestoroch bratislavskej Novej Cvernovky sa v apríli uskutoční už šiesty ročník hudobného festivalu a konferencie SHARPE. Okrem mladých hudobných talentov z celej Európy organizátori opäť pozvali aj mnohých hudobných odborníkov. SHARPE tak vytvára na Slovensku priestor na prezentáciu hudby nielen fanúšikom, ale aj odbornej verejnosti a promotérom z celého sveta.
Festival SHARPE sa začne vo štvrtok 20.4. a potrvá do 22.4.2023. Návštevníci sa môžu tešiť na koncerty aj hudobné vzdelávanie. "Som rád, že s niekoľkomesačným predstihom sa nám podarilo potvrdiť prvú vlnu umelcov aj účastníkov odbornej konferencie. Šesť pódií počas troch dní tak ponúknu rôzne alternatívne a progresívne hudobné žánre, odelektroniky cez synth a digitálny pop, rock, postpunk, jazz aj experimentálnu tvorbu. Konferencia zase ponúkne kvalitných odborníkov, a som šťastný, že sa nám podarí dotiahnuť na Slovensko svetovú legendu hudobného masteringu", hodnotí šéf festivalu SHARPE Michal Berezňák.
Prvou z potvrdených kapiel je poľské duo Wczasy. Vo svojej hudbe spája poľský cold wave so synth-popovými hitmi v štýle 80. a 90. rokov. Silné emotívne poľské texty, originálne videoklipy a živé koncerty ich preslávili medzi fanúšikmi alternatívnej hudby. Ich debutový album s názvom "Zawody" vyhlásili niektorí recenzenti za generačný manifest. Ich posledný album "To wszystko kiedyś minie" bol zaradený do mnohých súhrnov najlepších albumov roku 2021, vrátane ankety Gazeta Wyborcza.
Ďalšou potvrdenou kapelou festivalu SHARPE sú nemeckí HOPE, ktorí sú považovaní za najsľubnejšiu nemeckú kapelu súčasnosti. Vynikajú digitálnym popom a pripomínajú intenzitu Portishead. Po vystúpení na festivale Eurosonic ich médiá oslavovali ako nový avantgardný popový zázrak.
Slovensko bude zastúpené alternatívnou a progresívnou skupinou Vojdi. Trio z východu ponúkne harmonické progresie plné jemných vokálov.
Z Pobaltia príde fanúšikov roztancovať PLANETA POLAR. Litovské trio spievajúce po španielsky prinesie repertoár latinských karnevalových piesní, o ktorých si myslíte, že boli napísané niekde blízko Karibiku, nie Baltského mora.
Zoznam prvých ohlásených kapiel dopĺňa ďalší zaujímavý počin – Jozef Krupa Quartet (SK). "Ide vskutku o jedinečnú fúziu avantgardného jazzu, voľnej improvizácie a súčasnej komornej hudby", vyhlásil o nich nedávno web Jazzport.
Nemecko bude mať ďalšie zastúpenie aj v podobe PUBLIC DISPLAY OF AFFECTION. Hovorí sa o nich, že vďaka ich živým vystúpeniam v Berlíne ostáva toto nemecké hlavné mesto naďalej tajomné, divné a zvláštne. PDOA sa vracajú k nebojácnej výstrednosti objavenej berlínskymi umeleckými umelcami a kolektívmi v 80. rokoch. Ich hudba spája oduševnenie a hriešnosť.
Garage-rocková skupina Small Town Life rozširuje slovenské zastúpenie na festivale SHARPE. Ich hudba stojí na hrane špiny a tvrdosti 90. rokov a naivných melódií popu 60. rokov. Svoju zmes gitarového hluku dopĺňajú surovým vokálom.
Z Česka príde predstaviť svoj projekt BoLs/sLoB mladý Matěj Dvořák. Vo svojom elektronickom počine sa inšpiruje britskou post-clubovou scénou, rapom a moderným popom. Autentická nálož žánrového mixu robí z BoLs/sLoB jednu z najnadanejších osobností českej elektronickej scény.
Zatiaľ posledným z potvrdených mien je projekt slovenskej dvojice Jany Drábekovej Kočišovej a Filipa Drábka s názvom Päfgens. Pôsobili na Slovensku, vo Varšave a momentálne tvoria v Berlíne, kde im tento rok vyšiel album Der Regen.
Od iných hudobných podujatí sa odlišuje SHARPE jeho víziou prispieť ku kvalite domácej hudobnej infraštruktúry, podporovaním vzdelávania, rozvoja a spolupráce. Organizátori túto víziu napĺňajú prostredníctvom konferencie, ktorá je neoddeliteľnou súčasťou festivalu. SHARPE tak vytvára priestor na odborné diskusie, workshopy a oficiálne aj neoficiálne stretnutia medzi interpretmi, hudobnými odborníkmi a fanúšikmi.
Prvým potvrdeným hosťom odbornej časti je slovenský rodák Vlado Meller, ktorý je svetovou legendou hudobného masteringu. Po emigrácii z Československa v roku 1969 sa v USA vypracoval na popredného audioinžiniera. Pracoval na zvuku viac ako päťdesiatich albumov a spolupracoval s takými hviezdami, ako sú Red Hot Chili Peppers, Oasis, Johnny Cash, Metallica či Pink Floyd. Sedem albumov, na ktorých sa podieľal, bolo nominovaných na Grammy Awards a za album Fijación Oral, Vol. 1 (Shakira) získal dve ceny Latin Grammy Awards. "S Vladom Mellerom som čítala rozhovor v niektorých slovenských novinách a nestačila som sa diviť. Vtedy sme si s Mišom povedali, že je to presne ten príbeh, aký hľadáme a ktorý by sme chceli predstaviť na SHARPE našim návštevníkom. Vlado Meller dokazuje, že nezáleží, kde si sa narodil a že sa to dá dokázať aj z takej malej krajiny ako je Slovensko. Ako? To nám snáď prezradí Vlado na festivale už v apríli", hovorí o potvrdenom hosťovi Tatiana Lehocká, šéfka konferencie festivalu.
Druhým potvrdeným hosťom konferencie je Oliver Rehák, ktorý spoluzakladal časopis 3/4 revue, festival súčasnej hudby Next a bratislavskú A4ku, kde pôsobil ako hudobný dramaturg. Hral v skupine Lunárne legendy, dnes Regale. Pracuje ako editor a reportér v Denníku N.
Okrem oznámenia noviniek spustil SHARPE aj predpredaj vstupeniek na ročník 2023 v dvoch variáciách. FESTIVAL PASS na hudobnú časť sa začína predávať za 29 € (early bird). PRO PASS, ktorý umožňuje vstup na celý festival, teda hudobnú časť aj konferenciu, stojí 59 €. Vstupenky je možné zakúpiť na stránke festivalu SHARPE: https://sharpe.sk/tickets/
Spotify playlist Sharpe 2023: https://spoti.fi/3htb3TE
Youtube playlist Sharpe 2023: https://bit.ly/3hpCvlm
Sharpe music festival 2023: https://bit.ly/3DW0Bvs
Sharpe conference 2023: https://bit.ly/3tlA8m9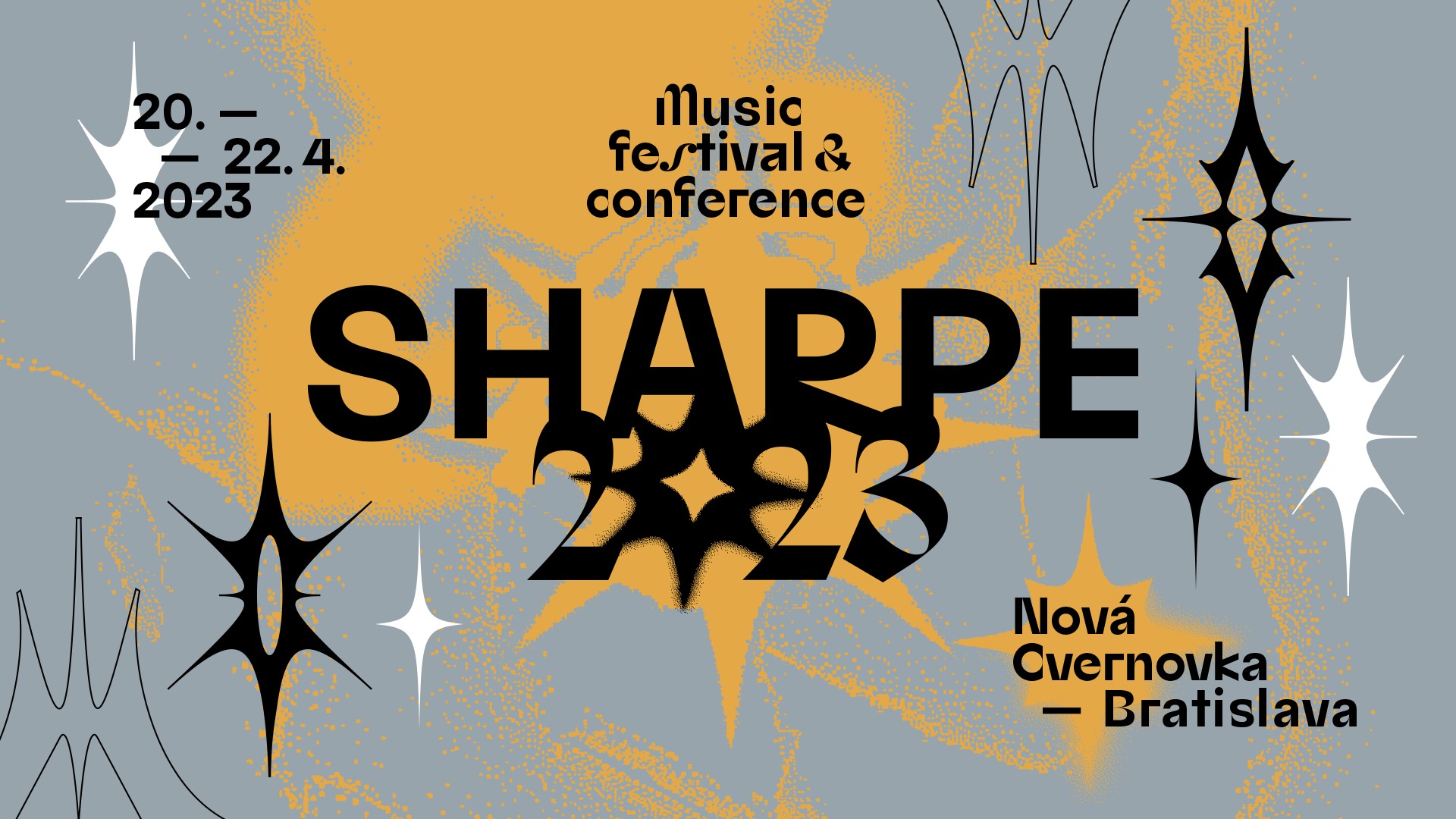 Zdroj: TS