Slovenská Hudobná liga pomaly, ale isto smeruje do svojho finále. Už o pár dní sa zídu všetci ôsmi finalisti v košickom GES CLUBE, aby zabojovali o priazeň poroty a stali sa tak v poradí siedmym víťazom tejto súťaže.
"Porota to bude mať tento rok veľmi ťažké." Podotýka riaditeľ súťaže Ľ. Sluk. "Kvalita súťažiacich z roka na rok rastie. Prichádzajú k nám hotoví umelci. Osobne si naozaj neviem tipnúť, ako to dopadne. Hoci vďaka tomu, že všetci finalisti už nahrali svoj singel, máme aký ten prehľad. Avšak, rozhodne porota počas finálového večera."
Všetci finalisti, vrátane náhradníka, mali v letných mesiacoch k dispozícii jeden nahrávací deň v bardejovskom štúdiu LeonArt, kde sa ich ujal zvukový majster Rado Kunec. Vzniklo tak 9 nových piesní, ktoré určite odznejú aj 21.11.2018 v GES Clube, kde sa počas finálového večera tento spoločný album finalistov pokrstí. Okrem finalistov vystúpia aj ešte stále úradujúci víťazi predošlého ročníka kapela SEMATAM. Takže o dobrú muziku aj náladu nebude núdza.
Na meno víťaza si však budeme musieť počkať do 21.11.2018. Ponúkame vám však malú ochutnávku spomínaných singlov všetkých ôsmich finalistov a náhradníkov a zároveň pozývame na FINÁLE 7. ročníka SHL, ktoré sa bude konať od 19,00 hod. v Košickom GES CLUBE, ktorý zvykne hostiť tie najrozličnejšie slovenské aj zahraničné legendy. Pripomíname, že vstupenky na koncert sú už v predpredaji na www.hudobnaliga.sk a sú za zvýhodnené ceny. Všetkým súťažiacim držíme prsty.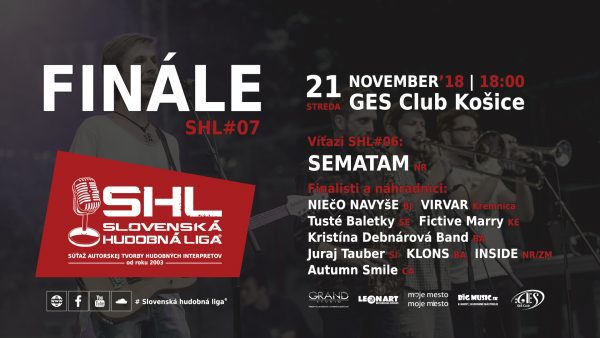 Kanál SHL – Výberové štúdiové CD finalistov SHL#07
https://www.youtube.com/watch?v=brZbP446d_Q&list=PLDEjd-qcZssqwQ3kugkSJHO6vHqGRbi5d
Všetky potrebné informácie nájdete a priebeh súťaže na webe
www.hudobnaliga.sk
Fanpage SHL
www.facebook.com/slovenskahudobnaliga/
Natália Barteková, PR manažér
Zdroj: GRAND STUDIO, s.r.o.