Nikým nepochopený a životom vláčený upír smutne posedáva na schodoch temnej uličky, keď si tu zrazu všimne jasne svietiacu reklamu na Samsung Nightography, najvýkonnejší mobilný fotoaparát mobilného telefónu na trhu. Razom je svet lepší: upír vezme svoj smartfón Samsung Galaxy S22 Ultra do ruky a začne fotiť úžasné nočné selfie a krátke videá, ktoré ihneď zdieľa na upírskej zoznamke. Výsledok na seba nenechá dlho čakať: v nočnom klube ho vyhľadá upírka, ktorá ho objavila práve na zoznamke.
Krátkou paródiou na horor, ktorú celú natočil režisér Matyáš Fára na mobilný telefón Samsung Galaxy S22 Ultra, Samsung demonštruje skvelé vlastnosti nového fotoaparátu Nightography. Vďaka nemu je možné aj v noci vytvárať fotografie a videá rovnako ako za denného svetla, takže svojho užívateľa nijako neobmedzuje. Hororom inšpirovaný klip pripravil štáb 35 ľudí a hlavné úlohy v ňom stvárnili neherec Ján Svoboda a známa česká tatérka Bára Cielecká alias Duhovka.
Tma už nie je pre fotoaparát žiadny problém
"Natáčanie na mobil pre mňa bola úplne nová skúsenosť. Nevedel som, čo od neho čakať, ale nakoniec sa natáčanie na mobil prakticky nelíšilo od klasického natáčania na kameru," prezradil Jan Svoboda, ktorý sa v klipe premenil na upíra, čo hľadá novú priateľku. Upír v spote fotí selfie na nočnej ulici, v bare, natáča nočný život a fotografuje sa s ďalšími ľuďmi v klube. Teda presne to, čo od svojho smartfónu očakávajú mladí užívatelia, ale zatiaľ im to neumožňovali obmedzené možnosti nočných režimov fotoaparátov. S tým je pri Galaxy S22 Ultra koniec. Vďaka funkcii Samsung Nightography môžu vyjadriť svoje pravé ja v ktorúkoľvek dennú aj nočnú hodinu.
Matyáš Fára je mladý nádejný režisér reklamných spotov, ktorý vo svojej tvorbe kombinuje súčasné postupy vizuálneho rozprávania. S natáčaním podobných spotov má bohaté skúsenosti. Má za sebou reklamy pre značky ako Škoda, Pilsner Urquell, Puma, Vodafone, Jägermeister a pod. Mladý režisér skvele kombinuje vizuálne detaily s filmovým rozprávaním a novými technológiami. Jeho spot o upírovom nočnom živote je voľne k dispozícii na YouTube kanáli Samsung Česko a Slovensko.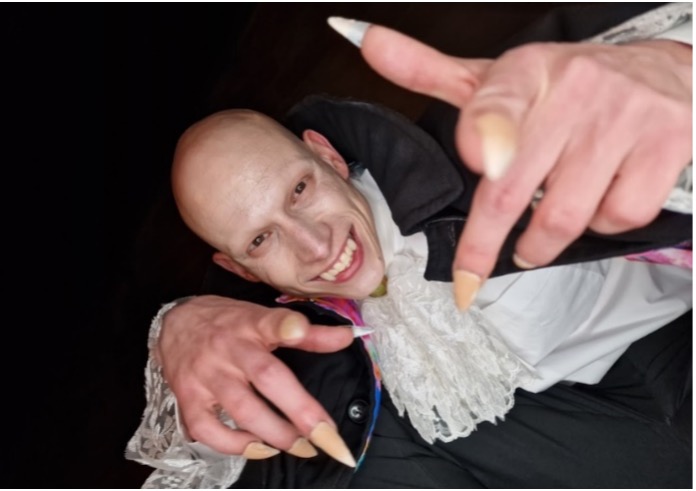 Samsung Galaxy S22 Ultra predstavuje najvyšší model z tohtoročného radu prémiových telefónov Galaxy S22 a patrí medzi to najlepšie vo svete smartfónov. Profesionálny fotoaparát Nightography prichádza s mobilnou fotografickou revolúciou. Ostré a jasné snímky tak vytvoríte aj v zhoršených svetelných podmienkach. Vďaka obrovským snímačom a pixelom meniacim tvar tak budú aj nočné zábery vždy presvetlené a ostré.
Spot natočený na Samsung Galaxy S22 Ultra od režiséra Matyáša Fáru si môžete pozrieť tu.
Zdroj: TS