Masta Ace. Jeden z posledních mohykánů devadesátkového East Coast rapu. Funkční veterán, co pořád snese nejpřísnější měřítko jak ve studiu, tak na pódiu. Týpek, co hlídá kvalitu rapu dokonce od osmdesátek a začátků s Juice Crew (Big Daddy Kane, MC Shan, Marley Marl, Biz Markie, Craig G, Roxanne Shanté, Masta Ace).
MC s flow hebkou jak samet, představivostí pestrobarevnou, že by mohla u slabších kusů spustit epileptický záchvat a lyrikou, co inspirovala generace rapperů. Za jeden ze svých největších vzorů ho opakovaně označuje například jakýsi Eminem… Masta Ace – ten co nikdy neodešel, ani nepadnul, bude 6. března konečně zase jednou k vidění naživo on the mic v pražském Lucerna Music Baru spolu s Marco Polo on the beat. Born to roll. Vstupenky v předprodeji za 415 Kč pořídíte na musicbar.cz a goout.cz: https://musicbar.cz/cs/program/masta-ace-marco-polo-us/
Return of the boom bap – Krs One
Styl si stvořit vlastní. Rukopis jasně rozpoznatelný. Věrný mu zůstat. Odkaz svůj nezradit. Zároveň nebýt slábnoucí ozvěnou časů zašlé slávy. Neopakovat se jako přeskakující deska. Výzva z největších. Masta Ace tu hozenou rukavici zvedl s grácií a noblesou rapového šlechtice. Nese pochodeň klasického rapu z Brooklynu. Posouvá se a vyvíjí. Nebojí se složitých témat jako je boj s roztroušenou sklerózou The Fight Song s Pharoahe Monchem. Ale jestli bude třeba, sucker MCs konkurenci klidně sestřelí Acknowledge nebo dá jiskru zlatým řetězům a bez senilního sentimentu tě strojem času teleportuje na jam v parku Nostalgia.
Don't call it a comeback – LL Cool J
Masta Ace jede furt. Nejen turné po Evropě, ale stále nahrává features, posílá ven nové skladby, vydává alba (těch má celkem 8: Take A Look Around, SlaughtaHouse, Sittin' On Chrome, Disposable Arts, A Long Hot Summer, Son Of Yvonne, The Falling Season, A Breukelen Story + The Show a The Tonite Show s eMC a Arts & Entertainment s EdO G). Solidní čísla na Spotify (přes 500.000 měsíčně). Playlist ale neplní vata. Na rozdíl od většiny stárnoucích super hrdinů let devadesátých, co tvůrčím způsobem majestátně mlčí. Kostějů Nesmrtelných, z nichž nejeden už potkal svou smrtelnost. Masta Ace dál znamená značku kvality.
Once again back it's the incredible – Chuck D / Public Enemy
Masta Ace + Česká republika znamená zvláštní pouto. Na stagi byl neuvěřitelný už jako headliner Hip Hop Kempu 2005 i při každé další návštěvě. Sólo, s EdO G nebo eMC – jeho kapelou, co to onehdá zabila intrem své show na německém festivale Splash!, kde svůj crowd pozdravila "Wassup Hip Hop Kemp?"
"Let the drummer have some" – James Brown
Jestli Ace přináší hlas a rýmy. Marco Polo zvuk a beaty. Od brigádničení v D&D Studios se chlápek s cestovatelským jménem dostal daleko a vysoko. Opustil Toronto pro Brooklyn. Rodinu pro rap. Pokud boom bap je váš šálek čaje. Bubny alá Marco Polo jsou pro vás svět. Od singlu Nostalgia to viselo ve vzduchu a koncem 2018 to řachlo plnou vahou heavy weight šampiona. Masta Polo, this is the main event, this is not a promo. Společná deska A Breukelen Story korunovala společnou cestu tohole komba. Chlapci posbírali vavříny a bacha: chystá se deska další. Na koncertu v Lucerna Music Baru dostanete ochutnat.
Lucerna Music Bar & Boombox Parties present
Brooklyn Boombox
Masta Ace & Marco Polo / US
6. 3. 2023, doors 20:00
Lucerna Music Bar, Praha
www.musicbar.cz
Vstupenky v předprodeji za 415 Kč na musicbar.cz a goout.cz.
Vstupenky online: https://musicbar.cz/cs/program/masta-ace-marco-polo-us/
Facebook událost: https://www.facebook.com/events/678777080650849
Ticket link: https://musicbar.cz/cs/program/masta-ace-marco-polo-us/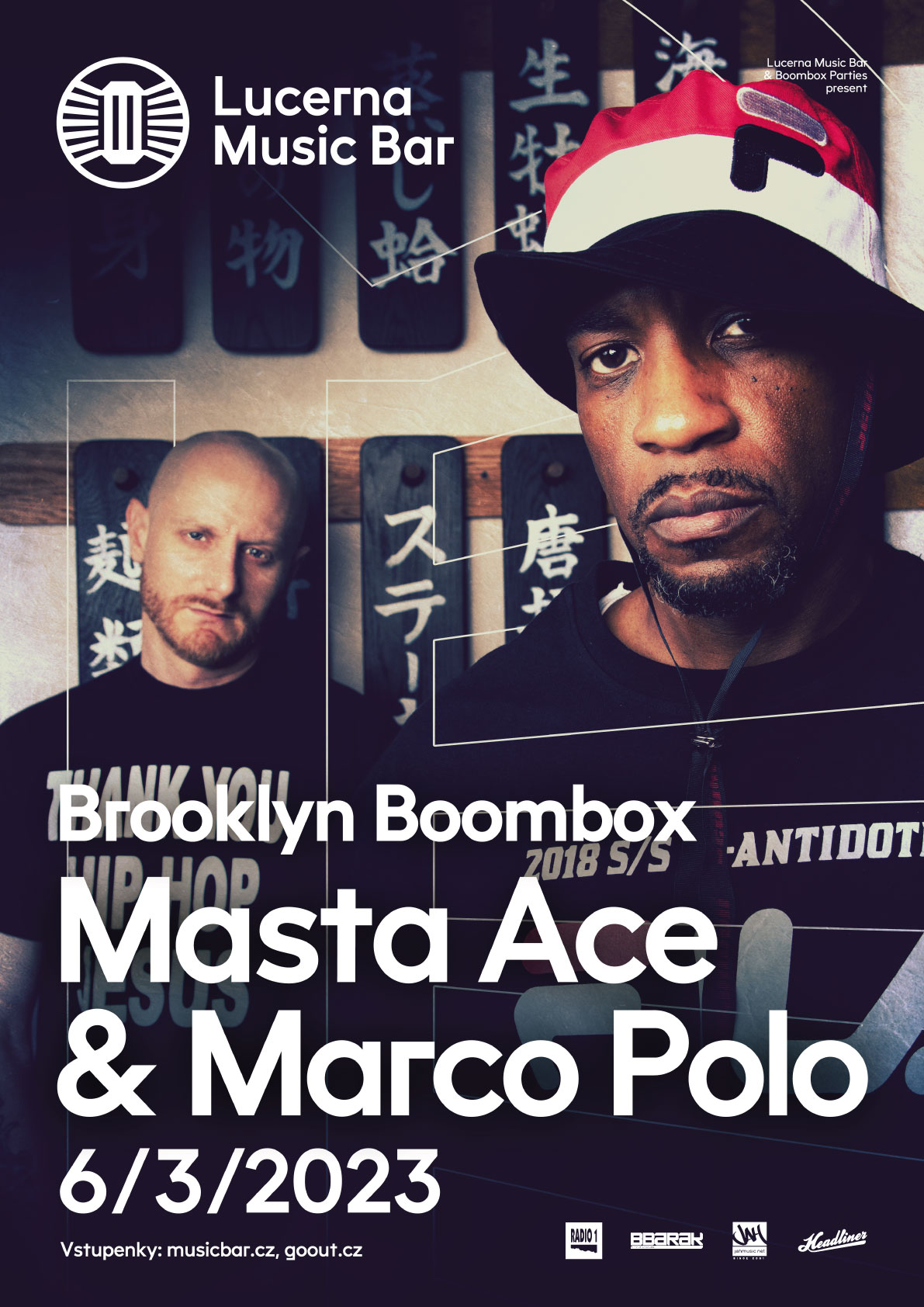 Zdroj: TS