Hudobná škôlka, na ktorej sa vyskákame na najlepšie hity z minulosti! Našu párty kazetu pretočíme na 70. a 80. roky, z ktorých povyberáme legendy diska, rock´n´rollu a nezameniteľného československého soc-popu. Z pódia nás bude sprevádzať energická kapela Funky Emotions a roztancovaní DJi Arnoštek a Frenky. Retro náladu nám dotvorí dobová výzdoba, legendárne hry a kultové pochutiny z našich škôlkarských čias.
V retro štýle vás čaká:
Výzdoba. Atmosféru doplnia girlandy z retro vlajok, dobové časopisy a plagáty, lampiónový sprievod na terase, stena z Rubikovej kocky a vinylové platne.
Živá kapela Funky Emotions. Skupina mladých hudobníkov servíruje najväčšie funky-soulové hity od 60. až po 80. roky. Repertoár tvoria skladby od kapiel ako Kool & The Gang, Earth, Wind & Fire, James Brown, Jamiroquai, Simply Red, Maceo Parker, Donna Summer.
Hernička. Zahrajte si dnes už legendárne videohry z klasických konzol ako Playstation, Atari a Super Nintendo. V ponuke budú hry Super Mario, Contra, KIrby's Adventure, Asterix a Obelix a Battle City.
Občerstvenie. Pripomenieme si tradičné dobroty ako Deva čokoládky, Piknik, Pikao, Arašidové chrumky, karamelové lízanky, cukríkové náhrdelníky, kyslé lízanky, Tatranky a farebné malinovky.
Spoločenské hry. Stolný futbal, Stolný hokej, Stavebnica Merkur – raketoplán, Grafo, Logic,
skákanie škôlky, magnetické rybičky, Človeče, nehnevaj sa a šach.
Výroba odznakov. Vyrobte si odznak podľa vlastnej fantázie alebo s retro inšpiráciami.
DJ Arnoštek pripraví vinylovú selekciu tých najväčších hitov od 40. swingových rokov až po ranné 90. roky. Počuť budeme hity overené rokmi, na ktoré sa len ťažko zabúda. "Baví ma sledovať, ako si ľudia užívajú hudbu svojich rodičov a skladby, ktoré počuli kedysi dávno a znova majú tú možnosť si ich pripomenúť," hovorí DJ Arnoštek.
DJ Frenky predvedie svoj až renesančne široký záber, v ktorom nebude chýbať rock ´n´roll, rockové a beatové hitovky či prierez od 60. až po 90 roky. "Nebránim sa ani československým pesničkám z rôznych období, niektoré sú až nechutne obskúrne, o to radšej ich púšťam. Hranie retro vecí prišlo spoločne so zbieraním starých platní, ešte v období keď ich už nikto nechcel. Starú muziku som mal a stále mám rád," hovorí Frenky.
Originálna projekcia od VJ Bliksa
Písací stroj ako guestbook.
29. 3. (piatok)
Štart: 22:00 hod.
Vstup: 7€
FB event: https://www.facebook.com/events/310008646367998/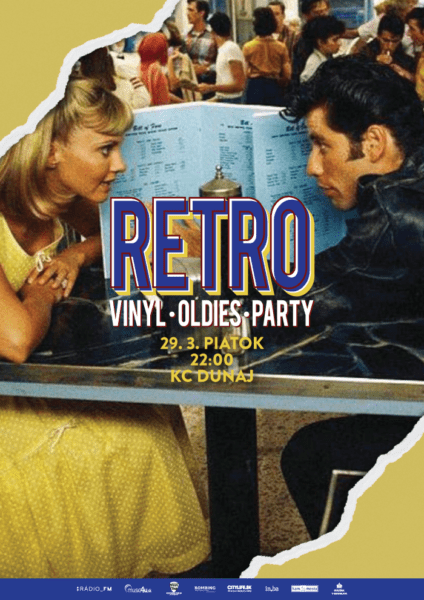 Zdroj: KC Dunaj