Uplynulú sobotu 16. júla boli hráči aj diváci svedkami finále hokejbalového turnaja, aký Slovensko ešte nezažilo. Do Národného Finále Red Bul Urban Buly postúpilo 12 najlepších tímov z celého Slovenska, no stupienok pre víťazov bol len jeden. Ten si napokon vybojovali chalani z Al Dente Prešov, ktorí v záverečnom zápase porazil Pilotov TN 10:6.
NAJLEPŠÍ Z NAJLEPŠÍCH
Už samotné kvalifikačné turnaje naprieč Slovenskom dali hráčom poriadne zabrať a postup do finále do Bratislavy teda ani z ďaleka nebol len o šťastí. Historicky prvý kvalifikačný zápas Red Bull Urban Buly sa odohral v Košiciach, a následne kvalifikácie pokračovali v Banskej Bystrici a Bratislave. Najlepšie tímy sa spolu stretli na mieste, ktoré je s hokejom priam späté, na námestí pri Štadióne Ondreja Nepelu. O tom, že hráči neboli žiadni amatéri svedčí aj fakt, že sa Národného Finále zúčastnili aj už štvornásobní majstri sveta v hokejbale. Tím Tatra Warrios si celý turnaj viedol nesmierne dobre a osudová im bola až TOP 8.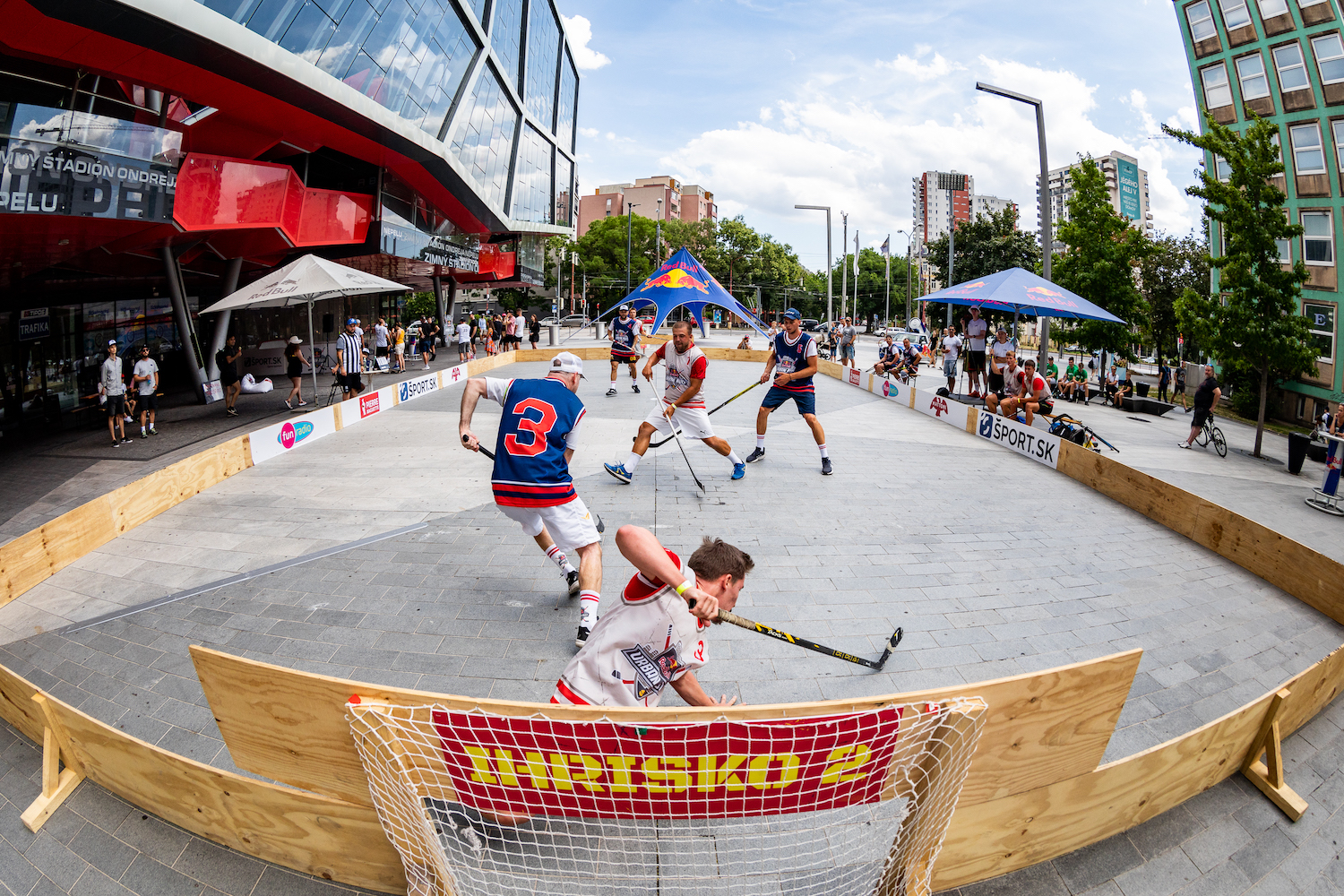 "S tímom sme si to náramne užili. Red Bull Urban Buly bol pre mňa skvelou skúsenosťou. Nešlo len o hokejbal, stretol sa tu kopec skvelých ľudí a vytvorili sme tu úžasnú komunitu. Do finále sa dokonca prebojovali moji kamaráti z Prešova pod tímom Al Dente, a ja som im samozrejme držal palce," komentuje Boris Oravec, kapitán tímu Tatra Warriors a štvornásobný majster sveta v hokejbale.
Užiť si to prišli aj českí Chlívací, ktorí sa napokon postavili na tretí stupienok víťazov.
"Na turnaj nás prišla dokonca podporiť aj rodina, spravili sme si na Slovensko výlet a samozrejme že sme prišli vyhrať. Tretie miesto je však tiež úspech, ktorý zaručene oslávime," dodali po zápase Chlíváci, ktorí si to rovno namierili na Red Bull Urban Buly After Party na Sundeck, kde to žilo skvelou náladou a fantastickou hudbou až do skorých ranných hodín. Koniec koncov, bolo čo oslavovať!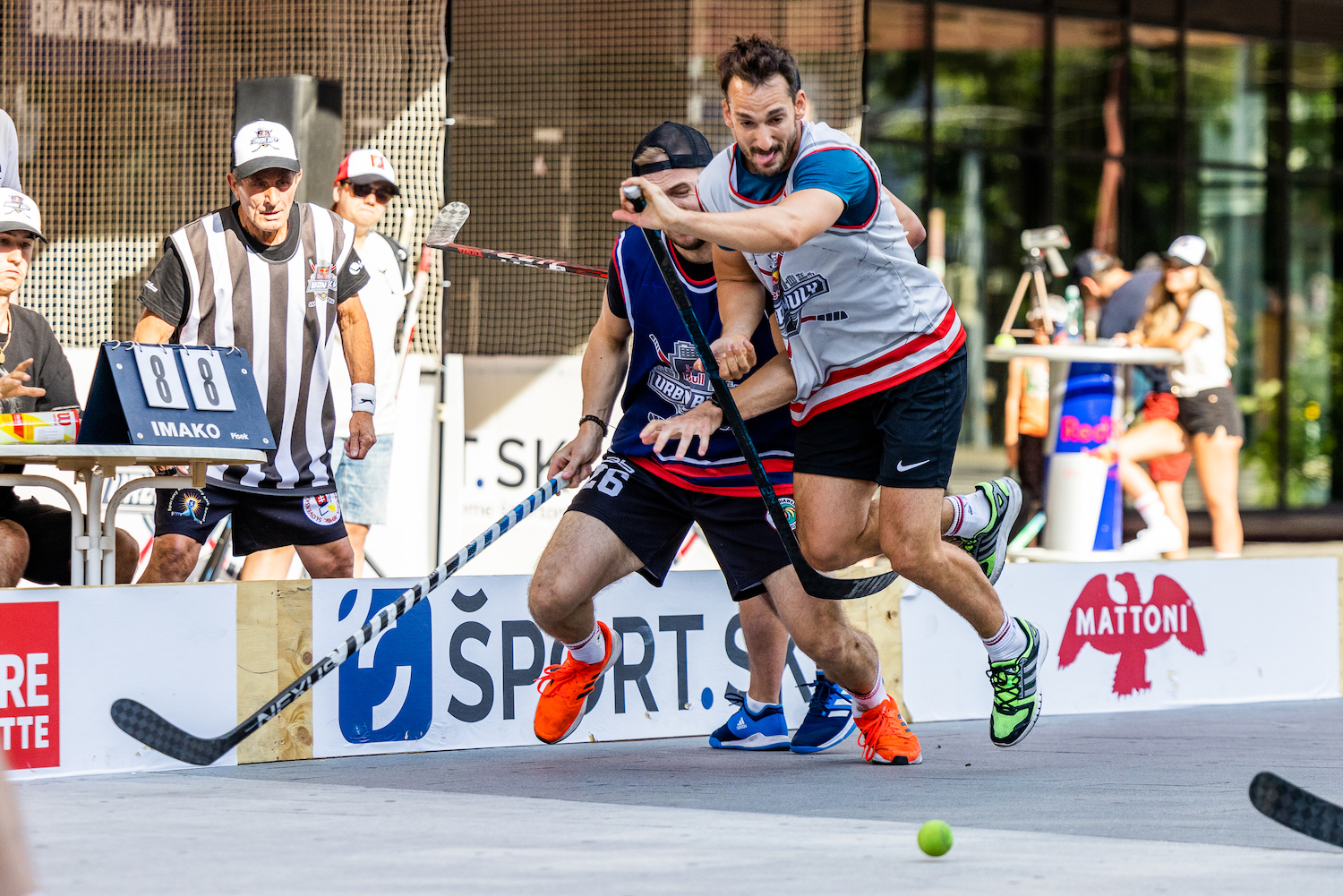 VEĽKÉ FINÁLE
"Veríme si. My sme v Bystrici skončili tretí, ale teraz máme posilu. Chlapec hrá vo Fínsku ligu, takže myslím, že dnes to bude ešte lepšie," sľuboval Marek Minárik z tímu Piloti TN tesne pred finálovým zápasom.
Očakávania od oboch tímov boli veľké a tipnúť si víťaza ešte pred začatím finálového zápasu bolo prakticky nemožné. Vo veľkom finále sa stretli tímy Al Dente a Piloti TN.
Celý zápas nenechal hráčov ani divákov ani na moment vydýchnuť a bola to hra, na ktorú budeme ešte dlho spomínať. Skvelá taktika, dokonalá ukážka tímového ducha a fanúšici, ktorých výkriky a povzbudzovanie dokonale vystihlovali každý jeden napínavý okamih. Víťaz však mohol byť len jeden. S počtom gólov 10 si napokon víťazný pohár odniesli domov prešovskí Al Dente, ktorí sa už teraz tešia na VIP výlet pre víťazov na Red Bulls Salute.
"Na finále sme si to namierili už včera. Bolo potrebné sa aklimatizovať a nechceli sme nič nechať na náhodu. Preto sme si so sebou vzali aj rodinu, fanúšikovia sú predsa základ úspechu", vysvetľujú po finálovom zápase chalani z Al Dente.
"Nebol jeden ťažký súper, skutočne hrali všetky tímy skvele a dali nám poriadne zabrať. Chvíľami sme mali obavy že vypadneme, no nakoniec sme vždy zabojovali v tých správnych chvíľach," uzavreli Al Dente, na ktorých už čakal celý rodinný funklub pripravený veľkú výhru osláviť.
Red Bul Urban Buly skutočne vrátil hokej naspäť do ulíc a mnohých hráčov zas naspäť do detstva. Na tento nával nostalgie, potlesky pomocou hokejok a neskutočnú energiu, ktorá nás sprevádzala celým turnajom, budeme ešte dlho spomínať.
Pre čo najčerstvejšie informácie o ďalších akciách a projektoch pozrite na www.redbull.sk a sledujte @redbullsk na Instagrame a TikToku.
Celý report z turnaja si pozriete TU.
Zdroj: Red Bull
Foto: Filip Nagy / Red Bull Content Pool