Len tento mesiac vyšla Tomymu skladba "Prestupná stanica", ktorá sa dostala rovno do trendov a vydáva ďalšiu skladbu, no tentokrát pritvrdil a na feat si vzal známého českého lyrika Refewa. Skladba, ktorá doslova horí sa volá "FIRE" a ako to aktuálne býva u Tomyho zvykom, neprešlo ani 24 hodín a už si skladba trenduje na YouTube
Nová československá spolupráca je na svete, Tomy Kotty a rapper Refew sa spájajú v rockovej novinke s názvom "Fire"! Song, ktorý sa dostal aj na debutové EP, vyšiel len včera a už sa dostal za 24 hodín do trendov. Oficiálny projekt s názvom "No Fuckin Pose" je však vonku už od 13. júna a obsahuje 5 skladieb. Tomy podľa všetkého vydá piesne aj s klipmi v pôvodnom poradí. Nahrávka "Takých už bolo", na ktorej hosťuje Osem a "Prestupná stanica", ktorú natočil pri mori, sú už totiž vonku aj s vizuálmi.
Český rapper Refew má za sebou víťazný zápas druhej akcie Fight Night Challenge, prečo však súhlasil s featom na EP "No Fuckin Pose"?
"Tomymu som dal feat, pretože ho cením ako človeka i ako muzikanta a hlavne ma baví celé jeho EP. Moje slová v songu sedia na každého, kto sa v nich nájde", hovorí otvorene Refew.
Samotný autor projektu nám prezradil, aký bol najväčší problém v súvislosti s touto nahrávkou, pričom vizuál to nebol, keďže režisér Peso tomu kameramanský dodal poriadny oheň a famózna gitara Mikeho Berry to len podčiarkla.
"Najväčší problém celého EP bol vymýšľanie názvov jednotlivých skladieb. Do poslednej chvíli nikto nevedel napríklad, ako sa táto bude volať. Počúvali sme hotovú verziu tohto songu, skončili to a niekto povedal 'tak toto je pekný oheň'. Tak sme si povedali, že sa bude volať oheň a odvtedy to tak proste ostalo. Každopádne som nesmierne rád, že práve Refewa mám na tejto skladbe, myslím, že nikto iný by tam viac nezapasoval ako on", uzatvára Tomy.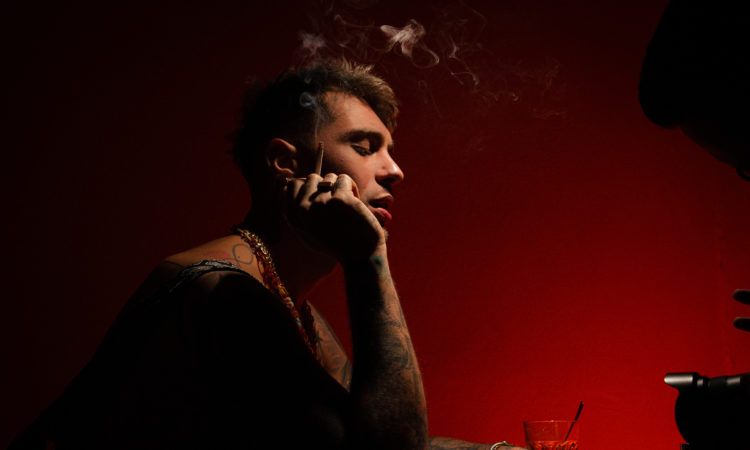 "o EP F.ckin Pose"
"Tisíce rán, no furt nula bodov!"
"Inšpiráciou pre jednotlivé songy bola hudba, snažil som sa nedostať celý album do gýču, ale ísť si svojou línou, ktorá by spájala jednotlivé žánre. Nechcel som aby niečo bol vyslovene rock, ani rap, ani funk. Chcel som aby sa našlo najlepšie možné východisko ako spojiť viaceré žánre dokopy aby sa vytvoril sound, ktorý bude verný mojej vízii a toho, čo sa snažím odprezentovat, vysvetľuje proces tvorby Kotty.
Samotné EP trvalo Tomymu spraviť 10 rokov. Samozrejme, táto dlhá linka sa ťahá od prvotného nápadu na EP. Nahrávanie a vychytávanie EP "No Fucking Pose" trvalo spolu rok a pol, pričom sa raper vyjadril, že nastal na vydanie pravý čas.
"V minulosti som sa už veľakrát snažil spraviť EP, bohužiaľ to vždy padlo. Práve preto som si povedal, že tento moment už veľakrát nedôjde, čiže to bolo teraz alebo nikdy. Som nesmierne rád, že sme dali dokopy silný tracklist, ktorý chcem zdielať s ľuďmi! Tento krát som si dával veľmi pozor, aké spolupráce si vyberiem. Tým, že ide pre mňa o prelomový projekt, som potreboval na projekt dostať ľudí, čo sa budú môcť priblížiť mojej vízii. V minulosti som rozdával mnohokrát feat ľuďom bez rozmýšľania, tentokrát to už bolo inak a myslím si, že Refew aj Osem sú na EP perfektný", hovorí Tomy.
EP "FUCKIN POSE" – https://shop.rukahore.sk/tomy-kotty/cd-no-fuckin-pose-2
"Fire" – https://www.youtube.com/watch?v=euUH0Ponu2Q
"Prestupná stanica" – https://www.youtube.com/watch?v=_mgcHb8Xznc
"Takých už bolo" – https://www.youtube.com/watch?v=zbTrec59yXI
INSTAGRAM – https://www.instagram.com/tomykotty/

Zdroj: PR/BRAND MANAŽÉR JANA TRELLOVÁ/RUKA HORE