Plesová sezóna sa tento rok ešte nekončí! Organizátor LOMBARDI BÁLu dizajnér a stylista Jozef Grondžák sa na hostí teší už 25. marca 2023 V Stredisku kultúry na Vajnorskej 21 v Bratislave a postupne prezrádza ďalšie detaily. Bál bude moderovať a slovenské aj svetové hity predvedie multifunkčný Juraj Bača. Jozefa a Juraja spája dlhoročné kamarátstvo, ktoré sa začalo ešte v Jurajových hereckých začiatkoch.
Juraj Bača je herec, moderátor a hudobník, ktorý miluje živé hranie. Kto ho nevidel yvstupovať naživo, má teraz jedinečnú príležitosť. Spolu so svojou kapelu ponúkne 25. marca 2023 spektrum hudobnej zábavy. Od moderných funk majstov Bruna Marsa a Pharella Williamsa až po klasiky od hudobných legiend Michaela Jacksona, Kool&theGang. Elvisa Presleyho či Queen. Samozrejme nemôžu chýbať slovenské hity od velikánov našej popmusic. To všetko predvedie Juraj Bača na LOMBARDI BÁLe v Stredisku kultúry na Vajnorskej 21
"Značka LOMBARDI sa spája s úplným začiatkom mojej kariéry, kedy som bol ako nádejný herec oslovený na moderovanie charitatívneho podujatia na doskách DPOH. Vtedy som žiaľ nemal peniaze na smoking, ktorý by zodpovedal elegancii tohto podujatia. Majiteľ značky Jozef Grondžák mi vtedy smoking zapožičal s tým, že je presvedčený, že ma čaká veľká budúcnosť. Obaja sme odvtedy prešli dlhú cestu. Značka LOMBARDI sa stala zárukou elegancie a kvality a najmä dobrej zábavy a skvelej partie. LOMBARDI BÁL bude spojenie všetkých týchto aspektov, preto mi je cťou, že môžem byť jeho súčasťou," prezradil históriu kamarátstva Juraj Bača.
Jozef Grondžák oblieka šarmantného Juraja na rôzne príležitosti, do televíznych programov, ale aj na plesy či iné udalosti.
"Sadli sme si s Jurajom aj ľudsky a môžem povedať, že dnes sme kamaráti. Pri obliekaní si nechá poradiť, ale máva aj svoje nápady, ktoré sa snaží presadiť. Napríklad ma nahovára na ušitie nového modelu pánskeho saka. Nemôžem prezradiť viac, lebo potom si ten strih nechmá patentovať, aby nás niekto nepredbehol… Som rád, že Juraj prijal úlohu moderátora na LOMBARDI BÁLe a že zároveň nám rozprúdi zábavu so svojou kapelou. Zažil som ich na zámku ŠIMÁK, kde to zvládli na výbornú. Budem sa tešiť, keď sa prídete zabaviť spolu s nami," pozýva sympaťák Jozef Grondžák, ktorého všetci volajú Jožko LOMBARDI.
Bál vypukne 25. marca v Stredisku kultúry na Vajnorskej 21 v Bratislave. Na jedinečnom galavečere predvedie energickú tanečnú show Mário Lopez a jeho sexi tanečnice z Dance Company. A nebude chýbať ani módná prehliadka. Výťažok z bálu poputuje na charitatívne účely Občianskeho združenia PARASPORT24. Vstupenky sú dostupné v predajni LOMBARDI FASHION HOUSE v TPD na Farského 26 v Bratislave a na https://predpredaj.zoznam.sk/sk/listky/lombardi-bal-2023-03-25/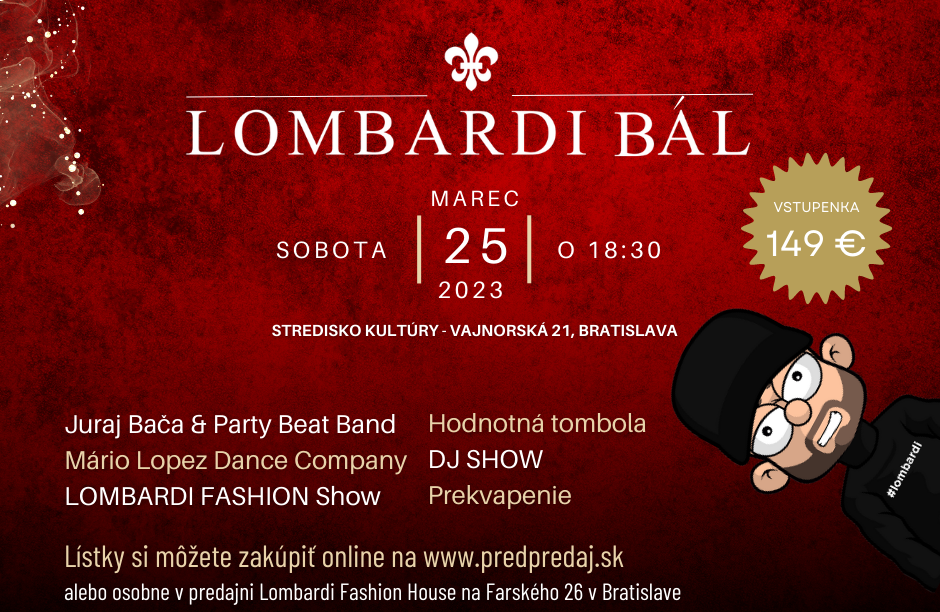 Zdroj: NK Factory