Do slovenských kín vstúpi takto o týždeň – vo štvrtok 24. marca 2022 – svetová filmová udalosť, adaptáciapoviedky Harukiho Murakamiho DRIVE MY CAR, ktorá sa stala celosvetovou senzáciou. Atmosférická snímka je plná tajomstiev a hľadania ľudského porozumenia. Prestížne médiá film označujú za čierneho koňa oscarovej noci, snímka má na zlatú sošku štyri nominácie, získala cenu v Cannes i Zlatý glóbus. Dominuje jej japonská precíznosť tak v hereckých výkonoch ako aj dokonalom videní kamery, vizuálnej stránke a tiež typické plynutie času. Film na Slovensku distribuuje spoločnosť Filmtopia.
"Jedným z dôvodov, prečo som sa rozhodol sfilmovať poviedku Drive my car, je ukázať interakcie medzi postavami Kafukua a Misaki, ktoré sa odohrávajú vo vnútri auta. To vo mne vyvolalo spomienky na intímne rozhovory, ktoré sa rodia len v tomto uzavretom, pohyblivom priestore," odpovedal režisér a autor scenára Rjúsuke Hamaguči na otázku, prečo sa rozhodol adaptovať Murakamiho poviedku. Ďalším dôvodom bola téma herectva, ktorú Hamaguči považuje za všeobecne prijímanú formu šialenstva a ktorá ho fascinuje. Scény z naštudovania divadelnej inscenácie Čechovovho Uja Váňu patria medzi kľúčové a vytvárajú paralely medzi osudmi skutočných a dramatických postáv. Murakamiho diela je obecne veľmi náročné adaptovať, jeho príbehy často balansujú medzi reálnymi situáciami a tými, ktoré sú mimo bežného chápania reality a sústreďuje sa na vnútorné prežívanie postáv.
Filmová adaptácia poviedky Harukiho Murakamiho sa stala celosvetovou senzáciou. Získala celý rad ocenení, vrátane Ceny za najlepší scenár v Cannes a tiež Zlatého glóbusu. Film má na svojom konte štyri nominácie na Oscara, v kategóriách: najlepší film, réžia, adaptovaný scenár a najlepší cudzojazyčný film. 94. ročník odovzdávania najprestížnejších filmových ocenení sa bude konať 27. marca 2022 v hollywoodskom Dolby Theatre.
"Som veľmi rada, že Filmtopia môže priniesť slovenským divákom takýto filmový skvost, právom sa hovorí o jednom z najlepších filmov roka. Na svoje si prídu nie len milovníci kvalitných filmov, ale aj tí čitatelia, ktorí nedajú na Murakamiho knihy dopustiť; myslím, že nás je takých dosť. Film sa bude hrať takmer vo všetkých kinách na Slovensku od alternatívnych klubových priestorov a kín až po všetky multikiná," povedala riaditeľka filmovej distribučnej spoločnosti Filmtopia Silvia Učňová Kapustová.
ABCnews označuje snímku ako fascinujúcu od prvého do posledného záberu a predpokladá, že by Drive my car mohol nasledovať kórejského Parazita, podľa denníka Daily Telegraph Hamaguči nakrútil hlboko krásny film o tom, ako sa zmieriť so svojou rolou a hrať ju zo všetkých síl. Britský denník The Times vo svojej recenzii uviedol, že v ostatnej dobe je len málo filmov, ktoré tak veľmi treba vidieť ako tento.
Júsuke Kafuku je slávny divadelný herec a režisér, ktorý sa vyžíva v riadení svojho červeného Saabu 900. Počas angažmán na festivale v Hirošime musí túto radosť nedobrovoľne prenechať mladej málovravnej vodičke Misaki. Obaja na skúšobných jazdách nečakane zistia, že ich spája nie len záľuba v riadení. Spolu nájdu spôsob, ako sa vyrovnať so svojimi traumami a pocitmi viny, a ísť ďalej. Drive my car režiséra Rjúsukeho Hamagučiho je atmosférická snímka plná tajomstiev, hľadania ľudského porozumenia a zmierenia.
V hlavných postavách účinkujú: Hidetoši Nišidžima, Tóko Miura, Masaki Okada, Reika Kirišima.
Film Drive my car prináša do slovenských kín spoločnosť Filmtopia, distribúciu podporil aj Audiovizuálny fond.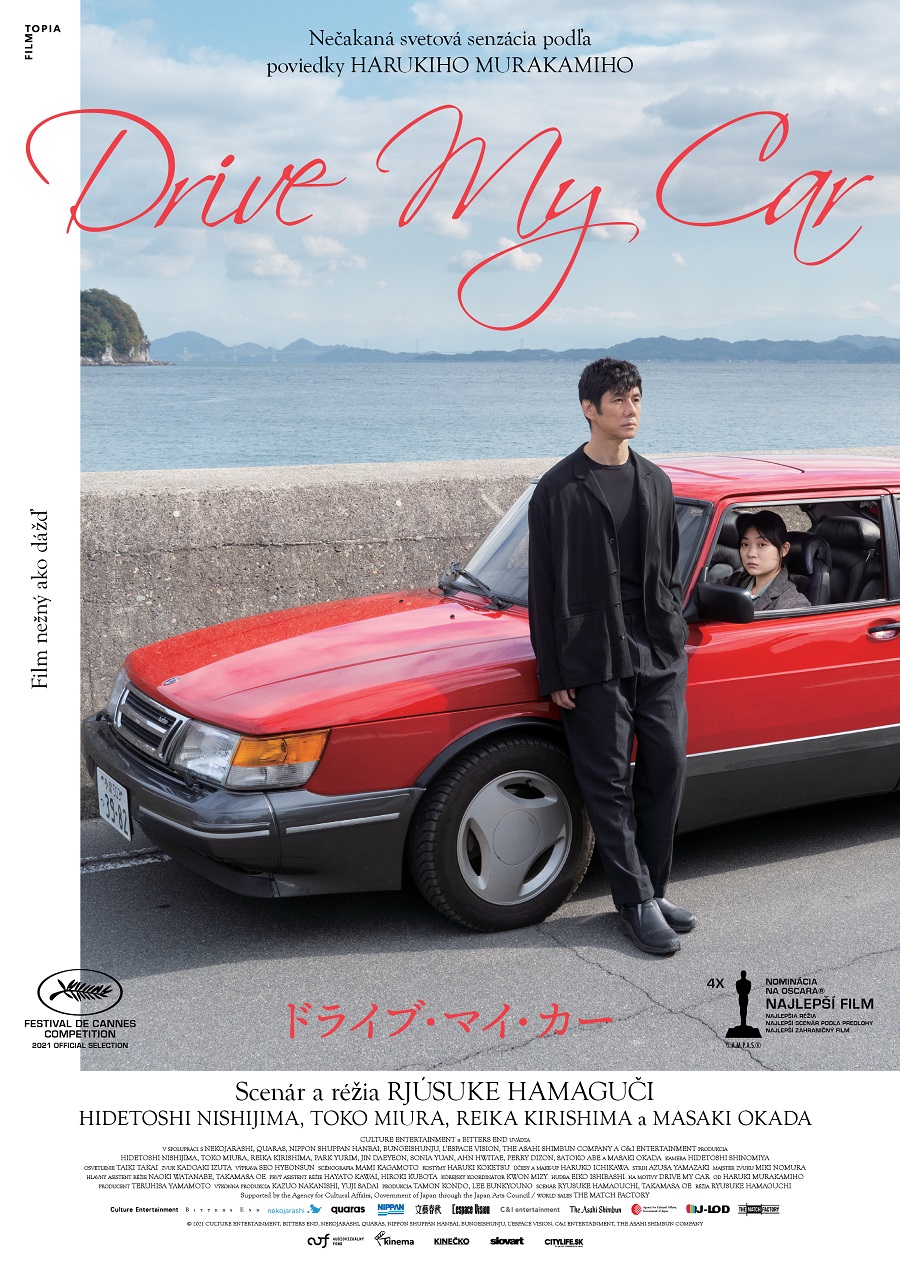 Zdroj: TS