Záverečné prípravy veľkolepej show Transmission festivalu "Another Dimension" práve vrcholia. Prinášame vám všetky dôležité informácie, vďaka ktorým si užijete ničím nerušenú noc.
BEZPEČNOSŤ NÁVŠTĚVNÍKOV
Bezpečnosť našich fanúšikov a návštevníkov bola, je a vždy bude na prvom mieste. Pri vstupe do haly prebieha bezpečnostná kontrola prostredníctvom bezpečnostných rámov a RTG zariadení. Zaistenie bezpečnosti objektu O2 areny je detailne riešené Smernicou bezpečnosti O2 areny. Pred každou akciou je tiež informovaná aj Polícia ČR, ktorá sa riadi zákonom a jej jednotky sú v týchto dňoch v plnom nasadení, aby zaistili bezpečnosť všetkých konaných i plánovaných akcií v O2 arene. Transmission festival upozorňuje na nulovú toleranciu drog! Zachytení návštevníci, ktorí pri sebe budú mať drogy, budú odovzdaní do rúk polície.
PRE-PARTY V PIATOK 11.10. 2019 V EPICU
Transmission víkend štartuje už v piatok večer a to oficiálnou pre-party v najmodernejšom pražskom klube Epic (Revoluční 3, Praha 1). Pre-party bola vypredaná v predpredaji, ale nechali sme ešte 100 vstupeniek na predaj na mieste. Tešíme sa na vás!
TIMETABLE PRE-PARTY
22:00 | Luigi Di Mare – Warm Up
23:30 | Alessandra Roncone
00:30 | David Gravell
01:45 | Allen Watts
03:00 | Driftmoon
04:00 | Chris Schweizer
05:00 | KONIEC
OTVORENIE O2 ARENY
Brány O2 areny sa otvoria v sobotu 12.10. o 20:00. Transmission festival končí o 06:00.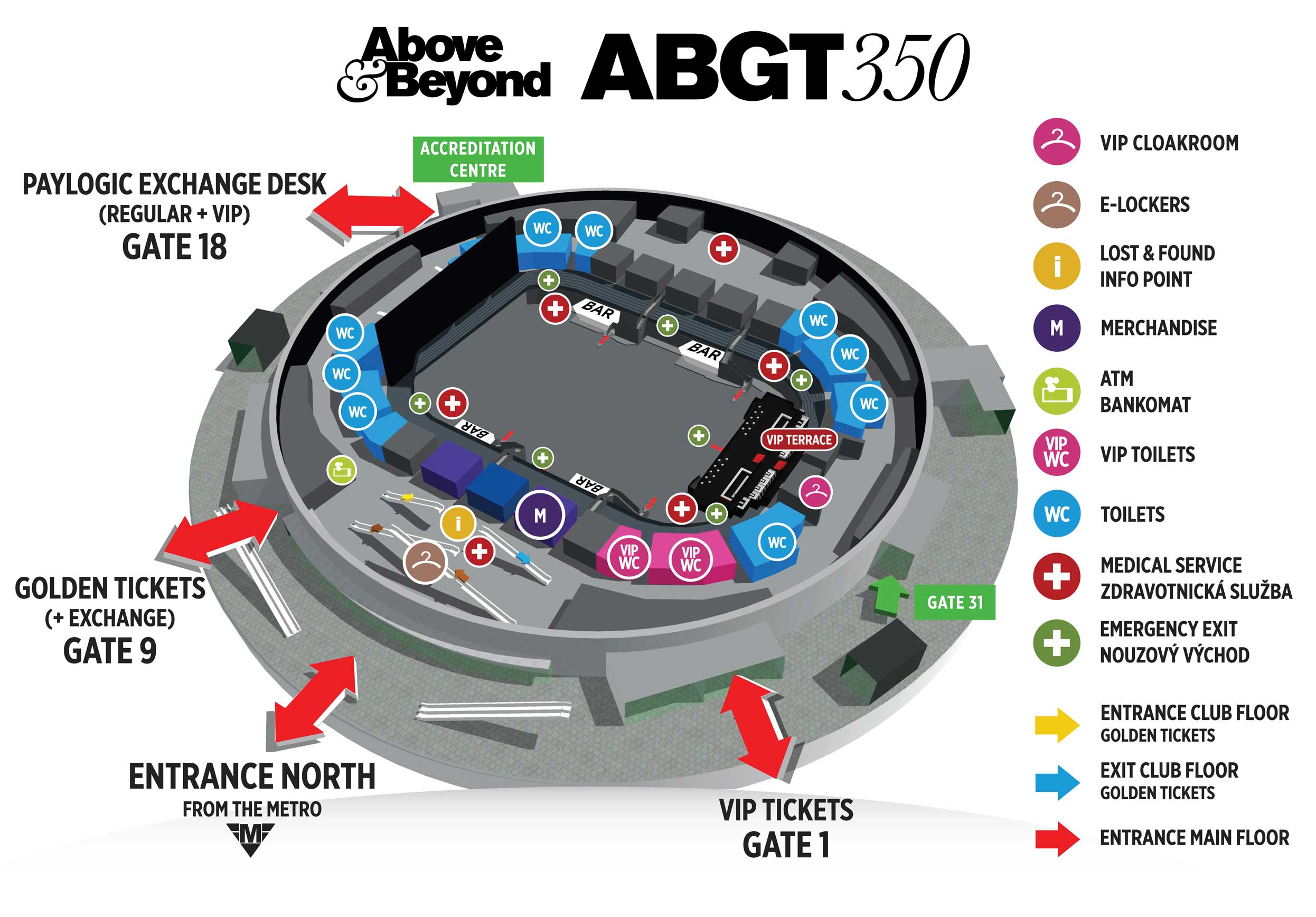 ŽÚRUJTE ZODPOVEDNE
1. Starajte sa o svojich priateľov a ľudí okolo seba.
2. Vyhľadajte prvú pomoc, ak sa vy alebo niekto z vašich priateľov necíti byť v poriadku. (viď. mapa, kde sa nachádza zdravotnícka služba)
3. Dodržiavajte pitný režim a nezabúdajte jesť.
4. Nepreháňajte to, všetci majú svoje limity, buďte zodpovední.
5. Zvoľnite tempo a robte si prestávky od tancovania.
6. Cestujte domov s priateľmi bezpečne, použite verejnú dopravu.
VCHODY
Hlavný vchod pre držiteľov základných vstupeniek nájdete na severnej strane (od metra). Držitelia GOLDFINGERS VIP vstupeniek majú prístup do O2 areny cez vstup č. 1 na severnej strane. Držitelia GOLDEN TICKETU sa dovnútra dostanú cez vstup č. 9 na severnej strane. Viď. Mapa.
VSTUPENKY
Všetky typy vstupeniek sú vypredané. Aby ste predišli neskorším nedorozumeniam, odporúčame vyhnúť sa kúpe vstupeniek mimo oficiálnych zdrojov. V obehu sú falošné vstupenky. Nepreberáme zodpovednosť za vstupenky, ktoré boli zakúpené mimo našej oficiálnej ticketingovej siete. Majiteľom e-ticketov odporúčame vytlačiť vstupenky, aby predišli technickým problémom pri skenovaní kódu z telefónu.
PAYLOGIC VOUCHER
Vouchery od Paylogicu musia byť vymenené za originálne Ticketportal vstupenky na južnej strane O2 areny vchod č. 18. Viď. Mapa. Vstupenky si môžete vymeniť v sobotu 12. októbra od 16:00 do 03:00. Voucher Golden ticket si vymeníte na pokladniach Ticketportal pri vchode č. 9.
GOLDEN TICKETY
Majitelia GOLDEN TICKETOV používajú na vstup vchod č. 9. Vstupenka GOLDEN TICKET im umožní použiť eskalátory vo vnútri O2 areny, ktorými sa dostanú do klubového poschodia. Viď. Mapa. Vstupenku je potrebné mať neustále pri sebe kvôli prípadnému používaniu eskalátorov do klubového poschodia. Golden ticket oprávňuje na vstup na klubové poschodie, na tanečnú plochu haly a na priľahlé tribúny.
DRŽITELIA TRANSMISSION TETOVANIA
Pokiaľ máte registrované Transmission tetovanie, dostanete svoju vstupenku na vchode č. 31 po predložení občianskeho preukazu a kontrole pravosti tetovania. Vchod č. 31 bude pre vyzdvihnutie vstupeniek k dispozícii od 18:00 do 00:00.Vstup do O2 areny je povolený od 20:00. Lístok dostanú iba držitelia tetovania, ktorí boli registrovaní pred 3.3.2019.
FOTOGRAFOVIA A PRESS AKREDITOVANÍ
Fotografovia a mediálni partneri nájdu svoje akreditácie v Akreditačnom centre O2 areny, ktoré sa nachádza za vchodom č. 18. Po kontrole totožnosti budú partnerom vydané akreditačné karty, s ktorými môžete vstupovať do O2 areny cez vchod číslo 31, ktorý je otvorený od 20:00. Akreditácie je možné si vyzdvihnúť do 00:00 12.10.2019. Žiadosti o akreditácie boli uzavreté.
E- LOCKERY
Tento rok miesto klasickej šatne zriaďujeme stanovisko e-lockerov, ktoré sú dostupné v predpredaji za 8,50€ + poplatok. Dostanete sa k nemu cez eskalátory v severnom foyer. Výhodou e-lockeru je, že sa oň môžete podeliť so svojimi priateľmi vďaka väčšej kapacite a systému s pin kódom. Do svojej skrinky máte prístup po celú noc. Skrinku je možné zakúpiť online do štvrtka 10.10.2019 tu: bit.ly/E-lockersPRG. E-lockery bude možné kúpiť aj na mieste za cenu 10€ (možná aj platba kartou), ale vedzte, že je ich iba limitovaný počet, preto ich odporúčame kúpiť vopred.
VIP & GOLDEN TICKET ŠATŇA
Šatňa je pre držiteľov VIP vstupeniek zadarmo. Šatňa bude umiestnená pred vstupom na GOLDFINGERS VIP terasu. Držitelia Golden ticketov majú k dispozícii šatňu zdarma na klubovom poschodí.
NADROZMERNÁ BATOŽINA
Ak so sebou nesiete niečo, čo sa vám do lockeru nezmestí príp. to patrí medzi zakázané predmety, môžete si to uschovať v Úschovni O2 areny, ktorá sa nachádza pred ňou. Funguje od 19:30 do max 06:30.
STRATY A NÁLEZY
Straty a nálezy budú po celú dobu akcie na info stánku. Viď. Mapa.
PLATBY V O2 ARENE
Platby v O2 arene sú prijímané v hotovosti (CZ a EUR) a z veľkej časti aj platobnými kartami. V severnom foyer sa nachádza bankomat. Viď. Mapa.
TRANSMISSION OBLEČENIE A DOPLNKY
Veľký stánok s Transmission Merchandise nájdete po vstupe v severnom foyer za info stánkom. Viď. Mapa. K dispozícii budú: Transmission tričká, čapice, okuliare, vlajky, štuple do uší a iné. Pozrite si aktuálnu kolekciu na www.transmission.events/shop.
MOBILNÁ APLIKÁCIA
Transmission je k dispozícii aj v mobile a to prostredníctvom aplikácie WOOV, ktorá vám umožní spojiť sa so svojimi priateľmi, sledovať časový rozvrh DJs alebo dostávať aktuálne upozornenia. Sťahujte tu: www.woov.com/TMPRG19
HLADINA HLUKU
Hladina hluku sa na akcii pohybuje medzi 102 a 105 decibelmi. Odporúčame použitie ochranných štupľov do uší, aby ste chránili svoj sluch. Štuple je možné zakúpiť v stánku Transmission Merchandise.
MINIMÁLNY VEK
Minimálny vek pre vstup na Transmission je 18 rokov. Viac informácií nájdete v návštevnom poriadku O2 areny.
TOALETY
O2 arena ponúka dostatok toaliet, ktoré sú k dispozícii zadarmo. Pre VIP hostí sú k dispozícii tiež VIP toalety, ktoré sa nachádzajú na západnej strane neďaleko GOLDFINGERS VIP terasy.
PARKOVANIE
Na parkovanie môžete využiť parkovisko, ktoré sa nachádza v bezprostrednej vzdialenosti O2 areny. Starostlivo si prečítajte informácie o parkovaní.
TAXI
V priebehu celej noci budú pred O2 arenou stáť automobily taxislužby. Nájdete ich neďaleko hlavného vchodu na ulici Ocelářská.
VEREJNÁ DOPRAVA
O2 arena sa nachádza na ulici Českomoravská č. 2345/17, Praha 9. Vedľa O2 areny je stanica metra "Českomoravská" (žltá linka B), z ktorej vystúpite a rovno vojdete vchodmi na severnej strane. Na zastávke "Českomoravská" končia aj autobusy 151, 152 a 375. Električkou sa môžete dopraviť na zastávku "Multiaréna Praha" (linky 8, 25 a nočná linka 92) a vojsť do O2 areny cez južný vstup. Vlaková stanica "Praha – Libeň" sa nachádza v pešej vzdialenosti od haly. Odporúčame použiť vchod z južnej strany. Viac info o doprave do a z O2 areny nájdete tu.
FOTKY A VIDEO
Aby ste si mohli zvečniť všetky špeciálne okamihy na Transmission, je možné so sebou vziať mobilné telefóny, kompaktné digitálne fotoaparáty a GoPro kamery. Profesionálne fotoaparáty (s výmennými objektívmi) a videokamery smú používať iba špeciálne akreditovaní návštevníci. Akreditácie sú pre tohtoročnú edíciu už uzavreté.
ZÁKAZ FAJČENIA
V celom vnútornom priestore O2 areny je zakázané fajčenie, vrátane elektronických cigariet. Viac informácií TU. Fajčiť sa smie iba vonku vo vyhradenom priestore pred O2 arenou. Von z O2 areny a späť sa dostanete cez vchod / východ č. 30.
NIE JE POVOLENÉ!
Do O2 areny je zakázané vnášať: vlastné jedlo a pitie, drogy (všetky), sklo, aerosolové rozprašovače, laserové ukazovadlá, tyče, tzv. selfie tyče a teleskopické tyče, plechovky, plastové / PET fľaše, ostré predmety a akýkoľvek iný predmet, ktorý by mohol ohrozovať bezpečnosť návštevníkov akcie. Oblečenie alebo iné viditeľné fyzické znaky na vzhľade, ktoré vyjadrujú explicitne politické, sociálne hnutia a skupiny, sú zakázané. Transmission festival nevyžaduje žiaden povinný dress code, ale zdvorilo vás žiadame, aby ste nenarúšali pohodlie ostatných na akcii, vyzlečením trička.
SOCIÁLNE SIETE A ŽIVÉ VYSIELANIE
Celé dianie pred akciou, počas akcie a po akcii môžete tiež sledovať prostredníctvom nasledujúcich kanálov: Facebook – Twitter – Instagram – Youtube. Nezabudnite používať hashtag #TMPRG19.
ČASTO KLADENÉ OTÁZKY
V prípade, že máte nejaké otázky, pozrite sa najprv do sekcie ČASTÉ OTÁZKY na našom webe, alebo nám zašlite e-mail na adresu info@unitedmusic.cz či správu na facebookovej stránke Transmission festival.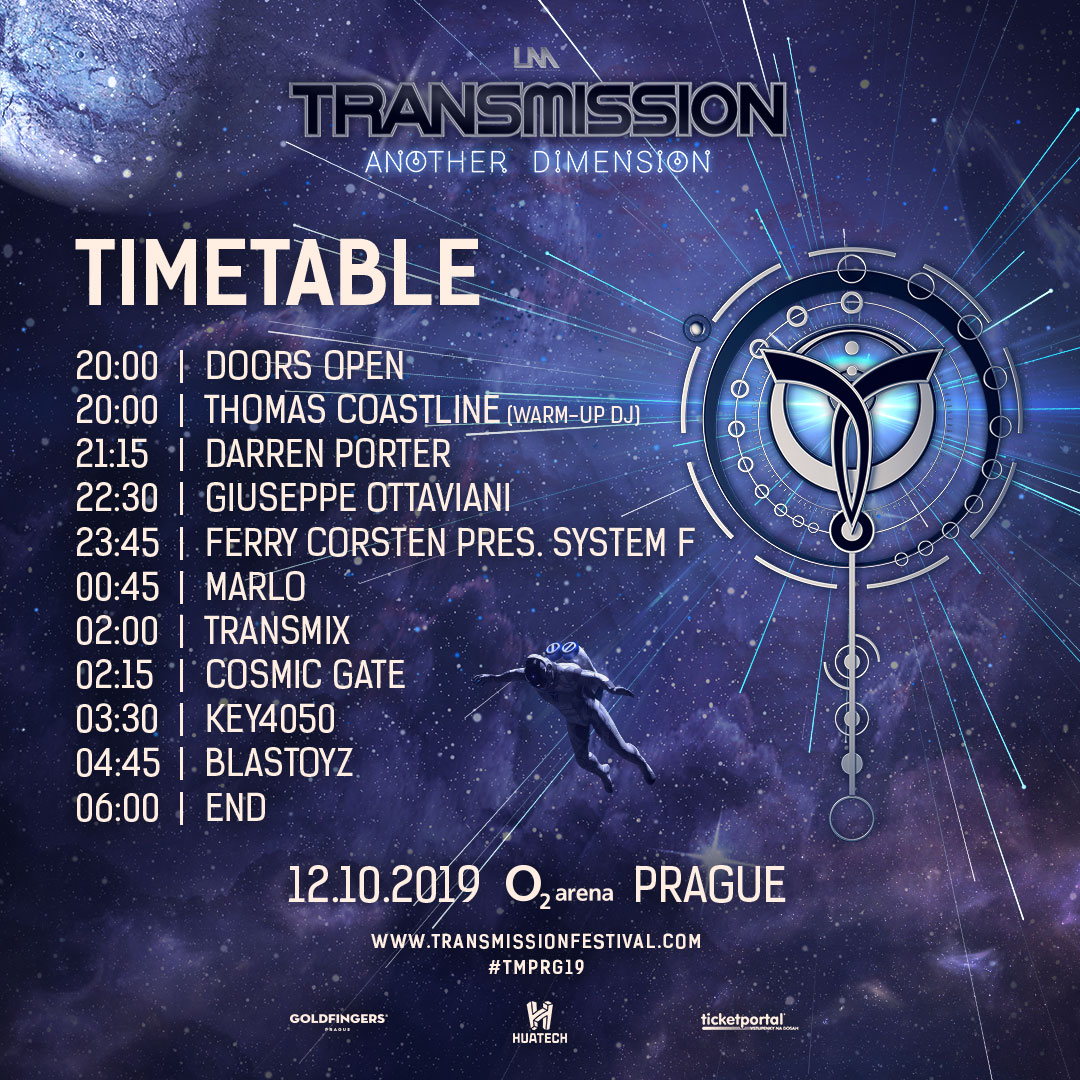 TIMETABLE
20:00 | OTVORENIE
20:00 | Thomas Coastline – Warm Up
21:15 | Darren Porter
22:30 | Giuseppe Ottaviani Live 2.0
23:45 | Ferry Corsten pres. System F
00:45 | Marlo
02:00 | Transmix
02:15 | Cosmic Gate
03:30 | Key 4050
04:45 | Blastoyz
06:00 | KONIEC
Príďte do O2 areny včas, aby vám neunikol začiatok show.
PRAJEME VÁM, ABY PRE VÁS BOLA AJ TOHTOROČNÁ EDÍCIA TRANSMISSION FESTIVALU SKVELÝM ZÁŽITKOM! VIDÍME SA NA TANEČNOM PARKETE!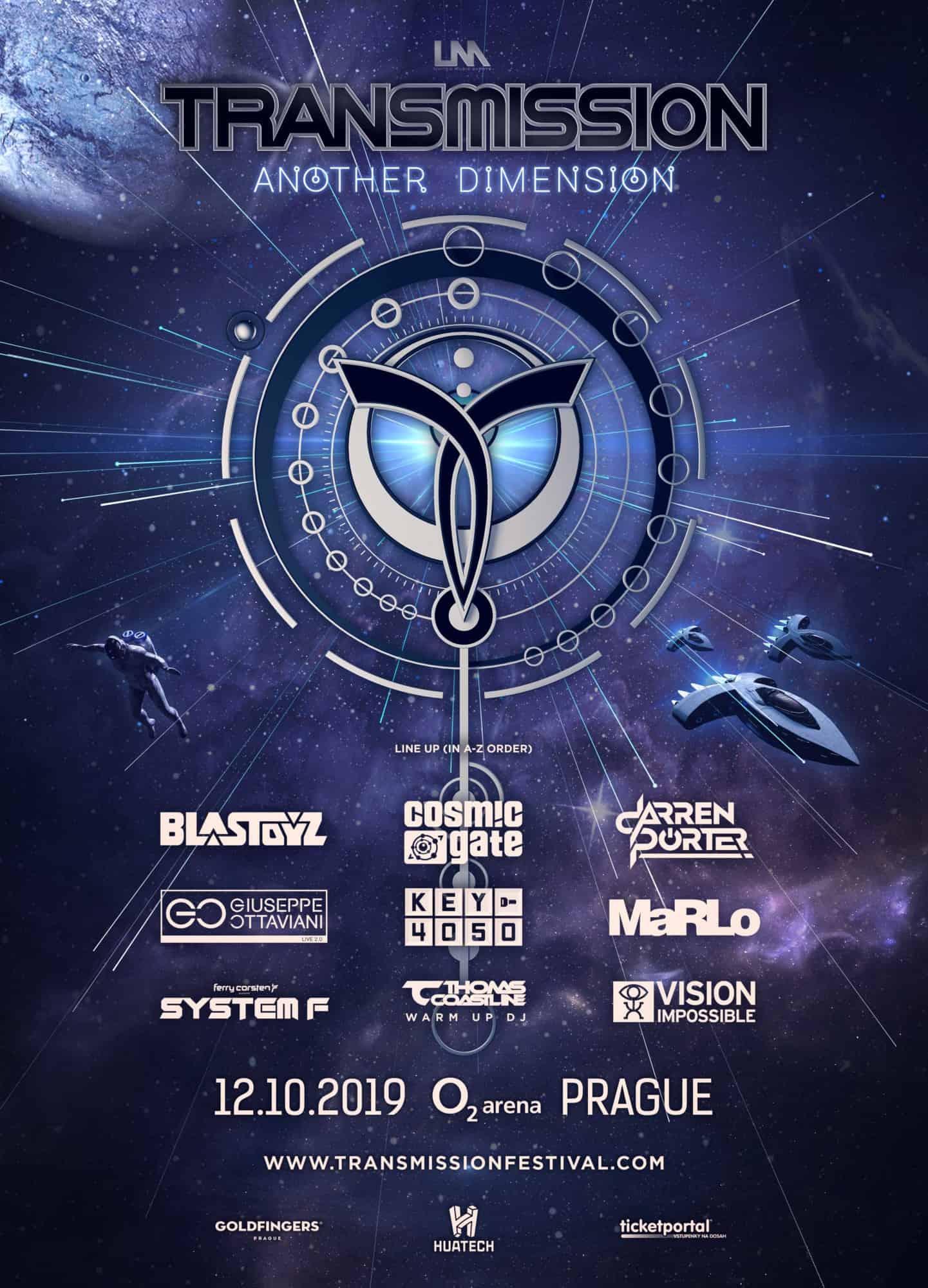 Zdroj: Unided Music