PESTILENCE, jedna z nejzásadnějších deathmetalových kapel, ke 30 letům doveze převratné "Testimony of the Ancients"!
Počátky PESTILENCE se datují k neuvěřitelnému r. 1986, kdy na sebe okamžitě upoutali osobitým rukopisem a instrumentální zručností. Brzy se stali jednou z nejvýraznějších a nejrespektovanějších deathmetalových kapel světa, což platí dodnes.
Odečteme-li od letopočtu nadcházejících dvou koncertů v Praze a Ostravě 30 let (plus jeden covidový rok, kdy došlo k odkladu turné, přičteme), dostaneme se do r. 1991, kdy vyšla… ano, Pestilence na tour vyráží s legendou legend a po 30 letech se dočkáme přehrání celého alba "Testimony of the Ancients"!
Progresivní nasměřování a obohacení tohoto alba i o melodičtější složku dostalo na stranu kapely masy fanoušků, až se Pestilence v 90. letech díky "Testimony" stali nejzásadnější deathmetalovou kapelou Evropy.
Když jim svět ležel u nohou, po čtvrtém albu "Spheres" (1993) z důvodu nepochopení jejich hudebního vizionářství, kdy death metal futuristicky zfúzovali s jazzem, nastal konec. Pestilence ale poslední slovo neřekli a léta páně 2009 došlo k reunionu, jež přinesl již pět alb.
I když si o určité názorové nestálosti hlavní persony Patricka Mameliho, jemuž se lidi v sestavě střídají jak na běžícím pásu, můžeme myslet cokoli, jedno se mu upřít nedá. Je to riffostroj a muziku nesoucí osobitý rukopis stále dělá skvělou, což dokazuje i poslední, výtečná deska "Exitivm".
Aktuální návrat PESTILENCE na pódia má však hlavní program jasný – památné album vydané před 30(+1) lety. A nepůjde o nostalgii, "Testimony" ani po těch letech z lesku vůbec neubylo.
PESTILENCE: 30th Anniversary European Testimony Tour 2022
hosté: MISANTHROPIA, HORRIBLE CREATURES
25.10. 2022 – Ostrava, Barrák
FB event: https://fb.me/e/3vVMg0kzD
e-TICKET: https://obscure.cz/cs/tickets/detail/id/379
26. 10. 2022 – Praha, Futurum
FB event: https://fb.me/e/64aWyn1PX
e-TICKET: https://obscure.cz/cs/tickets/detail/id/380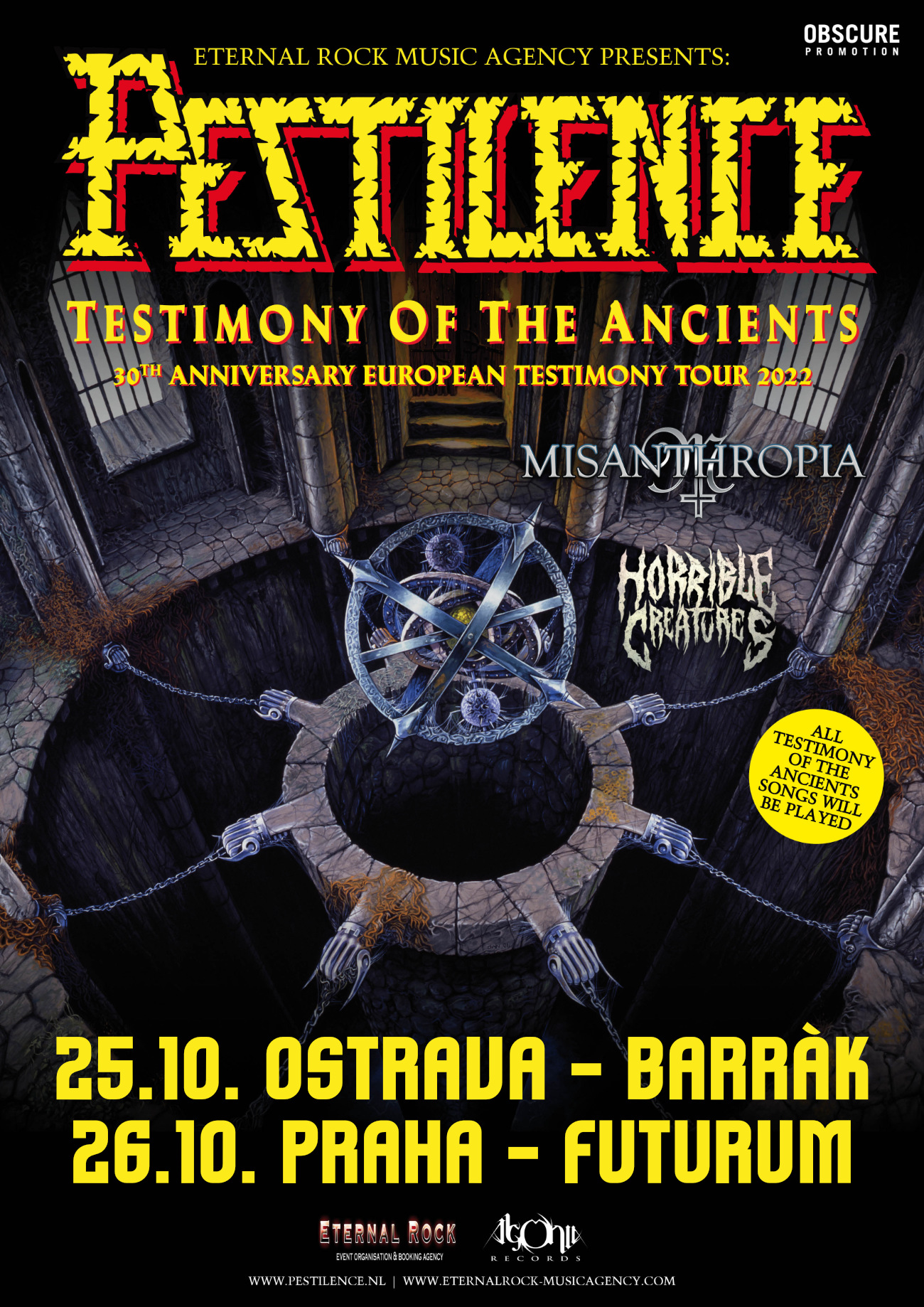 Zdroj: Obscure Promotion