V júni tohto roku vydala Jana Kirschner špeciálny album Pesničky pre Jonatána. V jej diskografii ide o jedinečný počin, ktorý svojim obsahom potešil mnohých rodičov a ich ratolesti. Všetky piesne z albumu dostali v týchto dňoch animovanú video podobu i svoj vlastný limitovaný merchandise.
Projekt Pesničky pre Jonatána má podtitul Slovenské ľudové pesničky, tak ako si ich pamätá, pozná a spieva Jana Kirschner. Všetky aranžmány vznikli s cieľom vytvoriť akustiku jednej miestnosti a koncertnú atmosféru priamo u poslucháča doma. Ale kto je to ten Jonatán?
"Jonatán je naozajstný malý chlapec, ktorý žije s rodičmi vo veľkom dome na kopci. Má dva roky, veľa rozpráva, nerád spí, jazdí na malom bicykli a svet okolo sa mu zdá neuveriteľne zaujímavý. Jonatán je synom mojej kamarátky Lindy, ktorá sa mi raz zdôverila, že už skutočne nevie, kde hľadať pesničky na to, aby Jonatán zaspal. Vtedy som z jej slov zacítila takú tú frustráciu matky a rodiča, ktorý naozaj potrebuje pomôcť a povedala som jej – ja ti niečo nahrám," prezradila Jana Kirschner.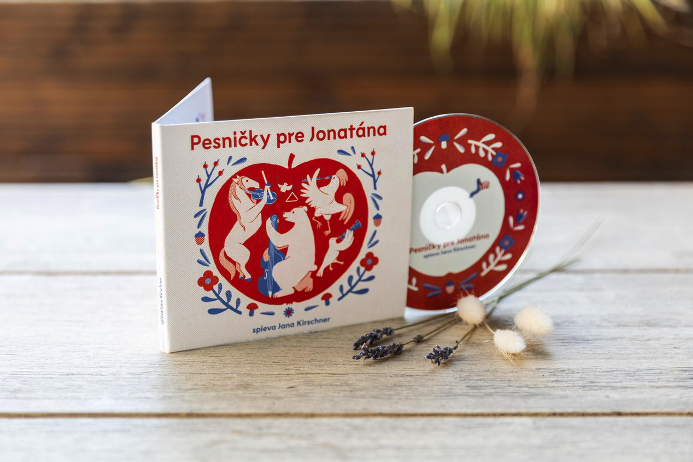 Prvú skladbu, ktorú speváčka nahrala a poslala svojej blízkej kamarátke, bola pieseň Kukulienka, kde si bola. O týždeň na to jej poslala ďalší song, tentokrát, Prší, prší len sa leje. Obe skladby mali u malého Jonatána a jeho rodičov veľký úspech.
"Obidve piesne som nahrala spontánne a rýchlo na telefón. Nepozerala som sa na to, ako ich kto spieval predo mnou, alebo ako by sa mali spievať. Zobrala som do rúk gitaru a vymyslela úplne jednoduchý aranž, v ktorom som Linde piesne následne poslala. Po Jonatánovej radosti ma nielen jeho rodičia začali presviedčať, aby som nahrala celý album. Keďže mám ľudové pesničky veľmi rada a svojim deťom doma často spievam, súhlasila som a pustila sa do práce. Zavolali sme našich priateľov hudobníkov, ktorí takmer všetci sú rodičia a vymysleli sme koncept, ktorý by mal dieťaťu, okrem samotných skladieb, priniesť trošku aj koncertný zážitok," priblížila vznik nahrávky Jana Kirschner.
Celý album je vymyslený tak, že je zámerne nahratý veľmi jednoducho – neopiera sa o žiadne tradičné aranžmány, nesúťaží so žiadnymi ľudovými skupinami ani s ľudovými aranžmánmi, ktoré tu už boli predtým. Jana Kirschner si s kapelou vytvorila svoj vlastný zvuk.
"Chceli sme nahrať tie pesničky tak, ako ich hráme my svojim deťom. To znamená, že bez akéhokoľvek váhania sme s kapelou za deň a pol nahrali celý album. Zároveň sme sa rozhodli, že tam doplníme ešte tzv. "field recordings" – to sú nahrávky, ktoré môžete počuť medzi pesničkami. Celý album je vlastne jeden kontinuálny príbeh, ktorý začína ranným lesom a končí pri ohni. Je to určitý koncept dňa, počas ktorého môže dieťa album kedykoľvek počúvať," doplnila Jana Kirschner.
Súčasťou fyzického nosiča, ktorý obsahuje 10 známych ľudových skladieb, je aj papierová skladacia hra Nebo-peklo. Ku piesňam na albume vznikol aj rozsiahli animovaný videoklip spájajúci všetky skladby v jeden ucelený príbeh. Postarala sa oň Tereza Rudavská so svojim teamom.
"Rozhodli sme sa vytvoriť projekt, ktorý bude pre všetkých, ktorý nebude stáť príliš veľa peňazí a zároveň bude akýmsi prvým stupienkom – pomyselnými dverami, skrz ktoré deti vkročia do toho väčšieho sveta hudby. Som totiž presvedčená, že neexistuje detská hudba, existuje len dobrá a zlá hudba, a ja verím, že sme vytvorili niečo, čo bude fungovať nielen u detí, ale aj u ich rodičov," poznamenala Jana Kirschner.
Podľa Jonatánovho otca, sú Pesničky pre Jonatána najlepším uspavadlom na svete. Okrem videoklipu dostali piesne z albumu aj svoj vlastný merchandise. Jana Kirschner ho 15.12. osobne predstaví na Urban Markete v Bratislave. Kým sa tak stane, si nový merchandise pozriete na webe speváčky.
Deti sa pýtajú – Jana Kirschner odpovedá
Part 1.: https://www.youtube.com/watch?v=ova13glA4pM
Part 2.: https://www.youtube.com/watch?v=0zOnOh1kWiQ
Part 3.: https://www.youtube.com/watch?v=RBD_xApQRZQ
Pesničky pre Jonatána: Merchandise
https://www.janakirschnershop.sk/collections/all
Zdroj: TS