V októbri tohto roku na Slovensko opäť pricestuje svetoznámy Cirque du Soleil. Prostredníctvom predstavenia OVO návštevníkom priblíži život komunity roztomilých chrobáčikov. Okrem dych berúcich artistických výkonov, divákov očarí aj excelentná premena protagonistov na rôzne druhy hmyzu! V súvislosti s plánovanými predstaveniami premenu okúsi i jedna známa slovenská osobnosť!
Jedinečná produkcia OVO (portugalsky "vajce"), ktorá sa doposiaľ predstavila pred zrakmi viac ako 7 miliónov ľudí v 155 mestách v 26 rôznych krajinách, zaradila do svojho hľadáčika i Slovensko.
Cirque du Soleil v dňoch 19. – 22. októbra 2023 prenesie bratislavskú TIPOS Arénu – Zimný štadión Ondreja Nepelu do farebného bzučiaceho života energických chrobákov, ktorých z každodenného zabehnutého kolobehu života vytrhne cudzinec, ktorý sa v hmyzej komunite objaví s mystickým VAJCOM…
Výprava OVO pozostáva z vyše 100 členného tímu z 25 rôznych krajín sveta vrátane 52 artistov, ktorí na scénu prinášajú akrobatické výkony na najvyššej úrovni. Zážitok zo šou si však diváci odnesú aj vďaka ohromujúcim kulisám, skvelým hereckým i hudobným výkonom. Ale aj vďaka zohratej skupine profesionálov, ktorá pracuje za oponou a pozostáva z tvorcov predstavenia, produkcie, choreografov, hudobných tvorcov, režisérov, scenáristov, technického zabezpečenia a v neposlednom rade kostymérov. Práve tí majú na svedomí perfektnú premenu účinkujúcich na desiatky rôznych druhov roztomilého hmyzu.
Svetu látok, flitrov a mnohým ďalším materiálom v OVO kraľuje kostýmová dizajnérka Liz Vandal, ktorá sa na profesionálnu dráhu vydala v roku 1988, vytvorila a inovovala kostýmy v oblasti módy, divadla, opery, hudby, ale aj filmu. Na konte má, okrem mnohých ďalších, aj spoluprácu s The Backstreet Boys. Boyband si ju najal na navrhnutie kostýmov pre svoje turné Black 'n' Blue. Jej práca sa objavila i v niekoľkých filmoch. Šou OVO je prvou spoluprácou talentovanej módnej návrhárky so svetoznámym Cirque du Soleil.
Liz má k svetu hmyzu blízko už od útleho veku. "Vždy som preň mala vášeň. Keď som bola malá, na našom dvore som pri ovocných stromoch dvíhala kamene, aby som mohla pozorovať hmyz, ktorý sa usadil pod nimi. Hladkala som húsenice a púšťala motýle do domu. Takže, keď som sa dozvedela, že OVO sa inšpirovalo svetom chrobákov, hneď som vedela, že som v perfektnej pozícii vzdať hold tomuto majestátnemu svetu svojimi kostýmami," približuje talentovaná kostymérka.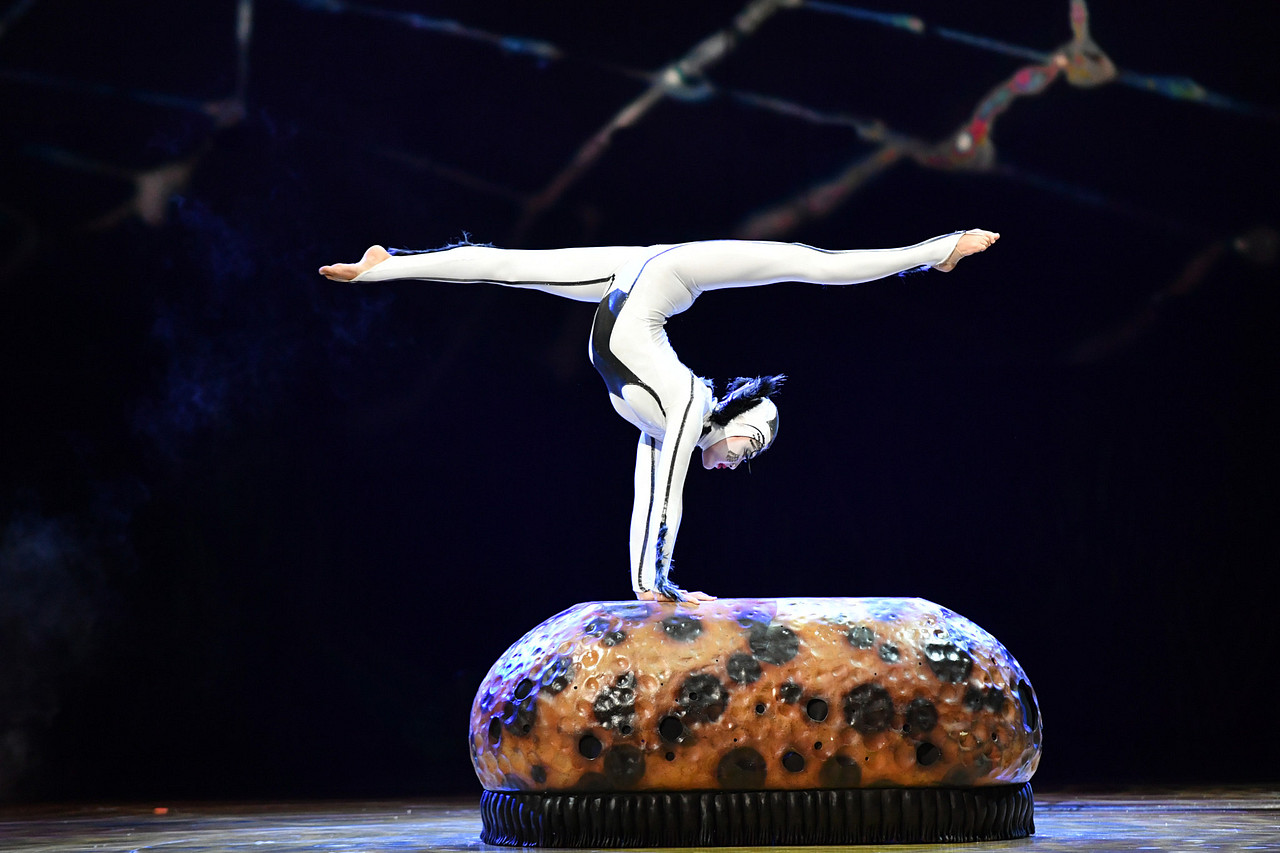 Lizinou prvou výzvou bolo predstaviť si spôsob, ako kostýmami priblížiť hmyz bez kopírovania ich skutočnej anatómie. "Riešením bolo vytvorenie dizajnov a podrobných nákresov, ktoré interpretovali morfológiu pavúka, švába či motýľa," vysvetľuje kostymérka. Cieľom vizuálneho prevedenia postavy však bola skôr evokácia než napodobňovanie. "Napríklad, krídla vážky evokujeme nohavicami vyrobenými zo sieťovanej čipky a sosák komára sme naznačili červeným mohawkom," dodáva.
Liz čerpala z vlastných bohatých skúseností a know-how kostýmového oddelenia Cirque. "Spolu sme vyvinuli vlastné techniky plisovania látok, ktorými dosahujeme vizuál trojrozmerného svalu, mohutnosť tela či ulít. Výsledkom je akési organické origami," objasňuje kostymérka výrobu detailov unikátnych kostýmov.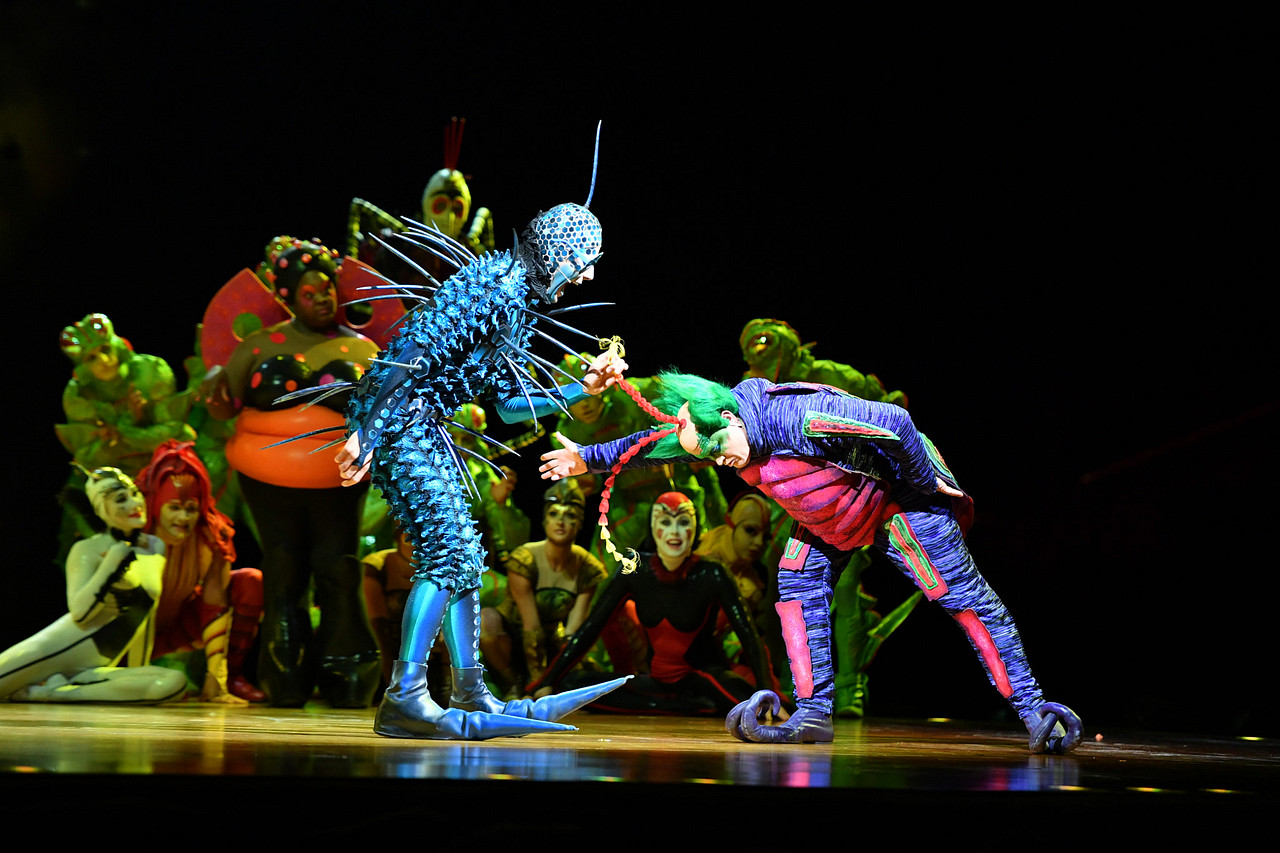 Zaujímavosťou je, že väčšina postáv má dve verzie svojich kostýmov. Prvé sú odľahčené a funkčnejšie, prispôsobené akrobatickým výkonom. Tie druhé sú objemnejšie, s väčším množstvom detailov a bohatšie na výzdobu a sú určené pre život chrobáčikov v ich komunite.
Najväčší počet kostýmov kreatívna návrhárka vytvorila pre skupinu artistov znázorňujúcich cvrčkov, ktorí svoje akrobatické umenie predvádzajú na trampolínach. Výroba týchto kostýmov si vyžiadala 75 hodín práce a to každý jeden kus! "Pre tieto postavy mám zvláštnu slabosť, pretože ich kostýmy sú také sexy, grafické a pulzujúce," predstavila umelkyňa svoj obľúbený výtvor.
Kľúčovou postavou predstavenia je však Cudzinec – neustále bzučiaca a pohybujúca sa mucha, ktorá pristane uprostred kolónie práve s ústredným symbolom šou – vajcom. "Cudzinec sa prvotne objaví vo vintage obleku. Svoje pravé ja však odhalí, keď sa zamiluje do Lienky. Čo sa odrazí aj na premene vzhľadu. Bude mať na sebe kostým z naježených ostňov. Jeho štíhly, hranatý tvar kontrastuje so zaoblením Lienky," približuje Liz Vandal vizuál dvoch hlavných postáv OVO.
Život chrobáka si vyskúša i jedna slovenská celebrita!
Aké to je ocitnúť sa v koži malého roztomilého hmyzu, zažije už čoskoro jedna známa slovenská tvár. Organizátor podujatia, agentúra Vivien, pri príležitosti príchodu Slnečného Cirkusu na Slovensko, vzdá hold predstaveniu OVO prostredníctvom vlastnej premeny na bzučiaci hmyz. "I na Slovensku máme talentovaných maskérov a dizajnérov. Spojili sme sily s dvoma šikovnými Slovenkami a už čoskoro predstavíme slovenskú verziu člena hmyzej komunity," poodhalili zástupcovia agentúry Vivien. "Ďalšie informácie k tomuto projektu ponúkneme už čoskoro," dodali.
Diváci si užijú nie len kostýmy farebných bzučiacich kamarátov počas 7 predstavení OVO – Cirque du Soleil v bratislavskej TIPOS Aréne – Zimný štadión Ondreja Nepelu. A to vo štvrtok, 19.10.2023 o 20:00. V piatok, 20.10.2023 o 20:00. V sobotu, 21.10.2023, sa uskutočnia tri predstavenia o 12:00, 16:00, 20:00. V nedeľu, 22.10.2023 o 13:00 a o 17:00. Vstupenky na všetky podujatia sú dostupné na www.vivien.sk a v sieti Ticketportal.
O CIRQUE DU SOLEIL
Cirque du Soleil nanovo definoval svetové vnímanie cirkusu, a to od začínajúcich talentov, až po etablované mená. Kanadská organizácia so sídlom v Montreale sa stala na 6 kontinentoch globálnym lídrom v oblasti živej zábavy vďaka vytváraniu pohlcujúcich a ikonických zážitkov na svetovej úrovni. Cirque du Soleil sa spája s publikom tým, že je skutočný, ľudský a inkluzívny. Spoločnosť, ktorá má privilégium spolupracovať s umelcami zo 64 krajín, privádza k životu ich kreativitu na pódiách po celom svete a jej cieľom je pozitívne vplývať na ľudí, komunity a planétu pomocou svojich najdôležitejších nástrojov: kreativity a umenia. V priebehu rokov sa Slnečnému cirkusu podarilo inšpirovať viac ako 220 miliónov ľudí vo viac ako 70 rôznych krajinách.
Cirque du Soleil
OVO
19. – 22. OKTÓBER 2023
TIPOS Aréna – Zimný štadión O. Nepelu (Bratislava)
Vstupenky sú dostupné na www.vivien.sk a v sieti Ticketportal.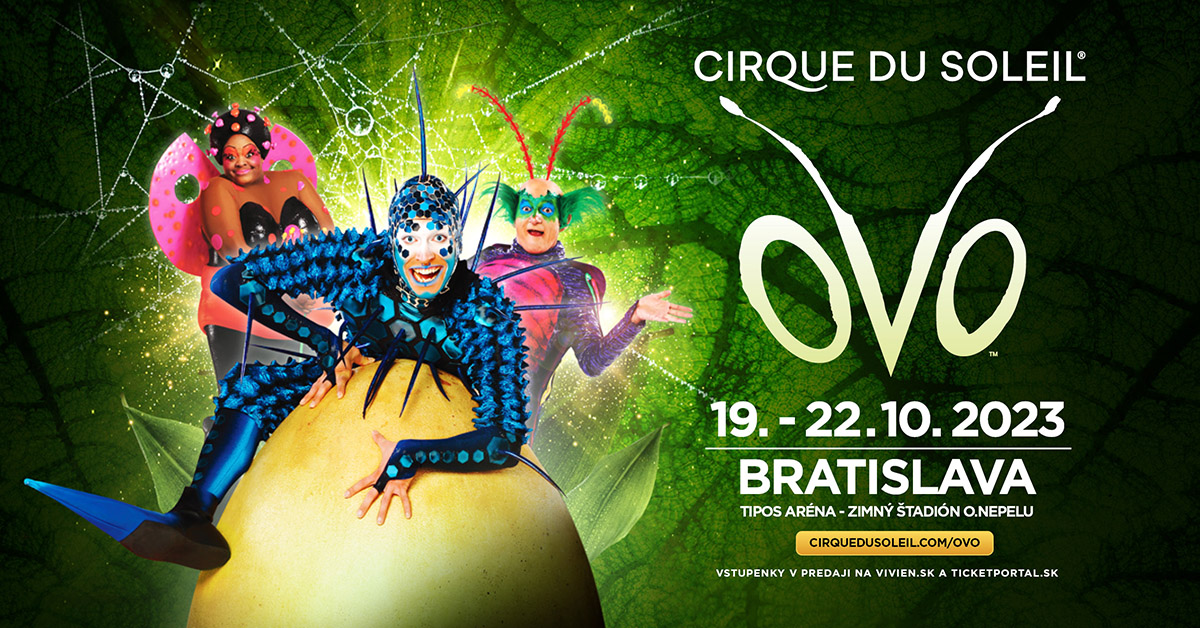 Zdroj: TS