Z online prostredia opäť do klubov! Umelci na Slovensku môžu znovu koncertovať pred živým publikom a takmer bez pandemických obmedzení. Po dlhých dvoch rokoch sú pred nimi nové umelecké výzvy. Druhé pokračovanie novej koncertnej edície ONE HEAD: music 2.0 sa uskutoční 19. marca 2022 v bratislavskom hudobnom klube Fuga. Katarína Máliková, Ficture, Blame Your Genes sa predstavia v netradičnom a zaujímavom koncepte sólových koncertov – producentov – skladateľov – interpretov – a to v jednej osobe.
ONE HEAD: music predstavuje hudobníkov, ktorí loopovaním, beatmi, nástrojmi či spevom dokážu spojiť v jeden celok svoje producentské a interpretačné vlastnosti. Touto vlastnosťou dokážu de facto nahradiť celú kapelu a vytvoriť nesmierne zaujímavú inštrumentálnu, vokálno-inštrumentálnu zložku v improvizovanej a neopakovateľnej podobe. Pilotný ročník ONE HEAD : music festival – Corona edit vol. 1.0 sa uskutočnil 15. apríla 2020 v Klube pod Lampou a bol prvým online hudobným festivalom na Slovensku – vystúpili Isama Zing, Isobutane, Peter Lipa ml., Love My Science. Témou bolo vysporiadanie sa s otázkami izolácie, ktoré spôsobila celosvetová pandémia. Teraz čelíme ešte omnoho horšej situácii. Krehkosť globálneho ekosystému narušilo napadnutie a okupácia Ukrajiny. Vojna na Ukrajine sa dotýka každého nás. Stavy bezmocnosti sa musia premeniť na odhodlanie reagovať a pomôcť trpiacim. Ako pomôcť Ukrajine? Túto otázku si kladie každý z nás, preto výťažok zo vstupného poputuje organizácii Človek v ohrození, ktorá svojou humanitárnou činnosťou zmierňuje následky vojnového utrpenia.
ONE HEAD : music vol. 2.0 sa uskutoční 19. marca v bratislavskom klube FUGA a vystúpi na ňom trojica interpretov – skladateľov – producentov. Katka Máliková vo svojej tvorbe prepája syntetizátorové zvuky s originálnym prejavom. Na jednej strane dark šansón a na druhej odraz slovenskej melodiky. Postalgia je definitívnym presunom k pesničkárskej elektronike a jedna z najlepších nahrávok, aká na Slovensku v poslednom čase vznikla. Na koncerte odprezentuje posledný album doplnený staršími piesňami z Pustvopolu. Fictureho, alias Gábora Tokára, poznáme aj zo slovenských pódií. Producent a hudobník vytvára sety, v ktorých sa stretáva improvizácia a momentálna nálada s dopredu pripravenými plochami. A to cez digitálne aj analógové sady v kombinácii talentovaného multiinštrumentalistu s obľubou u najnovších technológií. Blame Your Genes je sólový elektronický projekt Lukáša Zdurienčíka zo skupiny Elections In The Deaftown. Po debutovom EP Liquid White, vyšlo Planets v nemeckom labeli Traum Schallplatten. Charakterizuje ho žánrová pestrosť a prepájanie beatov z housu, breakbeatu zaobalené v surovom tanečnom zvuku.
Podujatie sa uskutoční už bez pandemických obmedzení.
Tento projekt z verejných zdrojov podporil: Fond na podporu umenia.
Projekt podporili: Hudobný fond a SOZA
ONE HEAD: music 2.0 – Katarína Máliková; Ficture; Blame Your Genes / 19. marca 2022 – Fuga, Bratislava
PREDPREDAJ: https://predpredaj.zoznam.sk/sk/listky/one-head-music-20-2022-03-19/
FB EVENT: https://www.facebook.com/events/1082747219213041/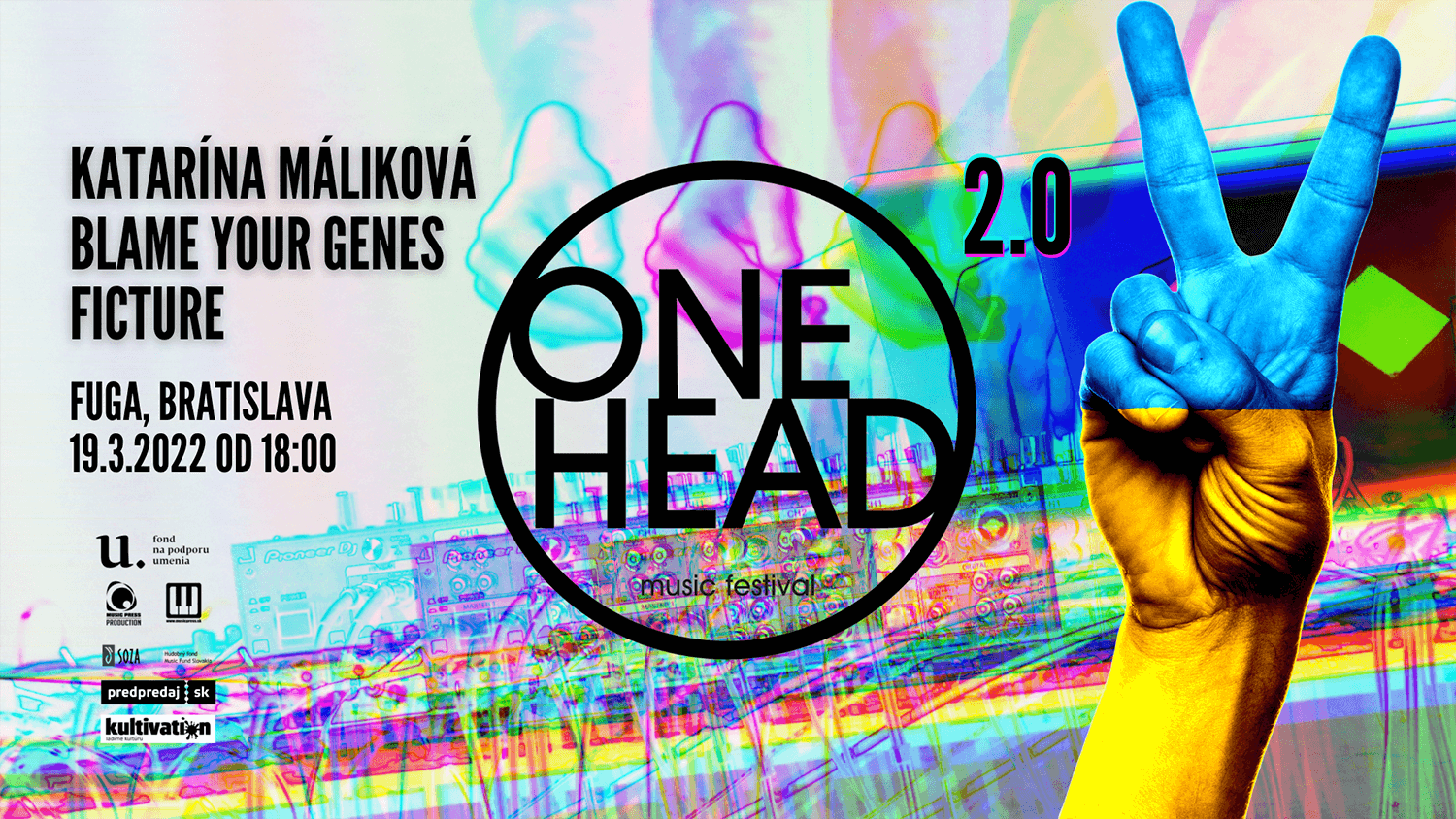 Zdroj: TS