Když jsme po první vlně pandemie u loňské verze Obscure Moshe psali "

Přišel čas vrátit se ke svým normálním

ž

ivotům a ty by bez kultury, v našem případě koncertů, rozhodně normální být nikdy nemohly,"

nikdo netušil, že si pak počkáme ještě skoro další rok. Ale nedá se svítit, člověk míní a kovid mění, takže jsme po roce se stejným modelem festivalu v Praze zpět. Jen nám jedna kapela přibyla, a to rovnou zahraničí hvězda.
Jednodenní festival v pražské Modré Vopici bude vedle Finů Rotten Sound další přehlídkou toho nejlepšího, co se v českých luzích a hájích skrývá. Jeho návštěvou vedle vystupujících kapel 'podpoříte i svého promotéra', nás Obscure Promotion, kteří se po ztracené sezóně opět stavíme na nohy. A my Vám za tuto podporu, zájem a šíření události srdečně děkujeme!
Logem headlinera nad výtečnou sestavou logicky září jméno ROTTEN SOUND. Finská stálice založená v roce 1993 je pro své charakterické postupy, kde se v rychlém tempu agresivita snoubí s brutalitou, jednou z nejzásadnějších grindcore kapel, co měla vliv na lavinu svých následníků. Inteligentně napsané písně provází jedinečný zvuk, který zabrušuje do death metalu i crustu, především ale jde s dobou a vyvíjí se, aniž by ztratil punc své osobitosti.
Většinu tuzemských kapel netřeba představovat. Ostrafsky humorny crust n' roll přivezou Motörhead z Bazal – MALIGNANT TUMOUR, čistou porci death metalu frontman Bruno a jeho HYPNOS. Novou sestavu v Praze představí sofistikovaní rychlíci GRIDE, první koncert si tu pak střihne rané Carcass adorující all-star trio SICK SINUS SYNDROME. Z nových alb budou hrát také crossover thrasheři EXORCIZPHOBIA, emociální grind experimentátoři CONTRASTIC, kteří se navrací na koncertní podia, ale i grindeři INSISTENT, jež si hudebně nezadají s hlavními hvězdami. SHAMPOON KILLER nezklamou žádného poctivého deathera, ale nedrážděte je v davu čerstvou ondulací od vašeho kadeřníka, kopu ran rozdá i celý Mosh otevírající SNĚŤ s jejich prohnilým a řádně seštelovaným old school deathem odkazujícím např. na legendární Autopsy.
Jak vidíte, bude to večer plný novinek i premiér, tož neseďte doma na zadku a přijďte uhasit svou žízeň po živý muzice – lístků bude dost!
12:00 doors
13:00 – 13:30 SNĚŤ
13:50 – 14:20 INSISTENT
14:40 – 15:10 SHAMPOON KILLER
15:30 – 16:00 SICK SINUS SYNDROME
16:20 – 16:55 CONTRASTIC
17:15 – 17:50 EXORCIZPHOBIA
18:10 – 18:35 GRIDE
19:00 – 19:40 HYPNOS
20:05 – 20:50 MALIGNANT TUMOUR
21:15 – 21:55 ROTTEN SOUND
Po celou dobu akce budeme dodržovat aktuální protiepidemická opatření. Návštěvník by měl být schopen se prokázat dokladem o takzvaném T-N-O (test – nemoc – očkování).
předprodej:
– online e-ticket https://obscure.cz/cs/tickets/detail/id/416
– na baru v Modré Vopici

OBSCURE MOSH open air 2021 – podpoř svého promotéra
ROTTEN SOUND, MALIGNANT TUMOUR, HYPNOS, GRIDE, EXORCIZPHOBIA, CONTRASTIC, SICK SINUS SYNDROME, SHAMPOON KILLER, INSISTENT, SNĚŤ
11. 7. 2021 – Praha, Modrá Vopice od 12:00
FB event: https://www.facebook.com/events/213717560524316
e-TICKET: https://obscure.cz/cs/tickets/detail/id/416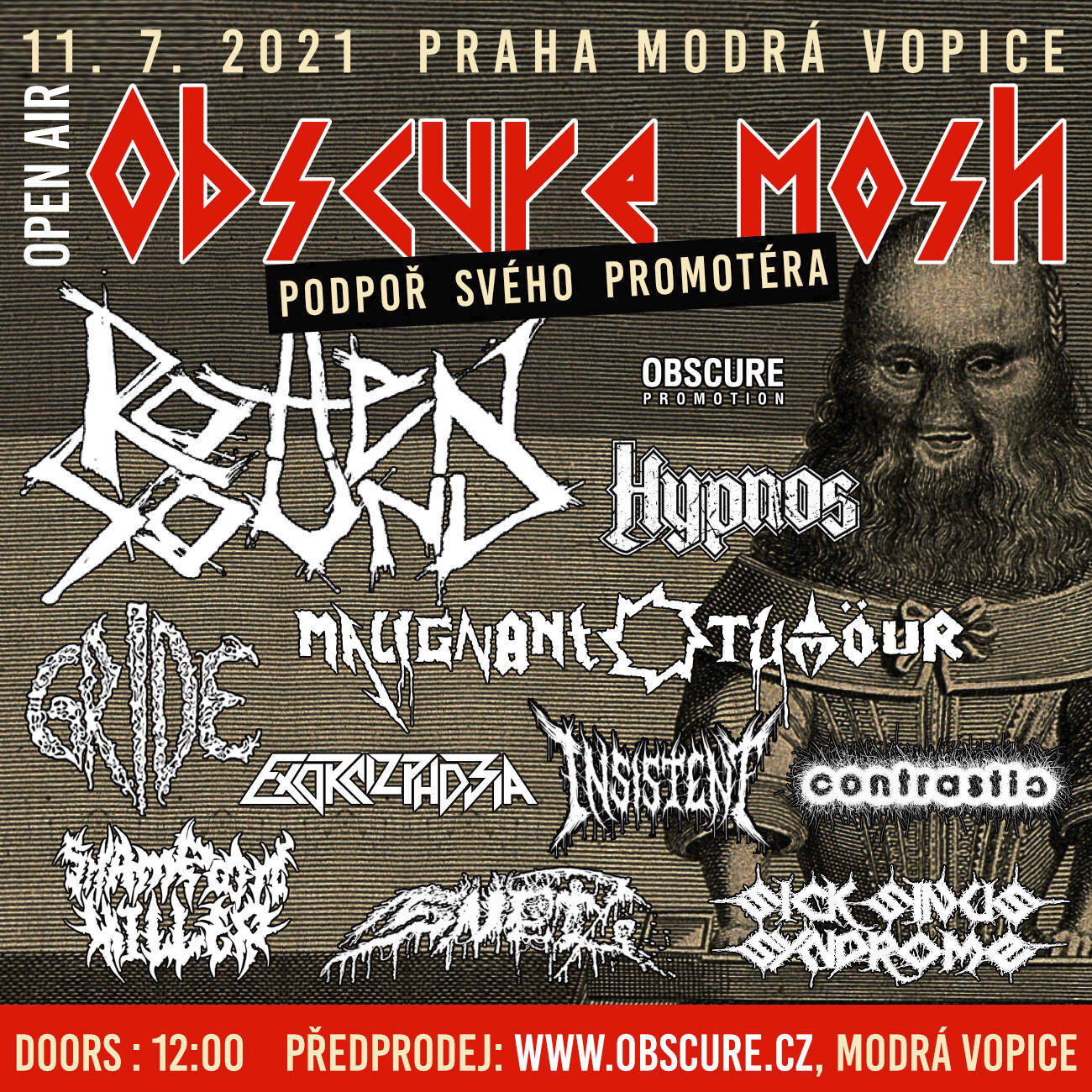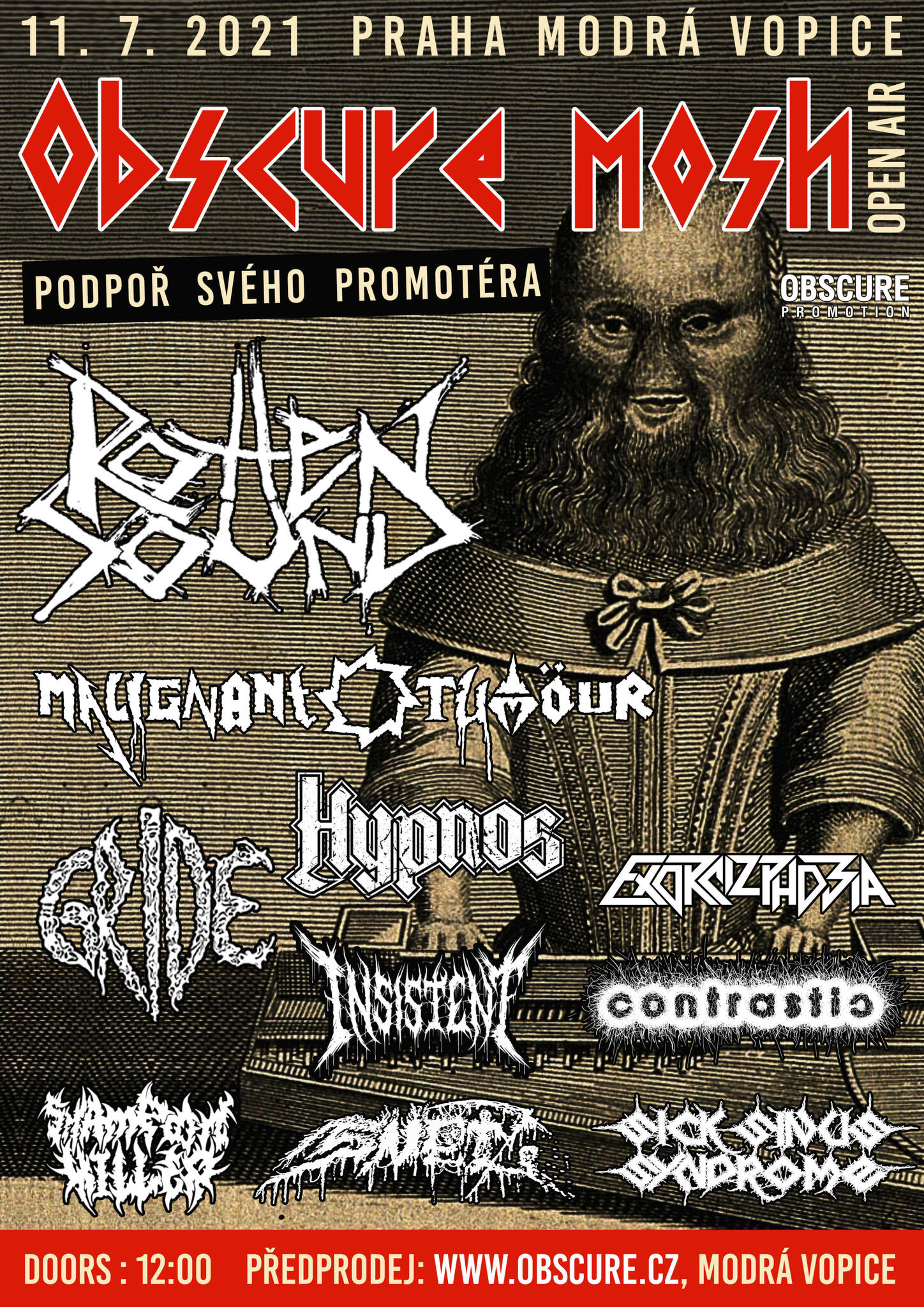 Zdroj: TS