Přišel čas vrátit se ke svým normálním životům a ty by bez kultury, v našem případě koncertů, rozhodně normální být nikdy nemohly. Jistě, na koncerty zahraničních kapel si ještě počkáme, ale třeba toto období pomůže pozdvihnout i tuzemskou scénu, která si to bezpochyby zaslouží. To Vy ale jistě víte!
Jednodenní festival pojmenovaný OBSCURE MOSH Open Air v pražské Modré Vopici vám poskytne odpověď na otázku "kdy jste naposledy byli na koncertě?" (protože my sakra dlouho!) a bude přehlídkou toho nejlepšího, co může česká scéna momentálně nabídnout. Těšit se můžete na prověřená jména i relativně novější kapely, dále pak na otočku dorazivší slovenské ČAD a to vše zaštítěné symbolickým legendárním headlinerem, thrashovými DEBUSTROL!
Návštěvou OBSCURE MOSH Open Air podpoříte nejen vystupující kapely, ale i nás Obscure Promotion, a my Vám za tuto podporu, zájem a šíření facebookové události srdečně děkujeme!
12:45 doors
13:35 – 14:05 CONSEQUENCES
14:25 – 14:55 SOUL DECODER
15:15 – 15:45 BYT
16:05 – 16:35 PERFECITIZEN
16:55 – 17:30 BRUTALLY DECEASED
17:50 – 18:25 GODLESS TRUTH
18:45 – 19:20 DIPHTERIA
19:40 – 20:30 ČAD
21:00 – 21:55 DEBUSTROL
Doufáme, že jste uplynulé období ve zdraví přežili a že se potkáme v hojném počtu, neb jak pravil Nietzsche: "Bez hudby by byl život chybou." A byla by chyba na tento koncert, jímž obnovujeme koncertní sezónu v Praze, nedorazit. Bude to rachot!
Cyrano z Bergeracu: "Svou roušku odhazuji v dál."
Obscure Mosh Open Air: DEBUSTROL, ČAD, GODLESS TRUTH, DIPHTERIA, BRUTALLY DECEASED, БУТ, PERFECITIZEN, SOUL DECODER, CONSEQUENCES
28. 6. 2020 – Praha, Modrá Vopice od 12:45
FB event: https://www.facebook.com/events/566523137591966
e-TICKET: https://obscure.cz/cs/tickets/detail/id/358
předprodej:
– Obscure e-ticket https://obscure.cz/cs/tickets/detail/id/358
– GoOut: https://goout.net/cs/listky/obscure-mosh-open-air-2020/ijtg/
– na baru v Modré Vopici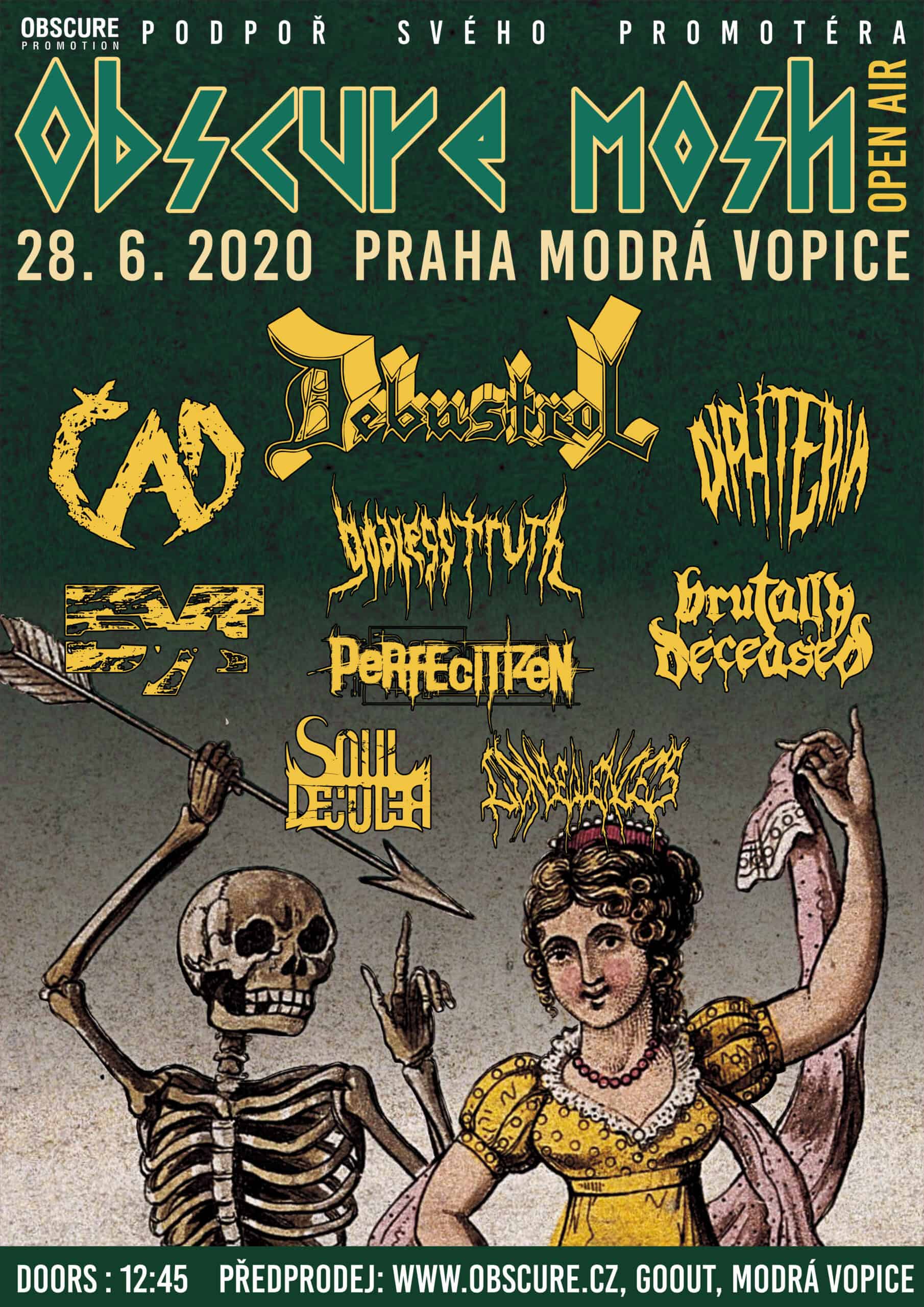 Zdroj: Obscure Promotion