Po náročných prekážkach, ktorými sme si za uplynulé dva roky prešli, prišiel čas sa znova spolu postaviť na štart. Spoločnosť Avon ani napriek týmto udalostiam nepoľavila a pomáhať neprestala. Práve naopak, v nepriaznivých situáciách prišla s riešením v podobe krásnych charitatívnych predmetov a na boj za zdravé prsia venovala 91 000 €. Tento rok sa ale ZNOVA NAŠTARTUJE v poradí 12. ročník Avon Pochodu za zdravé prsia, ktorý prináša niekoľko noviniek vrátane nových symbolov Pochodu – Tričiek za zdravé prsia 2022.

Znova naštarujeme prevenciu
Celosvetová situácia nás všetkých donútila zamyslieť sa nad tým, na čom naozaj záleží. Utriediť si priority a venovať svoju energiu len tomu, čo pre nás má zmysel. Naučili sme sa byť vďační za maličkosti, ktoré boli pre nás predtým samozrejmosťou. Naučili sme sa, že všetko zlé je vo veľa situáciách na niečo dobré a tento rok je akýmsi novým štartom pre nás všetkých.
Rakovina prsníka je v celosvetovom meradle tretím najčastejšie sa vyskytujúcim nádorovým ochorením a čoraz častejšie sa ochorenie diagnostikuje u mladých žien. Predstavuje viac ako 13% všetkých nových prípadov rakoviny diagnostikovaných v krajinách EÚ v roku 2020. Práve preto je dôležité neustále zvyšovať povedomie nielen o samotnom ochorení, ale predovšetkým o prevencii a dôležitosti samovyšetrení. "U mňa sa podarilo zachytiť nádor vďaka prevencii, na ktorú chodím a aj som chodila pravidelne každý rok," podelila sa o svoju skúsenosť Veronika Stuparková, onkologická pacientka a zároveň jedna z tvárí tohtoročnej kampane. Nie je to však pravidlom a zachrániť život môže v niektorých prípadoch práve samovyšetrenie. Niektoré nádory totiž rastú rýchlejšie ako iné a v čase preventívnej prehliadky ešte nemusia byť hmatateľné.
"Rakovina prsníka má naozaj veľa typov, pričom aj každá pacientka je jedinečná a unikátna – ako každá žena. Každá pacientka má navyše jedinečný súbor okolností ako je genetika, anamnéza, pôvod pričom toto všetko ovplyvňuje už aj tak typovo špecifickú diagnózu," hovorí MUDr. Vladimír Bella, primár mamologického oddelenia v Onkologickom ústave sv. Alžbety v Bratislave a tiež odborný garant projektu Avon za zdravé prsia.
Vedeli ste, že Slovensko sa nachádza v hornej tretine poradia krajín, kde sú najvyššie hodnoty výskytu karcinómu prsníka? Podľa dostupných dát bolo ku koncu roka 2020 na Slovensku zaregistrovaných približne 3 000 pacientok s touto diagnózou. "Minulý rok v januári som išla na pravidelnú preventívnu prehliadku, kde bolo ešte všetko v poriadku, to sa ale zmenilo jedného večera, kedy som si našla 2 hrčky.Gynekológ mi potvrdil, že ide o fibroadenóm.
Poslal ma na mamografiu, kde mi rovnako potvrdili rovnakú verziu – 2 fibroadenómy," spomína Monika Čopová, onkologická pacientka, ktorá tiež podporuje tohtoročnú kampaň Avon Pochodu. Alarmujúca je aj skutočnosť, že okrem najvyššej miery úmrtnosti patrí miera skríningu onkologických pacientok na Slovensku k najnižším v Únii. Európsky priemer skríningu rakoviny prsníka je totiž 57%, zatiaľ čo u nás je to len o niečo viac ako 30%.
Počas uplynulých dvoch rokov zdravotníctvom a spoločnosťou rezonovala najmä téma covidu, no rakovina nezmizla. Najbližšie roky teda ukážu, aký dopad pandémia na našich životoch naozaj zanechala, a koľko sekundárnych obetí si vyžiada(la) v dôsledku utlmenia preventívnych prehliadok a operačných zákrokov. Teraz je preto najvyšší čas znova naštartovať prevenciu – toto posolstvo je kľúčové aj v kampani, ktorú Avon spúšťa k plánovanému 12. ročníku Avon Pochodu za zdravé prsia.
Znova na štart
Ani tento rok Avon nezaháľa a ku širokej ponuke charitatívnych predmetov pribudnú Symboly Avon Pochodu za zdravé prsia – ružové Tričko, traky a šatka. Nové unisex Tričko Avon za zdravé prsia 2022 tradične upozorňuje na dôležitosť prevencie i na samotné ochorenie a pomôcť môže naozaj každý jeho kúpou za sumu 19,90 €. Svoj outfit môžete doplniť tiež o štýlovú Šatku Avon za zdravé prsia 2022 za 7,90 € alebo šikovnými Trakmi Avon za zdravé prsia 2022 za 9,90 €. Avon sa zaväzuje, že za každý takýto predaný Symbol za zdravé prsia venuje finančné prostriedky práve na boj proti rakovine prsníka.
Krásnu myšlienku už tradične sprevádza aj jedinečná kampaň s novými i stálymi ambasádormi. Tento rok na vizuáloch nájdeme Kvetku Horváthovú, Romana Juraška a novú tvár Andreu Bučko. Najdôležitejšou súčasťou však sú, samozrejme, spomínané onkologické pacientky podporujúce kampaň – Monika Čopová, Veronika Stuparková a Silvia Rigová. Nechýbajú ani odborní garanti MUDr. Vladimír Bella a PhDr. Erika Zámečníková z mamologického oddelenia v Onkologickom ústave sv. Alžbety v Bratislave, Michal Červeň a Zdenka Kmeťková – Avon divízni manažéri predaja. Všetci sa tak spojili pre dôležitú vec a motivujú k spolupatričnosti aj nás.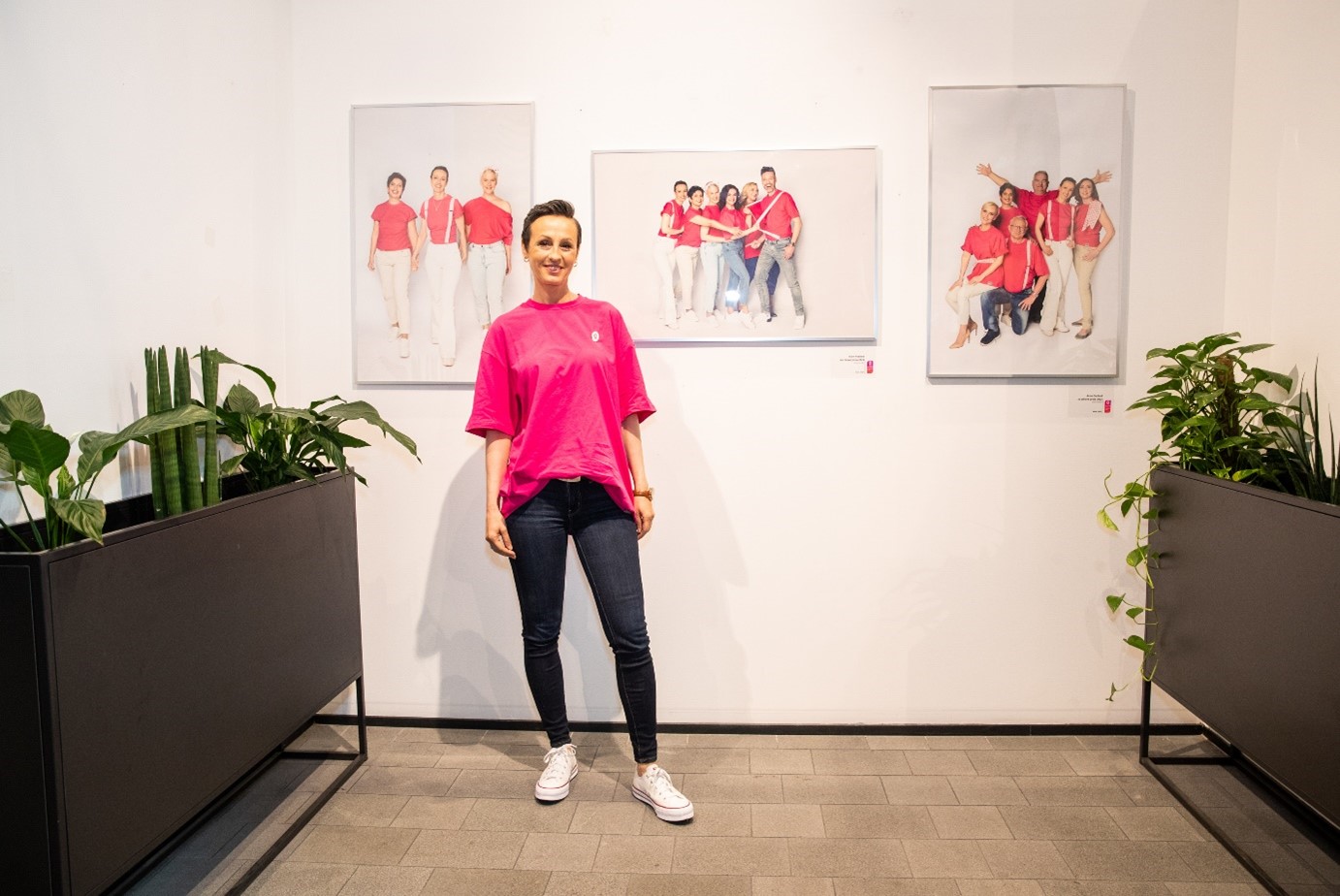 Postavte sa s nami po dvojročnej pauze opäť na štart už 24.9. na Tyršovom nábreží a zaplavte s nami ulice Bratislavy do typickej a výraznej ružovej farby. Svojou účasťou ukážete ženám po celom Slovensku svoju podporu aj to, že na nich záleží. Vyzbieraná čiastka putuje o.z. Tak trocha inak a ich projektu Štartovacie balíčky pre bezvlásky, o.z. Zdravá žena na výskum vplyvu chemoterapie, rádioterapie a hormonálnej liečby na neurokognitívne funkcie u onkologických pacientok v dlhodobom sledovaní.
Pochod každoročne podporia aj jeho dlhoroční podporovatelia ako napríklad Zlatica Puškárová, Kvetka Horváthová, Beátka Dubasová, Bruno Ciberej, Roman Juraško a mnohí ďalší. "Som tvárou Avon Pochodu už nejaký ten rok a musím povedať, že každý jeden rok sa iba utvrdzujem, že to, čo robí Avon spolu s ľuďmi, ktorí sa snažia poukázať na problematiku rakoviny pŕs, má zmysel," hovorí Roman Juraško a jedným dychom dodáva:
"Pre mňa osobne sú silné momenty, keď sa stretnete s dámami, ktorým sa podarilo pokoriť napríklad rakovinu prsníka a vidíte v nich tú neuveriteľnú silu a energiu, ktorú do toho vložili a zachránilo im to život – to je veľmi inšpirujúce a motivačné.". Súčasťou Pochodu bude aj herečka a speváčka Andrea Bučko: "Keďže patrím medzi ženy, ktoré sú veľmi citlivé na svoje telo a uznávajú prevenciu, je mi cťou byť v tíme, ktorý pripomína, že pravidelná kontrola prsníkov a podpora a solidarita s ľuďmi, ktorí už s ochorením bojujú je dôležitá a prínosná. Ak čo i len jednu ženu inšpirujeme k tomu ísť k doktorovi na preventívnu prehliadku, ak čo i len jednému človeku pomôžu vyzbierané peniaze, má to zmysel.". Súčasťou pestrého programu na Tyršovom nábreží budú aj Tomáš Bezdeda, Adam Ďurica či Mária Čírová.
Cieľom každého ročníka charitatívneho podujatia je vyzbierať finančný výťažok, ktorý slúži na aktivity spojené s bojom za zdravé prsia. Pridajte sa aj vy k jedinečnej iniciatíve a pomôžte tak ženám, ktoré sa ocitli v ťažkej životnej situácii. K veľkým zmenám vedú predsa malé krôčiky.
Avon Pochod za zdravé prsia
Spoločnosť AVON Cosmetics sa na Slovensku venuje problematike rakoviny prsníka už viac ako 20 rokov. Patrí medzi 50 krajín vo svete, ktoré každoročne podporujú boj proti tejto chorobe aj prostredníctvom
podujatia Avon Pochod za zdravé prsia. Cieľom tohto charitatívneho podujatia je starostlivosť o zdravie žien, zvýšenie povedomia verejnosti o tomto ochorení a podpora výskumu v tejto oblasti. Od vzniku projektu sa podarilo vyzbierať viac ako 1,5 milióna EUR, ktoré poslúžili na podporu vzdelávania zdravotníck ho personálu, študentov, zlepšenie kvality života a psychosociálnu podporu žien, kúpu diagnostických prístrojov, operačnej techniky a šírenie osvety v rámci prevencie verejnosti.
Zdroj: TS