Nina Kohout v decembri uplynulého roka spôsobila na hudobnej scéne rozruch mierne pozmeneným menom, ale najmä novým singlom Moonlight. Majestátna, no zároveň ironická skladba s jedinečným a tažko zaraditeľným zvukom akustických nástrojov a elektroniky predznamenala jej debutové EP Pandemonium, ktoré vychádza 2/2/2022 na Deadred Records.
Nina prichádza na svojom EP s novým, väčším a experimentálnejším zvukom. Zatiaľ čo jej prvotina z roku 2020 Blue Sunray nesie farbu krehkej akustiky, na Pandemonium posúva možnosti zvuku, hudobnej poslušnosti a sónickej výpravnosti za svoje doterajšie hranice. Je to nahrávka, na ktorej si Nina stavia unikátny svet, vytvárajúci napriek vzájomnej odlišnosti skladieb zvláštny, miestami nekomformný, inokedy nádherný harmonický celok. Práve kvôli pestrofarebnosti a unikátnej kompozícii a zvuku jednotlivých piesní prináša toto EP na scénu žánrovo nezaraditeľný hudobný prírastok.
"Pandemonium, ako neurčitá hranica imaginárneho so skutočným, šialenstva so zdanlivo zdravým rozumom, nech to značí už čokoľvek. Pandemonium ako zmätok, nezhubný hurikán farieb a emócií, teda zrkadlo toho, kto som a kým som odjakživa ako človek bola. Viac ako svetu som v tejto pandem(on)ickej nahrávke najmä sebe ukázala ako znie hudobný ekvivalent k mojej osobe, k persone citlivo cítiaceho jednotlivca žijúceho na planéte, ktorej nie tak úplne vždy rozumie," hovorí na margo svojej debutovej kolekcie Nina Kohout.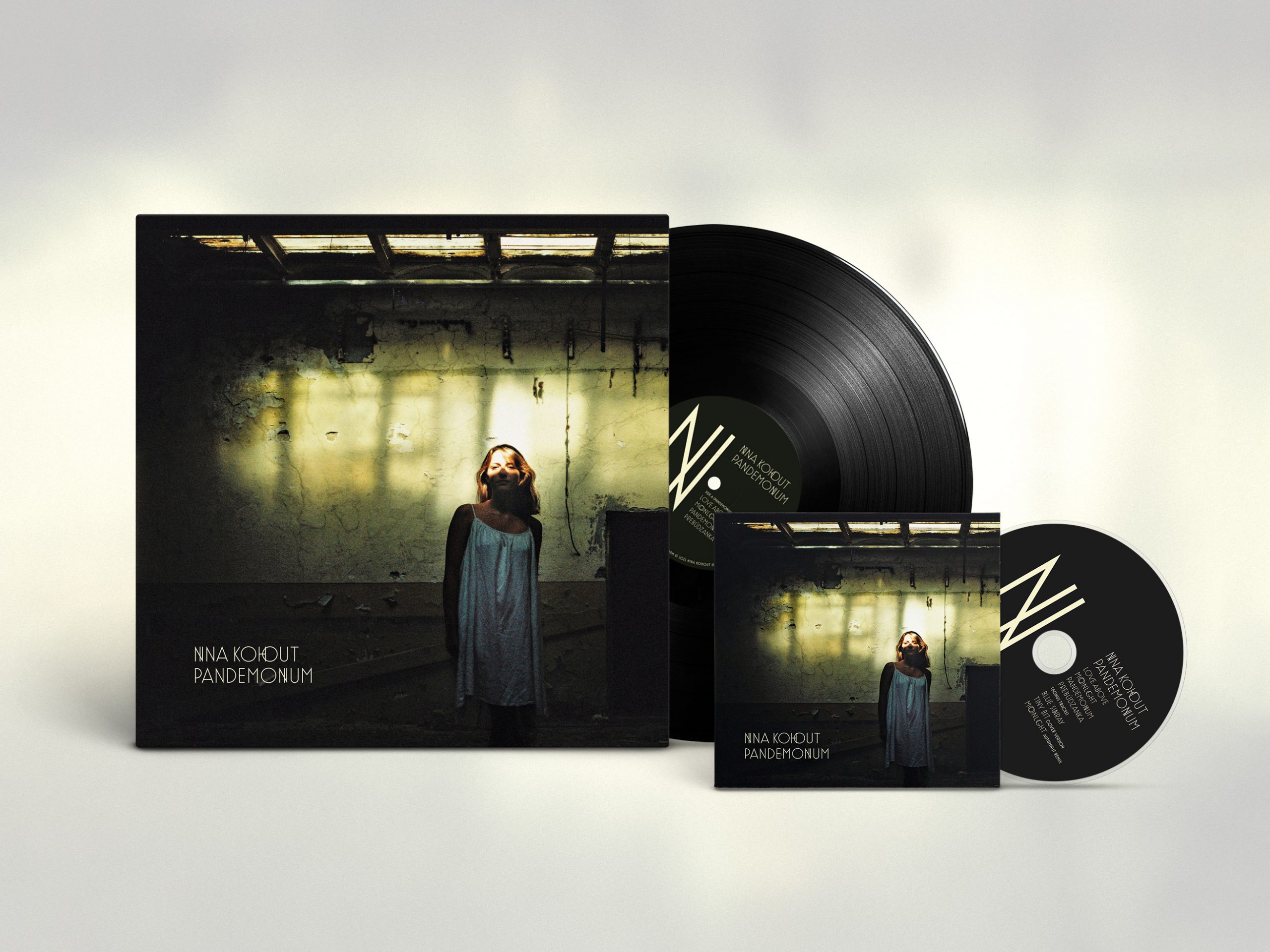 EP obsahuje štyri jedinečné skladby, tri z nich sú otextované v anglickom jazyku a jedna je v slovenčine. K témam, ku ktorým sa v piesňach vyjadruje Nina dodáva: "Tak, ako sa v piesňach ako Love Above či Prebúdzanka dotýkam najväčšej nehy a lásky, skladby Moonlight a Pandemonium podlamujú kolená ráciu a nami určený normál označujú za nič viac ako dôsledok ľudskej obmedzenosti. Nahrávka je úzkou paradoxnou symbiózou veľkej náklonnosti a nepochopenia pre svet zároveň, a keď má priestor, myslím, že vie byť k poslucháčovi aj veľmi štedrá."
Za zvukom EP producentsky stojí okrem Niny aj Vlado Ďurajka (Autumnist), ktorý sa postaral o skladbu Pandemonium a Lucas Armstead, ktorý spoločne s Ninou produkoval singel Moonlight. Obaja prispeli okrem produkcie aj mixovaním spomenutých skladieb. Zvyšné dve skladby produkované samotnou Ninou zmixoval Matúš Homola vo svojom štúdiu Men at Sound v Trenčíne. Tam, ako aj v štúdiu Fallgrapp v Dubnici n/Váhom v réžii Jureša Líšku, prebehlo samotné nahrávanie. Mastering nahrávok zrealizoval Tomáš Karásek v štúdiu Gargle & Expel v Prahe.
Okrem bohatého zastúpenia elektroniky je na EP aj veľa "živých" nástrojov – klavír a gitary od Niny, husle v podaní Michala Pagáča, Pavla Líšku, Dominika Tuchyňu a Daniela Pastoreka na kontrabas, bicie nahral Matúš Homola. Tak ako v Nininej prvotine, aj v tejto nahrávke sa objavuje klarinet jej otca Petra Kohouta a do jednej skladby prispel aj Dalibor Kocian a.k.a. Stroon na vibrafón. Autorom titulnej fotografie na obale je Natália Mikulášová, do finálnej grafickej podoby ho upravil Vlado Ďurajka.
Pandemonium vychádza 2. februára 2022 ako limitovaný 12'' vinyl, CD a digitálne na všetkých známych streamovacích platformách (Apple Music, Spotify, Deezer, YouTube Music atď.) a ako download na stránkach Niny Kohout a vydavateľstva Deadred Records. Vinyl a CD obsahujú okrem samotného EP aj tri bonusové skladby.
BIO

Meno Nina Kohout nie je na slovenskej hudobnej scéne úplne neznámy pojem. Mladá talentovaná hudobníčka na seba prvýkrát upozornila skladbou Gejša z albumu V hmle od kapely Fallgrapp, na ktorej sa okrem vokálov podieľala aj spoluautorsky. Publiku je ale známa najmä z kapely Autumnist, s ktorou pravidelne koncertuje a na ktorej "rádiohlavou" ocenený album False Beacon (2018) naspievala epickú skladbu Future Lights. Začiatkom roka 2020 sa uviedla krehkým akustickým singlom Blue Sunray a neskôr na sklonku roka prispela aj na výročnú kompiláciu vydavateľstva Deadred XX. Sugestívnou prerábkou skladby Tiny Bit od Autumnist sa predstavila producentsky a zúročila poznatky zo štúdia hudobnej produkcie vo Veľkej Británii. V ankete Radio_Head Awards 2020 sa následne stala Nováčikom roka. V decembri 2021 novým singlom Moonlight predznamenala svoje debutové EP Pandemonium. Nina sólovo vystupuje už niekoľko rokov aj s občasným doprovodom bass klarinetu a popri svojich autorských skladbách interpretuje aj rôzne prevzaté skladby svojich obľúbených autorov.
VYDAVATEĽ –
Deadred Records

DÁTUM VYDANIA –
2. február 2022

FORMÁT –
12'' vinyl, CD, download & stream

DĹŽKA –
15:26 min.

KATALÓGOVÉ ČÍSLA –
DR-083 (digital)
DR-083-1 (vinyl)
DR-083-2 (compact disc)

ZOZNAM SKLADIEB –
01. Love Above
02. Moonlight
03. Pandemonium
04. Prebúdzanka

bonusové skladby (vinyl, CD)

05. Blue Sunray
06. Tiny Bit (Cover Version)
07. Moonlight (Autumnist Remix)
Pandemonium:
https://deadred.sk/releases/nina-kohout-pandemonium
https://ninakohout.fanlink.to/pm
https://ninakohout.bandcamp.com/album/pandemonium
Pandemonium – vinyl, CD:
https://bit.ly/nkpm-lpcd
Lyrics video Moonlight:
https://youtu.be/fQM7mNClvnU
Zdroj: TS