Hej! Myslime, ze kazdy z nas momentalne potrebuje troska nezdraveho escapismu do zivota. Preto sme si pre vas nachystali kriklavo-fialovu infuziu magickym mecom, rovno na celo – aka dalsi Nightcall.
Dubravske lesy olizuje mliecna hmla, ako farar prsty na nohach malych chlapcov. Lesom sa nesie zavyjanie vlkov, vrzganie robotickych drevorubacov a sycanie mechanickych stromov. Nebesa farby sumiaceho televizora pretne cerveny blesk. Jeho echo, rozvibruje titanove okenice panelakov. A on sa prebudi! THE KOSTLIVEC!
Odhnivajuca kostra v plasti sedi za volantom ciernej Testarossi. Do walkmana vlozi novych Dance with the Dead. Potiahne si z vaporizera a vydychne z jeho deraveho tela. Odlesky Bratislavskeho ufa, bezmennych podnikov a zamracenych tvari sa mu mihaju v slnecnych okuliaroch. Na zadnom sedadle ma helmu a mec. Kurva velky, krvavo ruzovy ziariaci mec. Pytas sa kam ide s tym mecom a helmou Mario? Pocuvaj ma sem moj, ide nakopat rite vsetkym autoritarskym zakomplexovanym bastardom, ktori si myslia, ze sa nam mozu jebat do zivotov, namiesto toho aby sa hrali Elden Ring. Lebo uz ho to naozaj zacina srat! THE KOSTLIVEC!
Tento krat nemame ziadnych hosti kamosi. Dame si spolu party ako za starych casov. Len DJ sety v podani nasej Nightcall skvadrony a THE KOSTLIVCA! Hrdinu, ktoreho si nezasluzime, ale ktoreho vsetci potrebujeme.
Bude na vas cakat Nightcall vyzdoba, namakne vizualne prvky, herna zona a mozno este vymyslime nejaku videohernu sutaz jak minule.
NIGHTCALL CREW:
/////DJ Sets ::
Computerboy
Daniel Jackson
Elvis F
Synthmage
Vektoroskop
/////LIVE ::
Milcho Malefic
https://milchomalefic.bandcamp.com/
https://nightcallsk.bandcamp.com/album/virtual-trails
Слава Україні!
/////Cyberpunk Aesthetics by:: Vektoroskop & Nightcall
/////EPIC Photo-report by::
Elvis F. :
https://www.facebook.com/ElvisFledermausPhotography
Vstup / Entry: minimalne vstupne 5 eur / optimalne 8 eur
///// Predpredaj
Listky sa daju kupit v predpredaji. Ale len cez skutocne anonymne decentralizovane krypto. Vybrali sme Pirate Chain a Monero. Pre dalsie instrukcie ohladom platby, nam poslite spravu na fanpage/discord.
Vy co ste kupovali listky na Halloween cez krypto (viete kto ste), vase tickets platia aj sem.
(If you want to pay in crypto – send us a PM; we accept ARRR or XMR – discount included.)
Synthwave / Retrowave / Outrun / Videogames / Vaporwave
Nightcall spotify playlist -> https://goo.gl/7nHpmQ
Nightcall Discord -> http://bit.ly/nc_discord
All illustrations done by : ENIAC : https://www.facebook.com/artereniac/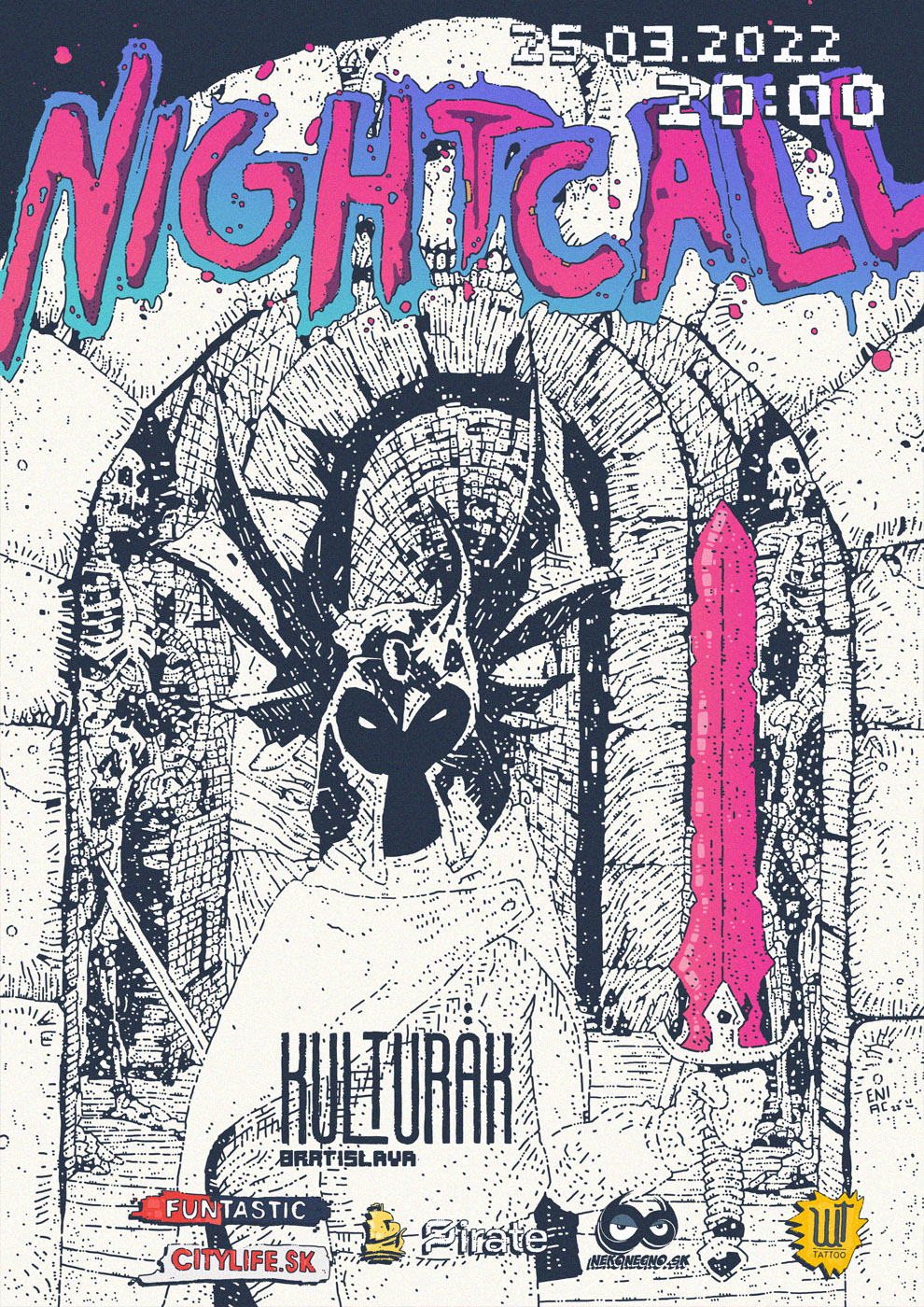 Zdroj: TS