Tri koncerty interpretov vydavateľstva Real Music House. Koncertná séria Real Music House uvádza predstaví koncom júna tri silné osobnosti, ktoré vydali nahrávky pod značkou tohto bratislavského vydavateľstva.
"Keďže máme za sebou dlhé obdobie koncertného ticha, rozhodli sme sa fanúšikom kvalitnej slovenskej hudby ponúknuť hneď tri zaujímavé koncerty. Za sebou máme prezentáciu albumu Jána Slávika. Bolo to krásne podujatie. Veríme, že tie nasledujúce budú rovnako príjemné," opisuje novú koncertnú sériu Robert Pospiš, spoluzakladateľ vydavateľstva Real Music House. Už vo štvrtok 24. júna sa v kultovom bratislavskom klube Nu Spirit predstaví Nikolaj Nikitin a mladá jazzová generácia. "Nikolaj si pozval aj hudobníkov, ktorí hrali aj na nahrávke Young Slovak Jazz Generation. Tú sme vydali ešte minulý rok a považujeme ju za mimoriadne dôležitú. Mapovanie novej hudobnej generácie je jednou z našich vydavateľských priorít na najbližšie roky," dodáva Martin Sillay, hudobník a spoluzakladateľ vydavateľstva Real Music House. Mladú hudobnú generáciu zastupuje aj sopranistka Adriena Banásová. Tá predstaví svoje debutové CD Desire v priestoroch Pálfyho paláca. Sprevádzať ju bude uznávaný klavirista Peter Pažický. Koncertnú sériu Real Music House uvádza podporil z verejných zdrojov Fond na podporu umenia.
"Uvedomujeme si, že v tomto období zažívame veľký koncertný pretlak. Je to ale prirodzené. Viac ako rok sa nedalo plnohodnotne hrať. Naši interpreti na tom neboli inak. Veríme, že koncertná séria Real Music House uvádza si nájde svoje publikum. Rozhodli sme sa vybrať tri špecifické priestory v Hlavnom meste a predstaviť tri generácie hudobníkov. Na koncerty srdečne pozývame všetkých fanúšikov kvalitnej slovenskej hudby. Tešíme sa na vás," uzatvára Robert Pospiš.
Koncertná séria Real Music House uvádza:
20.6. – 12:00
Ján Slávik – Bachove Suity – Prezentácia CD
Hummelov dom
24.6. – 20:30
Nikolaj Nikitin presents Young Slovak Jazz Generation
Nu Spirit Bar
Nikolaj Nikitin sax
Jancsi Rigo piano
Matej Štubniak db
Mattia Muller ds
+ open jam session
30.6. – 18:00
Adriena Banásová / Peter Pažický
Pálfyho palác
Prezentácia CD Desire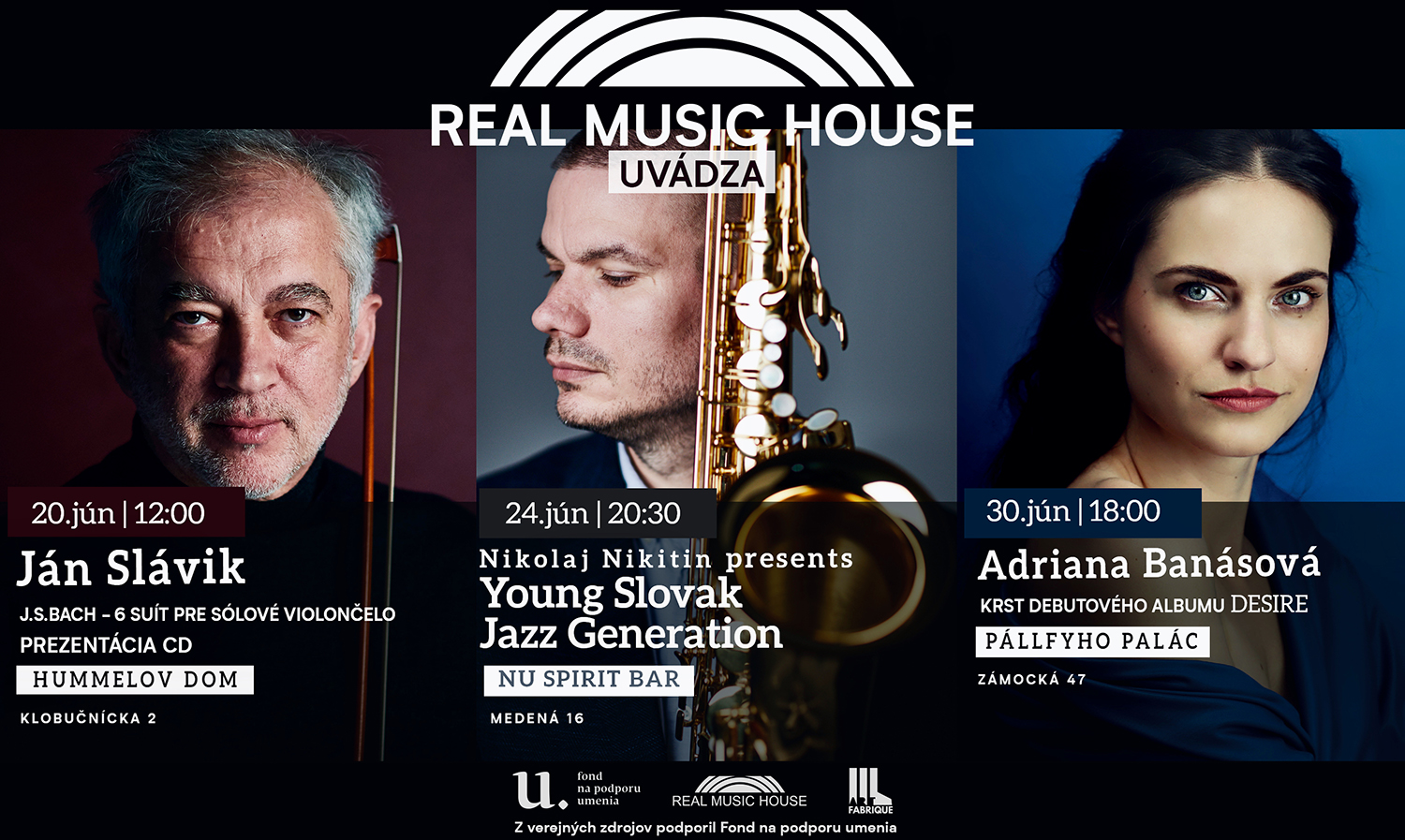 Zdroj: REAL MUSIC HOUSE