Pražský Obecný dom v sobotu 11. februára 2023 už po deviatykrát hostil veľkolepý Česko-Slovenský ples. Noblesné podujatie aj tentokrát pripomenulo výnimočný vzťah oboch krajín v srdci Európy.
Prestížneho Česko-Slovenského plesu 2023, ktorý sa uskutočnil pod záštitou prezidenta Českej republiky Miloša Zemana a prezidentky Slovenskej republiky Zuzany Čaputovej, sa zúčastnili viacerí predstavitelia politickej scény – Markéta Pekarová Adamová, predsedníčka Poslaneckej snemovne Parlamentu Českej republiky, Boris Kollár, predseda Národnej rady Slovenskej republiky, Rastislav Káčer, poverený minister zahraničných vecí SR, Karel Hirman, poverený minister hospodárstva SR, Andrej Doležal, poverený minister dopravy SR, ako aj ďalšie významné osobnosti z oblasti vedy, kultúry, športu, diplomacie a podnikateľského života.
Slávnostný večer sa po celý čas niesol v duchu pripomienky 30. výročia založenia oboch krajín – Českej republiky a Slovenskej republiky, vzájomného porozumenia a výnimočného vzťahu oboch národov v srdci Európy. Úvod slávnostného otvorenia patril Martinovi Babjakovi, Rozhlasovému Big Bandu Gustava Broma a sláčikovej sekcii Symfonického orchestra Českého rozhlasu, ktorí zahájili Česko-Slovenský ples Kupletom toreadora z opery Carmen. Martin Babjak sa zároveň postaral o prvé prekvapenie večera, keď zahral na fujare skladbu "Dobre mu, Janíkovi" a odovzdal pódium najmladším členom Folklórneho súboru Limbora, ktorí symbolizovali nové generácie a budúcnosti oboch našich národov.
Programom Česko-Slovenského plesu, v réžii Richarda Raimana, sprevádzala moderátorská dvojica Michaela Maurerová a Vladimír Kobielsky. Slávnostné úvodné predtancovanie patrilo tentokrát majstrovskému dielu Piotra Iljiča Čajkovského, Mariusa Petipua a Leva Ivanova Labutie jazero a prekvapivo svoje tanečné umenie predviedli farárka Martina Viktorie Kopecká a tanečník Marek Dědík. Hostí očarilo symbolické svetelné rozbúchanie srdca kvetinovej výzdoby na stole so zástupcami partnera charitatívnej časti plesu Be Charity Báry Nesvadbovej.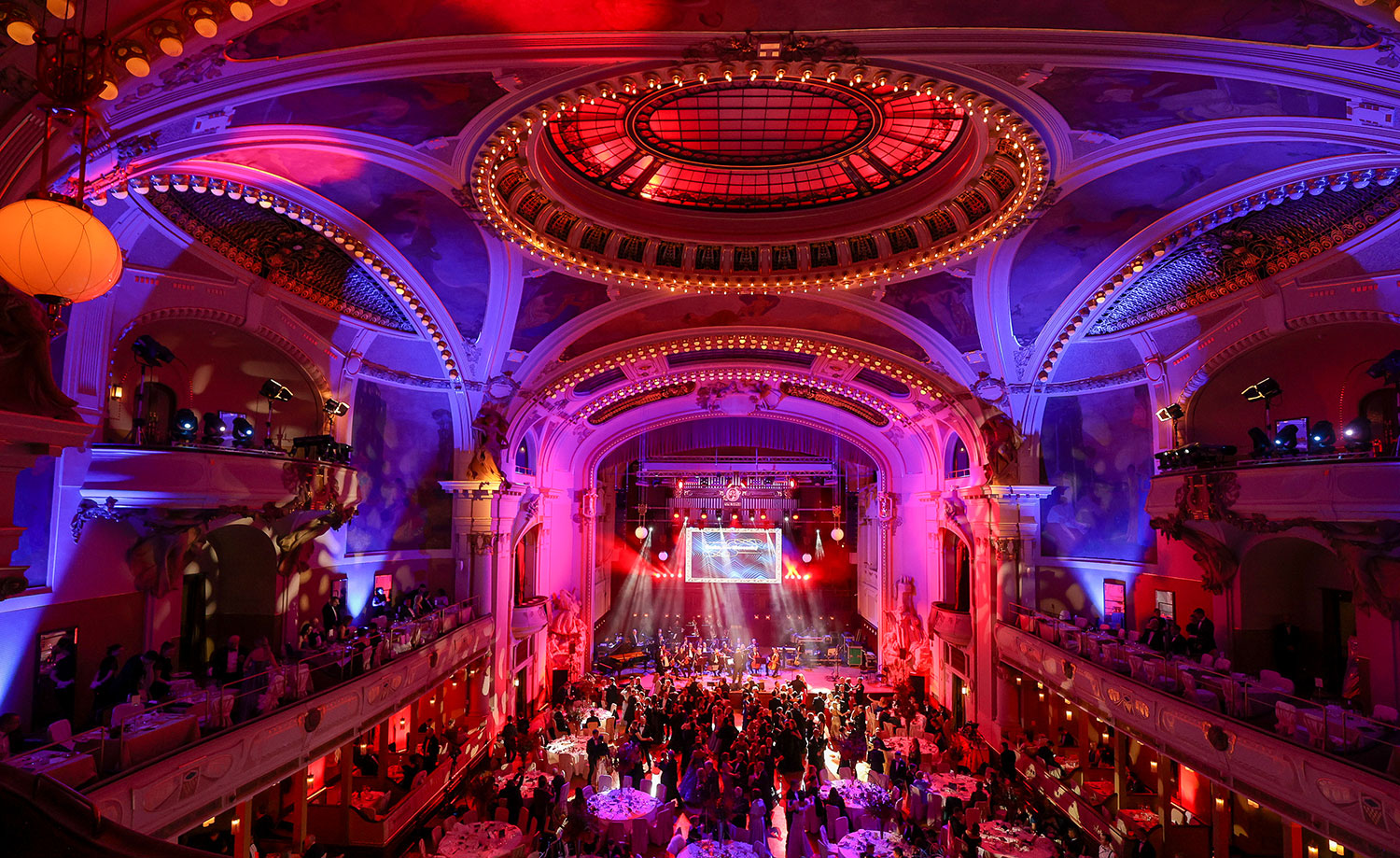 "Nemôže byť lepšie miesto ako Obecný dom, aby sme sa stretli na Česko-Slovenskom plese, kde sa naše národy, hoci už tridsať rokov píšu samostatne každý svoj vlastný príbeh, znovu stretávajú. Verím, že všetci máme tieto spoločné korene naďalej vo svojich srdciach," povedala v úvodnom príhovore Markéta Pekarová Adamová. "Niekto by mohol tento Česko-Slovenský ples vnímať len ako spoločenskú udalosť. Ja v tom vidím oveľa väčší rozmer. Rozmer silného priateľstva medzi našimi oboma štátmi a príležitosť osláv 30. výročia vzniku našich samostatných republík. Naše vzťahy sú ukážkové, priam bratské," zdôraznil vo svojom príhovore Boris Kollár. "Dovoľte, aby som vás privítal v týchto nádherných secesných priestoroch Obecného domu, ktorý sa už tradične stal miestom nášho spoločného stretávania sa. Pevne verím, že i naďalej bude prispievať k prehlbovaniu vzťahov, našej vzájomnosti a taktiež k budovaniu nových priateľstiev," privítal hostí riaditeľ Česko-Slovenského plesu Radovan Čaplovič.
Hosťom v Prahe do tanca hrali a spievali mnohí významní interpreti oboch krajín – kapela Chinaski, Lenka Filipová, Václav Neckář & Bacily, Zuzana Smatanová a Rozhlasový Big Band Gustava Broma so sólistkami Andreou Zimányiovou, Zuzanou Gamboa a Ivanou Regešovou ​​a mnoho ďalších.
"Po minuloročnej veľmi úspešnej dražbe v prospech Be Charity Báry Nesvadbovej, sme sa aj tento rok rozhodli podporiť ich projekty," povedala o novom partnerovi ambasádorka charity pre Slovensko Lucia Hablovičová. Hostia svoju podporu vyjadrili cez tichú aukciu trinástich predmetov a zážitkov. Výťažok z tejto charitatívnej dražby poputuje na zabezpečenie nevyhnutných a toľko potrebných rehabilitácií pre malého Viktora (nar. 2017), pre malého Vítka (nar. 2018) a pre malú Siu Lily (nar. 2017).
To najlepšie z Česka a Slovenska zvýraznil aj gastronomický zážitok v podaní renomovanej spoločnosti Stones Catering a vybraní dodávatelia s výbornou kvalitou potravín a nápojov. Hosťom bola podávaná česko-slovenská exkluzívna večera šiestich lahodných pokrmov v trojchodovom menu podávaná v netradičnom "duet" servise inšpirovanom aj medzinárodným kulinárskym umením.
Veľkoleposť plesu potvrdili aj dámy, ktoré na červenom koberci ako i samotnom plese doslova zažiarli. Pozvanie prijali topmodelka Andrea Verešová, ambasádorky charity Lucia Hablovičová a Martina Šmuková, Česká Miss Earth 2015 Karolína Mališová, Miss Slovensko 2021 Sophia Hrivňáková, moderátorky TV Prima Gabriela Lašková a Eva Parkausová, moderátorka TV JOJ Erika Barkolová, moderátorka
RTVS Simona Simanová, speváčky Daniela a Veronika Nízlové, herečka Andrea Růžičková s manželom – hudobníkom Mikolášom Růžičkom, herci Marek Němec, Jan Komínek a Martin Dejdar. I na tento ročník zavítali zástupcovia športového života a pozvanie organizátorov prijali bývalý futbalový reprezentant Tomáš Rosický s manželkou, moderátorkou a bývalou modelkou Radkou a bývalý hokejový reprezentanti Patrik Eliáš s manželkou Petrou a Alexander Salák s manželkou Michaelou. Medzi návštevníkmi plesu bol aj holandský futbalový útočník Mick van Buren, ktorý ešte hodinu pred oficiálnym zahájením galavečera odohral futbalový zápas v drese SK Slavia Praha. Z vedeckej sféry ples poctil napríklad významný český vojenský historik a v súčasnosti riaditeľ Památníku Lidice Eduard Stehlík s manželkou Terezou.
Česko-Slovenský ples sa už po deviatykrát konal na rovnakom mieste, v Obecnom dome v Prahe. Organizátori každoročne vzdávajú hold tomuto miestu a aj tento rok zvýrazňujú jeho Genius loci. Tentokrát pripomenuli 150. výročie narodenia Maxa Švabinského, českého maliara, grafika a rytca. Jeho dva obrazy s názvom Česká jar sa nachádzajú v Riegrovej sále a predstavujú dve skupiny významných českých literárnych, hudobných a výtvarných umelcov (Svatopluk Čech, Jan Neruda, Jaroslav Vrchlický, Božena Němcová, Julius Zeyer, Josef Václav Myslbek, Mikoláš Aleš, Josef Mánes, Bedřich Smetana a Antonín Dvořák).
Nasledujúci jubilejný 10. ročník Česko-Slovenského plesu sa uskutoční v pražskom Obecnom dome 17. februára 2024.
www.ceskoslovenskyples.cz
Facebook
Instagram
Twitter
YouTube
LinkedIn
TikTok
Zdroj: TS