Dobré filmy sa vracajú na miesto, kam patria. Majestic Music Club sa stane domovom nového Kina Náhoda, ktoré spája filmový a spoločenský zážitok – veľké plátno s pohodlným sedením a barom. Premietať sa budú kinohity, klubové filmy aj hudobné dokumenty a koncerty. Otvárací večer – 4. novembra 2021 – ponúkne v premiére najnovšiu remastrovanú verziu živého koncertu The Doors: Live At The Bowl '68 Special Edition.
Najskôr tam fungovalo prvé panoramatické kino v Československu – kino Dukla, neskôr zmenilo názov na Kino Ymca. V priestoroch bývalého kina sa potom usídlil Majestic Music Club (MMC), kde sa za štrnásť rokov uskutočnilo viac ako päťsto koncertov, rôznych festivalov, krstov, čítačiek, divadiel, konferencií atď. A teraz sa do kultúrnej pamiatky, ktorú navrhli renomovaní českí architekti Jiří Grossmann, Alois Balán, vracia kino s novým konceptom: Kino Náhoda ponúka jedinčnú službu a to BAR priamo v sále kina. Bar je situovaný dostatočne ďaleko od plátna a hlboko v zázemí, aby nerušil divákov. Pri bare si je možné dať rôzne nápoje alebo aj dobré čapované pivo Plzeň. Počas celého premietanie je možné si dokúpiť pukance pre lepší filmový zážitok. Vo V.I.P. zóne je k dispozícii aj obsluha priamo na mieste sedenia. Kino Náhoda má 10 metrové plátno a najnovšiu technológiu obrazu DCP a zvuk 4.1.
Vďaka tomu je divák ešte viac vtiahnutý do deja a atmosféry. Na otváracom premietaní – 4. novembra 2021 – sa návštevníci prenesú do hudobného klubu Hollywood Bowl v Los Angeles. Hrať im budú kultový The Doors so svojím spevákom Jimom Morrisonom, ktorí tam odohrali koncert 5. júla 1968. The Doors: Live At The Bowl '68 Special Edition má svetovú premiéru pri príležitosti 50. výročia posledného štúdiového albumu The Doors s názvom L.A. Woman (1971). Koncert dopĺňajú úplne nové vystúpenia dvoch ešte žijúcich členov kapely – Johna Densmora a Robbyho Kriegera – so špeciálnymi hosťami a rozhovory s Densmorom, Kriegerom a manažérom kapely Jeffom Jampolom, nakrútené špeciálne pre tento film. Nechýbajú tiež hity Hello, I Love You, The WASP (Texas Radio and the Big Beat), Light My Fire, The Unknown Soldier či The End. Táto digitálne reštaurovaná verzia najlepšieho koncertu kapely The Doors, aký kedy bol zaznamenaný na film, prináša divákom jedinečný zážitok. Oproti verzii z roku 2012 bol už i tak výborný obraz a zvuk ešte vylepšený. V Kine Náhoda bude premietaný tento hudobný projekt ako jedinečná celosvetová premiéra.
Ďalej pripravované novembrové tituly v Kine Náhoda: Duna (5.11, 6.11, 11.11), Eternals (5.11, 6.11, 10.11), Nie je čas zomrieť (8.11), Venom 2: Carnage prichádza (8.11), Parožie (9.11), Halloween zabíja (10.11), The Suicide Squad: Samovražedná misia (11.11).
Vstupné 10 €. Nákup možný aj online: https://ticketware.eu/p/cQKB
Event na FB: https://fb.me/e/1NICY4Xp3
Web Kino Náhoda: https://www.kinonahoda.sk/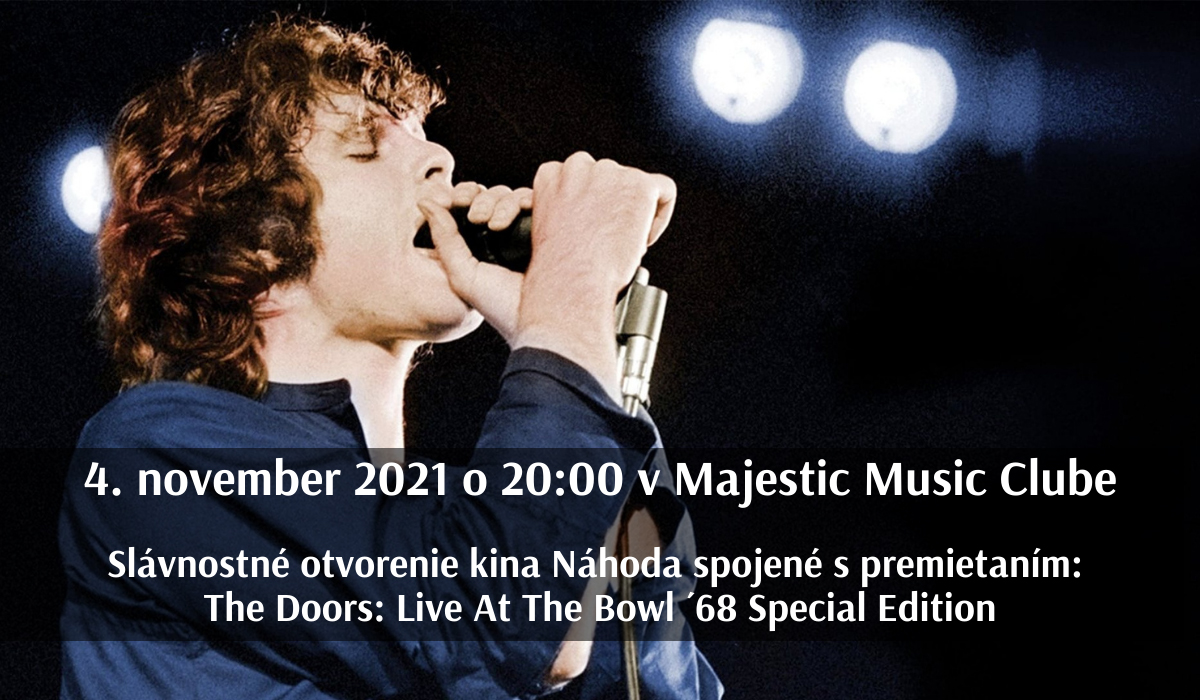 Zdroj: TS