Už dnes vychádza nový a zároveň prvý spoločný projekt speváka, hudobného producenta a rapera ADissa so známym spevákom, raperom, imitátorom a moderátorom Šortym. Ich EP nesie rovnomenný názov najznámejšej ľudovej skladby "NAČO PÔJDEM DOMOV" a prvá skladba "NANANA" tak odštartovala prvú skladbu z piatich pripravených.
Skladba "NANANA" je typickou letnou "namotávkou" s chytľavým refrénom, ktorej letnú atmosféru dopĺňa videoklip natočený na Sĺňave pri Piešťanoch. Takmer tridsať sexy dievčat v plavkách, dobrá nálada, a krásne počasie ju okamžite zaradili vizuálne medzi letné hity. Videoklip mal na starosti režisérsky tím Martina Mika a Lesany Kurillovej za pomoci illuminate production.
INTERVIEW EP "NAČO PÔJDEM DOMOV":
Prečo ste sa rozhodli spojiť sily, a vyrobiť spolu celý projekt?
Šorty: S Adamom máme už za sebou pár spoluprác, ktoré sa dajú považovať za úspešné. Hrávame spolu veľa koncertov, a nielen v štúdiu, ale aj na pódiu nám to spolu funguje. Preto sme sa rozhodli, že spravíme rovno 5 nových spoločných vecí, z ktorých každá jedna bude ako stvorená na koncerty. Počas ,,korona pauzy" sme mali čas dotiahnuť detaily, a konečne to môžeme pustiť medzi ľudí.
Na EP nemáte žiadnu spoluprácu s inými interpretmi ani producentami. Prečo?
Adiss: Zhodli sme sa, že tento projekt bude predovšetkým o nás, takže nás ani nenapadlo riešiť ďalšie spolupráce. To isté platilo aj pri produkcii v skladbách. Robili sme si ich sami. Zvuk doťukol Fillipian.
V klipe k skladbe "NANANA" máte niekoľko krásnych polonahých žien. Aké bolo natáčanie?
Šorty: Pár dní pred nakrúcaním sme na sociálne siete zavesili oznam pre našich fanúšikov, v ktorých sme chceli osloviť baby, ktoré sa nehanbia ukázať v plavkách, a chcú si zahrať v našej letnej pesničke. Boli sme veľmi milo prekvapení, keď sa hneď za prvý deň ozvalo takmer 40 dievčat.
Adiss: Ony sa tešili, my sme sa tešili tiež, počasie vyšlo – spokojnosť. Veľká vďaka patrí aj nášmu partnerovi plaviek Relleciga, ktorá okrem iného poskytla aj plavky pre všetky baby a k tomu ešte pitný režim od Alcoholkilleru. Tým sme sa aspoň touto formou mohli odvďačiť všetkým, ktorí pridali ruku k dielu.
EP nevydávate v tradičnej forme na CDs. Prečo toto rozhodnutie, a kde si váš projekt ľudia môžu pustiť?
Adiss: Žijeme digitálu dobu a už dávno ľudia nepočúvajú hudbu v autách na cédečkách, a väčšina autorádií podporuje bluetooth. Jednoduchšie si je pustiť muziku na všetkých hudobných platformách ako nosiť so sebou fyzicky album.
Šorty: Peniaze, ktoré by sme investovali do výroby cédečiek radšej investujeme do videoklipov. Ľudia EP "NAČO POJDEM DOMOV" nájdu na všetkých streamoch, a postupne ich budeme pridávať aj na Youtube kanáli s klipmi.
Chystáte EP Načo pôjdem domov aj krstiť? Ak áno kde a kedy?
Adiss: Máme prichystané turné s hosťami, na ktorých budeme hrať všetky nové skladby z EP, ale samozrejme aj staršie spoločné veci. Na každej zastávke EP symbolicky pokrstíme. Bližšie info k tour pridáme čoskoro aj s dátumami na našich sociálnych sieťach.
Šorty: Zároveň veríme, že sa pandémia nerozmôže do takej miery, že sa tour bude musieť preložiť. Teraz je naplánovaná na september a október a už sa nevieme dočkať, kedy vyjdeme opäť medzi našich ľudí.
YT KANÁL: https://www.youtube.com/channel/UC6ZeTMxdu7AY5t_w_5VnFJQ
https://www.youtube.com/watch?v=dzNskDNPp20
ŠORTY:
https://www.instagram.com/sortyx/
https://www.facebook.com/sorty.sk
ADISS:
https://www.instagram.com/adiss_og/
https://www.facebook.com/deezyboooi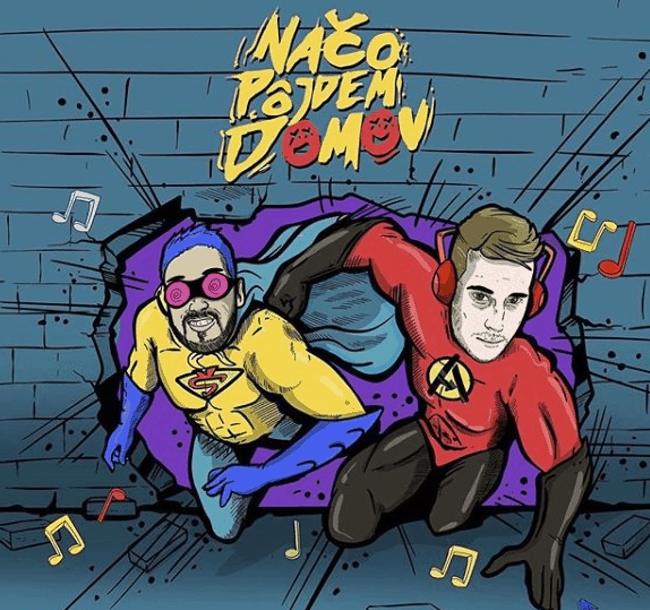 Zdroj: artcavemaniac