Festival TOPFEST oznámil ďalšie veľké meno tohtoročného line-upu! V Jazdiarni Banát v obci Častkovce vystúpi kultová česká skupina Lucie! Nenechajte si ujsť 29. ročník TOPFESTu plný česko-slovenských legiend ako Kabát, Paľo Habera a Team, Peter Nagy a kapela Indigo, Desmod, Gladiator, Škwor a mnohých ďalších. Stretneme sa 1. a 2. júla v Častkovciach. Pripravená je kyvadlová doprava, skvelá gastro aj chillout zóna. Fanúšikovia behu si môžu na festivale zabehnúť TOPFEST RUN!
Tento ročník TOPFESTu si užijú fanúšikovia česko-slovenskej hudby! Na festival sa teší aj jedna z najznámejších českých skupín – kapela Lucie!
"Sme strašne radi, že si môžeme v lete zahrať vonku pod šírym nebom a TOPFEST je jeden z najväčších festivaloch, na ktorých toto leto hráme. Tak sa veľmi tešíme. Dúfame, že vyjde počasie," plánuje David Koller.
Lucie vystúpi v Častkovciach v pôvodnej zostave Michal Dvořák, Robert Kodym, David Koller a P.B.CH.
"Slovenskí fanúšikovia sú omnoho viac divokí a to je super. TOPFEST je sviatok muziky, veľmi sa na neho tešíme. Zahráme najväčšie hity," dodáva Michal Dvořák.
Okrem Lucie vystúpia na TOPFESTe kapela Kabát, Paľo Habera a Team, Peter Nagy a Indigo, skupina Desmod, Gladiator, Škwor, Heľenine oči, Konflikt, Zóna A, Kollárovci, Hrdza, KISS Forever Band, Ploštín Punk, Sematam, Fuera Fondo, No Control, Symfóbia, MF, Rebelsky a Braňo Mojsej. Pre všetkých milovníkov behu pripravil organizátor TOPFEST RUN s nadupaným štartovacím balíčkom.
"Každý bežec, ktorý uhradí štartovné na TOPFEST RUN, získa 50-percentnú zľavu zo vstupu na tohtoročný festival TOPFEST. Štart, registrácia aj prezentácia budú umiestnené mimo areálu festivalu, ale v jeho tesnej blízkosti. Znamená to, že na behu sa môžu zúčastniť aj bežci, ktorí nechcú ísť aj na festival. Trať však povedie priamo areálom a ak to niekoho navnadí vychutnať si atmosféru Topfestu, môže využiť polovičnú zľavu na vstupenku. Sedem kilometrov dlhú trať zvládne každý, aj rekreačný bežec. Môžete sa zapojiť aj ako tím a vyhrať víkendový pobyt pre 14 ľudí na chate na Orave. Profilovo pôjde o rovinku na povrchu, ktorý budú tvoriť prevažne poľné cestičky," vysvetľuje organizátor festivaluDušan Drobný.
Všetky informácie o behu a registráciu nájdete tu: https://www.webscorer.com/registerconfirm?pid=1&raceid=275168&racerid=25549511&self=Y .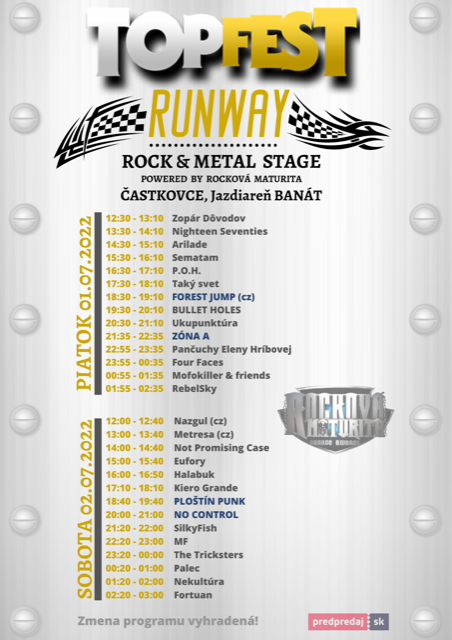 TOPFEST prináša tento rok novinku TOPFEST RUNWAY STAGE. Projekt vznikol spojením a spoluprácou TOPFESTu, ROCKOVEJ MATURITY a SKUTEČNÍ LIGY. Pôjde tak o najväčšiu slovenskú súťaž kapiel s vlastnou autorskou tvorbou. Priestor na RUNWAY STAGI dostane v tomto ročníku spolu 20 nových slovenských a zahraničných kapiel. Z nich postupujú štyria víťazi na hlavný stage jubilejného 30. ročníka festivalu TOPFEST v roku 2023.
Na tohtoročnom TOPFESTe nebude chýbať skvelá gastro zóna s Regal Burgerom a veľká fun zóna. Novinkou bude stan Moments Of Freedom, kde budú hrať DJ-i, ktorí majú pre návštevníkov nachystané rôzne hry. Na návštevníkov čaká aj kyvadlová doprava z autobusových staníc miest Piešťany a Nové mesto nad Váhom, stanové mestečko, olympiáda, kolotoče, vodné športy a parkovisko.
Organizátor upozorňuje návštevníkov, aby si vstupenky kupovali iba na oficiálnych predajných miestach. Vstup do areálu je povolený len s platnou vytlačenou vstupenkou. Hometicket musia byť vytlačené na kancelárskom papieri vo formáte A4 s čitateľným čiarovým kódom. Potvrdenie objednávky ani vstupenky v elektronickej, nevytlačenej forme nebudú akceptované. Obmedzením pre návštevníkov budú bezpečnostné opatrenia – prehľadávanie batožiny za účelom zníženia prenesenia zakázaných veci, medzi ktoré patria nože a iné ostré predmety, sklo, plechovky.
Príďte zažiť dokonalú festivalovú atmosféru na TOPFEST 1. – 2. júla 2022 v areáli Jazdiareň Banát v Častkovciach. Vstupenky sú dostupné v sieti Predpredaj.sk tu: https://predpredaj.zoznam.sk/sk/listky/topfest-2022/
Deti do 10 rokov majú vstup na festival zdarma len po predložení príslušného dokladu. ZŤP, Imobilný majú zľavu 50% a predaj vstupenky je iba na mieste. Vstupenka platí na oba festivalové dni, a to po predložení príslušného preukazu. Na sprievodcu sa zľava nevzťahuje. Všetky informácie nájdete na www.topfest.sk alebo na facebookovej stránke TOPFEST.
Zdroj: NK Factory