Po vzoru loňské menší edice festivalu Svojšice s podtitulem Techno Will Never Die proběhne 10. července 2021 další. Fanouškové kvalitního techna tak nebudou ani letos ochuzeni o tradiční open air v krásném prostředí svojšického amfiteátru, kde kromě předních domácích dýdžejů vystoupí i dva zahraniční hosté, italská "rising star" Anfisa Letyago a matador německé techno scény Frank Kvitta.
"Letní festivalová sezóna byla opět s velkým otazníkem. Nakonec se sice kapacity i pro větší akce uvolnily, ale bohužel ani letos oslava již jednou odloženého 20. výročí festivalu neproběhne. Takto nákladnou velkou akci s několika velmi drahými umělci si ani v této rozvolněné době nemůžeme dovolit. Po dlouhém zvažování jsem se rozhodl toto výročí dále nepřesouvat, protože slavit něco s dvou nebo tříletým odkladem mi nedává žádný smysl. Místo toho se budeme snažit udělat maximum v podmínkách jaké jsou, aby festival vše přečkal bez úhony a byl tu s námi minimálně dalších pár let. S tím souvisí i má prosba směrem k fanouškům: Pokud máte Svojšice rádi, moje vize je Vám blízká a chcete mi s ní pomoci, budu moc rád, pokud již zakoupené vstupenky na Svojšice – 20th Anniversary využijete na letošní ročník a nebudete je vracet. Moc nám to pomůže," shrnuje situaci pořadatel Svojšic Petr Dzingel
Anfisa Letyago
"I'm gonna put her on at Ultra next year, she's a really talented live performer", přesně to o ní řekl Carl Cox, který zároveň označil Anfisu Letyago jako breakthrough DJ / producer of 2019. Její skladbu So Good zařadil již o rok dříve do svého setu na Awakenings a i podpora od Adama Beyera, Radioslave nebo Charlotte de Witte na sebe nenechala dlouho čekat. Nepropásněte jedno z nejzajímavějších jmen současné new school techno scény, je totiž dost pravděpodobné, že jakmile se hvězda Anfisy Letyago ještě více rozzáří, bude pro většinu festivalů nedostupná.
Frank Kvitta
Matador německé techno scény s mexickými a českými kořeny, který to s publikem opravdu umí! Má pověst profesionála, který prošel tou nejlepší techno školou – jeho kariéru odstartoval Sven Väth a později byl přizván do bookingové agentury a labelu Kne´Deep, který založil DJ Rush. V jeho podání to bude hodně rychlý a hutný techno set, který rozhodně nebude nikoho nudit.
Za českou a slovenskou scénu vystoupí Orbith, Džejár, Subgate, Tibiza, Think & Thick, Kaisersoze a CarlW, které doplní Luke Sun z Německa.
Vstupenky zakoupíte v síti Ticketstream.
Aktuální informace najdete na www.svojsice.cz
Svojšice – Techno Will Never Die
Anfisa Letyago (IT), Frank Kvitta (D)
Orbith, Džejár, Subgate, Tibiza, Thin & Thick, Kaisersoze, Luke Sun, CarlW
10. července 2021
Předprodej www.ticketstream.cz
Více info: www.svojsice.cz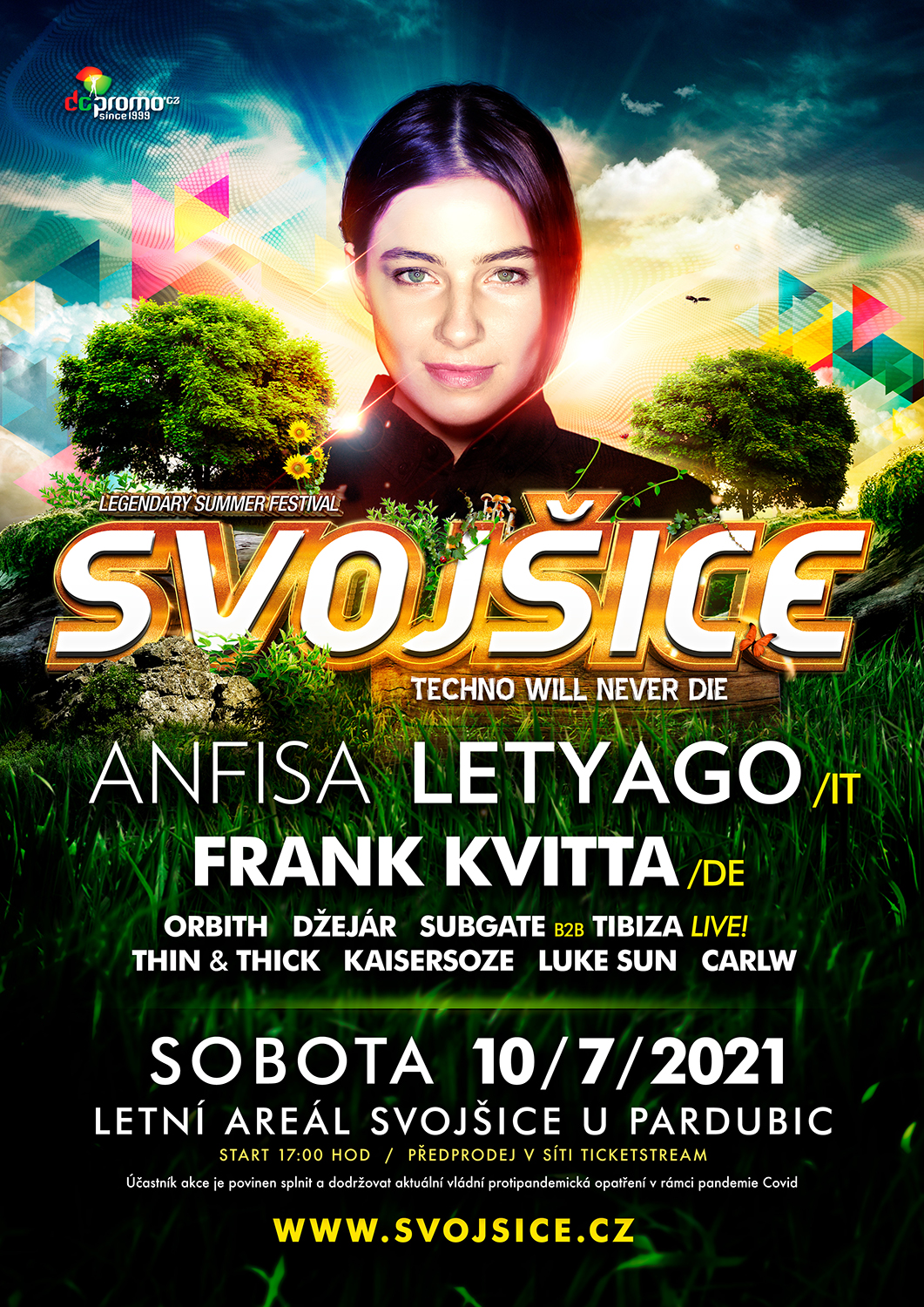 Zdroj: TS