Konečne. I to bolo slovíčko, ktoré zaznievalo z úst mnohých "inak obdarených" v nedeľu, 29. mája 2022, na nádvorí neogorického kaštieľa v Galante. Trinásty ročník benefičného koncertu Chyťme sa za ruky pre osoby s mentálnym a zdravotným postihnutím v tento deň pripravilo OZ Milan Štefánik a OZ Návrat do života v spolupráci s Mestom Galanta.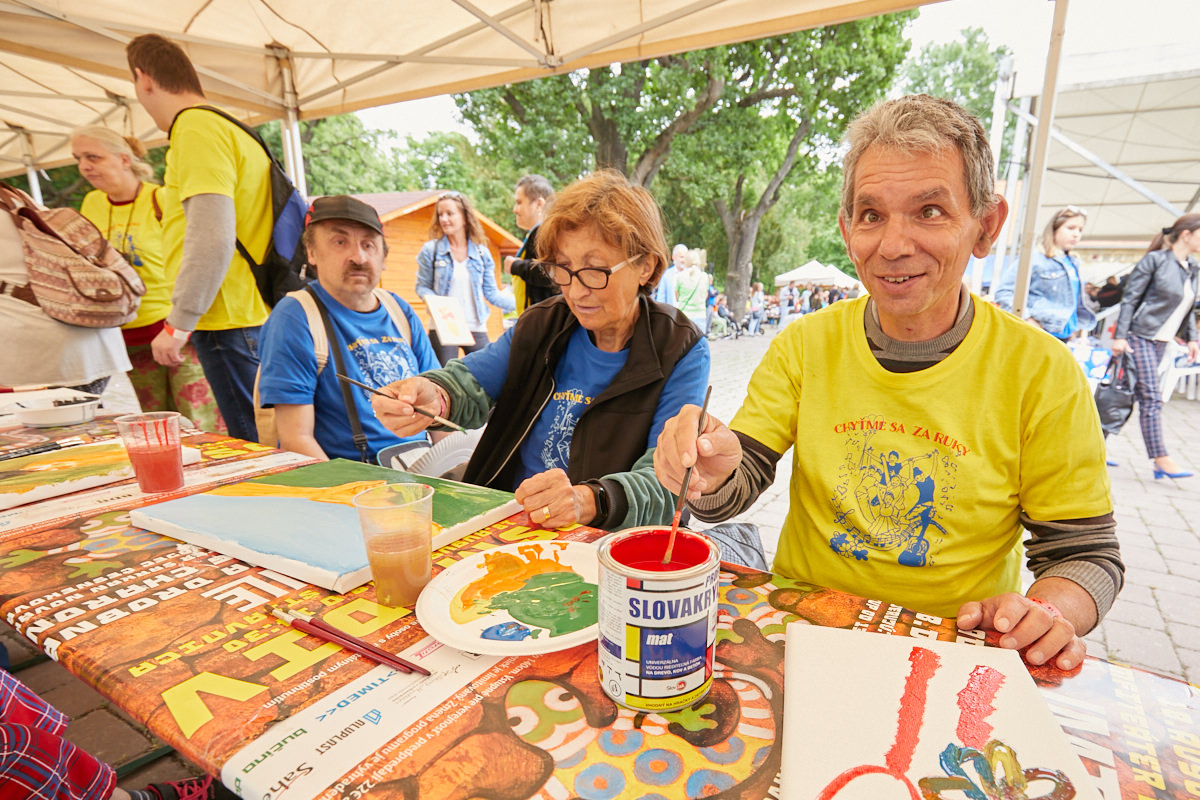 Dobrovoľníci si dali zraz už v sobotu na obed. Veď pripraviť priestor na podujatie je riadna fuška. Zavesiť veľké banery po stranách veľkoplošného stanu. Po schodíkoch rebríka kroky hore a znova dole, ktoré museli chalani zvládnuť. Dievčatá poumývať stoličky. Olepiť stoly pre kreatívne dielne. Veď v nedeľu ešte treba kopec ďalších vecí. Po nočnom oddychu sú dobrovoľníci späť. Ku vstupu pripraviť stoly s farebnými tričkami. Jedno dostane každý. Šatne pre účinkujúcich. Rozprestrieť malé stany pre kreatívne dielne. Na čo sa môžeme tešiť? Maľovanie na plátno i sadrové odliatky. Enkaustika. Maľovanie na tvár, telo. Stan s občerstvením. Pripraviť plátna, farby. Technika na pódium. Ešte zvukové skúšky. V parku nafúknuť veľký hrad na skákanie pre najmenších. A Milan Štefánik už hlási do vysielačky oznam pre všetkých: "O 10 minút púšťame!"
Pestré tričká a prvé lákavé latino tóny. Zumba Sonnyes Slovakia. Sonička napriek akcii, ktorú v tento deň organizovala, pribehla so svojimi dievčatami potešiť deti na podujatie. A hneď strhli všetkých do víru tanca. Poďte sa pridať. Ruky hore. Krok vpred, krok vzad. "Robila som 110 percent, aby som ich zabavila a moje baby mi pomohli tiež. Bola som sama prekvapená, ako sa atmosféra nabaľovala." A nielen to. Dobrá nálada a smiech sa zrazu vznášali v priestore a boli priam hmatateľné. Na pódium pribehol Jožo Pročko, moderátor podujatia. Vyzval ešte i tých, ktorí váhali. "Kto nebude tancovať, nedostane darček. A konečne sa môžeme chytiť za ruky. Tak to teraz spravte." A názov podujatia sa stal skutočným. Všetci sa chytili za ruky a ponorili sa do spoločného zumba tanca. Spotení? Nevadí. Spoločná foto musí byť. Rýchlo sa občerstviť. Program pokračuje.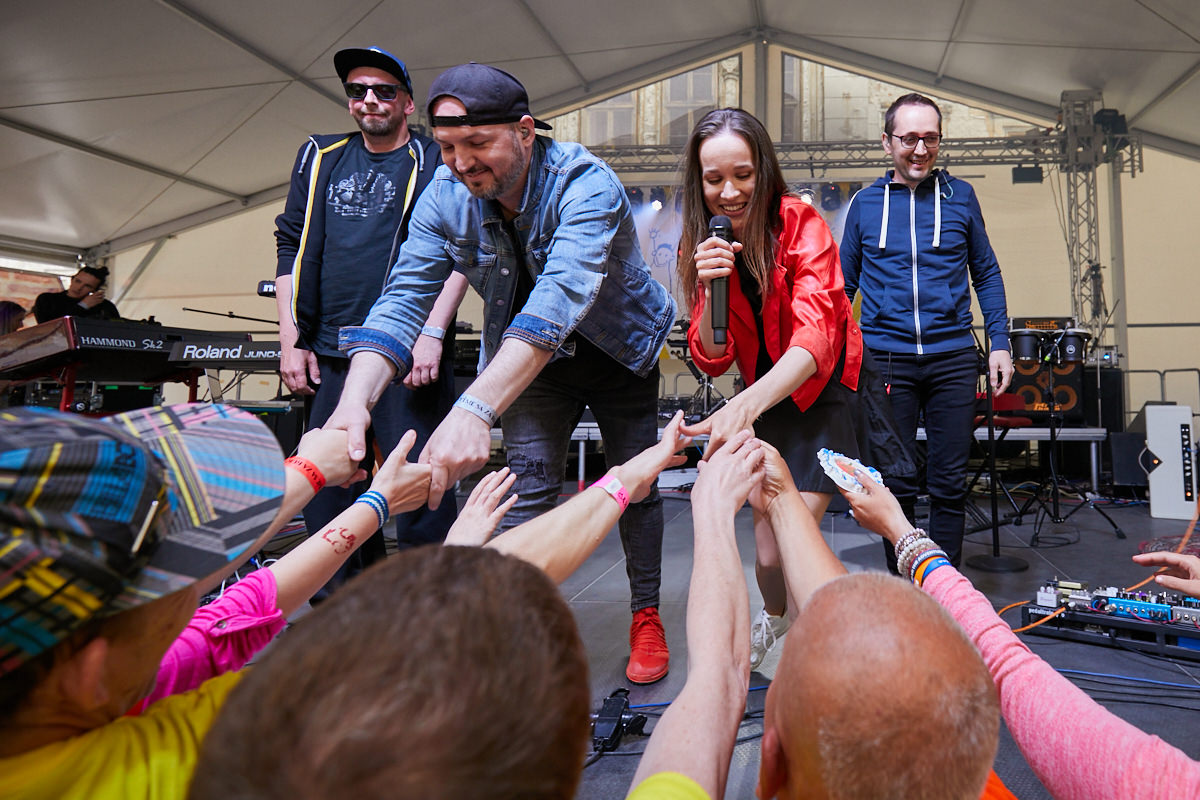 Z pódia sa prihovára všetkým Jožo Pročko. Na akciách pre "inak obdarených" moderuje už po niekoľký krát. "Je to úžasné, že po dlhých mesiacoch môže byť a je takáto skvelá akcia." Dnes však nie je sám. Priviedol si posily. Známych youtuberov. Fifqa a Fallena. Pozývajú si k sebe hneď niekoľko ľudí. Organizátora podujatia, Milana Štefánika. Betku Molnárovú, predsedkyňu OZ Návrat do života spolu s dcérou Zuzanou. Riaditeľa Domu kultúry Petra Koleka. Poslankyňu a členku kultúrnej komisie Martu Vajdovú. Všetci sa pár vetami prihovárajú divákom. Na scéne sa objavuje i krásny obraz s motívom tohto ročníka koncertu. Prichádza s ním autorka – Sylvia Juhaszová. Z CSS Jahodná si ho príde prevziať pani Kántorová. V priestoroch CSS im bude klientom pripomínať dnešný deň.
Krásny ženský hlas zaznel z mikrofónu. Charizmatická Kristína. S dievčenským šarmom pozdravila publikum. Bubny. Hit za hitom rozbieha vlnu perfektnej zábavy. "Tanečný parket" je plný. Spieva sa. Si pre mňa best. Kristínka nás i do hory zavolala, no ale kto by šiel? Radšej do rozprávky a rovno na bielom koni. Hore ruky a tlieskame. "Tí ľudia vedia tak vrátiť veľmi príjemne spätnú energiu. Oni majú úplne úžasnú náladu vždycky, že keď dôjdem na to pódium, tak sú tak skvele naladení, že mňa to hneď absolútne tak nejako naladí. Je to veľmi príjemné a obdivujem to až doslova, že sa vedia držať v takej tej radosti a v úsmeve." Krásne gitarové party. Hravá V sieti ťa mám. Sympatie si úplne získala Pri oltári. Možno niektorí ešte váhali, či sa pridať. Navždya s ňou klavír. Baladické vystriedala univerzálna Ahoj. Ahoj, ako sa máš? Kedy dáme stretko zas. A pekne do rytmu srdca si podupkávajme. Mať srdce. Ktoré ale nesmú chýbať? Jabĺčko a Ta ne. Darčeky pre Kristínku. "Mňa by zaujímalo, že ako sa tomu dlho venujú. Podľa mňa to je kopec darčekov, čo vyrobili a čo mi dali. Aj tie transparenty. Je to milé, že si nájdu ten čas a energiu, že niečo také vyrobia." Perfektná nálada a to sme len v polovici programu.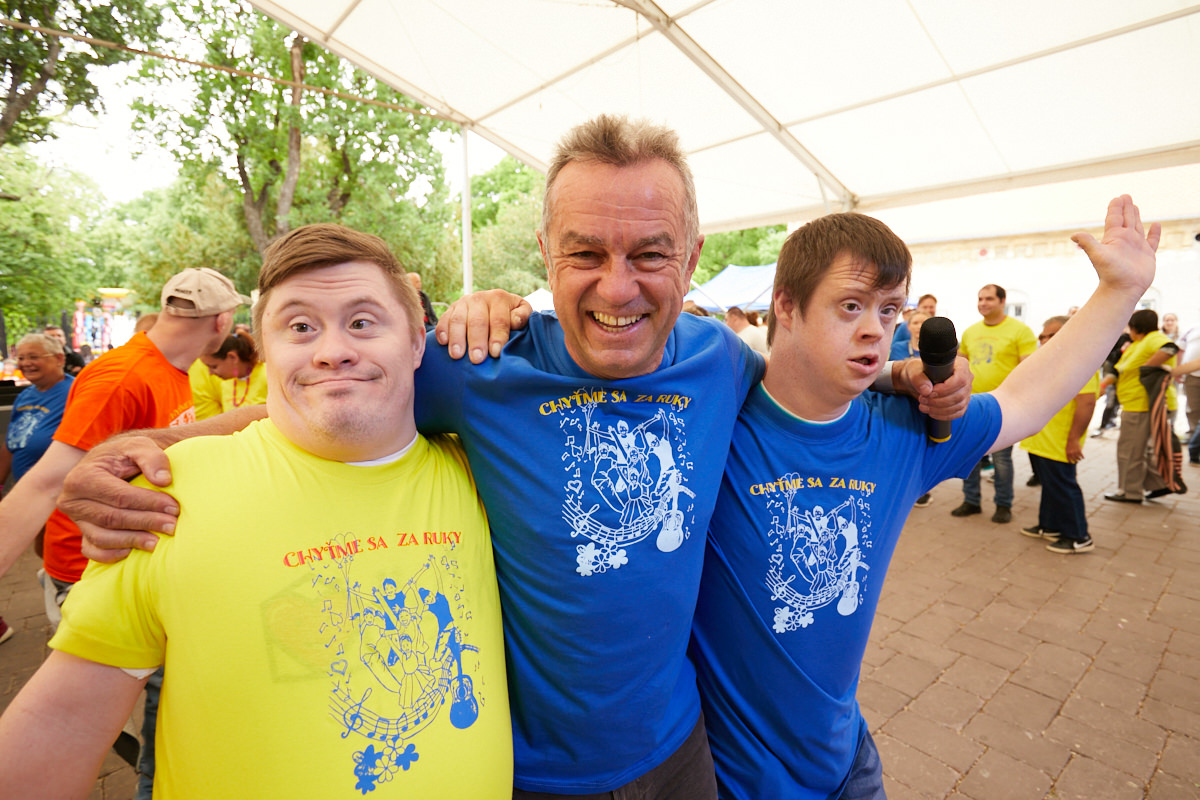 Výmena techniky na pódiu. Jožo s Fifqom a Fallenom využívajú priestor na predstavenie spoločnosti Spig a dezinfekčnej hliadky. I keď obmedzenia už neplatia, hygienické pravidlá platia stále. Ako hodnotia známi youtuberi dnešné podujatie? "Za mňa atmosféra úplne na jedničku. Ľudia spolupracujú, sú skvelí. Dobrá nálada tu je. Všetci vysmiati. Všetci sú takí šťastní a radostní."
Pýtate sa, kto príde teraz? IMT Smile. IMT Smile. IMT Smile…skandujú všetci spolu s Jožom. Nezameniteľný hlas Ivana. Texty o živote, zo života. Jemná gitara. Opri sa o mňa. Ktoré ďalšie vybrať. Neuveriteľných 30. rokov. Ale. Budeme to stále my. "Inak obdarení" ale i mamky, vychovávatelia. Všetci spievajú. Možno práve Len tebe, láska. A poďme to rozbehnúť naplno. Prvé tóny piesne. Všetci vieme. Je tu Exotika! Transparenty nad hlavami. Sóla. Saxofón a trúbka. Basgitara. Ruky nad hlavy. Tlesk. Ľudia nie sú zlí. Na tomto koncerte to platí 100 percentne. Toľko usmiatych tvárí pokope. Dáme si ešte trocha rapu. Poď so mnou. Hlavne dobré si priať. Dám ti to za čo sa neplatí. A kapela to dáva naplno. Dáva energiu. Rozdáva emócie. Zaslúžený potlesk.
Tri, dva, jedna. Všetky transparenty a mávadlá nad hlavy. Z pódia sa už prihovára Milan Štefánik s Jožom Pročkom. Je čas na odmeny. Za originalitu. Farebnosť. Tento krát to má "porota" naozaj ťažké. Každý je niečím originálny, iný. Veľké nadpisy. Fotografie. Reliéfy. Naozaj je ťažké vybrať ten naj. Porota sa musí poradiť. Víťaz je jeden. A ostatní? Tiež dostanú darčeky.
Pripravený je posledný hudobný hosť. Desmod. Kuly sa prihovára publiku. "Dnes kvôli chorobe a iným povinnostiam trošku v oklieštenej verzii. Budeme potrebovať vašu pomoc." Rocková nádielka sa môže začať. Basgitara na úvod. Niekto ti to povie skôr než ja. Pár dní zvládnu "drsní" chalani s Desmodu i vo štvorici. Publikum pomôže. To nie je možné, aby sme to spolu dnes nedali. A dali. Spev a tanec. Opýtame sa "inak obdarených", ktorú si dáme ďalšiu. Kométa. "Ľudia, boli dnes úžasní a bolo to fantastické." Baladickú strieda riadny "nátresk". Hemeroidy. Poďme ruky hore. A hoci dnes časť zostavy chýbala, podpora od publika bola úžasná. Svedčili o tom i transparenty. "Dneska som videl krásny jeden transparent. Bol najväčší a bol vytvorený z rúk. Z otlačkov rúk nápis Desmod. Čo je úžasné. Za čo vám veľmi pekne ďakujeme." Prídavok. Nie jedna, ale hneď dve piesne. Vyrobená pre mňa. Tento deň bol vyrobený pre nás. Slniečko. Skvelí ľudia. Koncert. A posledná. Bubny a basgitara to rozbalili na plno. Na tebe závislý … priznám sa. Pri tejto som sa "odviazala" aj ja naplno. Dlhý, dlhý potlesk. Klaňačka.
Ešte foto. Posledné stisnutia rúk. A jedno obrovské ĎAKUJEM. Ďakujeme organizátorom. Účinkujúcim. Dobrovoľníkom. Podporovateľom. Ďakujeme "inak obdareným".
Slovami Betky Molnárovej na záver: "Návrat do života (nie len názov OZ), pre všetkých ľudí, čo tu prišli v očakávaní, že sa zabavia. Oslobodenia a návrat k dobrým časom. Bolo vidieť na tých ľuďoch, ako sa veľmi tešili." Konečne sme sa mohli chytiť za ruky nie len symbolicky, ale skutočne. A to bolo vidieť a cítiť dnes na každom kroku.
TEXT: Júlia Platková
Foto: Igor Frimmel, Marek Vaco a Milan Maršalka,
Video: Igor Kolesár