Znie to až neuveriteľne, že sa dňa 13. júna 2021 konal dvanásty ročník benefičného koncertu Chyťme sa za ruky. Pre osoby s mentálnym a zdravotným postihnutím ho úspešne pripravili Občianske združenie Milan Štefánika Občianske združenie Návrat do života. Pomocnú ruku podalo i Mesto Galanta. "Inak obdarení" z Trnavského kraja sa na túto udalosť veľmi tešili. Po uvoľnení opatrení nastal ten správny čas. I počasie prialo.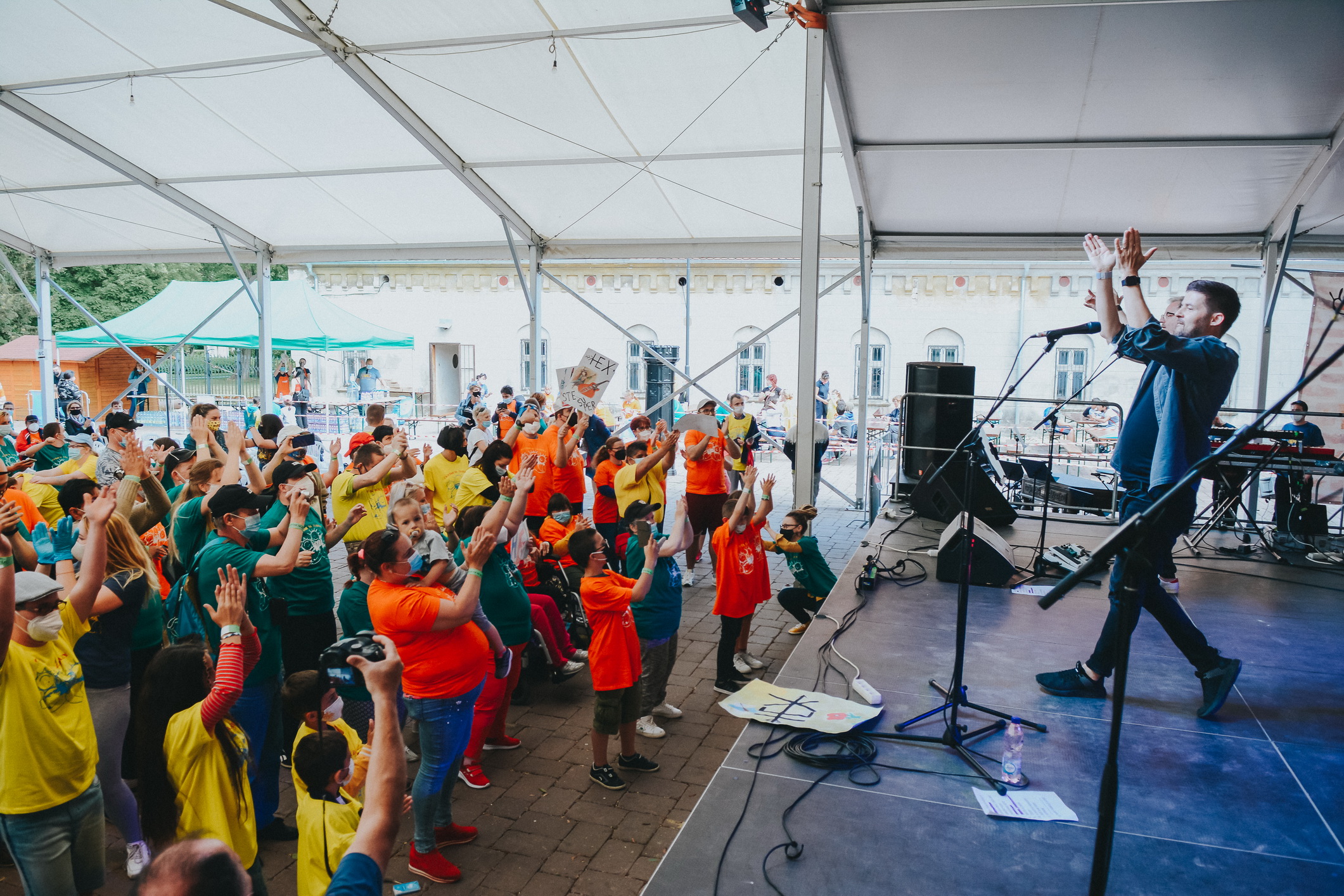 Dobrovoľníci venovali príprave už sobotné popoludnie. Pripraviť veľké pódium na nádvorí neogotického kaštieľa, to nie je len tak. Zavesiť bannery. Na rebrík – z rebríka. Možno i svalovica bola. Rozložiť stoličky pre divákov. V nedeľu ešte pripraviť miesto na občerstvenie. Kútik pre kreatívne dielne. Vyladiť techniku. A ide sa na to.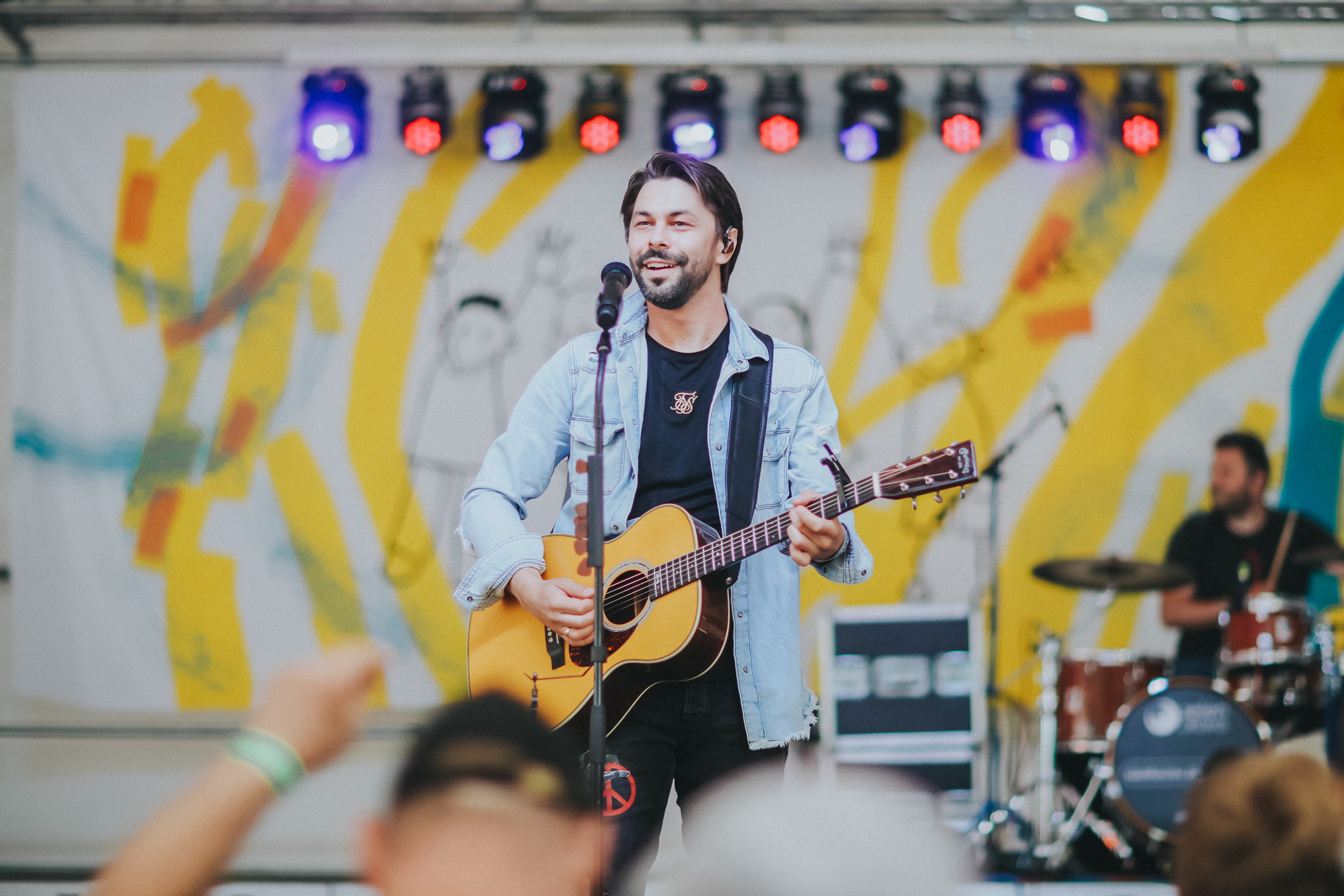 Pri vstupe čakala prichádzajúcich krátka kontrola. Teplota. Dezinfekcia rúk. Poďte si vybrať tričká. Pekné, farebné. Aby bolo veselo. Fotka pod plagátom. Ale to sa už ozývajú tóny lákavých latino rytmov. Na pódiu prvé kroky predvádza Zumba inštruktor Zoli. A netrvalo dlho, pridali sa farebné tričká. Krok vpred, krok vzad. Temperament. Pri tanci dostali prítomní výnimku. Rúška môžu ostať odložené. Ďalšie kroky. Nemusia byť perfektné. Dôležité je, že sa všetci bavia. "Užili sme si to. Roztancovali sme to. Sme radi, že sme tu urobili takú atmosféru." Zoli sa so svojimi dievčatami tešil, že konečne vymenili on line svet za ten "živý". Otočka. Ruky hore. A prekvapko. K Zumbe sa pridal i Roman Pomajbo, moderátor podujatia. Jeho výkon ocenili tancujúci potleskom. "Mám radosť, že sa už konečne začíname tak socializovať. Že sa môžeme stretávať." Roman v úvodnom vstupe nezabudol hosťom pripomenúť pravidlá. Hneď si k sebe pozval zástupcov z organizačného tímu. Nádherný obraz od maliarky Henriety Rojkovej odovzdali Mgr. Hajdinovej, riaditeľke DSS pre deti a dospelých v Šintave. Od dnes bude zdobiť ich priestory.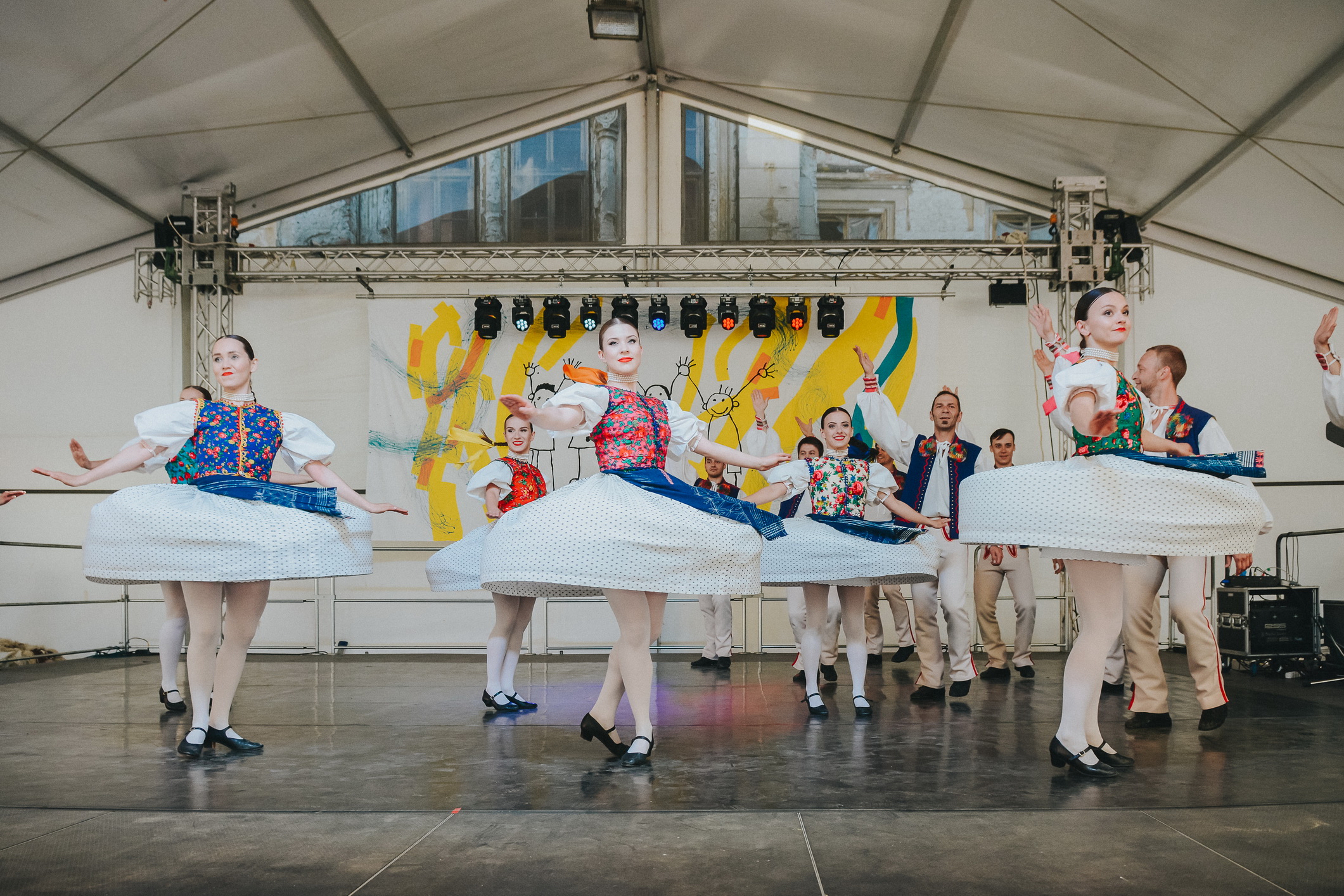 Z reproduktorov zaznela rocková gitara. Po ôsmich mesiacoch konečne na pódiu. HEX. Poprocková skupina. Mikrofónu sa ujal Šarkan. Chvíľu áno, chvíľu nie … ale len v piesni. V piatok podvečer si ešte zresetovali hlavy, aby to dnes "rozbalili" naplno. "To je to, čo milujeme. Čo máme radi. Hudbu naživo. A je to fantázia." A je to tu. Farebné transparenty nad hlavami. "Je to veľmi milé. A ja si viem presne predstaviť, že čo asi muselo sa diať v hlavách tých príjemných ľudkov, keď to robili. A my tam cítime, že zo srdca to robili." Hit Keď sme sami už spievajú cez rúška i mamky, vychovávateľky. Veď Nikdy nebolo lepšie. Vetroň obletel celé nádvorie. Priniesol so sebou vánok, ktorý osviežil divákov. Reakcie "inak obdarených" dojali celú kapelu. Zatiaľ bez objatí, za dodržania opatrení. Detsky úprimné.
Chvíľku na výmenu nástrojov využil moderátor na predstavenie dezinfekčnej hliadky. Kde ich ľudia nájdu? Koľko ich je? Čím dezinfikujú stoly? I to boli otázky, na ktoré pohotovo odpovedali. Členovia hliadky pomáhali usmerňovať deti i v kreatívnych dielňach. V súvislosti s hygienicko-epidemiologickými nariadeniami sa "tetovalo" na ruky. A boli to krásne obrázky. Kvety, motýle, ornamenty. Lesklé. Enkaustika. So žehličkou a voskovkami čarovali pri ďalšom stole. Záujemci si mohli pomaľovať sadrové odliatky.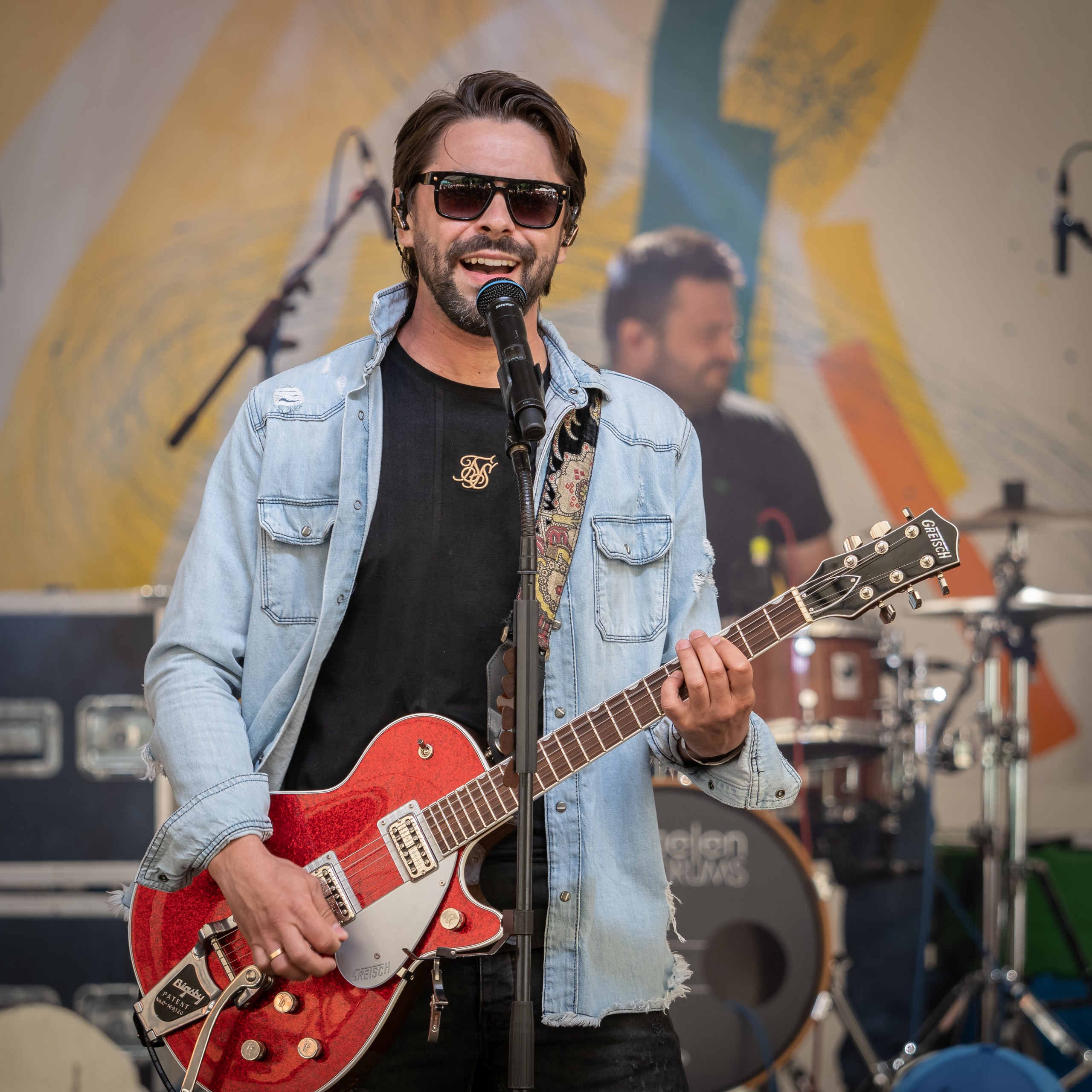 Rýchle občerstvenie. Poďme k pódiu. Prichádza naša "superstar". Adam Ďurica. Na podujatie do Galanty sa vrátil presne po 10tich rokoch. S novou zostavou hudobníkov. Kontakt s publikom chýbal aj im. Spolu pripravili "pestrú paletu" hitov. Od prvého až po posledný. Publikum spievalo. Tak to vidím ja, Dovtedy. Iba spolu, veď: "najlepšie je, keď túto prácu mám aj pretkanú tým kontaktom s publikom." Jazero dvihlo náladu. A keď zaznela Ja mám ťa rád, od legendárneho Karola Duchoňa, od "inak obdarených" sa skupina dočkala obrovského aplauzu. "Keď sa im niečo páči, tak v tom idú a úplne kričia tie refrény. Tie texty. Tie melódie. Ja pre nich zahrám vždy rád, lebo tu je naozaj tá intenzívna odozva." To už Adam komentoval spoluprácu publika pri piesňach Neľutujema Zatancuj si so mnou. A prišlo i na kultovú Mandolínu. A nebo sa dnes nemračilo. Energia medzi pódiom a publikom bola takmer hmatateľná. I vďaka mávadlám a transparentom. Väčším. Menším. Farebným i čiernobielym. S obrázkami, nadpismi. Porota v zložení Adam Ďurica, Milan Štefánik a Roman Pomajbo dostali ťažkú úlohu. Vybrať tie naj. Poradili sa a … všetci, ktorí si niečo pripravili, dostali darček.
Pred posledným hosťom je potrebné upraviť pódium. Všetko musí preč. Chystá sa PUĽS. Profesionálne umelecké teleso "rozdáva" bohatstvo Rusínov. Hudobné nástroje tento krát budú pri pódiu. Moderátor skúša publikum. Ktoré budeme počuť? Husle. Basa. Cimbal. Prvé zavlnenie farebnej sukne. Čižmy. Mašle vo vrkočoch. Dievčatá maľované. Primáš hraj. Folklór v scénickej forme. Tanečné sóla. Plné mužské hlasy. Zvonivé ženské. Zaspivajme sobi, Pila ja palinku. Pytačkový. Svadobná pieseň. Tanec s palicami. "Sú veľmi spontánni. Krásne reagujú. Tancujú. Tešia sa z každého tónu. Vedia prejaviť emóciu naplno, úprimne a to je veľmi milé. Takže nám sa veľmi dobre robilo." Publikum sa odvďačilo velikánskym potleskom.
Posledné tóny. Foto. Džús a croissant na cestu. V srdciach veľké ďakujem. Ďakujem pre organizátorov, dobrovoľníkov, sponzorov. Bez nich by tento deň nebol možný. I vďaka nim ale "bol úplne perfektný!"
TEXT: Júlia Platková
Foto: Igor Frimmel, Marek Vaco a Milan Maršalka
Video: Igor Kolesár