Další políčko hudebního adventního kalendáře Rock for People potěší příznivce taneční hudby. K již oznámeným Bring Me The Horizon, Tomu Grennanovi, Pale Waves a domácím MIG 21 se 5. prosincový den přidává britská stálice pozitivních elektrovibrací Rudimental.
Jedna z nejlepších současných tanečních kapel, která si střihla spolupráci například s Edem Sheeranem, Johnem Newmanem nebo Dizzee Rascalem, vydává v lednu 2019 nové album Toast to Our Differences. Na Rock for People tak čekejme pořádnou porci novinek.
V hudebním adventním kalendáři na www.rockforpeople.cz čekají jako kousky čokolády další jména, aby byly den po dni až do 24. prosince úderem půlnoci zveřejněny na line-upu jubilejního 25. ročníku festivalu. V kalendáři se skrývají jak zahraniční jména, tak i zástupci domácí scény, jména prověřená i objevy z klubové scény. Jste také zvědaví, co přinesou další dny?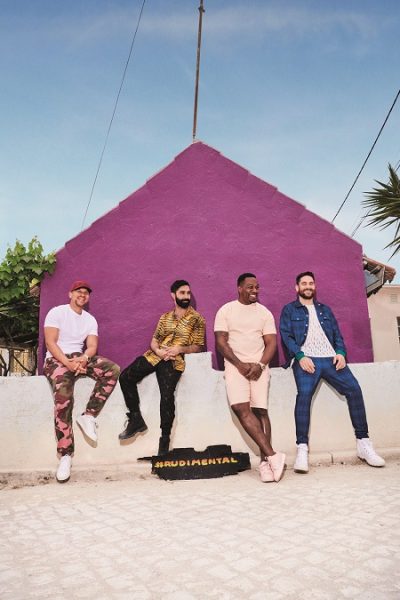 Rock for People se bude konat na začátku prázdnin od 4. do 6. července na letišti v Hradci Králové a vystoupí na něm na sto kapel ze zahraničních i domácí scény. Předprodej vstupenek probíhá v síti Goout – https://goout.net/cs/festivaly/rock-for-people-2019/yagqd/+krouk/. Aktuální cena vstupenek je od 1 490 Kč. Více informací na www.rockforpeople.cz .
Hudební těleso Rudimental produkuje neodolatelně chytlavou pozitivní hudbu, ne nepodobnou luxusnímu vokálnímu křesílku, do něhož je dovoleno usednout jen těm nejlepším, a i to jen některým (John Newman, Ed Sheeran, Dizze Rascal, Ella Eyre, James Arthur, Jess Glynne…). Ceny jako Brit Award a další ocenění, singly vždy v první desítce Top Ten Official Chart a dvakrát platinový debut Home z roku 2012 jasně potvrzují hudební i producentské kvality Rudimental. V roce 2013 byla BBC vyhlášená za nejlepší festivalovou skupinu léta. Natřískané sály jsou zas důkazem, že to umí pořádně rozbalit i na živo. Členové drumm and bass/jungle kvarteta, které je na scéně od roku 2011, jsou Piers Agget klávesy a produkce, Kesi Dryden klávesy, DJ Locksmith (Leon Rolle) a Amir Amor (vl. jménem Amir Izadkhah) produkce a kytara. První tři výtečníci jsou kamarádi od dětství, vyrostli ve stejné ulici a chodili do stejné školy.
Rock for People 25 let
Rock for People založili v Českém Brodě před čtvrtstoletím dva kamarádi, aby udělali festival zajímavých českých kapel pro přátele, sami s pár nadšenci stavěli i pódium z lešenářských trubek. Jak šel čas, stal se Rock for People festivalem s evropským a světovým renomé, vyznačujícím se objevnou dramaturgií, která si klade za cíl na královéhradeckém letišti představovat zajímavé, nadějné a neokoukané interprety, aniž by rezignovala na přítomnost prověřených velkých jmen historie i současnosti z české a světové hudební scény. Se základy pevně ukotvenými v rocku sleduje se zájmem nejrůznější stylové přesahy směrem k hardcoru, indie i elektronice.
www.rockforpeople.cz
www.facebook.com/rockforpeople.czechrepublic/
https://twitter.com/rockforpeople
https://www.youtube.com/user/rockforpeopleTV/featured
Zdroj: SMART Communication s.r.o.