Metalcore (např. spolu s djentem) jako jeden z mladších žánrů poměrně záhy ukázal své limity. To se trendům stává, zkomírají. Co však interpretům plánujícím setrvat v jeho proudu zbývá? Buď se spolehnout na svou tvůrčí kreativitu, nebo začít experimentovat.
Už první čtyři desky NORTHLANE nabídly metalcore jako otevřenou platformu pro mnoho podob a tváří. Jistě, i Australané používají melodické zpěvy, avšak necítíte u nich tu nutnou potřebu je mít. Mají v jejich tvorbě své opodstatnění, nejsou zde "povinně" v refrénech a v muzice sedí. Je pak už jedno, zda doplňují techničtější úsek, djentem okovanou hradbu nebo jemný progy rock. Náladovost se s místy náročnějšími party na ani jedné desce neruší, kvintet má cit pro "písničkářství" (což sem tam může vyznít jak srážka Tesseract s Deftones), ale nesahá po klasických šablonách. Přirozeně, s citem a vlastním rukopisem, který ovšem na novince posunuli vskutku do nečekaných míst.
V Sydney roku 2009 založený kvintet tak po vydání páté desky "Alien" v pozici jedné z nejnadějnějších metalcore kapel stále drží prapor žánru hrdě nad hlavou. Proč? NORTHLANE nenásledují hlavní proud, nesnaží se pro sebe jen tak za nic urvat kus slávy, neskládají metalcore. Skládají muziku. A ta k němu při hledání jejího pojmenování má vedle nu-metalu asi nejblíže, ačkoli by jí někdo zařadil do progresivního směru, někdo do alternativního, jiný by vyzdvihl experimentování s až industriálním zvukem a elektronikou a zachmuřené atmosféry navázané na vážná témata (drogy, agrese, nešťastné dětství).
Kdo dočetl až sem, měl pochopit, že "Alien" je posun, vymanění se z hranic a svázání konvencemi. Vyspělé hudební dílo přesahující žánry, bořící zažitá dogmata. Most mezi hudebními světy. Výjimečný Alien.
V sobotu 14. prosince byste tedy měli mít jasno. NORTHLANE na podiu pražské Akropolis s rozkoncertovanými sousedy POLARIS a progresivně laděnými VOID OF VISION budou stát za to.
Northlane
www.youtube.com/watch?v=1jKQZX26laU
www.youtube.com/watch?v=vuMD3WGxMw4

Polaris
www.youtube.com/watch?v=S-5YU6kFZso
www.youtube.com/watch?v=Pj1m7TuSGBs

Void Of Vision
www.youtube.com/watch?v=VNnn1NRMQ08
www.youtube.com/watch?v=6TJwKkcqnWA

NORTHLANE / POLARIS / VOID OF VISION
sobota 14. prosinec 2019 – Praha, Palác Akropolis
FB event: https://www.facebook.com/events/2238180626237309/
e-TICKET: https://obscure.cz/cs/tickets/detail/id/253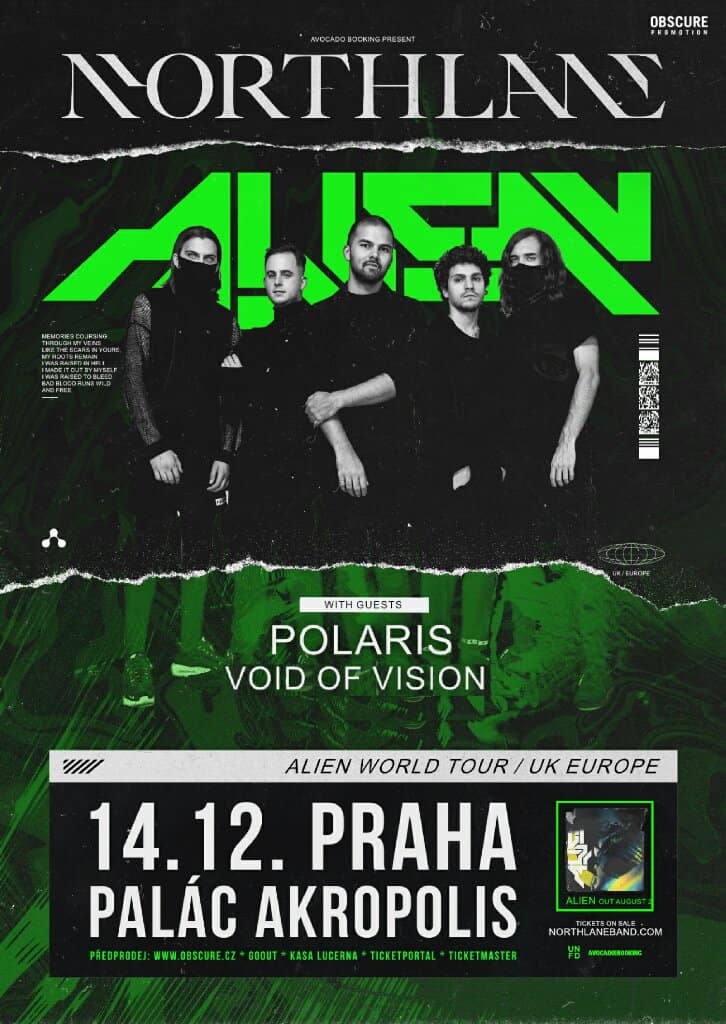 Zdroj: Obscure Promotion