"Dnešný melancholik na prahu tretieho tisícročia pociťuje okolo seba práve tento chladný mýtus. Ale zároveň si je vedomý aj toho, že bez mýtu je ľudský život nepredstaviteľný".
László F. Földényi
Šiesty ročník multižánrového Bratislavského knižného festivalu – BRaK sa uskutoční od 14. – 16. júna 2019 v priestoroch Novej Cvernovky. Nebude chýbať predajná výstava kníh zastúpená vyše 35 knižnými vydavateľmi zo Slovenska a Česka, výstavy v priestoroch Novej Cvernovky, stretnutia s autorkami a autormi, diskusie, pestrý program pre deti v podobe tvorivých dielní, divadelných predstavení, workshopov a nebudú chýbať ani zaujímavé koncerty a filmy – jednoducho to najlepšie (nie len) z knižnej tvorby. Slávnostné otvorenie festivalu prebehlo už pred mesiacom s kapelou Kafka Band na čele so spisovateľom Jaroslavom Rudišom a ilustrátorom Jaromírom 99 (vlastným menom Jaromír Švejdík), kedy okrem koncertu sa v tento deň konala aj diskusia a dve otvorenia výstav.
Melanchólia
Ústrednou témou festivalu je melanchólia – nie však smutná, depresívna, patologická melanchólia. Ale tvorivá, hĺbavá, pokorná, pochybujúca, manická, extatická – teda melanchólia v celej svoj širokej bipolarite.
"Melanchólia sa vzpiera definícii už celé stáročia a len kovaný ne-melancholik by mohol sebavedomo prehlásiť, že vie čo melanchólia skutočne je. László F. Földényi, maďarský filozof a asi najväčší žijúci odborník na melanchóliu, nám do festivalového katalógu sprístupnil svoj text z úvodu jeho knihy Óda na melanchóliu, ktorý hovorí o melanchólii dnes, že je to nepoddajnosť voči všeobecným spoločensko-civilizačným očakávaniam. Tohtoročný BRaK si nedáva za úlohu jej porozumieť, ale v niektorých aspektoch sa jej však chce dotknúť ", hovorí jeden zo zakladateľov festivalu BRaK František Malík.
Focus na Maďarsko
Po prvýkrát bude programová časť festivalu aj geograficky ukotvená a zameraná na susedné Maďarsko. Správu o stave maďarskej literatúry v 21. storočí nám podajú v rámci diskusie prozaik Benedek Totth, slamerka a spisovateľka Zsófi Kemény a transrodová prozaička Kiss Tibor Noé. Súčasťou festivalového programu bude aj diskusia s významným maďarským intelektuálom a spisovateľom G. M. Tamásom venovaná súčasnej politickej situácii v jeho krajine, ktorá čoraz viac pripomína autoritatívne režimy a prikláňa sa k fašizmu.
Diskusie na tému sloboda
Hneď prvá diskusia na festivale BRaK bude venovaná téme sloboda a jej vnímaniu v súčasnej spoločnosti krajín V4, diskutovať budú štyria poprední európski spisovatelia – Jana Beňová (SK), Radka Denemarková (CZ), Aleksander Kaczorowski (PL) a Ferenc Czinki (HU), ktorí predstavia svoj pohľad na aktuálne kultúrno-politické dianie v strednej Európe.
Silnou témou na festivale bude aj diskusia s iránskymi básnikmi – poetkou Fatemeh Ekhtesari a básnikom Mehdi Mousavim, ktorých odsúdil iránsky súd na 99 rán bičom za potrasenie si rukou s osobou opačného pohlavia a dokopy na 20 rokov väzenia za "urážku posvätných symbolov islamu". Petíciu za ich prepustenie podpísalo viac ako 100 básnikov a z Iránu sa im napokon podarilo ilegálne utiecť do Turecka, kde sa ich po roku ujala Medzinárodná organizácia ICORN (The International Cities of Refuge Network), poskytujúca ochranu umelcom, ktorým v ich krajinách hrozí bezprostredné nebezpečenstvo.
Pozvanie na festival prijal aj holandský reportér Frank Westerman, ktorý predstaví osobnú historickú reportáž Čistá biela rasa, ktorá objasňuje fascinujúci príbeh lipicanských koní. Na jeho pozadí sa zrkadlí moderná história Európy – vojny, etnické konflikty, história konskej drezúry, ale aj otázky rasy, genetiky a príbehy najväčších objavov v týchto odboroch.
Českí hostia
Vďaka BRaK-u sa môžete stretnúť s uznávanými českými spisovateľmi a ilustrátormi, jedným z nich bude aj Chrudoš Valoušek, ktorý sa na svetovú mapu ilustrácie dostal už niekoľkokrát – v roku 2010 získal ocenenie Najkrajšia kniha sveta na knižnom veľtrhu v Lipsku a tento rok si odniesol hlavnú cenu Bologna Ragazzi z talianskeho knižného veľtrhu. Pre BRaK si pripravil masterclass a pripojí sa k nemu jeho vydavateľ, grafik a pedagóg Juraj Horváth a scenárista Vojtěch Mašek, ktorí spolu pracovali na českej verzii Pinoccia (Panáček, pecka, švestka, poleno a zase panáček). Vojtech Mašek bude prizvaný aj do diskusie s českým spisovateľom Marekom Šindelkom, ktorí sú autormi kultového komiksového príbehu Svatá Barbora odhaľujúci azda najbizarnejšiu kauzu, akú naša susedská krajina kedy zažila. Vojtěch Matocha, ktorého knižný debut Prašina, bol nominovaný na cenu Magnesia Litera v kategórii literatúra pre deti a mládež a už sa chystá aj jej filmová adaptácia, príde diskutovať o súčasnej young adult literatúre. Súčasťou festivalového programu je aj bohatý program pre deti, dva workshopy si pripravila česká ilustrátorka a grafička Magdalena Rutová, ktorej ilustrácie budú súčasťou jednej z výstav v Novej Cvernovke.
Slovenské knižné novinky
Danielovi Majlingovi vyšiel Rudo najprv v českom preklade. Od vtedy sa situácia v slovenskom vydavateľskom priestore zmenila a vznikol tu priestor pre komiksovú tvorbu, ktorá má na BRaK-u od začiatku svoje miesto. Rudo sa po niekoľkých rokoch vracia v pôvodnom a dokonca kompletnom vydaní. Erik Jakub Groch je básnik jedinečného výskytu, ktorý žije takpovediac v ústraní civilizácie. Organizátori festivalu preto nemohli ani len tušiť, že sa im naskytne možnosť vydať druhé pokračovanie očakávanej básnickej tetralógie, a dokonca s názvom priliehajúcim k téme festivalu. Zbierka melanchólia neviem vyjde v limitovanej sérii na BRaK-u. Súčasťou programu bude aj krst detskej knižky spisovateľky Moniky Kompaníkovej a ilustrátorky Veroniky Klímovej s názvom Koniec sveta a čo je za ním. Obe autorky si pripravili aj zaujímavý workshop pre deti.
Melanchólia v záhrade
Okrem literatúry a výtvarného umenia bude v programe aj zaujímavý hudobný program. Hudbu Vladimíra Godára z filmov ako Neha, Krajinka, či Záhrada, si vypočujeme v podaní Mucha Quartet. Súčasťou dramaturgie koncertu budú aj skladby Kóda od Martina Burlasa, Melanchóliu z Nocturna č. 2 od Jána Levoslava Bellu i slovenská verzia azda najmelancholickejšej skladby na svete Szomorú vasárnap (Nešťastná nedeľa), ktorú v origináli napísal maďarský skladateľ Rezső Seress. Aranžmánu pre Mucha Quartet sa ujala Katarína Máliková a premiérovo uvedie aj svoju novú skladbu z očakávaného albumu Postalgia. Z ďalších koncertov spomenieme vystúpenie ukrajinského pesničkára Postmana, koncerty kapiel Nina Rosa; groovy-psychadelickej slovensko-českej kapely Ankramu, či koncert reprezentanta mladej českej elektronickej scény Kittchen s DJ Aid Kidom.
Viac o programe 6. ročníka BraK-u nájdete na www.brakfestival.sk alebo na FB BRaK
FB event: Bratislavský knižný festival / BRaK 2019
FB event: Detský program na BraK-u
FB event: Filmová melanchólia na BraK-u
FB event: Nina Rosa / Ankram
FB event: Katarína Máliková & Mucha Quartet / Kittchen
Festival z verejných zdrojov podporil Fond na podporu umenia.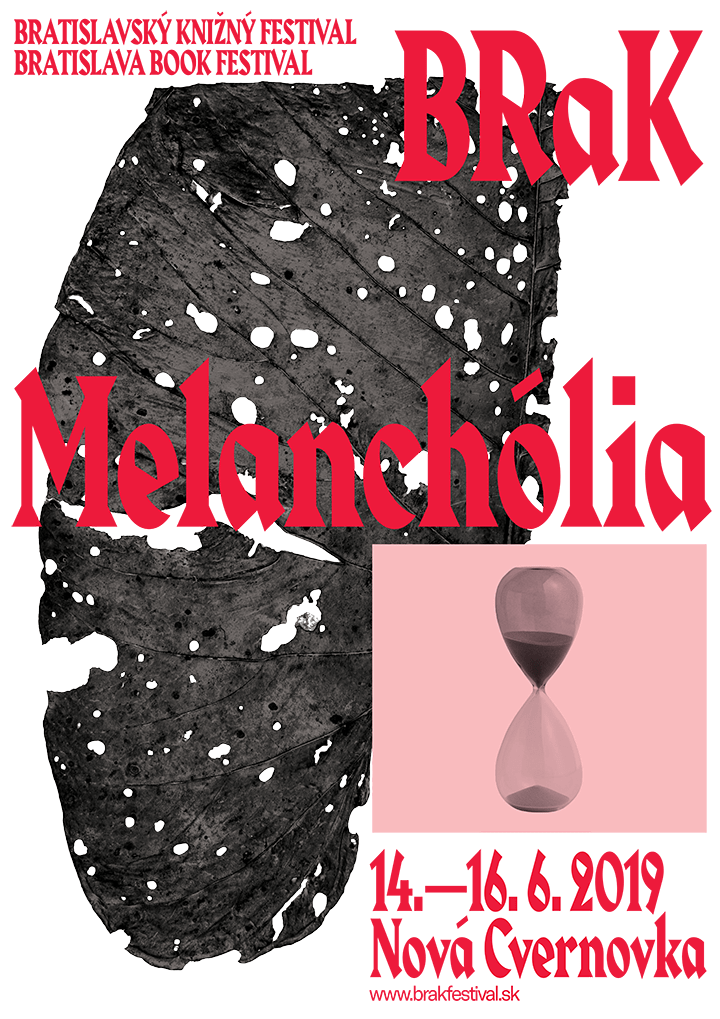 Zdroj: TS