Spevák a skladateľ Miro Žbirka nás minulý rok navždy opustil, ale jeho hudba a odkazó zostávajú s nami ďalej. V roku, v ktorom sa mala oslavovať jeho sedemdesiatka budú rezonovať veľmi intenzı́vne. Na jeseň sa v Bratislave, Prahe a Londýne chystá veľká koncertná pocta jeho hudbe. Legendárne skladby a veľké hity na nich zahrajú a zaspievajú hviezdy súčasnej slovenskej a českej hudobnej scény.
Všetci umelci, ktorı́ nezištne prijali pozvanie na koncert TRIBUTE TO MIRO ŽBIRKA 70 vzdajú hold tvorbe výnimočného autora a speváka. A určite si aj zaspomı́najú na svoje zážitky s československou hudobnoulegendou. Mená účinkujúcich budú zverejňované postupne, vždy s označenı́m #MEKYNAVEKY, ktoré bude jednotiacim motı́vom všetkých aktivı́t spojených s poctou Mirovi ZIbirkovi.
Koncerty TRIBUTE TO MIRO ŽBIRKA 70 sa uskutočnia 17.10. 2022 v NTC Aréna Bratislava, 21.10.2022 v O2Universum v Prahe a 23.9.2022 v londýnskom 229 Venue.
Každý z týchto koncertov bude výnimočnou viac ako dvojhodinovou hudobnou a vizuálnou šou, ktorá bude oslavou hudby Mira ZIbirku vo všetkých jej podobách.
Predpredaj: https://www.ticketportal.sk/event/TRIBUTE-TO-MIRO-ZBIRKA-70
Už čoskoro sa objavı́ nový singel a videoklip. Bude to prvá skladba z pripravovaného posledného albumu, ktorým sa pomyselne uzavrie viac ako päťdesiatročná autorská cesta Mira ZIbirku. V čase lockdownov, keď boli zrušené koncerty k nemu postupne napı́sal hudbu a texty, ktoré stihol v posledných mesiacoch aj naspievať. Jeho vydanie je naplánované na jar. Dokončenı́m a produkciou albumu poveril Meky svojho syna Davida, ktorý na ňom intenzı́vne pracuje v londýnskom štúdiuKonk.
Na Mekyho albumy Nemoderný chalan a Chlapec z ulice sa bude spomı́nať v špeciálnom programe na festivale Pohoda. Na DVD vyšla aj posledná, tretia séria televı́znej show Doupě Mekyho ZIbirky a pripravujú sa aj ďalšie prekvapenia, ktoré sifanúšikovia nájdu na o]iciálnom webe a facebookovom a instagramovom pro]ile
https://www.zbirka.cz
https://www.facebook.com/MiroZbirka/
https://www.instagram.com/mirozbirka/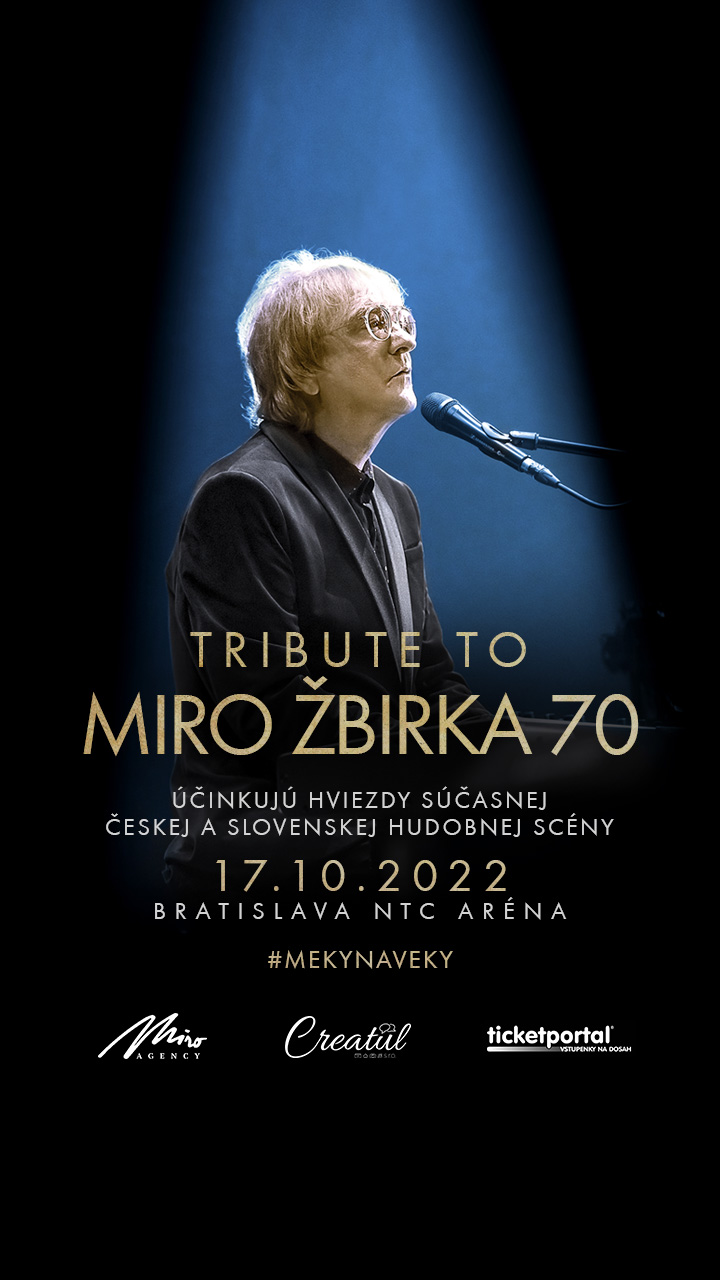 Zdroj: TS