Tri koncerty, tri hudobné svety. Vydavateľstvo Real Music House pokračuje aj tento rok v sérii marcových vystúpení s názvom Real Music House uvádza. Ich vyvrcholením bude podujatie RMH Night Vol. IV.
"Po náročných dvoch rokoch pandémie sme sa ponorili do éry všadeprítomnej vojny. Umenie stojí na emóciách, a tie si v poslednom období nemohli oddýchnuť. Uvedomujeme si to, a aj preto sme sa rozhodli vstupné z nami organizovaných podujatí venovať na pomoc Ukrajine," dodáva k štyrom koncertným večerom Robert Pospiš, spoluzakladateľ vydavateľstva Real Music House. "Opäť sme sa rozhodli pre koncept vystúpení v zaujímavých priestoroch Bratislavy. Hudobný klub, hudobniny spojené s múzeom aj kaviareň. Do každého z miest, kde budú koncerty prebiehať, chodíme radi aj my," dodáva Martin Sillay, hudobník a spoluzakladateľ vydavateľstva. Podujatia Real Music House uvádza a koncertný večer RMH Night Vol. IV podporil z verejných zdrojov Fond na podporu umenia. Koncertnú sériu Real Music House uvádza otvorí dvojica Kamilé Čekauskaité / Boris Lenko (25.3. – Hummel Music – Klobučnícka 2). Minimal music v podaní dvoch špičkových akordeonistov. Nasledovať bude komorný pesničkársky koncert s podnázvom "Ukrajine" (26.3. – ParkLife Cafe – Jakubovo námestie 10). Na ňom zahrajú Robert Pospiš & Martin Sillay, Lucia Piussi a Roman Harvan. Limitovanú kapacitu kaviarne ParkLife Cafe na Jakubovom námestí vyrovnáva vstupné 20 eur a viac. Čim viac peňazí sa vyzbiera, tým viac pošle vydavateľstvo Real Music House organizáciám, ktoré aktívne pomáhajú ukrajinským utečencom. V nedeľu 27.3. uzavrie v legendárnom Nu Spirit bare sériu Real Music House uvádza elitné jazzové duo Nikolaj Nikitin/Eugen Vizváry. Bodkou za hudobnou sériou bude koncertný večer RMH Night Vol. IV. (29.3. – Hummel Music – Klobučnícka 2). Počas neho vystúpia viacerí interpreti, ktorí patria pod značku Real Music House. V priestoroch Hummel Music sa predstavia napríklad Eugen Prochác, Boris Lenko, Branislav Dugovič alebo Alan Vizváry a Hilaris Chamber Orchestra.
Spájanie. To je jedna zo základných priorít vydavateľstva Real Music House. Spájanie hudobníkov, generácii, netradičného s tradičným. "Vieme, že návšteva koncertov má v súčasnosti inú príchuť. Práve preto sme sa snažili o citlivú dramaturgiu naprieč hudobnými žánrami. Interpreti aj poslucháči majú za sebou náročné obdobie. Je dôležité stretávať sa a počúvať. Najsilnejšie ale dnes svieti slovo "Pomáhať". Veríme, že to s hudbou spolupracovníkov nášho vydavateľstva dokážeme. Srdečne všetkých pozývame," uzatvára Robert Pospiš.
Koncerty série Real Music House uvádza:
25.3. – Kamilé Čekauskaité / Boris Lenko – "Reikia groti"- 18:30 – Hummel Music – Klobučnícka 2 – Vstup 5 eur + Seminár: Problematika interpretácie pohľadom dvoch generácii
FB event: https://www.facebook.com/events/927585294572169/?ref=newsfeed
26.3. – Pre Ukrajinu – Robert Pospiš / Martin Sillay / Lucia Piussi / Roman Harvan – 19:00 – ParkLive Cafe – Jakubovo námestie 10 – Vstupné 20 eur a viac
FB event: https://www.facebook.com/events/308055501396002?ref=newsfeed
27.3. – Nikolaj Nikitin / Eugen Vizváry – 20:00 – Nu Spirit Bar – Medená 16 – Vstup 5 eur
FB event: https://www.facebook.com/events/449649346954334/?ref=newsfeed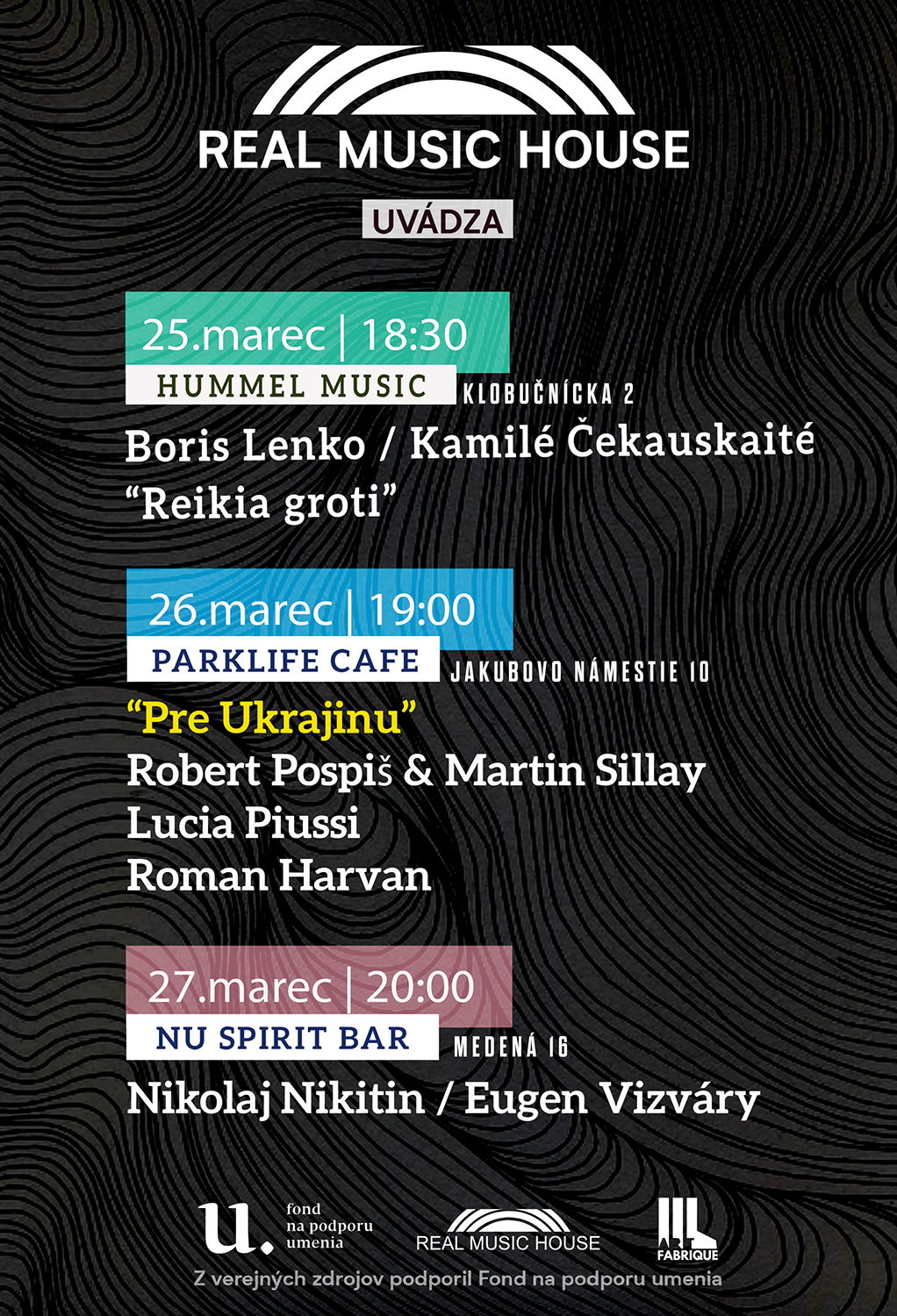 RMH Night Vol. IV:
29.3. – Eugen Prochác, Boris Lenko, Branislav Dugovič, Alan Vizváry a Hilaris Chamber Orchestra
18:30 – Hummel Music – Klobučnícka 2 – Vstup 5 eur + Seminár: Hudobný život v post-covidovej ére
FB event: https://www.facebook.com/events/1396545677435246?ref=newsfeed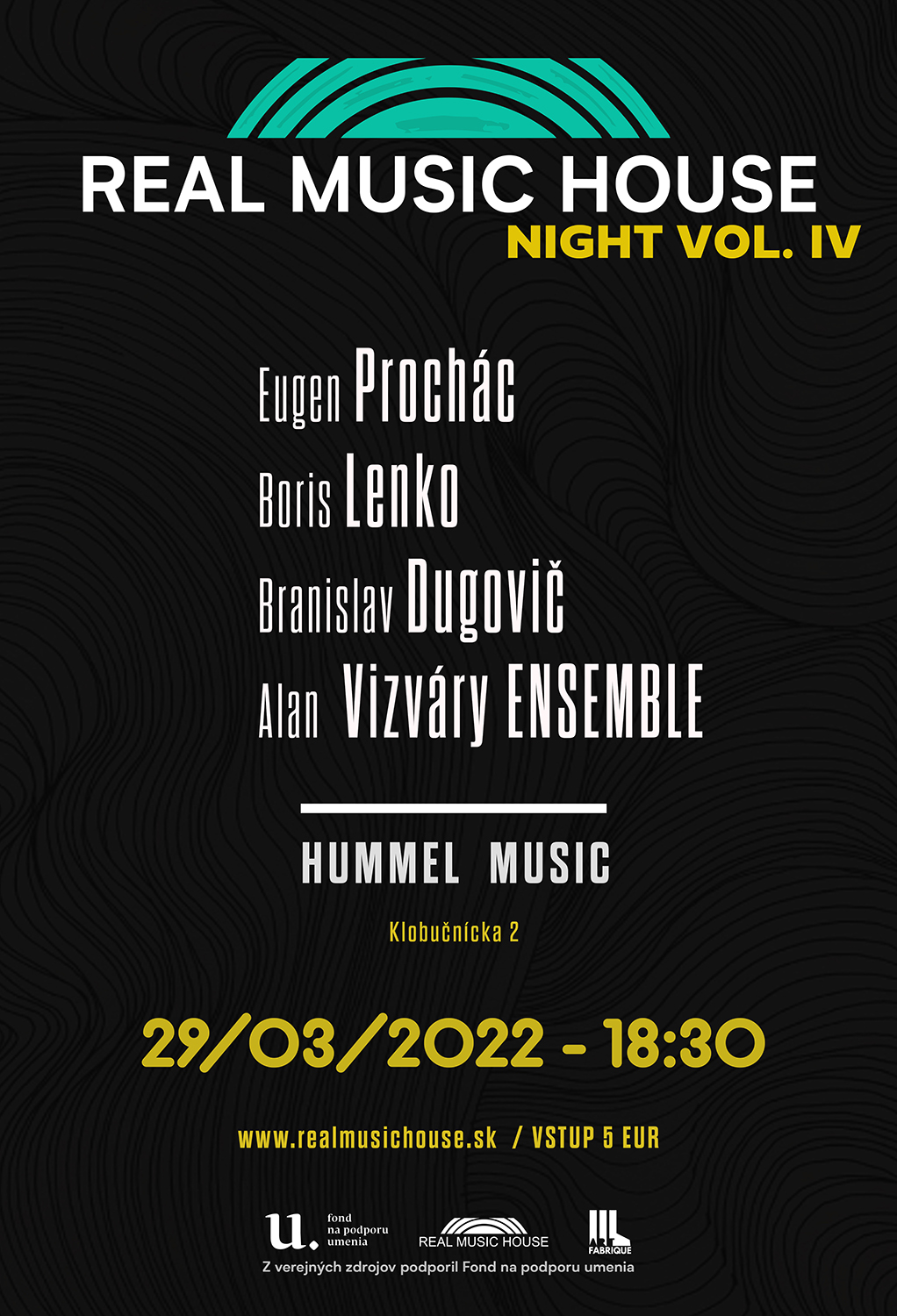 Zdroj: REAL MUSIC HOUSE