Nový album "PORCELÁN" je už konečne na všetkých hudobných platformách a včera ho aj slávnostne pokrstili v krásnych priestoroch Umelka. Album pokrstil jemu najbližší človek, a to jeho syn Nikolas! Sprievodný program počas krstu albumu Porcelán podporili aj špeciálne masky z Mask Busters, ktoré sa objavili aj v nosom klipe od Petra Lašuta.
Keďže počas pandémie boli zakázane hromadné podujatia, svoje hudobné počiny si umelci nemohli "uviesť" medzi ľudí tak ako sa patrí, a to poriadnym krstom. Včera preto prebehol konečne krst nového albumu "Porcelán", ktorý prišli podporiť do Umelky nielen najbližší, ale aj známe osobnosti, ktorí sa podieľali na albume. Okrem režiséra nosného klipu Porcelán – Petra Lašuta, ktorý ma na starosti aj vizuál coveru prišli podporiť režiséri ( Lupa, Dušan Krajčovič), ktorí spolupracovali s interpretom či hudobní producenti (Hoodini, Peter Pann, Fillipian, Mairee). Zo známych tvári sa ukázal po dlhom čase aj producent, spevák a songwriter Tomi Popovič, hypeman Marcel "OSŤO" Osztas, herec Lukáš Frlajs s priateľkou či speváčka Veronika Strapková, ktorá aktuálne popri speve študuje psychológiu. Na krste vystúpila aj speváčka Dominika Mirgová, ktorá si s Majselfom zaspievala novú skladbu "Off, ktorá už čoskoro dostane aj svoj videoklip, zatiaľ sa nachádza len na albume "Porcelán". Krstom moderoval Majselfov dlho ročný kamarát, čerstvý moderátor rádia Expres a od septembra aj nový moderátor Telerána – Matúš Krnčok. Medzi ďalšími hosťami sa objavila aj nová hudobná tvár Matúš Kolarovský z Illuminate Production, či Nia Kasalová, ktorú zatiaľ ľudia poznajú len z hudobných spoluprác ako songwriterku, no už budúci týždeň vydáva svoj prvý hudobný debut. Okrem influencerky Luly Gachulincovej, či budúcej mamičky – modelky Soni Štefkovej sa objavil na krste aj Michal Nemtuda, ktorý sa podieľal na poslednom Majslefom klipe ku filmu Gump.
Album pokrstil Majselfov syn Nikolas, keďže interpet chcel, aby to bol niekto jemu najbližší. Porcelán tak symbolicky pokrstili ovocným vínom Miluron a celý event vznikol aj za podpory LB Servis. Čerstvo pokrstený projekt "PORCELÁN", ku ktorému vyšiel aj titulný track zahraničných rozmerov podporila aj multižánrová platforma Ruka Hore, kde nový album nachádza – https://shop.rukahore.sk/majself/cd-porcelan.
Samotný album vznikal v úzkej spolupráci s Fillipianom, ktorý má v trackliste drvivú väčšinu produkcií. Okrem jeho hudieb sa však o vznik projektu na hudobnej stránke pričinil aj DJ Wich, Mairee, Grizzly alebo aj Hoodini. Fillipian sa však zároveň postaral aj o celý mix a master celého albumu. Okrem nového tracku "Porcelán" sa v trackliste stretneme aj s už vydanými skladbami ako "Vydržím stáť" alebo "Ruže" s Kalim. Okrem neho nájdeme Majselfa bok po boku aj s ďalšími hosťami ako Tina, Lvcas Dope, Martin Císar, Dano Kapitán, Dominika Mirgová, Jan Bendig, Refew alebo aj Desmod na bonusovej skladbe "Kométa".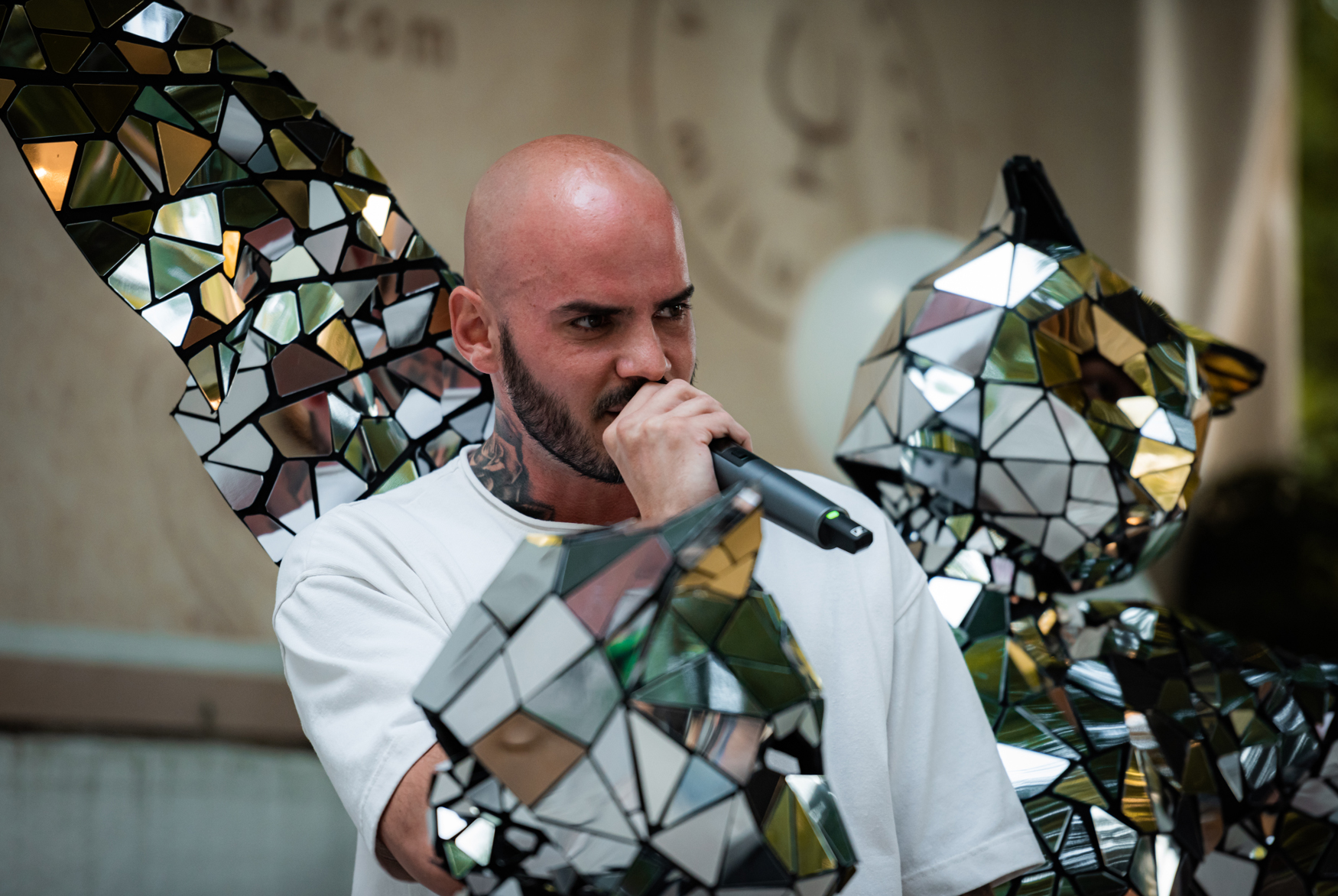 "Za coverom albumu stojí Peter "P.Graphy" Lašut a nafotili sme ho vlastne počas natáčania klipu "Porcelán". Peťo je kreatívne inde ako väčšina ľudí a veľmi si s ním rozumiem po pracovnej aj ľudskej stránke. Celý album čo sa týka obsahu, aj štýlov, ktoré na albume sú, som formoval skoro 2 roky. Jednotlivé skladby sú ako črepy z rôznych časových období, ktoré v mojich očiach tvoria Porcelán. Som nesmierne šťastný koľko mne blízkych ľudí prišlo podporiť včerajší krst. Ďakujem svojej rodine, hosťom, médiám a celému tímu, ktorí mi pomohli toto zorganizovať a verím, že si ľudia v novom albume nájdu ten svoj kúsok Porcelánu ", uzatvára Majself.
RUKA HORE SHOP: https://shop.rukahore.sk/majself/cd-porcelan
MAJSELF IG: https://www.instagram.com/majself_neptun
MAJSELF FCB: https://www.facebook.com/Majself
Zdroj: JANA TRELLOVÁ, PR / BRAND MANGER RUKA HORE
Foto: Andrej "Hrušo" Hrušovský