SKLADBA KOMÉTA PREKROČILA VŠETKY REKORDY A TO ANI NIE ZA NECELÝ ROK! AKTUÁLNE SA HIT ROKU 2021 BLÍŽI K 4-MILIÓNOM ZHLIADNUTÍ, A PRETO SI AJ INTERPRETI SPLNILI SEN A VDÝCHLI SKLADBE UMELECKÚ PODOBU ZO ŠPECIÁLNEHO HISTORICKÉHO MIESTA – RUDOLFINUM, DOM UMELCOV UŽ 137 ROKOV S ORCHESTROM RB:ORCH.
Len minulý rok, 22.7.2021 sa do slovenských kín dostal rodinný film Gump – pes, ktorý naučil ľudí žiť. Hlavný hrdina je túlavý psík, ktorého dobrodružstvá, ktoré zažíval so svojim zachráncom Bolekom Bolívkom zaujali státisíce čitateľov nielen na stránkach českého knižného bestselleru, ale aj vo filmovej podobe. Pieseň k slovenskému uvedeniu filmu nahrala kapela Desmod v spolupráci s raperom Majselfom a okamžite sa stal obrovským hitom v rádiách, o čom svedčia aj čísla skladby. Skladba po necelom roku dostala aj svoju umelecku podobu v orchestrálnom štýle, ktorá doslova vyvoláva zimomriavky – "Kométa".
"Išlo nám hlavne o to, aby sme predali skladbe emócie prostredníctvom nášho orchestra, kde aranžmá na nástroje robil Henri Kliment, predsa len živé nástroje viac podčiarknu samotnú melodickú linku cez sláčiky či klavír ako už finálne zmastrovaná skladba. V prvom rade som vďačný, že tento nápad sprocesoval producent Filipian a že sme mohli si vybaviť natáčanie klipu v tak krásnom historicky umeleckom priestore akým je Rudolfinum, kde sa len tak niekomu nepodarí dostať. A sme nesmierne radi, že sme dostali šancu pracovať s profesionálmi akým Majself a Kuly nepochybne sú", hovorí Radek Blahuš producent, huslista a výkonný riaditeľ RB:ORCH. Videoklip vznikol aj vďaka podpore Českej Filharmónie, réžie Filipiana, za kamerami stáli Martin Krolák, Adam Lapšanský, Mário Puzder a samotný strich mal na starosti Pierre Lexis.
"Bola to pre mňa ako umelca jedinečná skúsenosť, keďže patrím medzi fanúšikov filmovej a orchestrálnej hudby, a keď som to počul prvýkrát mal som neskutočné zimomriavky. Kombinácia tejto skladby v orchestrálnom prevedení spolu s magickým priestorom Rudolfina tomu dodali úplne iné emócie ako pri klasickom prevedení tejto skladby. Každá verzia má však svoju osobitú identitu, takže už necháme na ľudí, ktorá im bude bližšia", vysvetľuje Majself.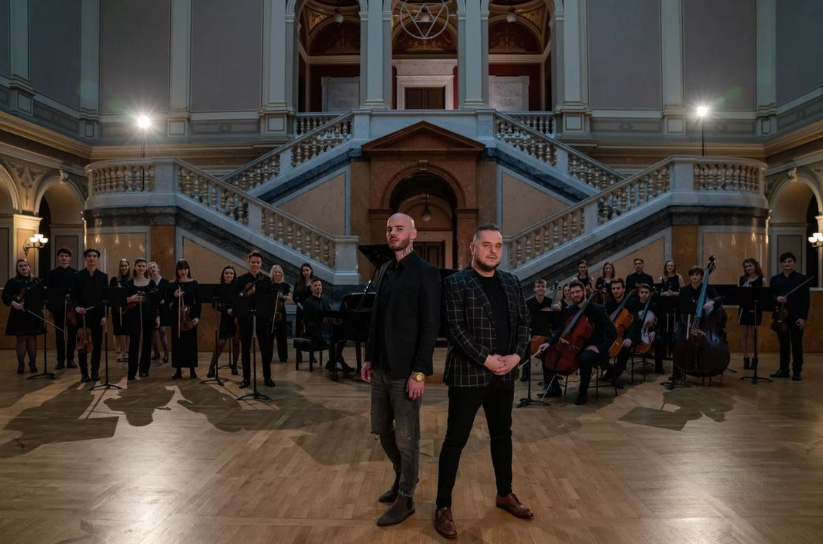 Samotná skladba zaznie aj v spoločnom prevedení v rámci Porcelán Tour, 15.mája v Kulturparku, v Košiciach, kde okrem tejto skladby zaznejú aj ďalšie spoločné. Desmod tak posielajú svojim fanúšikom novú "Kométu" aj ako malú predzvesť, že sa dočkajú už čoskoro ich nového singlu. Okrem samotného krstu albumu Porcelán / https://shop.rukahore.sk/majself/cd-porcelan / , ktorý sa tento mesiac uskutoční v Košiciach, keďže počas lockdownu prebehol len v Bratislave, si fanúšikovia Majselfovej tvorby môžu vychutnať jeho hudbu aj na iných zastávkach v rámci Porcelán Tour a nielen na Slovensku, keďže raper odštartoval koncertnú šnúru už v apríli a potrvá až do konca leta 2022.
MAJSELF IG: https://www.instagram.com/majself_neptun
DESMOD: https://www.instagram.com/desmod.sk/
RB:ORCH: https://www.instagram.com/rb_orch/
Lístky na krst: https://www.ticketportal.sk/event/DESMOD-MAJSELF-Porcelan-Tour-Kosice
Zdroj: JANA TRELLOVÁ, PR / BRAND MANGER
Zdroj foto: youtube.com