Maďarský Sziget zverejnil nové mená v programe. K už známym headlinerom ako Billie Eilish, Imagine Dragons, David Guetta, Florence + the Machine pribudli headlineri Macklemore, Mumford & Sons, Lorde, ale aj Loyle Carner, Bonobo, Tale Of Us, girl in red, Yung Lean, Confidence Man, The Aces, Lucie Antunes, Coloray, SG Lewis, Sleaford Mods, Ben Böhmer (live), Son Mieux, Giant Rooks, I Hate Models, 999999999, Herrensauna XXL, Shlømo a TxC.
Sziget festival, jeden z najväčších európskych festivalov, ktorí patrí aj medzi najobľúbenejšie zahraničné festivaly Slovákov, sa bude konať od 10. do 15. augusta na ostrove v centre Budapešte. V predaji sú 1-, 3- a 6-dňové vstupenky. Kompletné informácie a lístky sú na www.szigetfestival.com.
Viac ako len hudobný festival, to je Sziget, ktorý je dokonalým únikom z bežného života a skvelou možnosťou letnej dovolenky či výletu do Budapešti. Ponúka nielen bohatý program a vystúpenia najlepších mien popu, rocku, elektroniky či R&B na viac ako 50 pódiách. Nájdete tam aj množstvo umeleckých inštalácií, divadelné či cirkusové predstavenia, kabaret a umelcov z celého sveta.
Sziget 2023 prináša nových headlinerov, medzi ktorými nechýba ani britská folkrocková kapela Mumford & Sons, ktorá dopĺňa program o búrlivú a zvukovo hutnú šou a kultové hity ako I Will Wail a Little Lion Man. Lorde sa tento rok vracia na pódiá a pokračuje v turné k svojej poslednej nahrávke Solar Power, v rámci ktorého sa chystá ovládnuť aj hlavnú scénu Szigetu. Hviezda zo Seattlu a držiteľ Grammy Macklemore po nedávnom vydaní nového albumu Ben sa chystá tiež na koncerty a jeho šou na Szigetu bude jedným z vrcholov turné po Európe.
K hviezdnemu line-upu sa pripojí aj londýnsky raper Loyle Carner, ktorý vystúpi s kritikmi oceňovaným albumom Hugo vydaným v roku 2022. Okrem neho sa predstaví americká speváčka Caroline Polachek so skvelým novým albumom Desire, I Want to Turn into You či švédsky raper Yung Lean, ktorý je považovaný za jednu z najvplyvnejších postáv ranej éry cloudového rapu. Popri nich sa na Sziget vracia stálica elektronickej scény, producent Bonobo. Vychádzajúcou hviezdou scény sú naopak Tale of Us, ktorých sprevádza povesť intenzívnych setov a najlepšej párty. Ďalším uznávaným duom, ktoré je pripravené rozprúdiť pódium, sú post-punkoví Sleaford Mods.
"Zoznam headlinerov hlavného pódia je kompletný, v predaji sú už aj mnohými žiadané jednodňové lístky. K už skôr ohláseným headlinerom na hlavnom pódiu – Billie Eilish, David Guetta, Florence + the Machine a Imagine Dragons – sa pridali Mumford & Sons, Lorde a Macklemore a dnes sme zverejnili ďalších viac ako 30 interpretov rôzneho levelu," prezradil hlavný organizátor Szigetu Tamáš Kádár.
Okrem hudobného programu Tamás Kádár upriamuje pozornosť na tri dôležité novinky Szigetu: na Sziget 2023 sa vráti Art of Freedom, ktorého cieľom je pridať vizuálnu silu do rozmanitosti Ostrova slobody pomocou nápaditých a ohromujúcich umeleckých diel. Kompletne sa obnovia asanačné bloky, z festivalu zmiznú takmer všetky mobilné toalety a budú nahradené kontajnermi so splachovaním. "Minulý rok sa vyskytli problémy s prachom v dôsledku nadpriemerného sucha, ale v roku 2023 podnikáme kroky na niekoľkých frontoch, aby sme zabezpečili, že sa to už nebude opakovať. Po prvé, koncom minulého roka sme "ozelenili" náš ostrov, čím sme odstránili nedostatky v trávnatej pôde spôsobené vysychaním. Pracujeme na tom, aby sa podobná situácia už neopakovala a aby sme v prípade sucha vedeli zabezpečiť nepretržité zavlažovanie vodou z Dunaja. Okrem toho v celom areáli festivalu používame novú protiprašnú úpravu, ktorej podstata je v procese využívania vlhkosti vzduchu na vytvorenie vlhkej vrstvy na zemi, čím sa zabráni vniknutiu prachu do ovzdušia," priblížil novinky na festivale T. Kádár.
Sziget Festival 2023 sa bude konať od 10. do 15. augusta 2023. V predaji sú permanentky na celý festival, ale aj vstupenky na 3 či 1 deň.
Aktuálny line-up Szigetu 2023 (14. 3. 2023)
(A-Z)
BILLIE EILISH
DAVID GUETTA
FLORENCE + THE MACHINE
IMAGINE DRAGONS
LORDE
MACKLEMORE
MUMFORD & SONS
070 SHAKE
47TER
999999999
ACID ARAB
AJR
AL-QASAR
AMYL AND THE SNIFFERS
ANETHA
ANNA RF
ARLO PARKS
AWIR LEON
BABY QUEEN
BEN BöHMER LIVE
BIZZEY
BONOBO
CALL ME KARIZMA
CAROLINE POLACHEK
COLORAY
CONFIDENCE MAN
DAMIEN
DESTROY BOYS
DIXON
DJ TENNIS
FOALS
FRANK CARTER & THE RATTLESNAKES
GIANT ROCKS
GIRL IN RED
HANNAH GRAE
HERRENSAUNA XXL
I HATE MODELS
JAMIE XX
JEFF MILLS
JOSMAN
JUNGLE BY NIGHT
KELLY LEE OWENS DJ SET
LASS
LAZZA
LEYO
LOS BITCHOS
LOYLE CARNER
LUCIE ANTUNES
BYRD
M83
MALL GRAB
MEZZOSANGUE
MIMI WEBB
MOCHAKK
MODERAT
NIALL HORAN
NOTHING BUT THIEVES
PARRA FOR CUVA
PARTIBOI69
QUERALT LAHOZ
REINIER ZONNEVELD LIVE
SAM FENDER
SG LEWIS
SHLøMO
SLEAFORD MODS
SON MIEUX
STAIN THE CANVAS
SVEN VÄTH
TALE OF US
THE ACES
THE COMET IS COMING
THE HAUNTED YOUTH
TROYBOI
TV GIRL
TWO FEET
TxC
VIAGRA BOYS
VINICIO CAPOSSELA
YOUNGR
YUNE PINKU DJ SET
YUNG LEAN
YUNGBLUD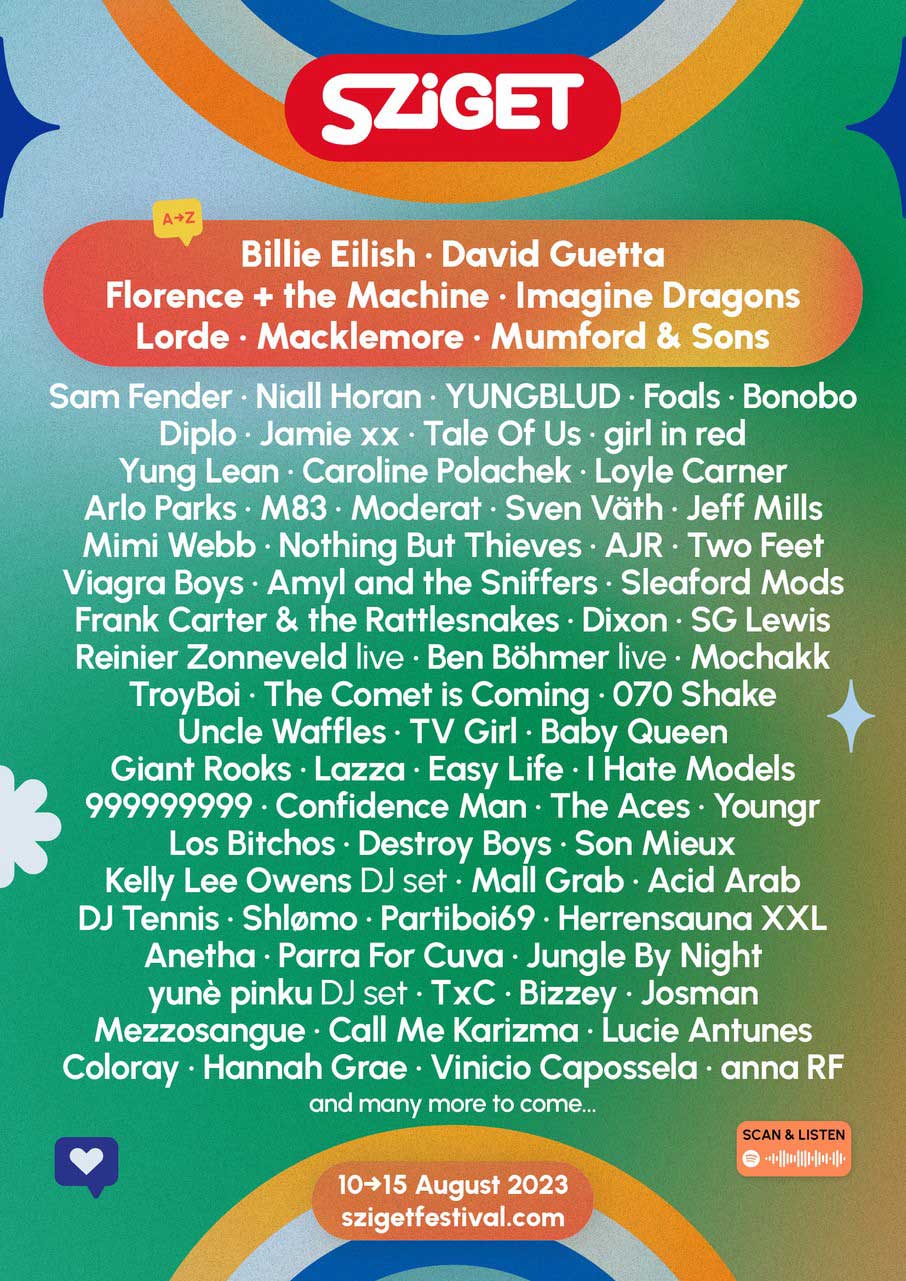 Zdroj: TS