Největší taneční open air festival odstartuje již za pár týdnů, takže je nejvyšší čas si představit také to hlavní ze sobotního programu. Oproti pátku, kde bude převládat zejména electro house v čele s Thomasem Goldem a Tom Staarem, dočkají se v sobotu fanouškové techna a tech housu. K Máchovu jezeru totiž zamíří 21. srpna hned tři zahraniční umělci: ikona německé techno scény Drumcomplex, španělská hvězda labelu Anjunadeep Dosem a berlínská dýdžejka a producentka Simina Grigoriu. Zbytek programu, který začne po 18h a potrvá až do rána, vyplní přední domácí djs: Chris Sadler, Dominik Gehringer, Džejár, Golpe, Lucca, Lumiere, Michael C, Subgate, Tokátko a Tomas Sinn.
Drumcomplex
Respektovaná osobnost německé techno scény přijede představit své aktuální album The Story Of Now, ale určitě dojde i na nějaké to ohlédnutí zpátky, vždyť u kormidla je už od roku 1992 a Carl Cox, Laurent Garnier nebo Sven Väth jsou jeho blízcí přátelé, na které nedá dopustit ani hudebně.
Dosem
Španělský producent DOSEM bude tím, kdo vám naservíruje úžasné housové melodie při západu slunce. Jeho poslední album Dream Decoder velmi příjemně překvapilo a ukázalo i jeho klidnou hudební stránku, ke které se nechal inspirovat vlastními sny. O rychlejší tempo se ale bát nemusíte. Jeho sety skvěle gradují a po západu slunce už uslyšíte také odpovídající bpm.
Simina Grigoriu
Paul Kalkbrenner se k nám podívá sice až za rok, ale jeho drahá polovička vystoupí na Mácháči už letos! Z Kanady se do Berlína přestěhovala v roce 2008 a o dalším směru dýdžejské kariéry tak bylo rozhodnuto. I přes aktuální trendy najdete v jejích setech vlivy těch, kteří ji k taneční hudbě přivedli – Jeff Mills, Juan Atkins, Derrick May, The Prodigy nebo Chemical Brothers.
Mácháč Forever 2021
20. – 21. 8. 2021
pláž Klůček, Máchovo jezero, Doksy
Vstupenky je možné zakoupit v síti GoOut.
Více informací najdete na www.machac.cz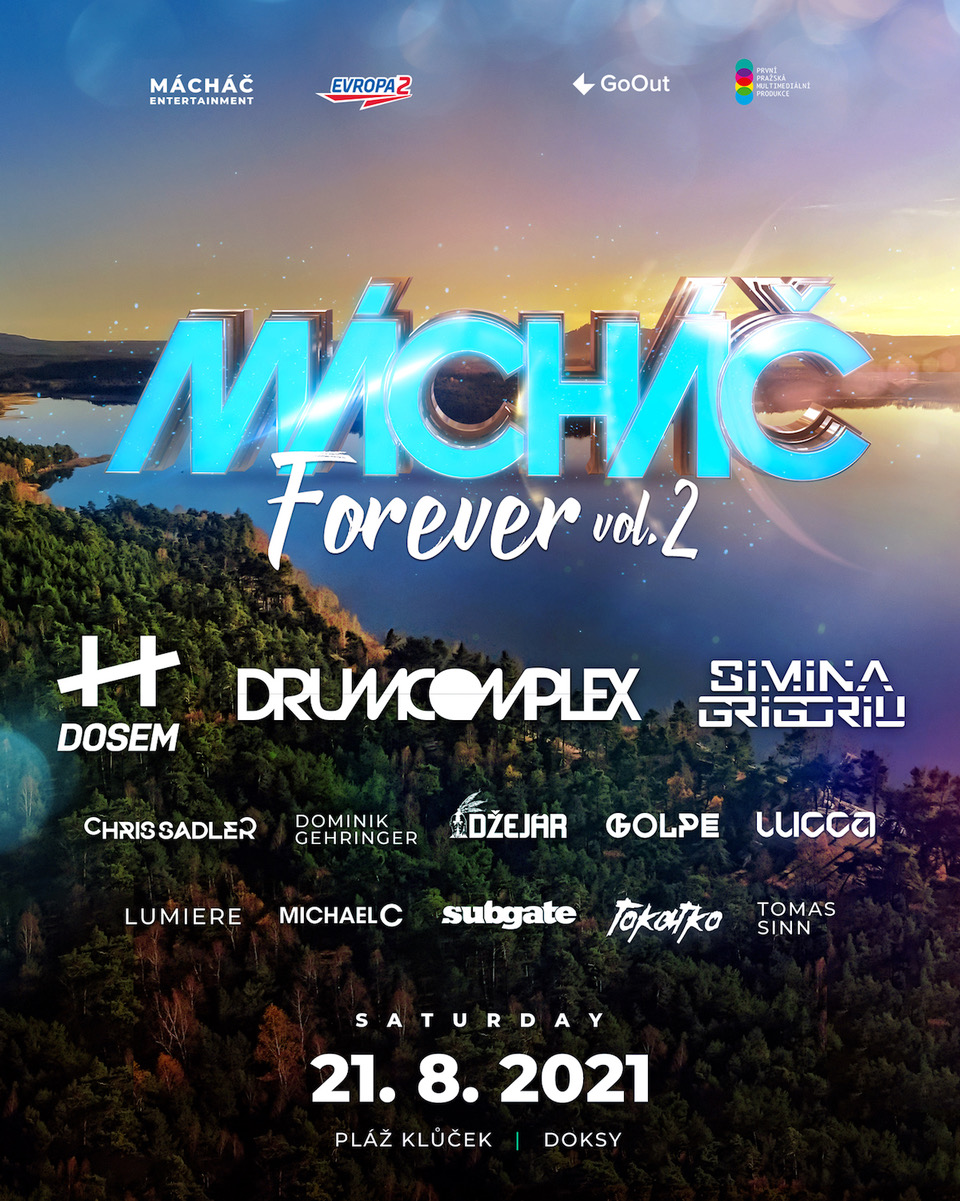 Zdroj: TS