Dvojnásobný držiteľ ocenenia Svetový Dj No.1 HARDWELL, charizmatický miláčik nielen ženského publika ÁLVARO SOLER a vychádzajúca hviezda menom KAMRAD sú ďalšími ohlásenými hosťami na 2.ročníku hudobného festivalu LOVESTREAM, ktorý sa sťahuje v roku 2023 na Letisko Vajnory v Bratislave.
Úspešný DJ, producent, remixér, šéf labelu, filmár a filantrop to všetko definuje ďalšieho potvrdeného účinkujuceho LOVESTREAM FESTIVALU 2023 menom Hardwell.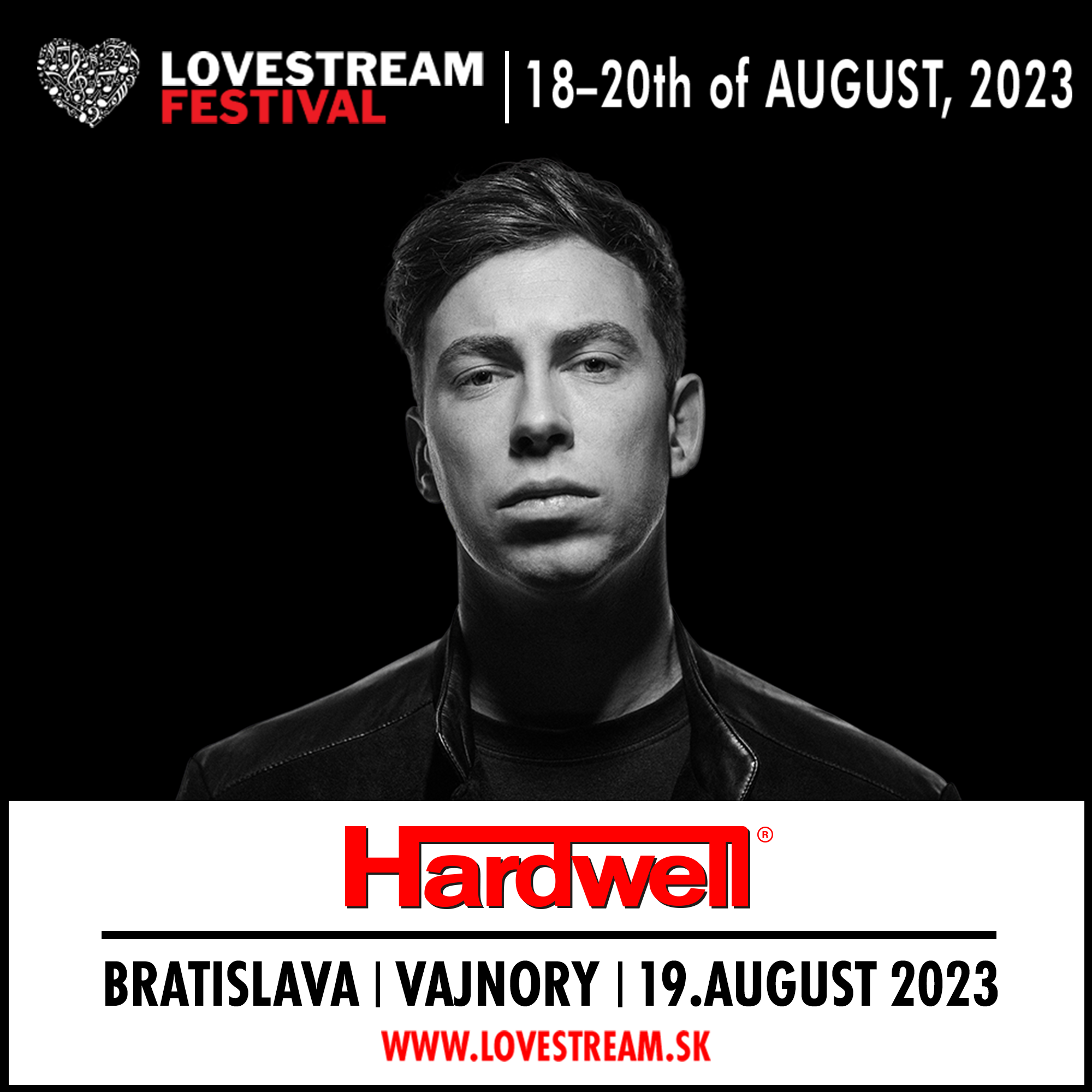 Dvojnásobný držiteľ ocenenia Svetový dídžej č. 1 si už vydobyl svoju jednoznačnú úspešnú pozíciu vo svete elektronickej hudby. Hardwell, ktorý hrdo pochádza z Bredy, mesta zastrčeného hlboko v Holandsku, začal v 14 rokoch a stal sa veľmi vyhľadávaným umelcom na holandskej tanečnej scéne skôr, ako sa naň začala hrnúť medzinárodná pozornosť. V roku 2013 vo veku 25 rokov bol prvýkrát korunovaný za svetového DJ-a #1. Hardwell sa už v tom čase stal jednou z najuznávanejších hviezd modernej éry elektronickej hudby. Remixoval pre mnohé z najväčších mien pop music vrátane Rihanny, Calvina Harrisa, Mobyho, U2 a Coldplay. Zároveň priniesol crossover hitové singly po boku významných interpretov ako Craig David, Austin Mahone a Jason Derulo. Jeho uznávaný album z roku 2015 United We Are sa ukázal byť pre Hardwella prelomovým momentom. Okrem hitov sa Hardwell stal hlavnou atrakciou na najväčších hudobných pódiách všetkých významných festivalov vrátane Lollapalooza, Coachella, EDC Las Vegas, Creamfields, Untold Festival, EXIT festival, Ultra Music Festival a Tomorrowland. Hardwell absolvoval dve svetové turné s 'I Am Hardwell' v roku 2014/15 a potom 'I Am Hardwell – United We Are' v 2015/16 v 21 krajinách s účasťou 897 617 fanúšikov. Hardwell jedným z "najklikanejších" umelcov na elektronickej scéne s viac ako 8,6 milióna sledovateľov na Facebooku, 7,2 milióna sledovateľov na Twitteri, 4,8 milióna sledovateľov na Instagrame a viac ako 1,1 miliardy prístupov na svojom kanáli YouTube. Okrem toho je Hardwell už dlho priekopníckou osobnosťou v oblasti živého vysielania v kariére posiatej rekordnými streamami na niektorých z najväčších svetových podujatí. Jeho Tomorrowland set z roku 2012 skvele "položil" festivalový live stream server a momentálne má na YouTube 25 miliónov zhliadnutí. Jeho stream pre Ultra Music Festival v roku 2013 má na YouTube viac ako 34 miliónov zhliadnutí. Jeho vystúpenie v roku 2018 na Ultra dosiahlo ohromujúcich 1,6 milióna zhliadnutí za menej ako dva týždne a pre jeho fanúšikov bolo výnimočným momentom, pretože na jeseň toho roku ohlásil koncertnú pauzu, aby sa mohol vrátiť ešte lepší a ešte silnejší!
Po štyroch rokoch ju ukončil až tento rok, konkrétne 27.marca, keď sa vrátil na Miami's Ultra Music Festival, aby predviedol prekvapivý záverečný set. Hardwell, vyzbrojený novým 14-skladbovým umeleckým albumom Rebels Never Die, vydaným na Revealed Recordings a ohlásením masívneho svetového turné podnietil pozornosť fanúšikov po celom svete. Vždy chce byť vodcom so snahou vyvíjať sa, neopakovať sa. Tento album tak predstavuje kritický bod v hudobnom posune pre jednu z najväčších známych hviezd elektronickej hudby vlastným menom Robbert Van de Corput, pretože ide o jeho veľký návrat aj na koncertné pódiá po štyroch rokoch! Pre LOVESTREAM FESTIVAL bude cťou v rámci svetového turné Rebels Never Die privítať Hardwella v sobotu 19.augusta 2023 v Bratislave-Vajnoroch!
Tanečné rytmy, aj keď trošku menšej intenzity BPM, zato oveľa viac v štýle "latino" prinesie do Bratislavy ÁlvaroSoler, ktorý je aj v našich končinách ako doma!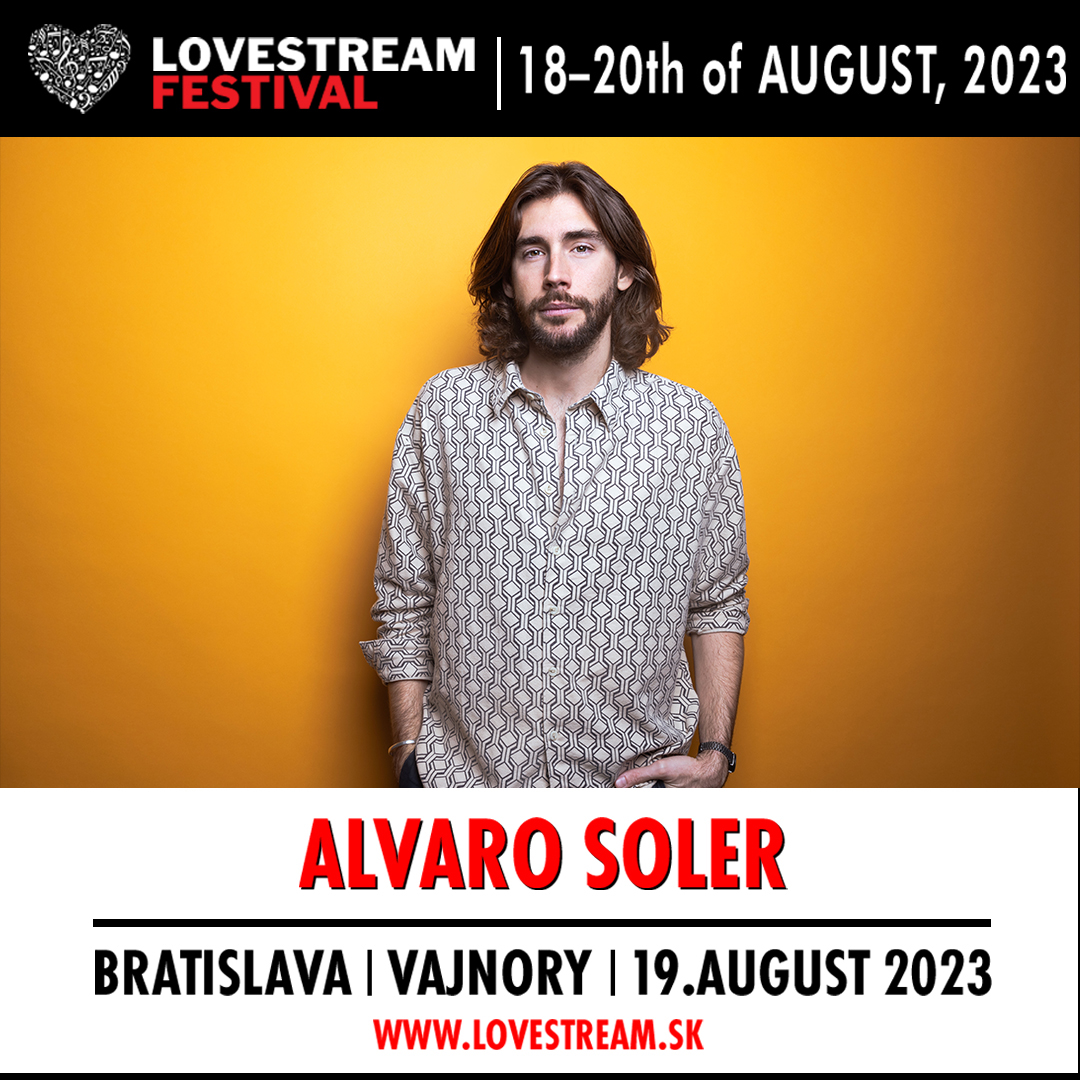 Tento 31-ročný španielsko-nemecký spevák doslova vtrhol na hudobnú scénu Latinskej Ameriky a Európy v roku 2015 hitom El Mismo Sol, ktorý následne nahral aj vo verzii s Jennifer Lopez. O rok neskôr už doslova zvalcoval hitparády skladbou Sofia, ktorú nasledovala La Cintura.
Doteraz vydal tri štúdiové albumy, ktoré ponúka fanúšikom v trojročnom cykle. Ten začal v roku 2015 albumom Eterno Agosto, nasledoval Mar de Colores a v roku 2021 to bola Magia s rovnomenným hitom, ktorý má zatiaľ vyše 34 miliónov zhliadnutí na youtube.
Za megaúspešné možno považovať aj jeho spolupráce s Ray Daltonom na hitovke Manila, Topicom v podobe singla Solo Para Ti, , či najnovšiu spoluprácu s Nicom Santosom pod názvom Candela.
Álvaro sa narodil v španielskej Barcelone otcovi nemeckého pôvodu a mame španielsko-belgického pôvodu, vo svojich 10 rokoch sa spolu s rodičmi na 7 rokov presťahoval do Japonska a dnes žije striedavo v Španielsku a Nemecku. Možno aj preto s jazykmi nemá problém – je polyglotom, keďže sa plynule dohovorí španielsky, katalánsky, nemecky, anglicky, taliansky, francúzsky a japonsky.
Veríme, že pár slovíčok pridá aj po slovensky pri svojej ohnivej latinskej show už v sobotu 19.augusta na LOVESTREAM FESTIVALE v Bratislave – Vajnoroch.
Piatkový program festivalu už takisto pozná prvého zo svojich účinkujúcich – na pódiu vo Vajnoroch sa svojou energickou a zábavnou show predstaví aj vychádzajúca hviezda európskych hitparád menom KAMRAD.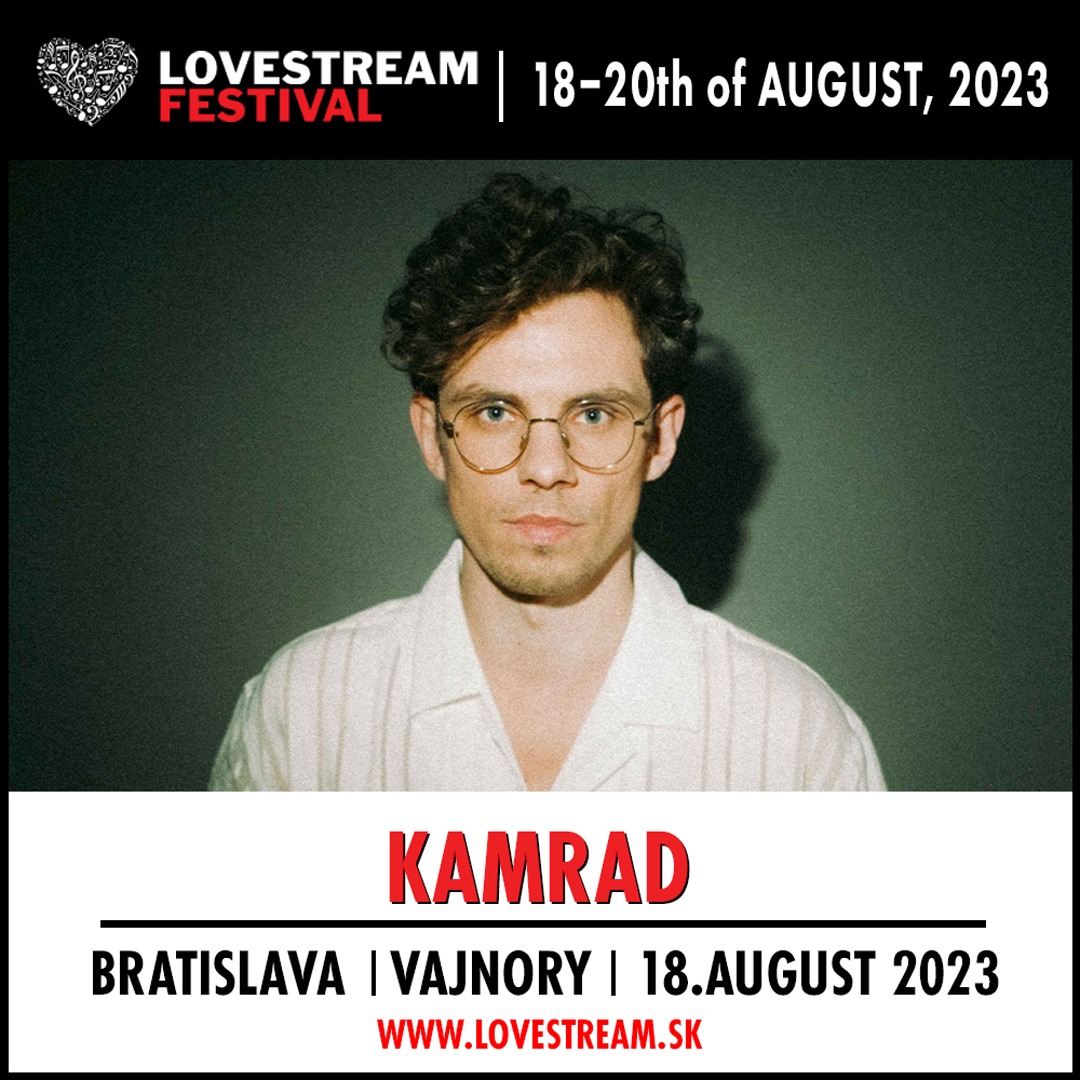 Ide o 25-ročného nemeckého umelca, producenta a autora, ktorý prežil asi svoje najkrajšie pracovné leto, keď jeho skladba I Believe sa doslova za noc stala hitom a jasne bodovala v európskych hitparádach. Jeho tanečná popová hymna hovorí dnešnej mládeži z duše, keď spieva o otázkach dôvery, strachu zo záväzku a obtiažnom hľadaní pevných vzťahov v dobe sociálnych sietí a zoznamovacích aplikácií…
Dôkazom sú tisícky výtvorov na platforme TikTok, milióny zhliadnutí po celom svete a viac ako 50 miliónov streamov na digitálnych hudobných platformách.
KAMRAD sľubuje aj na Slovensku špeciálne a nezabudnuteľné vystúpenie, na ktoré sa môžu fanúšikovia určite tešiť!
Vstupenky na všetky dni festivalu už dnes v predaji na www.lovestream.sk a www.ticketportal.sk
Zdroj: TS