Do kín čoskoro vstúpi nový český film Leto s gentlemanom plný známych hereckých tvárí. Romantická komédia o túžbe po slobode, neskorej láske a nádeji príde na strieborné plátno presne v deň sviatku Sv. Valentína, 14. februára.
Producenti snímky – režisér Jiří Adamec a herec Jaromír Hanzlík hneď na úvod roka predstavujú oficiálny trailer filmu: https://www.youtube.com/watch?v=vZSIriImg2M
Ansámbel v zložení Antalová, Bareš, Vondráčková, Hanzlík, Chýlková či Blanarovičová
Ako hlavní protagonisti v ústredných úlohách dvojice manželov sa predstavia Alena Antalová a Igor Bareš. Ich dcéru stvárni speváčka Lucie Vondráčková a tajomného gentlemana Jaromír Hanzlík.
Vo vedľajších úlohách sa objavia Tereza Kostková, Ivana Chýlková, Miroslav Šimůnek, Dana Batulková, Petra Jungmanová, Yvetta Blanarovičová, Pavel Soukup, Arnošt Goldflam, Zdeněk Dušek, Zdeněk Žák, Miroslav Etzler, Jan Čenský, Jana Boušková či Jan Vlasák.
"Všetko sú to kvalitní herci a navyše priatelia, ktorých sme s Jaromírom na svojej životnej púti pri práci stretávali. Aj kvôli nim sa oplatí prísť do kina," hovorí režisér Jiří Adamec. "Som rád, že niektorí z nich prijali aj malé, jednodňové roličky, stretnutia s nimi boli veľmi príjemné," dodal zároveň i scenárista filmu Jaromír Hanzlík.
Premiéra scenáristická i režisérska…
Pre oboch tvorcov bol tento film v určitom zmysle prvotinou. Pre Jaromíra Hanzlíka scénaristickou – ako sám prezrádza, týmto scenárom si splnil svoj sen. Hlavnú postavu Artura totiž vytvoril pre seba. Jiří Adamec zase prvýkrát točil celovečerný film pre kino distribúciu. "Od televízneho natáčania sa to filmové líši skôr technicky. V televízii nie je na nič čas. Avšak keď točíte film, predpokladá sa, že priamo na pľaci tvoríte," vysvetlil Jiří Adamec.
"Voňavý film" pre dámske publikum, v ktorom sa kovboj mení na gentleman
Obaja producenti veria, že ich komédia zaujme predovšetkým dámske publikum. "Už pri písaní scenára som myslel predovšetkým na diváčky. Uvedomil som si totiž, že portfólio filmov, ktoré sa v poslednej dobe hrajú v kinách i televíziách, tvoria prevažne detektívky, kriminálky, horory a sci-fi, ktoré väčšinou ženám príliš nevoňajú. Tak sme sa pokúsili práve pre ne natočiť voňavý film. Dúfam, že im náš film zavoní a že ich poteší," zakončil Jaromír Hanzlík, ktorý sa preslávil v 70. rokoch vďaka komédií Léto s kovbojem, na ktorú Leto s gentlemanom svojím názvom symbolicky odkazuje. Nejedná sa však o jej pokračovanie. "V posledných rokoch ma ľudia na ulici zastavovali a pýtali sa, prečo už netočím filmy ako bol ´Kovboj´. To bol jeden z impulzov, prečo som začal písať," vysvetlil herec, ktorý je s úlohou Honzu z filmu Léto s kovbojem celoživotne spätý.
Film Leto s gentlemanom sa nakrúcal v lete 2018 v stredočeských Zduchovicích a ich okolí. Do slovenských kín ho uvedie 14. februára 2019 spoločnosť Magic Box Slovakia.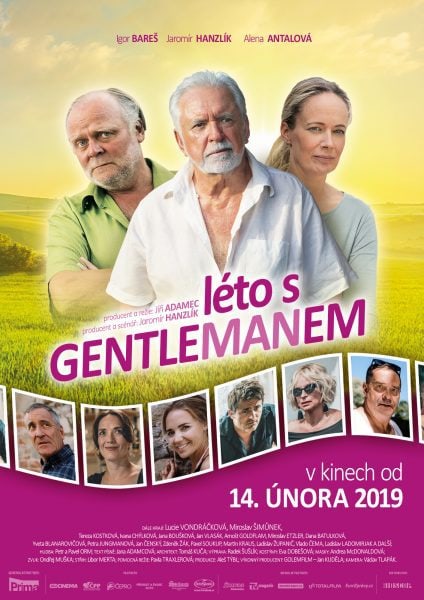 Zdroj: SOUL FOR SHOW
Foto: Vlado Benko