Keď sa v septembri 2001 rozrástol zoznam akcii v bratislavskom U.Clube o novinku s názvom Leporelo, nikto nemohol tušiť, že akcia tu bude aj po celých 20tich rokoch a zapíše sa do histórie klubových house & techno.
Leporelo založili v roku 2000 Milos, Skank a ďalší DJi alebo už v tom čas producenti ako Dunčo (aka. DNC), Baltazar, M-Bruyant (dnes Bruyant) alebo Pussy Kontrol. Spájala ich láska k hudbe, konkrétne k minimalistickejším formám house music a techna a tak ste v ich setoch mohli počut hudbu z labelov ako Kompakt, Basic Channel, Perlon, Background Records, Force Inc., Tresor, a mnohých ďalších.
Prvý event sa konal presne v piatok 21. Septembra 2001 v legendárnom bratislavskom U.Clube a akcia tam v rôznych podobách ostala takmer 10 rokov. Priamym pokračovateľom akcie Leporelo bola už v zrekonštruovanom a premenovanom SubClube akcia MilkShake a neskôr to bola Leporelo_FM Partyv bratislavskom Nu Spirit Clube. Na Slovensko priniesla mnohé mená svetovej hudobnej scény ako Sonja Moonear, Barem, Subb-an, Dapayk, Portable aka. Bodycode, Deadbeat, Shaun Reeves (Visionquest), Luomo, Frivolous, Ambivalent, La Fleur, Adam Port, Mike Shannon, Akufen, Andy Vaz, Tomas Jirku, P.toile, SLG a veľa veľa dalších.
Túto bohatú 20 ročnú históriu ide Leporelo osláviť. Oslavovať sa bude na bratislavskom Sundecku a celé sa to udeje v piatok, 22. októbra. Zahrajú všetci, čo hrali aj na úplne prvej akcii Leporelo pred 20timi rokmi, a teda menovite Milos, Skank, DNC aka. Dunčo (live), Baltazar, Bruyant a Pussy Kontrol. Okrem nich príde aj vzácna dámska návšteva, o ktorej dáme vedieť už za pár dní.
Na Sundecku, ktorý je pripravený v plnom komforte na jesenno-zimnú prevádzku si hudbu môžete užiť pri kvalitnom zvuku VOID a s najúžasnejším výhľadom na nočnú Bratislavu.
Tešíme sa na vás!
Leporelo – 20 ROKOV
piatok 22/10/2021
Sundeck, Bratislava
Live: DNC
DJs: Milos, Skank, Baltazar, Pussy Kontrol, Bruyant + special guests
EVENT: https://fb.me/e/7erixKS4a
Leporelo
http://www.facebook.com/leporelolabel
http://www.facebook.com/leporelofm
http://www.instagram.com/leporelolabel
Sundeck
http://www.facebook.com/sundeckbar
http://www.instagram.com/sundeckbratislava
Rádio_FM
www.radiofm.sk
www.facebook.com/radiofm
www.instagram.com/efemko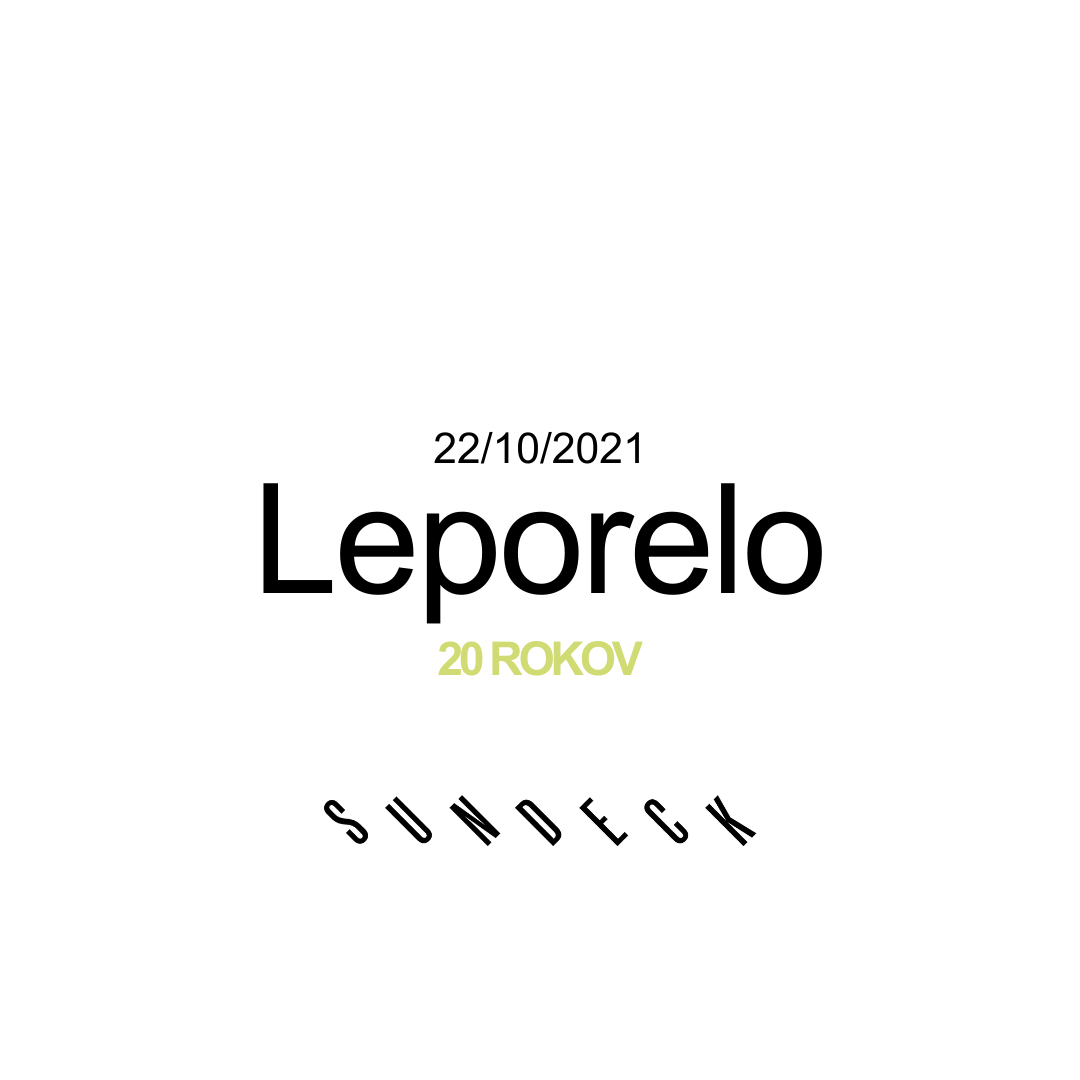 Zdroj: Leporelo