Prázdniny – to slovo už člověku po dlouhé uzávěře a nekonečnému sezení doma snad i zevšednělo. Ty pravé, skutečné prázdniny ale máme před sebou a není nic lepšího, než je oslavit hudbou v první prázdninový víkend na Lajf Session.
Netradičně v neděli (následující dva dny jsou státními svátky – hurá) se na zahrádce klubu Nětčice rozezní tóny elektronické hudby, které odrážejí naprosto aktuální sound of Česko.
Na samém začátku akce se za mix postaví náš rezidentní dj Liner, který vás zahřeje do provozní teploty.
A máme tu první live act. Hudební projekt Silent Letter se nedrží pravidel jednotlivých kategorií a stylů. Vytváří alternativní žánrovou fúzi s prvky post-dubstepu, glitche, downtempa, drum and bassu, housu zarámovanou emocionálním vnitřním světem autora.
Pavel Jestřáb, stojící za tímto projektem, vydal na konci ledna album LAVA na labelu GERGAZ. Výjimečný a na české poměry ojedinělý debut je chvílemi ambientní, rázem tanečně dynamický, rytmicky rovný i bouřlivě zlomený, přívětivě veselý, citlivý i agresivně ostrý… jako život sám.
Následující projekt je svým způsobem fenomén. Hlavní aktér, Tom Holič, se zhruba před 11 lety rozhodl vrhnout na skládání housové hudby, aniž by měl hudební vzdělání nebo vyrůstal v hudebním prostředí. Stačil mu k tomu pouze looper, jeho vlastní hlas, trumpeta. Vše klaplo na jedničku. Garance, že vás z parketu nikdo nedostane.
Večer bude zhruba ve své polovině a k Tomovi se připojí další projekt. Vznikne tak neobvyklé hudební těleso. Jaké? Za živými bicími, nezaměnitelnou kytarou a syrovým soundem se ukrývají kyjovskému publiku již dobře známí 1flfsoap! Kluci tu měli možnost už dvakrát vystoupit a vždy byla výsledkem strhující energie.
Zábava ještě nekončí, čeká nás přeci vrchol celého večera. Na pódium se postaví profesor antropologie a disco vědy v jedné osobě, který tvoří nejen pro všechny holky a mládence, ale i pro všechny starce a stařenky. Dobře znalí už jistě vědí. Po dvou letech se do Kyjova navrací Ve Ve Ve… Ventolin!
Tento živý upbeatový elektronický projekt kombinuje prvky elektra, raného acid house, punku a techna za pomoci starých samplerů, syntezátorů či archaických bicích automatů, doprovázený vlastními texty. Snad můžeme prozradit, že na konci léta chystá vydání nového alba a může se stát, že si nás prozkouší horkou novinkou.
Abychom neskončili zákeřně zprudka, na samotný závěr se za dj pult opět postaví dj Liner a na rozloučenou nám naservíruje pořádnou porci acid techna.
Lajf Session Open Air
neděle 4. 7. 2021
Kyjov, Zahrádka klubu Nětčice (Kostelecká 2650/2a, 697 01 Kyjov)
Live: Ventolin, Tom Holič & 1flfsoap, Silent Letter
DJs: Liner
Vstupné 250 CZK / 10 EUR
https://www.facebook.com/events/2539271683047093
https://sound44.com/
https://www.facebook.com/sound44com/
https://www.facebook.com/klubnetcice/
https://www.instagram.com/sound44com/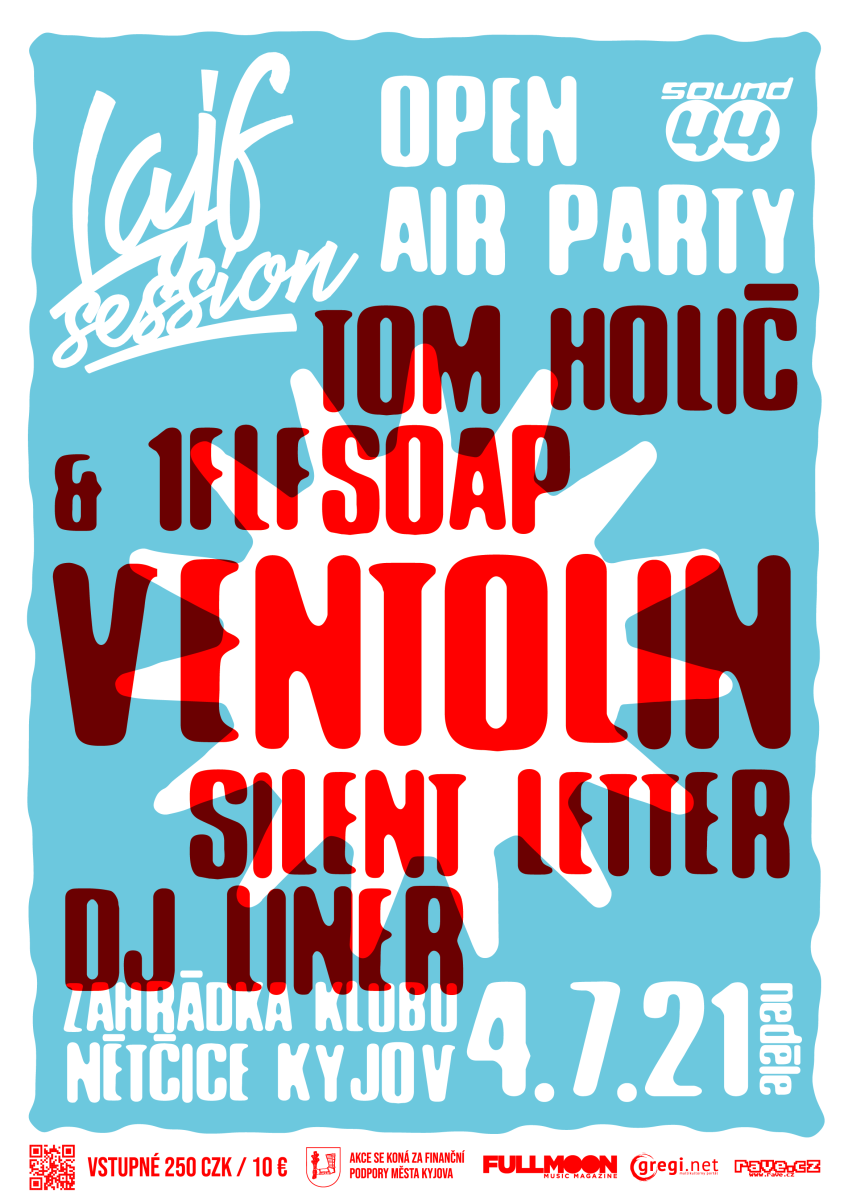 Zdroj TS