Po letních prázdninách se naplno rozběhla i koncertní aktivita pražské čtyřčlenné formace, která si říká LadyPraga. Kapela připravuje své třetí řadové CD a právě o tom jsme si povídali s kapelníkem Martinem Kneslem a zpěvačkou Veronikou Bergmanovou.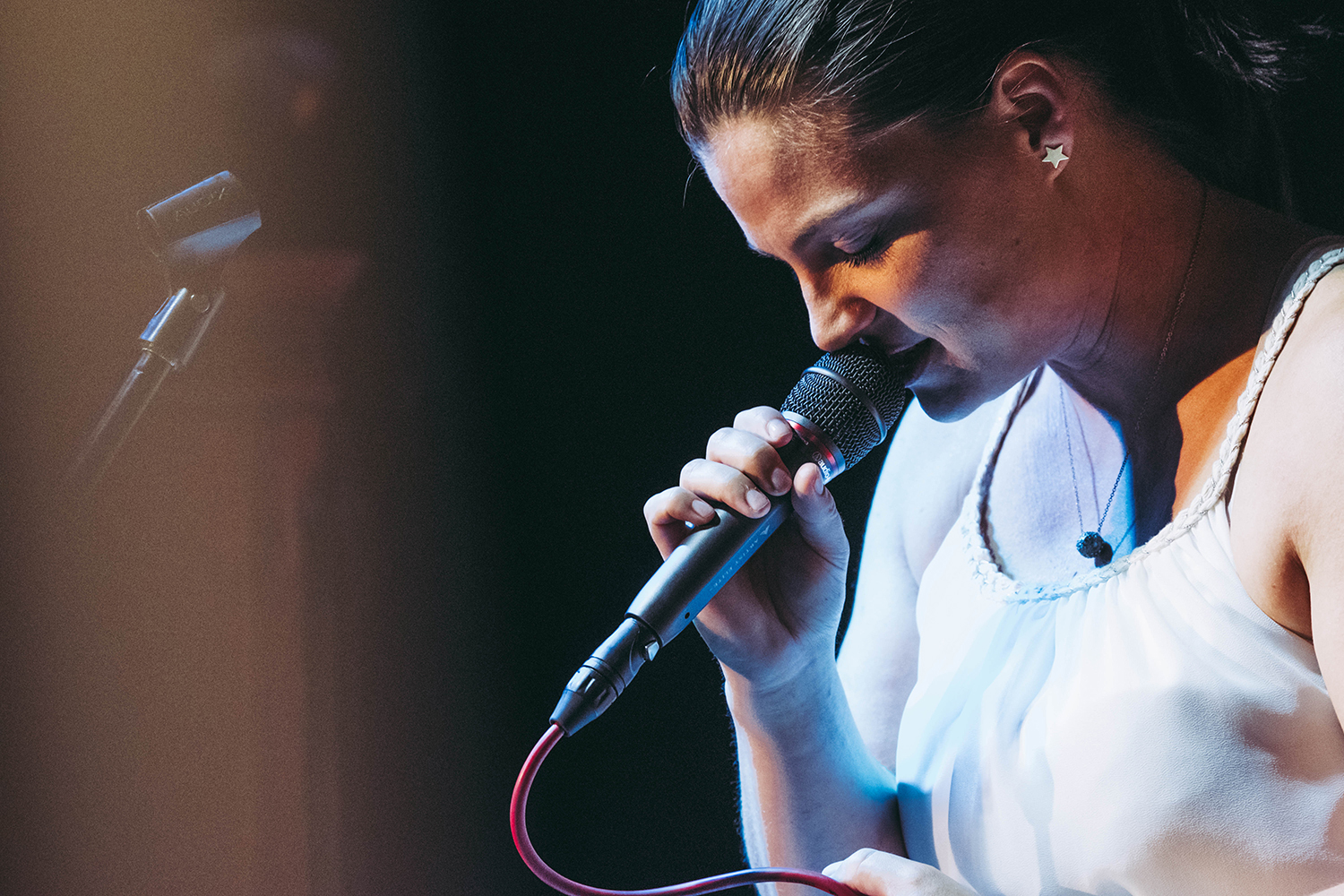 Přibližte na úvod čtenářům, v jaké fázi příprav se vaše plánovaná deska nachází a kdy můžeme očekávat její vydání?
"V tuto chvíli jsou natočeny všechny nástrojové party, zpěvy i doprovodné vokály. Na albu se podílel poměrně velký počet hudebních hostů. Zorganizovat a naplánovat takovou spolupráci byla docela výzva, každopádně se to všechno povedlo a myslím, že je to na výsledném zvuku slyšet. Album by mělo vyjít v listopadu tohoto roku", odpovídá Martin Knesl.
Veronika Bergmanová doplňuje: "Celkem se na našich skladbách objeví 7 různých hudebních osobností, se kterými byla opravdu radost spolupracovat. Nová deska bude mít celkem devět skladeb a zazní ve třech různých jazycích. V tuto chvíli vrcholí proces míchání nahrávek."
Kde jste album natáčeli a proč jste se rozhodli právě pro toto nahrávací studio?
"Už na začátku byla jasná touha udělat další CD Lady Praga prostě jinak. Chtěli jsme docílit kvalitního moderního zvuku. Proto jsme hledali jak nové studio, tak také nové tváře, které by nám pomohli na naší cestě k jinému pojetí skladeb. Právě i pro to se dostalo do našeho hledáčku pražské Studio Soundevice producenta a hudebníka Borise Carloffa. Jak se později ukázalo, byla to velmi dobrá volba. Boris je neskutečný profík, přitom však také sympaťák a pohodář. To všechno má pak obrovský podíl na kvalitě nahrávek. U našeho aktuálního počinu jsme nechtěli ponechat nic náhodě. Producentsky jej zastřešil právě Boris Carloff a deska se utvářela také pod druhým dohledem, kde je podepsán Darek Král-hudební skladatel a producent.", přibližuje Martin Knesl, baskytarista skupiny.
Je podle vás při vzniku desky role producenta nezastupitelná?
"Asi se nedá říct, že se umělci bez producentů neobejdou a tahle naše nastoupená cesta je jediná správná. Na druhou stranu, pokud to jde, proč si nedovolit ten luxus, kdy vám někdo zkušenější radí, jak dosáhnout kýženého výsledku. Jak už zmínil Martin, chtěli jsme udělat apriori jinou desku. Některé aranžmá jsme si připravovali sami, nějaké změny byly realizovány ve studiu. Na některé momenty nás upozornil producentský tandem Boris Carloff – Darek Král. A nějaké aranže pak vznikly přímo s nimi.. Zkrátka ve všech směrech plodná a přínosná spolupráce.", líčí postřehy ze zákulisí Veronika a pokračuje: "Určitě se zúročila příprava před odjezdem do studia, kdy díky technickému vybavení jsme mohli nahrávat a poslouchat jednotlivé verze ze zkušebny, v takřka studiové kvalitě. Za toto patří velký dík našemu bubeníkovi Karlu Křížovi. Aranžmá skladeb si kluci také posílali mezi sebou. Dnes už mají všichni členové kapely nějaké to domácí nahrávací studio, tím se hodně věcí urychlilo a zefektivnilo."
Prozraďte, v čem bude album nakonec jiné?
"To asi budou muset posoudit samotní posluchači. Naší snahou bylo udělat stylově a zvukově pestré album, s tím jsme do toho primárně šli. Deska by měla být stejně barevná, jako je návrh připravovaného obalu. Tentokrát jsme se dohodli na spolupráci s úžasnou výtvarnicí Terezou Kotek. Hudba na albu by měla rozhodně korespondovat s jeho obalem. Autorsky jsou zastoupeni členové kapely Martin Knesl a pianista Jan Kubín, jeden text dodal písničkář Tomáš Průša. V repertoáru nemůže chybět již tradiční cover song, na který natočila kapela ve studiu videoklip", uzavírají naše interview Veronika Bergmanová a Martin Knesl.
Nezbývá tedy než si počkat na listopadový termín vydání alba této hudební skupiny, která žánrově osciluje mezi popem a jazzem. V tuto chvíli je můžete spatřit na plánovaných koncertech v Mladé Boleslavi, jazzovém festivalu Jazz Černošice, v Jihlavě, Brně nebo Ostravě. Management kapely také připravuje křest alba, který se uskuteční v jednom z renomovaných hudebních klubů.
Skupina LadyPraga vznikla v roce 2015 a má na svém kontě přes stovku koncertů doma i v zahraničí. V tuto chvíli vydala dvě alba: Sociální experiment /2017/ a Bez retuší /2018/. Sestavu od samotného vzniku tvoří: Veronika Bergmanová – zpěv, Jan Kubín – piáno, Martin Knesl – basová kytara a Karel Kříž – bicí nástroje.